2024 Polaris Xpedition First Drive: Can A $40k Side-By-Side Live Up To The Hype?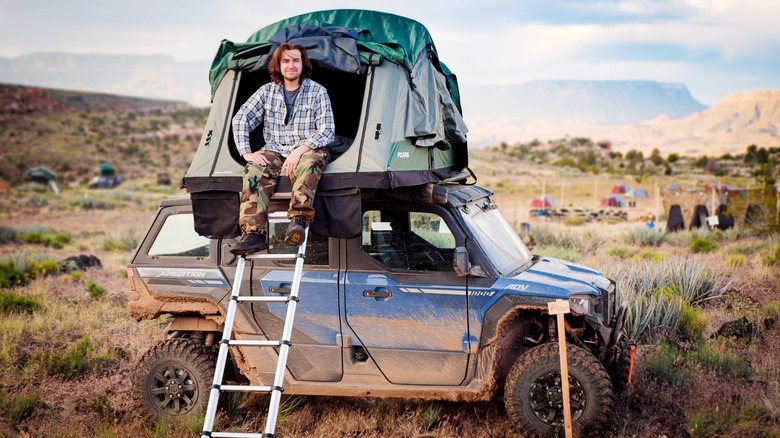 Talon Homer/SlashGear
After many years of success with side-by-side ATVs like the RZR and Ranger, Polaris has unveiled a brand new off-road platform known as the Xpedition. Compared to previous side-by-sides, this machine is bigger, softer, and comes with creature comforts like GPS navigation. Also new is a proprietary roof rail system that lets owners mount accessories like bike racks, tire carriers, and the collapsible tent pictured above. A two-door model is available, but the company expects the longer four-door to be the real volume seller. The base version of the XP comes with half-doors and a mostly open cockpit, but for testing, Polaris put me in the top of the line NorthStar package with a staggering $40,000 price tag. This model differentiates itself from most every ATV on the market by having sealed doors, power windows, and cabin air conditioning.
To see how the Xpedition can handle extreme environments, Polaris set us up with an off-road route starting near St. George, Utah and snaking its way over to the Whitmore Point above the Grand Canyon in Arizona. All in all, the trip spanned two days without any internet or plumbing, and nearly 150 miles of driving on sand, mud, gravel, and boulders. The XP is equipped with a big, 12.5 gallon fuel tank, making it uniquely suited for long excursions off the grid such as this.
2024 Xpedition Specs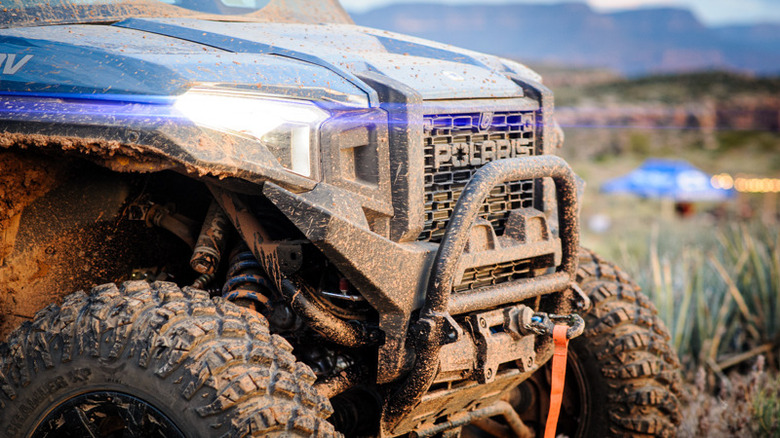 Talon Homer/SlashGear
As mentioned, the Polaris Xpedition will be available in two-door and four-door configurations, with both versions having open and closed cabin varieties. Length on the two-door is 122.5 inches with 87.5 inches of wheelbase. The four-door expands to 152.5 inches with 117 inches of wheelbase. Apart from that, both configurations are mechanically very similar. Bolted to the XP's tube frame chassis are bespoke FOX racing shocks mated to wheels with 30-inch Pro Armor tires. This combo provides an impressive 14 inches of ground clearance. Bead locks are also available on these tires, although they weren't fitted to the vehicle that I drove.
All trims of the Xpedition are powered by a rear-mounted two cylinder engine, making 114 horsepower with 999 ccs of displacement. The powerplant is bolted to a shift-less CVT gearbox and a part-time four wheel drive transfer case. This is a drivetrain shared with the mid-level RZR, so it should be a proven combo by this point. All trims also get a front bull bar, front power winch, LED lighting, and infotainment with JBL stereo systems. 
Cargo boxes can be spec'd with either a closed hatch configuration, or an open pickup bed. The machine I tested also came with a flip-open front windshield, along with a single wiper arm and washer spray nozzles on the driver's side. The windshield washer in particular was a life saver out on the trail, but it didn't get the right side of the glass as clean as the left.
Driving Impressions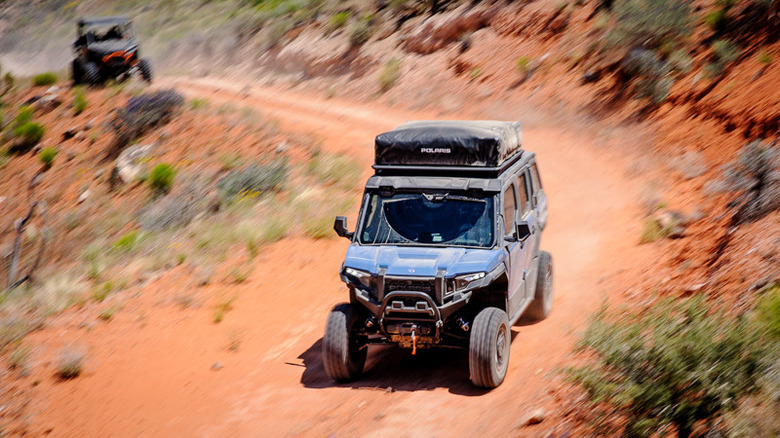 Talon Homer/SlashGear
The chassis dynamics of the Xpedition are solid. With the adaptive FOX shocks and high ground clearance, I was effortlessly taking bumps that would've been spine-crushing in most vehicles. On one of the straighter sections of the trail, I managed to top the Polaris out at 65 miles per hour. However, the vehicle is more in its comfort zone between 30 and 50. On the other hand, the gearshift feels clunky and awkward. I always had to double check whether it was in the correct position.
With the long wheelbase of the four-door, you don't get any of the twitchy handling you might see in something like a RZR. The back end of the vehicle hardly ever wants to step out, even in two wheel drive, and its tendency is to understeer. The rubber band effect of the CVT makes wheelspin almost impossible. If you try to trail brake, the XP is going to plow through corners. It's not a hairpin machine, so give the curves a healthy amount of respect. Body roll is generally well managed, but it can rear its ugly head when you go fast into sharp changes of elevation.
Even after one driver in our group experienced a low-speed rollover on the trail — which Polaris says was down to driver error — the Xpedition was still in driving condition. Though the windshield was cracked and some of the body panels knocked out of alignment, the vehicle's tube frame escaped unscathed, as did the driver. It's a reminder of how beneficial it can be to have an enclosed cabin, helping keep some of the trail's sharper edges at bay.
Drivetrain Issues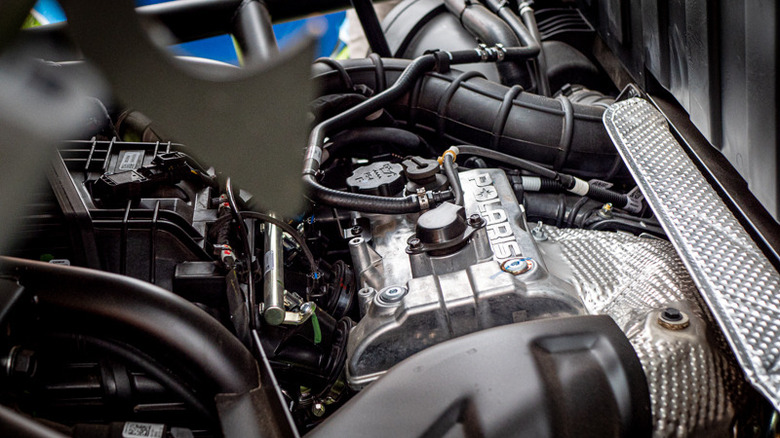 Talon Homer/SlashGear
The biggest gripe I have with the Xpedition is this particular choice in engine and transmission. The one-liter firecracker in the back is basically a sport bike engine, revving up to 9,000 RPM. Meanwhile, the CVT transmission is always trying to keep the engine in its power band. In effect, the engine is spinning at 8,000 through a very short exhaust, no matter how fast you're going or what type of driving you're doing. The noise is inescapable. Clicking the throttle mode over to "comfort" will cause it to spin around 6,500 instead, which is barely an improvement.
On a road car, a CVT will usually hold the power band until reaching highway speed, at which point it selects a taller ratio and drops the revs down to somewhere comfortable. The Polaris doesn't do that. It's all-go all the time, which makes a ton of noise and makes the throttle feel like an on-off switch. I think some re-programming of the CVT behavior is much needed.
A torquier, less rev-happy four cylinder engine could also make the Xpedition feel more civilized, especially if they plan on families taking these things out on vacation. Polaris reps told me that they selected this particular drivetrain due to weight and packaging concerns. That makes sense for the base two-door, but this loaded NorthStar model is already pushing close to 3,000 pounds. I wouldn't be shocked if we see a new engine option pop up on the horizon. 
Interior Design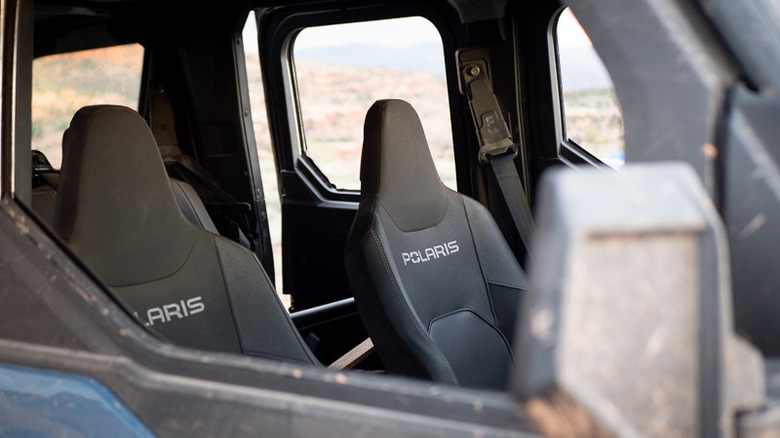 Talon Homer/SlashGear
For all the money that went into the Xpedition, it seems like most of it found its way into chassis development, and not much at all went into the interior. When I first sat in the NorthStar the night before our trip, I was sorely disappointed by cheap, plasticky feel inside. However, I understood why Polaris chose this after several miles off-road. The cheap plastic can be caked in dirt and then easily wiped down after an excursion. What I can't excuse is the steering wheel. It's fully plastic and feels almost exactly like the wheel you'd find on a riding lawnmower, albeit with telescopic adjustment. The wheel is thin and lacks padding, so if you grip it hard while driving your hands will cramp up almost instantly. An alcantara or even vinyl-wrapped wheel with an aluminum hub would make the NorthStar feel much more premium.
The seats similarly lack padding and back support, although the suspension is so smooth that you tend not to notice. Side bolstering is tight- maybe too tight for plus-sized occupants, but it hugged my slender frame just right. Seats can be adjusted for leg room at the floor rails, but the backrests are static. I'm only 5'10" but found myself pushing the driver's seat all the way back. However, I questioned some of the taller drivers in our group, and they said that leg room was substantial enough. I also found that the dead pedal footrest was placed in an awkward position that forced me to bend my ankle uncomfortably. 
Comfort & Air Conditioning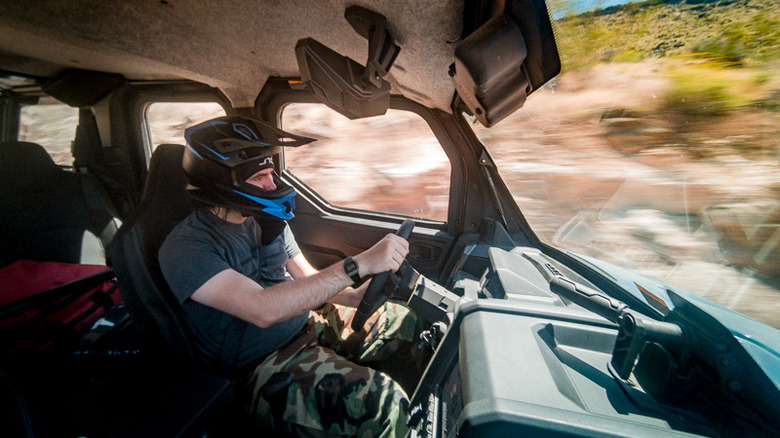 Talon Homer/SlashGear
On the topic of cost-cutting, the side mirrors of the XP also must be adjusted by hand, and are constantly wiggling around during bumps. Buzz a nearby tree and the mirror will be pushed way out alignment, leaving the driver with a big blind spot. Luckily, the cabin rear view mirror has an exceptionally wide field of view by itself. The closed cabin does a decent job of keeping out dust, but some of it will inevitably find its way onto your clothes, your camera lenses, and everything else you own. The flip-up windshield could be a weak point, as I noticed dust gathering around the edges of the glass. 
Despite the 90 degree weather, the built-in climate control was also able to keep the cabin down to a livable temperature, although it won't get anywhere near ice cold. An issue I noticed is that the tunnel that runs under the center console of the Xpedition contains all the radiator piping for the engine and gearbox. This means it gets very warm during sustained driving. I could feel heat any time my knee touched up against the tunnel. 
This also converts the front cupholders into handy drink warmers, which sounds great for winter, but not so much for Arizona in May. Keeping your phone in the center console could also potentially cause it to overheat. Insulating this cooling tunnel better could go a long way to increasing interior comfort. As it is I felt like so much engine heat was spilling into the cabin that it ended up counteracting most of what the A/C was doing.
Media & Navigation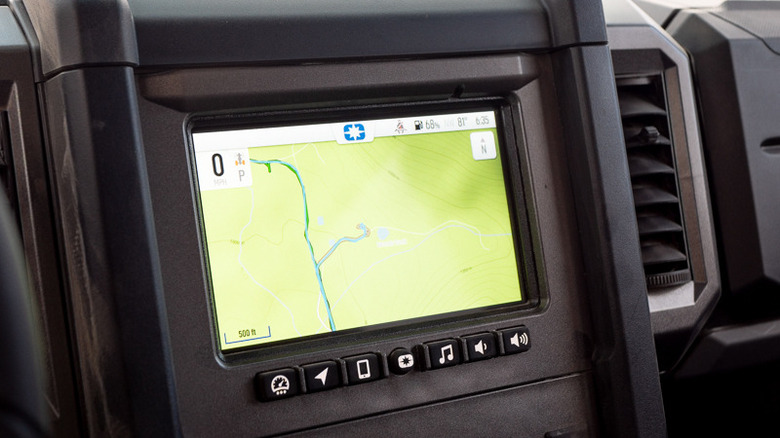 Talon Homer/SlashGear
The Xpedition NorthStar gains a JBL Pro 4100 sound system with a seven-inch display. The infotainment console has modes for telemetry, AM/FM radio, GPS navigation, and Bluetooth audio. The touchscreen control is clunky, but mostly unnecessary. The majority of functions are controlled by big rubber buttons that you really can't miss, but a traditional volume would have been a nice inclusion. I mostly relied on the spotty radio reception for music. In the moments that the signal could come in clearly, it at least sounded good enough to drown out all the engine noise. There is something really special about bumping to Eminem's seminal hit "Lose Yourself" while blasting through the sand at 50 miles per hour.
The built-in navigation also contains data for trails and fire roads, which is exactly what you want in this type of vehicle. One of the best features of this media system is that it allows multiple Xpeditions to sync up their navigation. As you drive in a group, the other members of the convoy will be shown as multi-colored arrows on your map. On the trail, this meant that any time the driver ahead of me pulled out of my line of sight, I could easily pop up the nav and keep an eye on them. If a driver were to get lost, they can also send SOS messages to the entire group using the media screen.
A Night in the Tent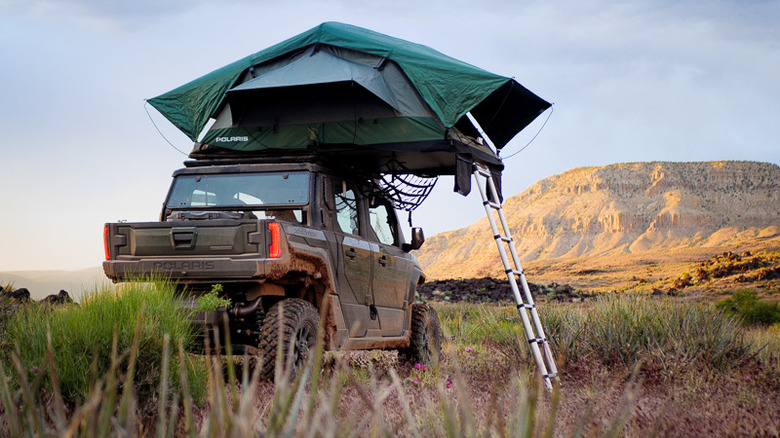 Talon Homer/SlashGear
After completing the 108-mile first leg of the journey, my body was exhausted. Luckily, I had a nice soft roof to sleep on in order to rejuvenate myself. The process of unfolding the Xpedition's roof tent looked complicated, and I didn't have an instruction manual. I enlisted some Polaris reps to do the brunt of the work, and they had to crawl up and down the vehicle in order to turn the canvas box into something tent-shaped. 
Once opened up, the tent includes a ladder to make access easier. Insider, there's space enough to fit two comfortably. Maybe three people if y'all really like each other. Between the tent box and the actual roof there's a bit of foam padding, which goes a long way towards comfort. In the desert, temperatures drop quickly when the sun goes down. In a matter of hours, you'll find yourself go from sweating in the sun to seeking out a campfire. The thick polyester of the tent did a decent job of insulating against the chilly night air. It wasn't a luxury hotel, but it certainly beat sleeping cowboy-style on the ground.
I promptly awoke on the first sign of light at about 5:00 AM. After some early morning photography and breakfast, we began the lengthy process of folding the tents back up so that we could complete our journey to Whitmore Point.
Does the Xpedition really handle all terrain?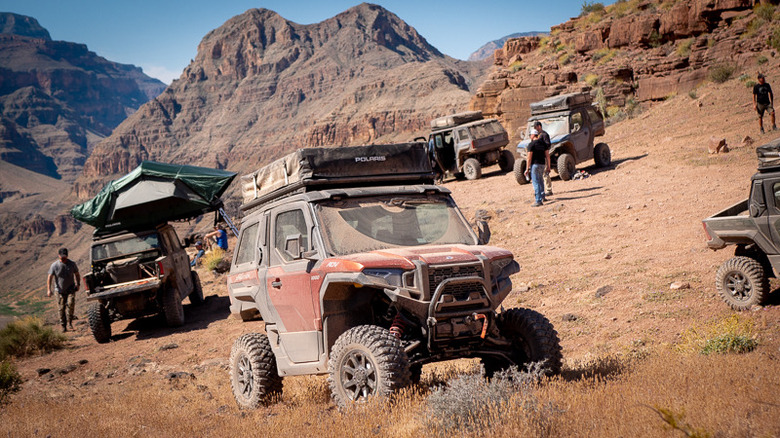 Talon Homer/SlashGear
In short, yes. The rock crawling sections of the trail I found to be the most laborious, but the vehicle made short work of them. With the transfer case in low gear, you essentially just need to mash the throttle until the XP eagerly hops over the rock in front of you. In fact, it's almost too easy, like I'm skipping all the hard work that people used to have to put into purpose-built crawling rigs.
We had plenty of spare tires on-board, but not one driver in our group managed to get a flat. Leading into Whitmore Point, we had to take a gravel road, but the bits of gravel were actually sharp rocks bigger than softballs. I thought that if anything was going to pierce the tires, it would be that section, but they just took all that punishment and kept going. The same can be said for the rest of the XP, as well.
Polaris claims up to 200 miles of range on the Xpedition, but I was sitting at about 75% of a tank in St. George and riding hard on E by the time I coasted into camp 100 miles later. It's likely that the 200 mile quote is based on the lighter two-door model, or it may not account for use of low gears and crawling.
Pricing & Verdict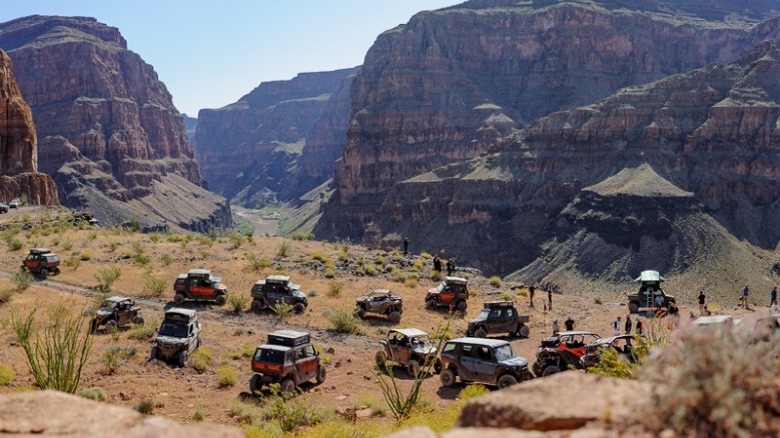 Talon Homer/SlashGear
The Polaris Xpedition starts at a retail price of $28,999 for the base two-door and $29,999 for the four-door. As-tested, the NorthStar trim with closed cabin and air conditioning runs all the way up to $39,999, plus a little extra for the roof tent accessory.
At this price, the XPedition seems like an insanely frivolous prospect. Especially because you'd have to invest in a good sized trailer and a tow vehicle to go with it. A Jeep Wrangler or a Ford Bronco can be had for similar prices. Those vehicles will have nicer interiors, less noise, and you'll be able to register them for the road. Those are much more logical options than the Polaris here. On the other hand, the Xpedition is able to easily navigate narrow paths that would be near-impossible for the larger road-going vehicles. It's less practical, but more capable.
The views that I got out of the windshield of this Polaris were also priceless. When you crest over a hill and suddenly see the mouth of the Grand Canyon, that's like a divine revelation. The kind that literally makes you shout "Oh my God!" to no one in particular when you see it. Those are the kinds of experiences that a dedicated ATV can give you. That being said, I don't recommend dropping $40k on the Xpedition. What I do recommend is picking one up from a rental shop for a much lower sum of money, and taking it on an outstanding weekend trip. You never know, you might just get hooked.