Here's How Much The Banned Honda ATC Is Worth Today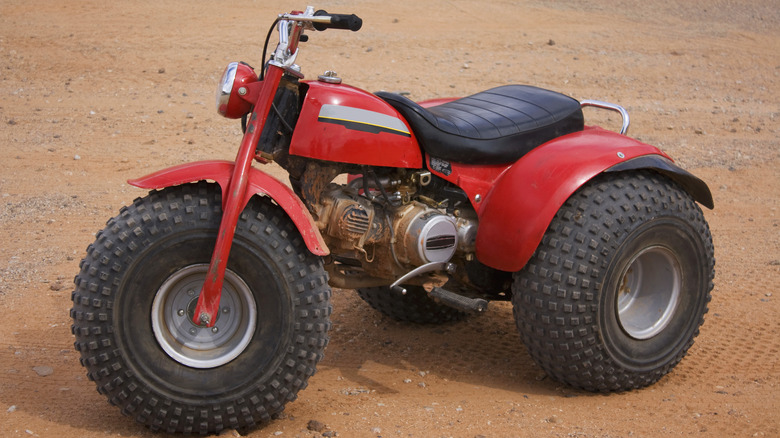 Farm66/Getty Images
Honda was in an interesting place in the 1980s. The Tokyo-based company had its first major successes in the American market with the first-generation Accord and Civic, which still rank among America's most popular cars (via Honda Global). Those models weren't the economic juggernauts they'd become, however, and, per Hagerty, Honda's fortunes still depended on the enormous Asian market for light, inexpensive motorcycles.
In short, as of the mid-'80s Honda hadn't yet determined its destiny in the American marketplace. Experimentation was called for. If we at SlashGear can say anything for certain, it's that when experimentation is called for in automotive engineering, weird stuff starts to happen. 
Honda was a shining example: it ditched its rep for safe, solid engineering, split the difference between cars and motorcycles, and gave the world the three-wheeled All Terrain Cycle, or ATC. Every model of ATC was wild, but the performance-focused ATC 250R and 250SX were on another level. Promptly banned in the American market and still widely regarded as some of the most dangerous vehicles ever to reach production (via Silodrome), Honda ATCs can command serious prices at auction.
The most dangerous three-wheeled fun money can buy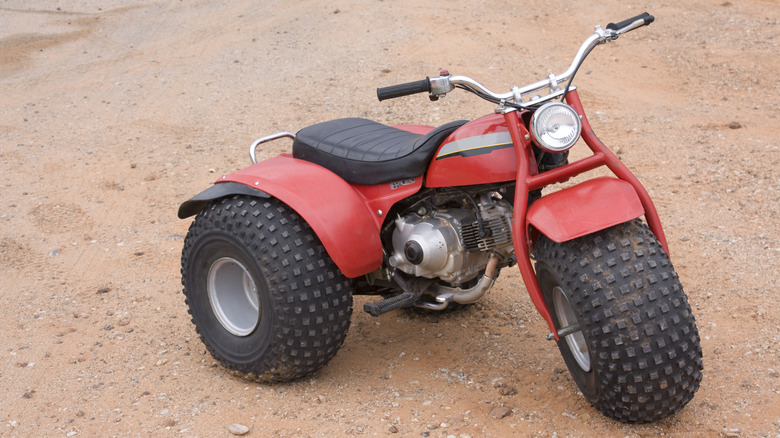 Farm66/Getty Images
Let's be clear — the Honda ATC and other three-wheeled ATVs were banned in the U.S. for a reason. As we've previously reported, The New York Times counted 1,000 deaths and 300,000 injuries on three-wheeled ATVs between 1983 and 1988. Per Hemmings, Time Magazine claimed in 1988 that the rate of injuries was around 7,000 per month. The vehicles had an ugly habit of flipping over at the worst possible times, particularly when riders were too light to provide counterweight; that is to say, it was particularly hard on kids.
As ever with banned vehicles, however, scarcity spiked prices. The high-performance ATC 250R and 250SX are particularly beloved by nostalgic motorheads. A lovingly restored 250R recently sold for $26,500 through Bring a Trailer. Even a stock 250SX was able to pull in $6,600 in Houston via Classic.com. The Honda ATC's reputation for danger, plus their characteristically Honda reliability and long operational life, simply adds to the appeal for serious collectors. Here's hoping they wear helmets.