It Sounds Like PlayStation VR2 Is Off To A Strong Start
It seems reports of VR's death have been greatly exaggerated. Despite Mark Zuckerberg's shifting focus to AI after pouring billions into the Metaverse and products like Microsoft's HoloLens failing to make waves, there have been some winners in the market — namely, Sony and the PlayStation VR2, which has sold strongly since its debut. 
In its first six weeks, the PS VR2 sold just under 600,000 units, an 8% increase compared to the original PS VR's launch. These numbers only reflect sales between February and April of 2023. Undoubtedly, more units have been sold since because the PS VR2 was only available to purchase directly from Sony's website for the first two months. Now that consumers can buy the PS VR2 anywhere, sales will likely keep increasing. The PS VR2 is priced at $550.
The PlayStation 5, needed to run the PS VR2 peripheral, has been a sleeper hit after years of limited availability due to supply chain issues. It commands a retail price of $500 while many tighten their belts due to an unstable economy. Despite this, according to Sony's metrics, the PlayStation 5 is set to outperform the PlayStation 4, just as the PS VR2 currently outperforms its predecessor. Part of the PS VR2's success may be due to its advanced technology, which has better graphics, more intuitive controllers, and a much simpler setup when compared to the original. This has lowered the barrier for new consumers to finally get into VR gaming.
VR isn't going anywhere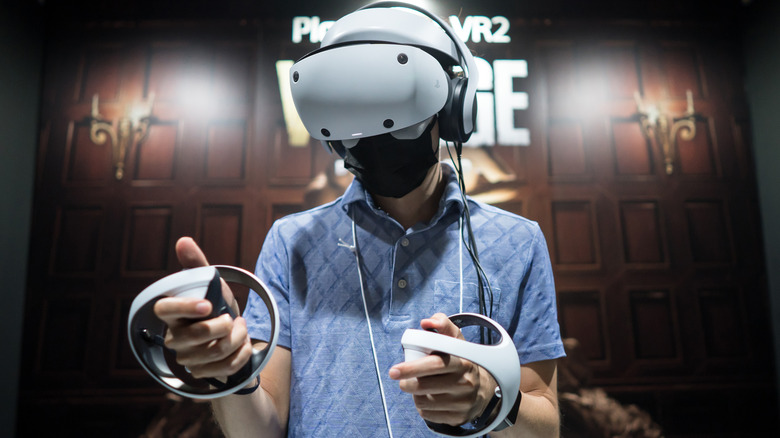 Tomohiro Ohsumi/Getty Images
The strong launch of the PS VR2 seems to confirm that virtual reality has staying power. VR isn't going anywhere and will likely grow in popularity as the technology improves. Apple will (allegedly) soon join the market with its greatly-hyped mixed-reality headset. And along with Sony, other significant players in the VR market are still making new products in 2023. The HTC Vive XR Elite debuted earlier this year with solid reviews, and despite Meta's shifting focus to AI, there are still plans to release a third-generation Quest.
Good reviews for the tech currently on the market only increases VR's viability. Jim Ryan, Sony Interactive Entertainment president and CEO, certainly doesn't seem to regret investing in the medium, saying in an interview with Famitsu: "PS VR2 has just been launched, so it may be a little early to judge its popularity, but we are happy to see many positive reactions from users and the media."
Sony plans to add more titles to its already robust library of games for the PS VR2. Of course, the company is still investing heavily in traditional 2D games as well and looks to focus more energy on first-party IP like its "Spider-Man" franchise as well as online live service games like "MLB: The Show" and "Destiny 2." For PlayStation 5 users, whether they want to play in virtual reality or planted in front of their television screens, there is still plenty more gaming to come.