Motorola Edge+ (2023) Review: Android Flagship Phone Greatness With One Major Flaw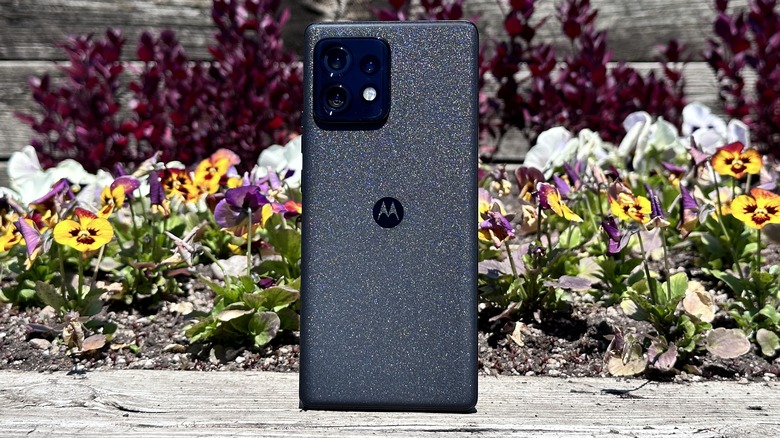 Adam Doud/SlashGear
Motorola makes its money year after year playing in the midrange phone space. The Moto G series is one of the best-selling series of phones in the United States. Some of them have tricks, like a stylus, a low price, or in the case of the Moto G stylus, both. But for the most part, they're safe, reliable phones that your aunt will happily buy (or get free with a contract) and keep for two years.
Then there's the Moto Edge series of smartphones and the subject of today's review, the Moto Edge+ which is powerful, well-built, and ... still pretty safe and reliable. There's nothing that really stands out on a Motorola Edge+ that demands to be noticed. That's fine when you're a mid-range phone but it's not great when you're a flagship, and the Moto Edge+ is trying to be a flagship.
Motorola provided a Moto Edge+ for the purpose of this review. This review was conducted using T-Mobile's network in Chicago.
Really great hardware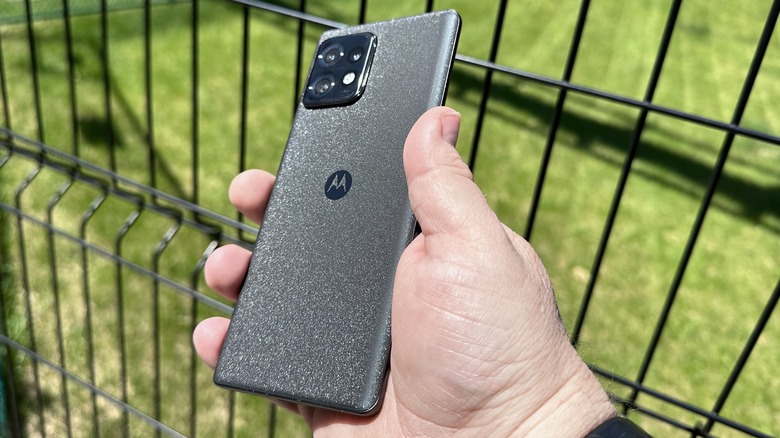 Adam Doud/SlashGear
Right off the bat, the Moto Edge+ looks really good. It's a typical glass sandwich with an aluminum frame. Both sides of the phone are covered in Gorilla Glass Victus, but the back of the phone's colorway is called Interstellar Black, for good reason. The back of the phone is glittery and seemingly covered in sparkles, so it looks like a starscape in the right light. It's really quite a sight.
Around the outside edge, you have three separate buttons for volume and power, a SIM tray on the bottom, and top and bottom stereo Dolby Atmos speakers. What's nice about the speakers is that Motorola isn't copping out by using the earpiece as one of the speakers. There's a whole separate grill there to project sound outward. Speaking of which the speakers sound good — for phone speakers. Not to put too fine a point on it, but while no phone speakers sound great, these sound pretty good.
The display on the front is a 6.7-inch 1080p display that looks really good and has a 165Hz refresh rate. You can lock the refresh rate to 60 Hz, 120 Hz, or 165 Hz, or set it to a variable refresh rate. Unfortunately, that variable refresh rate does not include 165 Hz, so you can go ultrasmooth all the time, or not at all, which felt like an odd choice.
Powerful internals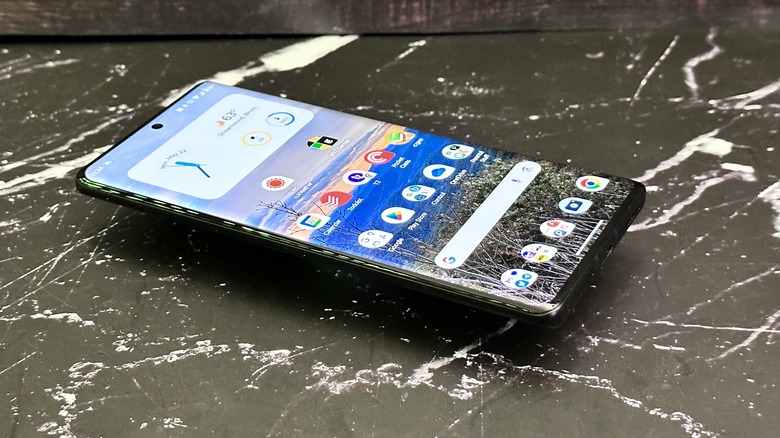 Adam Doud/SlashGear
On the inside of the phone, you have Qualcomm's latest Snapdragon 8 Gen 2 processor, along with 8GB of LPDDR5x RAM and 512GB of onboard storage, two out of the three of which are very not bad. 8GB of RAM is a little on the weak side, and while it's plenty for most applications today, there should be at least 12 for a phone like this. Of course, Motorola is not alone in this. Several flagships in the past 12 months have come out with 8GB configurations. 
All this is powered by a 5,100 mAh battery which supports 15W of wireless charging and 68W of wired charging with the included charger in the box. That's a very nice add-on in this day and age, and it's great to know that Motorola is not only on board the fast wireless charging train, but it's shipping that fast wireless charger along with it.
Speaking of which, that battery doesn't last as long as you might want it to. Battery life was fairly inconsistent over the course of this review. Some nights the phone would have 20% charge remaining, other nights it was closer to 40%. All the same, a properly-optimized battery of that size should make this an easy two-day phone, and the Moto Edge+ is not.
Clean Android build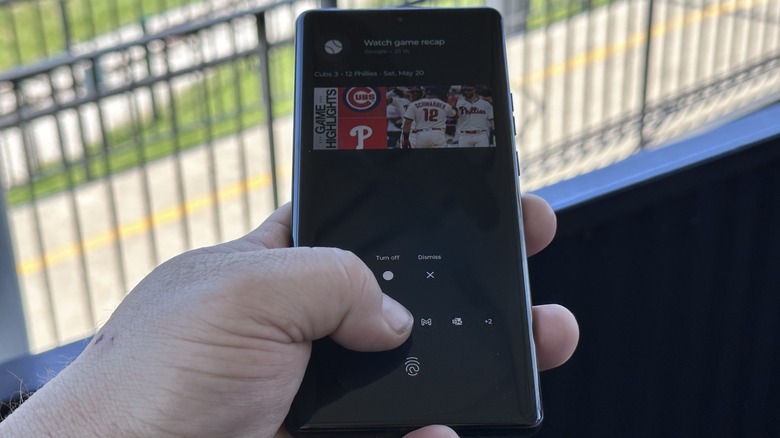 Adam Doud/SlashGear
One of the hallmarks of Motorola's software is that it's a pretty clean build of Android 13, along with a few Motorola gestures. Those include the obligatory chop-chop and wrist-twist gestures for the flashlight and camera respectively.
Additionally, it includes Moto's peak display which is still the best Always-on display in the business. When you touch the display, you get a string of icons showing you what notifications you have waiting. Tap and hold on one, and the message will appear. From there you can slide your finger down to the fingerprint sensor to unlock your phone and jump straight into the app, or you can slide your finger up to one of the quick actions available to you, including reply, archive, etc.
Most of what else you'll find is pretty stock in Android 13. Speaking of which, Motorola promises three years of operating system upgrades along with four years of security upgrades. That's better than what you'll get on lower-end Motorola phones, but it's not great compared to other flagships out there.
Ready For anything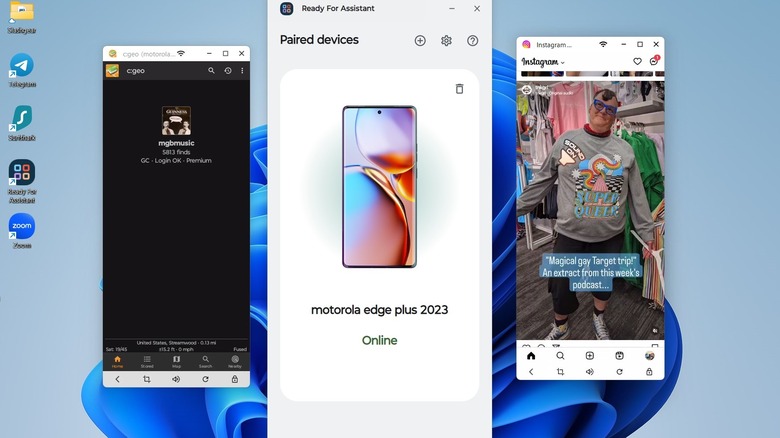 Adam Doud/SlashGear
Ready For is Motorola's answer to Samsung's Dex and in general Samsung's compatibility with Windows 11. Microsoft and Samsung have a partnership that allows you to pair the Your Phone app with your Samsung phone and do everything from app streaming to making and receiving calls and texts. Any phone can communicate through the computer, but up until now, only Samsung allowed you to stream apps.
Ready For opens up that capability to Motorola phones as well, and even goes a few steps further. In addition to streaming apps to your PC, you can use your Motorola phone as your webcam when you're video conferencing, share a hotspot internet connection, or transfer files wirelessly. It's a more complete solution than even what Samsung offers and it can be really handy. Samsung has some catching up to do here.
It's worth pointing out that app streaming is nice, but you need a specific workflow in order to really benefit from it. It's nice to be able to pull up security camera feeds on your computer screen, but that's about the extent of it for my workflow.
Smooth sailing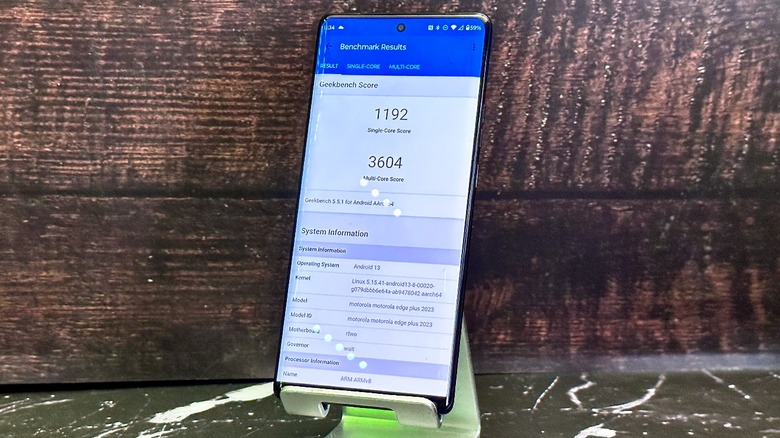 Adam Doud/SlashGear
The Snapdragon 8 Gen 2 processor inside the phone is quite powerful and as such, this phone performs tasks smoothly. The phone returns 1,192/3,604 single/multi-core scores on Geekbench which are on par with similar phones. In practice, the phone does not get bogged down except in one particular place which we will discuss in just a little bit.
As for gaming, the Moto Edge+ performs extremely well. Games like "Call of Duty: Mobile" and "Asphalt 9" run beautifully, and even "Genshin Impact" runs at 30 FPS with the settings on their highest level. The phone didn't get too hot during 20 minutes of gameplay, so overall, it's safe to say that the processor and RAM are doing their jobs admirably.
Basically, this phone can stand up to anything you might throw at it today, but it would be nice to have a bit more RAM for future-proofing purposes. "Genshin Impact" is one of the more intensive games on the market now, but it's a mystery how this configuration will hold up even a year from now.
Good but not great cameras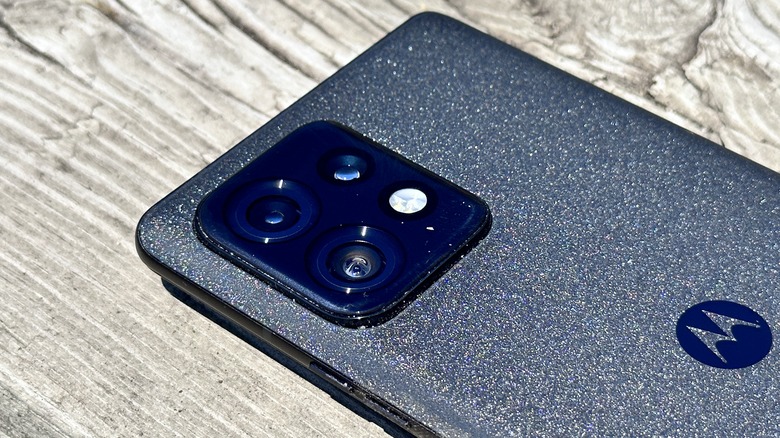 Adam Doud/SlashGear
The cameras on the Moto Edge+ are sadly just more of the same. The hardware looks great on paper; you have a 50-megapixel main sensor with f/1.8 aperture, and another 50-megapixel sensor handling the ultrawide duties with an f/2.2 aperture and 114-degree field of view. Finally rounding all that out is a 12-megapixel 2x telephoto lens which, like the OnePlus 11, is focused more on portrait shots (no pun intended) but it has an f/1.6 aperture and 2x optical zoom.
During the day, the cameras perform pretty well. There is a noticeable color disparity between the main sensor and the telephoto sensor (above), which is not ideal in general. When you want to zoom in, the 2X optical zoom does a passable job. In general color reproduction is very good, except for the telephoto lens. The ultrawide and main sensors complement each other very nicely.
Another area where the Moto Edge+ shines is in macro shots. The phone uses the 50-megapixel ultrawide camera as a stand-in for a macro lens and it does a great job preserving detail in the foreground and shrouding the background in bokeh that looks like it came from a DSLR
At night, photos generally fall into the "social media-good" category which is to say, they'll look good on Instagram, but if you want to save these memories, they'll quickly outlive their usefulness. The focus is a bit soft, and there's some distinct banding in the night sky where shades of darkness start to come together. As long as the photos are going to stay small and as long as your subjects aren't moving, you'll be in good shape.
Video is flat out bad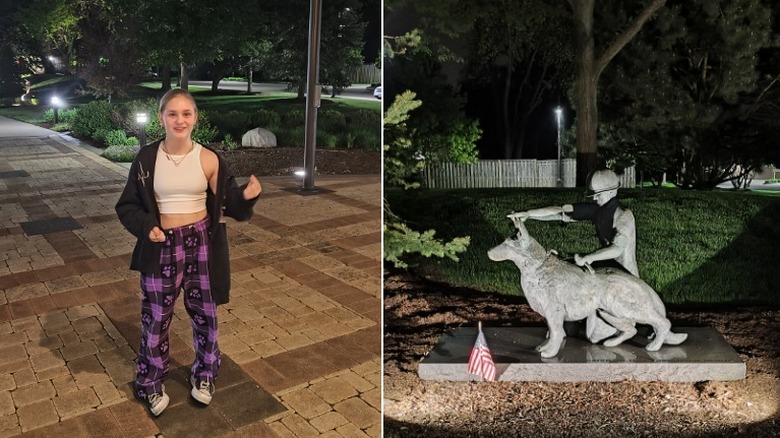 Adam Doud/SlashGear
There's no way to put this politely, the video capture on the Moto Edge is pretty bad. One of the biggest issues comes from the stabilization software that Motorola is using to try to correct handshakes and walking. These are stabilizations algorithms running, which is good, but you can see them running which is really, really bad. When walking along and focusing on a subject, you can see the image all around the subject warping and twisting slightly to correct for the motion and it's very ugly.
At night, the problems are ten times worse. There's just no getting around it, the video cameras on this phone are inexcusably bad, which is very unfortunate. Motorola has historically had problems with cameras and you want to root for the company to get them fixed up, but not only is Motorola not there, but it's seemingly a ways off.
The one bright spot in the video department comes from Motorola's "Horizon Lock." Put simply, when you turn on Horizon Lock, you can capture video that is right side up regardless of how the camera tilts when you're shooting. This is similar to a gimbal lock, but while that typically focuses on the overall stability of the image, Horizon Lock focuses on keeping the image upright, despite any tilt. You can literally turn the phone upside down and the picture stays right-side up. It's pretty neat, but not neat enough to justify the rest of the video capture experience.
Laggy camera software, selfies, and SIM support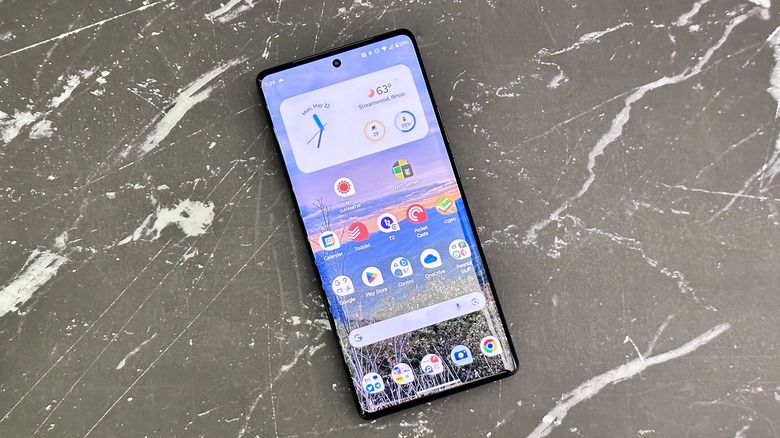 Adam Doud/SlashGear
The camera app was the only software that experienced lag and bugs. From trouble switching between lenses to slow shutter speeds, it was not a good experience at all. One plus side is that burst mode isn't limited to just 20 shots, which can sometimes be the case. But the shutter speed on burst mode is on the slow side, so plan to press the shutter button early. 
The selfie camera on the front of the phone is a 60-megapixel shooter with an f/2.2 aperture. Selfie photos are a bit washed out, but not too terrible. At night, photos are the same flavor of passable-but-only-on-a-small-screen.
The phone can handle both a physical SIM card and an eSIM for dual SIM support. The speakerphone is not very good on the phone; callers said they had trouble hearing each time the device's speakerphone was active. Normal phone calls work perfectly fine though.
This phone's Face Unlock feature has a bit of a UI issue which makes the registration process difficult. Instructions directing the user appear at the bottom of the screen, telling the user to look up at the camera at the top. This setup could be remedied easily via instructions appearing immediately below the camera. 
Motorola Edge+ Final Verdict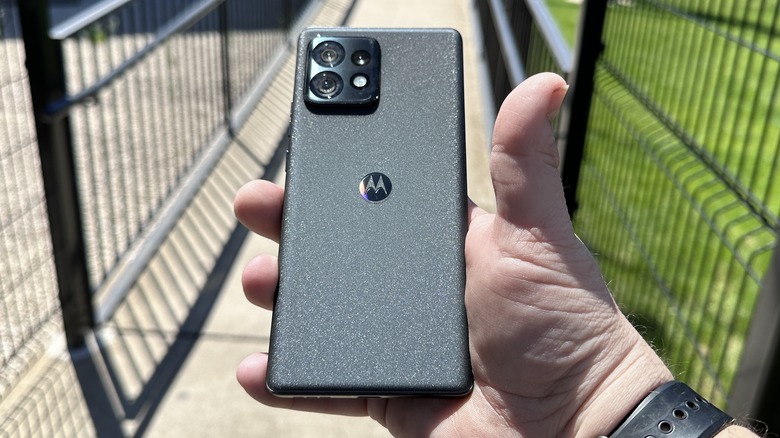 Adam Doud/SlashGear
Overall, this phone is generally frustrating. While the hardware is great, and the software is right there with it, the cameras are extremely disappointing, and there are a lot of small points here and there that seem to indicate a lack of attention to detail — such as the UI hiccup with face unlock.
Still, what Motorola is offering is not completely crazy. This is still a powerful flagship with half a terabyte of onboard storage for a penny less than $800. That's not bad, but there's a lot of competition at that price point that may not give you that much storage but will be as good or better in every other area. When pitted against the OnePlus 11, the Samsung Galaxy S23, and even the iPhone 14, there are enough minuses here to recommend taking your money elsewhere. There is just too much competition at this price point to have this many compromises.
Motorola still inspires wistful memories of days gone by, for sure. Maybe if you can score a deal on this phone down the road, it might be worth picking up. But today, there are better options.