2023 Mercedes-Benz GLC Review: Starter SUV Wows On The Inside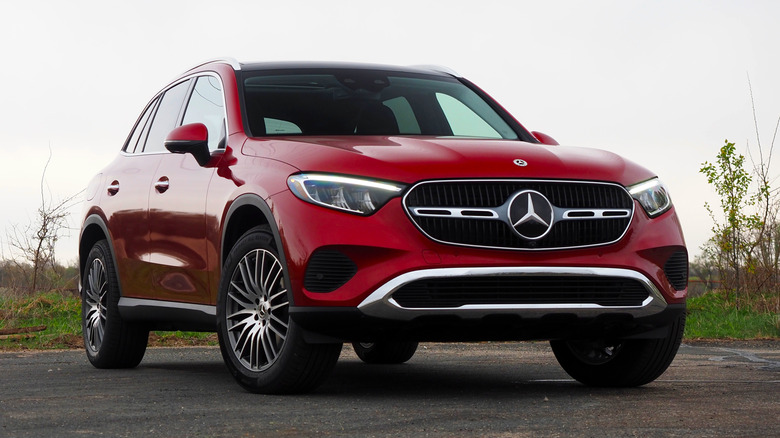 Chris Davies/SlashGear
It's fair to say that the GLC SUV is a big deal for Mercedes-Benz in the U.S. While it may not be the automaker's largest SUV, or its most lavish, it was the best-selling model in 2022. Indeed, the GLC was responsible for almost 23% of Mercedes' total passenger vehicle sales in the United States last year, undoubtedly helping win new brand loyalists to eventually coax into bigger, more expensive cars. The new 2023 GLC, therefore, has plenty riding on it.
With a starting price comfortably under $50k, it's relatively attainable for a vehicle with the three-pointed star on the hood. Compact SUVs remain in high demand, and a reasonably-priced all-wheel drive option makes the GLC welcome in cold weather states, too. Perhaps equally important, Mercedes has given the interior a blast of new technology, including infotainment that until now was the preserve of its far more expensive models, in an attempt to thoroughly shame the competition.
The downside to success, though, can be a reluctance to tinker too much with a working recipe. The GLC's dashboard may have had a gadgetry glow-up, but elsewhere the SUV sticks far closer to what we've seen already. The big question, then, is whether Mercedes has done enough — or taken enough risks — to leave the 2023 GLC feeling fresh.
A little larger but definitely familiar
Chris Davies/SlashGear
The new GLC is 2.4 inches longer and slightly lower than its predecessor, and while the overall width is no greater, Mercedes has nudged the track out slightly. The end result is a more solid, planted-looking SUV, though you'd still be forgiven for struggling to tell the two generations apart. That's not really a bad thing — the old GLC was handsome, and so is this new one — but if you're hoping to impress friends or neighbors, you might need to explain the differences.
So, just to make it easier on you, best to start at the front where the new grille now gets a chrome surround and matching trim to the matte-grey louvers. Opt for the AMG Line design package, and the grille uses Mercedes-Benz stars, too. The new headlamps connect with the grille surround, something the automaker says helps emphasize visual width.
At the sides, the mirrors have been moved down: mounting them on the doors helps with aerodynamics, as well as trimming wind noise in the cabin. The running boards are new as well, tapering from their narrowest at the front to their widest at the rear. Two-section rear lights are new for the 2023 model year, and there's more chrome to emphasize the exhaust surround.
No PHEV for America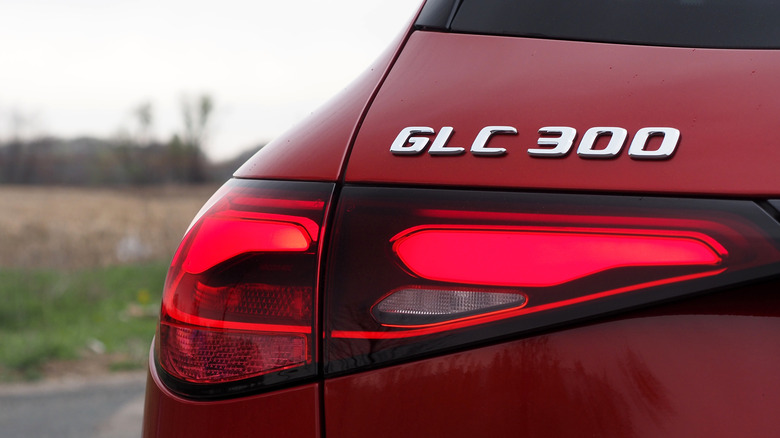 Chris Davies/SlashGear
The result is neither going to be mistaken for a hatchback — which is an issue some earlier Mercedes compact SUVs suffered from — nor especially different from the automaker's larger models. Both are positives. 18- to 20-inch wheels are offered, and the larger size means Mercedes can fit a spare wheel in the trunk, rather than just a puncture repair kit.
Some of the improvements, American drivers won't get to enjoy fully. The GLC supports Mercedes' Digital Light system — where the headlamps are made up of individually-controllable pixels — but, while illumination and projection are said to be improved over the old SUV's lighting, the U.S. still doesn't get the dynamically-changeable projection that the GLC offers in Europe, adapting to oncoming traffic. While the regulations in the U.S. are changing, so far Mercedes hasn't committed to embracing the tech fully on these shores, nor releasing a software update to enable them on existing cars with the hardware should that change.
The other GLC change that won't make it to the U.S. is the plug-in hybrid variant. Europe will get PHEV versions of the SUV, but it'll launch in America with mild-hybrid engine tech only. Mercedes has previously said that North American buyers tend to skip PHEVs and go straight to full EVs when possible.
One engine and a comfortable ride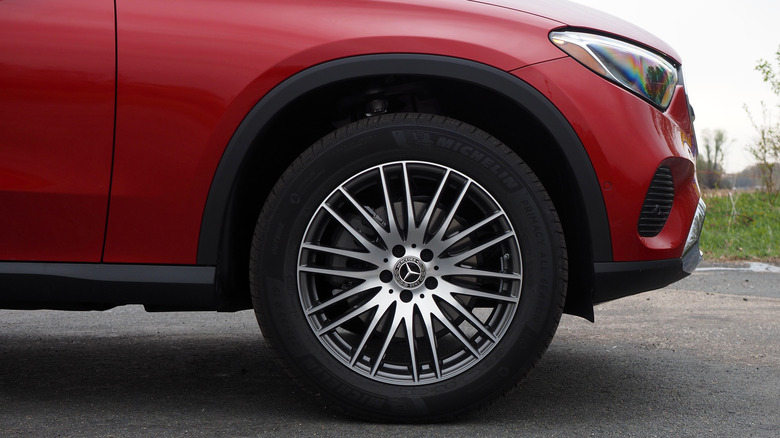 Chris Davies/SlashGear
In fact, there's just one engine for the 2023 GLC 300 in the U.S. market: a 2.0-liter inline-four turbocharged gas engine with 255 horsepower and 295 lb-ft of torque. It's matched with a 9-speed automatic transmission, and either rear-wheel drive or — in the case of the 2023 GLC 300 4MATIC — all-wheel drive. With the former you're looking at 25 mpg in the city, 32 mpg on the highway, and 28 mpg combined; the latter sees those dip to 23 mpg city, 31 mpg highway, and 26 mpg combined. In my own, mixed driving in the 4MATIC version, I saw over 27 mpg.
It's a 48v mild hybrid, which means there's a small battery and a starter-generator motor included. Don't expect electric-only range, but it smooths the start/stop feature out to almost imperceivable levels — I didn't feel the need to turn it off, unlike most such systems — while also adding an extra "EQ Boost" bump in power for short periods. That's up to 23 horsepower and 148 lb-ft of torque, typically contributed when you're pulling away — thus before the gas engine has spooled up fully — and helping make the GLC feel perkier for urban driving.
Unsurprisingly, this is not a performance SUV. 0-60 mph arrives in 6.2 seconds, Mercedes says, and top speed is electronically limited to 130 mph. The overall feeling is one of enthusiasm rather than outright pace, with relatively firm suspension helping avoid body roll, without sacrificing too much comfort on poor-quality roads.
Off-road ready, if you dare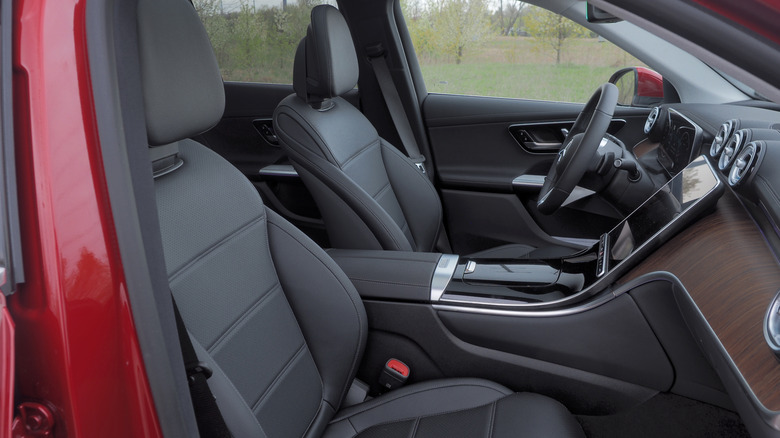 Chris Davies/SlashGear
Intriguingly — and despite what you might assume — Mercedes is pushing the GLC's off-road credentials, too. There's a dedicated Off-Road mode, and certain trims get a "transparent hood" where the 360-degree camera is used to magically generate a view "under" the front of the SUV on the dashboard display. It works at speeds of up to 5 mph, at which point it flips over to the view ahead; get past 12 mph, meanwhile, and it shuts off altogether.
It's tough to imagine any GLC owner actually hitting the trail in their SUV, but that's probably the case with most of its rivals, too. Mercedes makes use of the selective dampers on the steel suspension system for its usual drive modes as well, the ride getting firmer in Sport. Again, don't expect wild things, but neither is the GLC dreary to experience behind the wheel.
Refinement levels are strong — Mercedes says it's not only quieter inside than the outgoing GLC, but the latest C-Class, too — and I've no complaints about practicality, either. The trunk, at 21.9 cu-ft with the rear seats up and 59.3 cu-ft with them down, gains 2.5 cu-ft thanks to the overall increase in size; better, though still behind a BMW X3. The headroom and legroom are solid in both rows.
A huge dashboard glow-up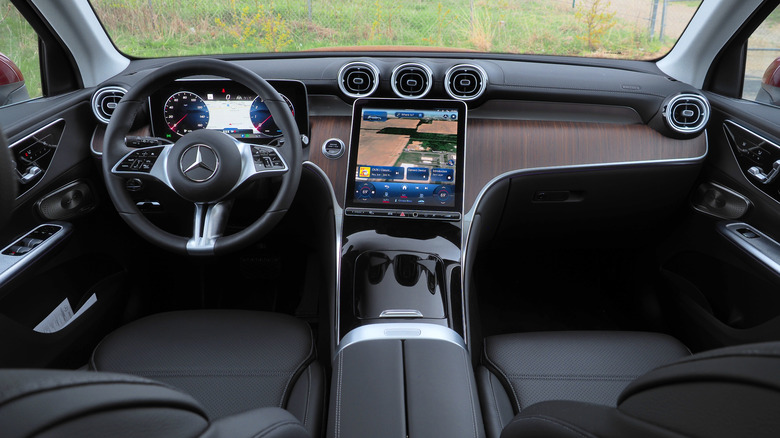 Chris Davies/SlashGear
The dashboard is arguably where Mercedes' biggest improvements have been made. The old GLC still sported a diminutive touchscreen perched atop rows of vents and buttons, with the old touchpad interface in the center console. This 2023 GLC, though, dumps all that in favor of a large, S-Class-inspired touchscreen that makes far better use of the real estate on offer.
It instantly feels more modern, and more user-friendly. The latest version of MBUX — which has useful and surprisingly accurate voice recognition, triggered by saying "Hey Mercedes" — is onboard, with easy widget access to common features floating above a large map. No, the excessive Hyperscreen display offered on the automaker's more expensive cars isn't available here, but frankly, it's not missed. The 11.9-inch portrait-aspect panel standard on the new GLC is plenty big enough.
There's fingerprint authentication for different driver profiles, ambient lighting, wireless Apple CarPlay and Android Auto, and a wireless charging pad (that's awkwardly placed in the lower dashboard cubby). The driver gets a 12.3-inch digital instrument cluster, too. Everything feels fast and well organized; only the new steering wheel, with its finicky touch-sensitive buttons, can be a pain to use. Volume and cruise control speed kept overshooting as I swiped my thumbs.
More expensive, more standard kit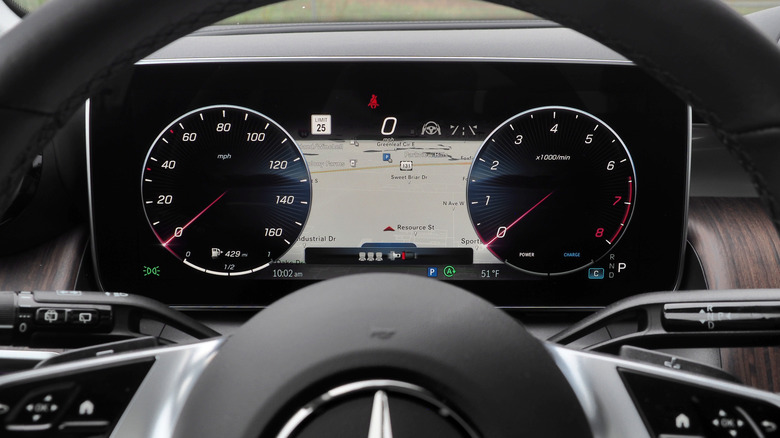 Chris Davies/SlashGear
Pricing for the 2023 GLC 300 has increased over the last-gen model: the standard SUV is $47,100 (plus $1,150 destination), or $3,250 more than the MY22 version. You'll pay $49,100 (plus destination) if you want 4MATIC all-wheel drive, the same $2k premium as before. However, standard equipment levels are healthier this time around.
As well as the vastly-improved infotainment system, there are also heated front seats, keyless entry and start, blind spot warnings, a sunroof, and a power liftgate, plus parking damage detection, all as standard. Mercedes' PRE-SAFE and Active Brake Assist are standard, too.
Options on this particular Cardinal Red Metallic ($1,750 for the MANUFAKTUR paint job) car include ventilated front seats ($450), a panoramic roof ($1,500), a heated steering wheel ($250), SiriusXM ($350), and 19-inch wheels ($600). It also has the $1,950 Driver Assistance Package — with features like adaptive cruise and lane-keeping, evasive steering assist and active blind spot assist, and cross-traffic braking assistance — and the $2,250 Exclusive Trim, with 360-degree camera, and navigation. That takes this GLC 300 4MATIC to $58,850 all-in, including the sweet-sounding Burmester 3D surround sound audio system.
2023 Mercedes-Benz GLC 300 4MATIC Verdict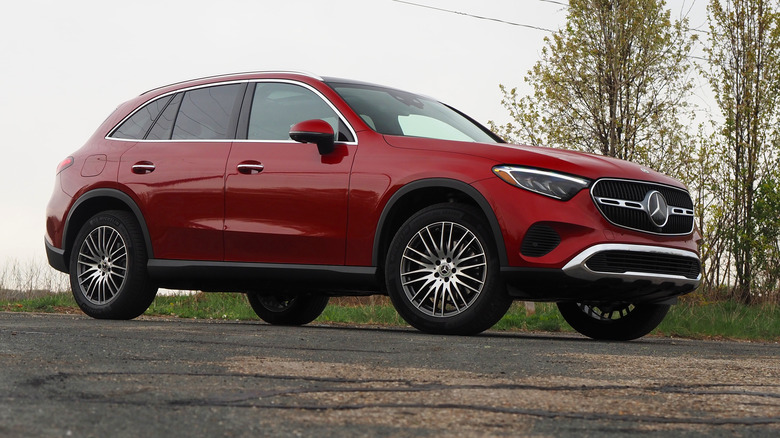 Chris Davies/SlashGear
Indeed, "sweet" describes the 2023 GLC experience all-round. Sweet style, sweet tech, and sweet-spot positioning. Mercedes sees its primary competition being BMW's X3, Audi's Q5, and Lexus' RX, but the GLC certainly edges ahead of all three on dashboard gadgetry, and I suspect many will prefer its exterior aesthetic, too. The sub-$50k price tag means shoppers in the "premium" SUV category might find themselves unexpectedly cross-shopping at their closest Mercedes dealership, too, even if getting greedy with the more luxurious packages can easily send that spiraling toward the $60k mark. 
Down the line, though Mercedes isn't talking about it quite yet, we can more than likely expect AMG versions, too. That should address the GLC's more mainstream driving dynamics — not dull, just not particularly sparkling either.
Even before that, though, the 2023 Mercedes-Benz GLC feels far more refined than before. Though the exterior changes may need explaining, it's the significant upgrades inside that make Mercedes' small SUV feel outsized compared to the competition.