Quadratec JTe First Drive: Off-Roading The Two-Door Pickup Jeep Won't Build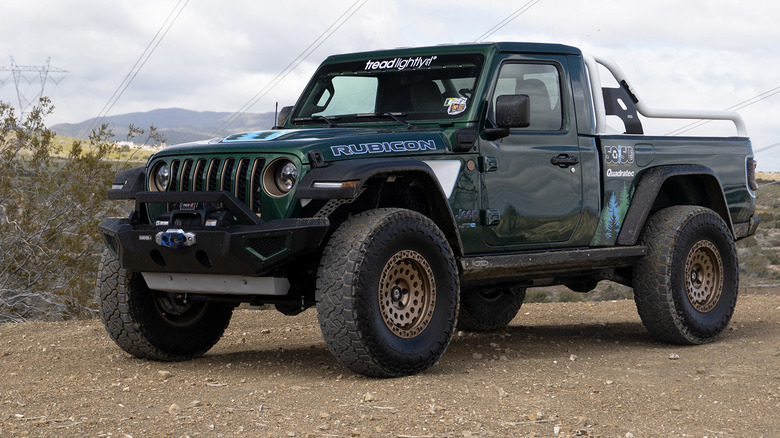 Michael Teo Van Runkle/SlashGear
When Jeep revived the Gladiator as a stretched Wrangler based pickup truck, many fans of the brand's long off-roading history lamented the lack of a two-door long-bed variant more in line with the original CJ-8 Scrambler. The decision seemed strange, especially in light of the modern overlanding craze, when an eight-foot bed would allow for a full-length sleeping compartment rather than the eventual production Gladiator's cramped backseat and borderline useless five-foot bed.
Now a superteam at the aftermarket equipment manufacturer Quadratec have brought that two-door dream at least partway to life by introducing the JTe. Based on a four-door Wrangler 4xe's hybrid chassis that Greg Henderson of Unofficial Use Only chopped behind the front two seats and then fitted with a stretched Gladiator bed, the project attracts attention to a trail clean-up program put on in partnership with Tread Lightly! and known as "50-for-50".
But even if the two-door or four-door Wrangler might reign supreme when the trail gets toughest, a Gladiator's longer wheelbase can actually help to stabilize the chassis for greater comfort and driver confidence both during on-road driving and even some off-road situations. So how does a short-wheelbase pickup on 37-inch tires actually drive? Is there a reason Jeep won't build something like this? I took the JTe out for a spin to find out.
Off-roading in Quadratec's JTe concept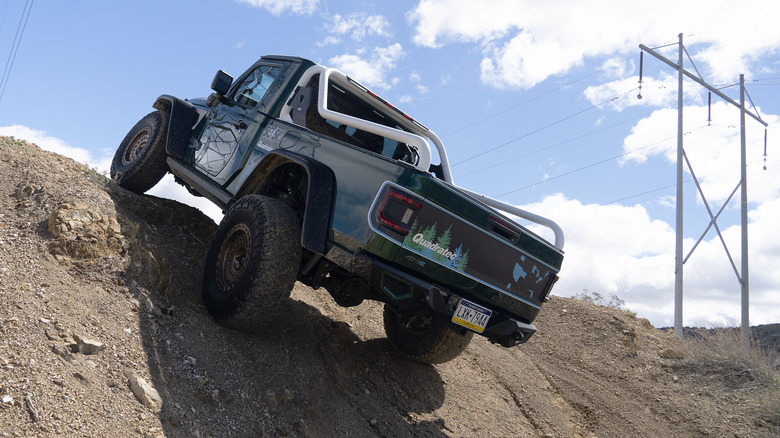 Michael Teo Van Runkle/SlashGear
Quadratec specifically requested that I not take the JTe through any terrain that was too outlandish, since the truck needed to show up at Easter Jeep Safari in Moab, Utah, only a few days later. As if I didn't feel timid enough four-wheeling in a one-off build—essentially what I like to think of as something closer to a concept design for a hypothetical pickup truck that Jeep may one day mass-produce. Or at the very least, a concept built outside the company that might one day be looked back upon as the pivotal moment that proceeded to nudge the bean counters at Stellantis into finally listening to the clamoring masses.
And even on a few steep-ish hill climbs, while blasting down fire roads, and navigating a couple of mild ruts, the Wrangler's shorter wheelbase proves itself as eminently worthy of the pickup truck layout. In photos, the JTe appears almost RC car-ish in proportion thanks to the tall profile, huge tires, and short cab. Keep in mind, though, that most concept cars only ever drive up onto a spinning dais—this one mountain goats up tricky trails with ease.
Silence as golden as the JTe's wheels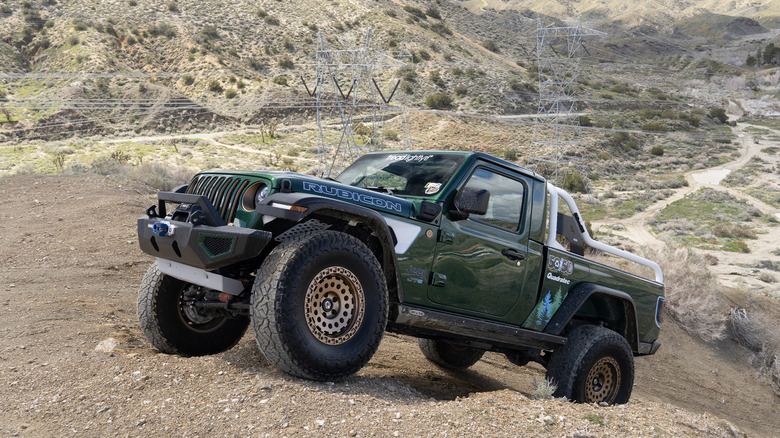 Michael Teo Van Runkle/SlashGear
The 4xe hybrid drivetrain (pronounced four-by-E) can easily seem like a gimmick to please greenie-weenies, and early advertisements from Jeep showing silent off-roading among actual mountain goats, deer, or livestock played right into that image. The hybrid powertrain, however, managed to produce 375 horsepower and an impressive 470 lb-ft of torque, the latter figure matching the absurd Rubicon 392 equipped with a gas-guzzling V8. An official fuel economy rating of 49 MPG combined versus 14 MPG combined for the V8 certainly helps, too.
I had never previously driven a full EV in anything near serious terrain and really, the silence completely transforms the experience—simply because of the new noises that now attracted my attention. A babbling creek, swollen from meltwater after Southern California's recent atmospheric river storms; wind and surging electricity in the power lines below which I simply had to pose the truck for photos; and best of all, the sound of those massive tires scrabbling for traction on rocks, sand, and stone.
The 4xe's hybrid system carries over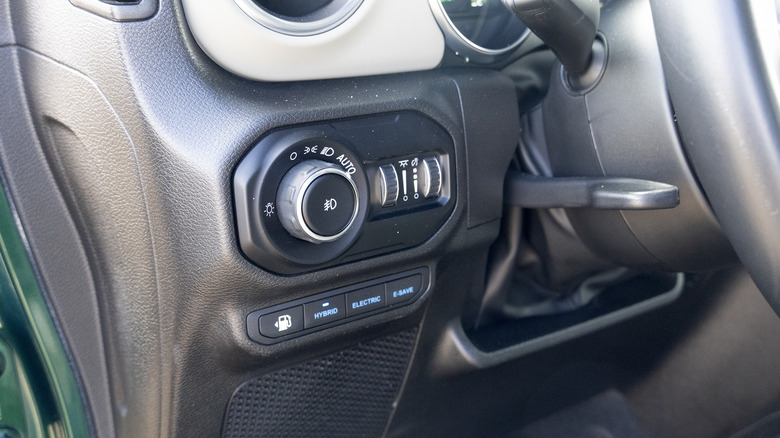 Michael Teo Van Runkle/SlashGear
Jeep equipped the 4xe with three critical buttons to the left of the steering wheel on the dash that allow the choice between a "traditional" plug-in HYBRID mode, ELECTRIC to keep the gas engine fully off, and a nifty E-SAVE battery management system. The truck fires up initially in hybrid mode, prioritizing fuel economy by shutting the engine down at low speeds or when stopped, then only firing up the ICE powerplant when necessary. Full electric mode offers up to 21 miles of EV, while the e-save mode tells the ECU to prioritize saving battery life for later use, for example while cruising on the highway on the way to a trailhead.
This review is more about the changes that Quadretec et al made to the 4xe to transform it into an eye-catching one-off concept car that serves as a rolling advertisement for Tread Lightly!—so I don't want to focus entirely on Jeep's underlying platform. Plus, the aesthetic and functional improvements go through the full catalog, from Unofficial Use Only's dash and door card trim to a full 2.5-inch suspension lift with adjustable control arms and shocks by Lynx, Steersmarts steering upgrades, Carnivore front and rear bumpers, Katskinz 4xe edition seat covers, and a host of Quadratec's lighting packages, heat extractors, winches and solenoids, and much more.
Skipping out on the by-now-ubiquitous (according to Instagram, anyway) roof tent helps to accentuate the unique two-door pickup form, but the real-world driveability of the JTe proves that this layout actually deserves to make the transition from concept to production reality. And not just because the JTe looks so much better than a stock Gladiator's long, rectangular cabin and shorter-than-short bed; in town, the JTe's peppy turbo-four and battery dole out plenty of grunt, even given the hybrid system's additional 1,000 pounds or so plus all the add-ons that Quadratec added on and the short wheelbase keeps the turning radius nice and nimble for daily driving or Whole Foods parking lots, even with the gargantuan Nitto Recon Grappler all-terrain tires.
Big details on a little truck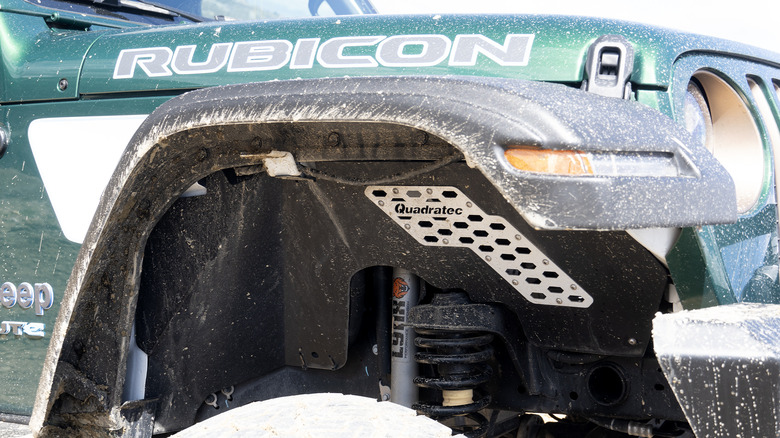 Michael Teo Van Runkle/SlashGear
Those tires do produce a bit of steering wander, though, and the short wheelbase, significant unsprung mass, and surprisingly shrimpy Lynx shocks result in a choppy ride surprisingly similar to any normal Wrangler. The JTe's lift and tires make for much more capability than a stock Wrangler, of course, but therein lies perhaps the Gladiator's greatest gift: the longer wheelbase makes highway speeds and even some off-roading that much smoother.
On the interior, the reupholstery job provides much more lumbar support than Jeep's Spartan seats thanks to the contrast saddle stitching, while the dash looks much more in line with the overall aesthetic of a rugged pickup truck. Nifty electric running boards that fold out when the doors open and fold back in to integrate with rock sliders also help make life easier given the significantly lifted ride height—I can admit I did not try to use the onboard tank to air up my tires, even though I brought tire deflators and my own compressor.
But when I walked out to the JTe for the first time, ready to hit the road with all my gear in hand, I quickly discovered a handful of odd decisions that certainly would not survive though to a similar product from the Stellantis factory—but that could serve as lessons for Jeep to learn from in the event such a truck ever does enter production.
Lessons Jeep can learn from the JTe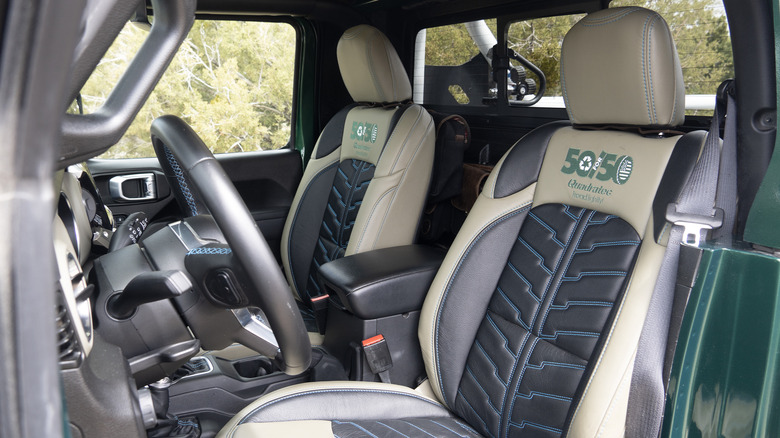 Michael Teo Van Runkle/SlashGear
Much like Henderson's actual build process, it all starts with the chopped cabin, which obviously creates an immediate concern for head and legroom given that the JTe is based on a Wrangler, one of the least comfortable cars known to man. First, I discovered that my choices for storing the compressor and recovery straps were limited to either the unsecured bed—not great, since I planned to stop for coffee—or plopped into and completely filling the passenger footwell. Then, when I climbed into the driver's seat, I immediately knew the JTe probably isn't great for anyone taller than about 5'10" or so.
Saddle bags mounted behind the driver and passenger seats don't help the situation, restricting the ability to slide or recline either seat too far rearward (while not providing much in the way of additional storage to compensate for the lost comfort factor). An exposed metal crossbar directly above the headrests also kept me (at 6'1" with long legs) from wanting to sit as far back as possible. And given the Wrangler and Gladiator's already diminutive windshield, which promotes hunching over for better visibility, the additional 50-inch lightbar installed inside at the top of the glass rather than on the roof seems downright peculiar.
Bolting an aggressive, grumbling aftermarket exhaust system onto the hybrid drivetrain also seems counter to the point—transforming the turbo-four into more angry sea lion than purring kitten—and one all the more discordant given the hybrid system's delay between mashing the accelerator pedal and beginning to roll away, followed a fair amount later by the moment when the drivetrain switches from silent full-electric power to partial gasoline assist with a raucous fire-up bark. But hey, this truck needed to fit in—or, better yet, command attention—among the insanity at SEMA and in Moab at Easter Jeep Safari, so I suppose we'll just have to let the exhaust slide (even if a Fiat four-banger can rarely ever hope to sound good outside an Abarth 500).
What if Jeep built something similar?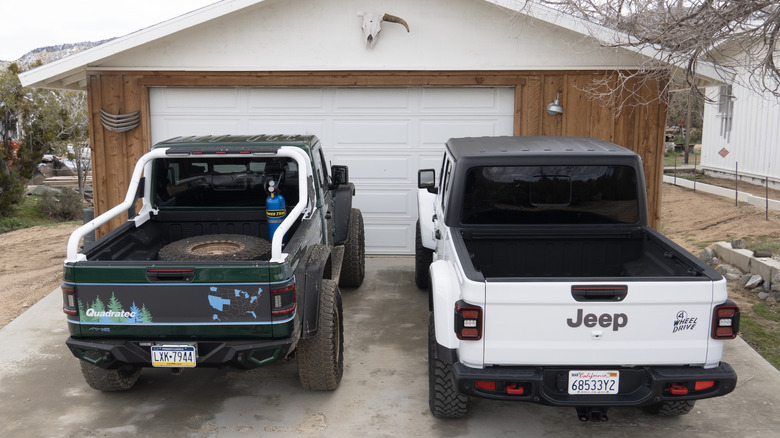 Michael Teo Van Runkle/SlashGear
After a full day in town, off-roading, and on the highway in the JTe, I found myself daydreaming about how Jeep could best build something similar. Given the interior ergonomics, I might argue for an extra-cab with a swingout suicide door for a bit more storage, or maybe even with early-2000s jumpseats. And the truck definitely deserves an eight-foot bed, which would unfortunately sacrifice some of the RC-car proportions in favor of absolute perfection for true overlanding—pop on a camper shell with a simple sleeping platform for a bit of protection from the elements, no absurd roof tent setup needed. With such a truck—perfect for hauling lumber, too, I might add—we can ditch the Instagram illusions and get back to camping the old-fashioned way spending all our time outdoors other than climbing into and out of the sleeping arrangement.
But the longer bed will also either require a Gladiator frame or demolish nimbleness that makes the Wrangler wheelbase so attractive. Maybe Jeep just needs to build two: a tiny truck like the JTe on the Wrangler frame, plus an extra cab with the eight-foot bed based on the Gladiator's stretched frame. The idea sound unlikely, to say the least, given the potential market share that's then split between each truck.
Scratching the itch for a two-door Jeep pickup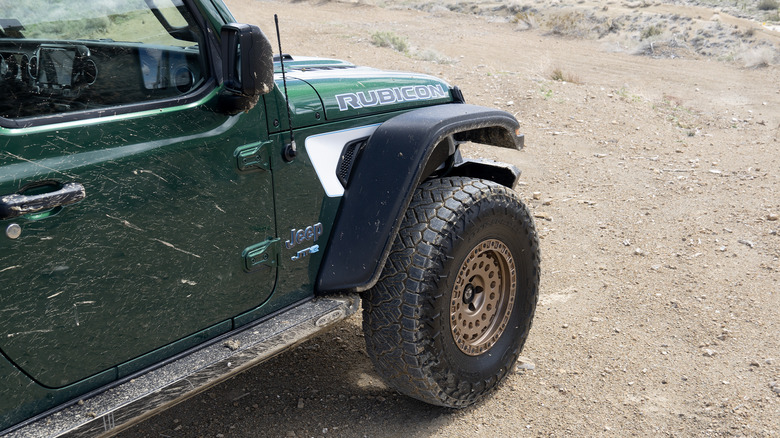 Michael Teo Van Runkle/SlashGear
At the very least, we know a Gladiator hybrid is on the way, with the fuel economy improvements over the bland, if capable, Pentastar V6. Maybe something more similar to the eTorque system available with a V6 over at Ram, even. But any plans, if they exist, for a two-door Gladiator have not leaked quite yet.
Perhaps a potential two-door pickup based on the forthcoming Ineos Grenadier might satisfy the same itch with which the FZJ70 taunts us from abroad and finally provide an alternative to the popular four-door crew cabs with short beds that cater mostly to flatlanders and city folk (looking at you, all-new Chevy Colorado). Even in my brief time driving the JTe out of town to find some trails, multiple members of the general public came up smiling, wanting to check out this unknown two-door truck and asking if Jeep actually built it. No, not quite, but sort of, just with a little help from Quadratec and Unofficial Use Only. Proof positive, I figure, of the little truck's potential as a rolling advertisement both for all the build partners and the Tread Lightly! nationwide cleanup effort.
But the JTe also serves as proof that at least some customer base, even if small, exists for a similar truck from Jeep. Give the people what they want, I say, though perhaps Jeep needs to know that more people have seen the truck before committing to the project—an appearance at one of the most photogenic places on the planet during Easter Jeep Safari might help, as will a continued commitment to clean-up events while slowly and steadily checking off that list of all 50 states.