Why The 2023 Hyundai Kona Is Among The Least Reliable Electric Cars You Can Buy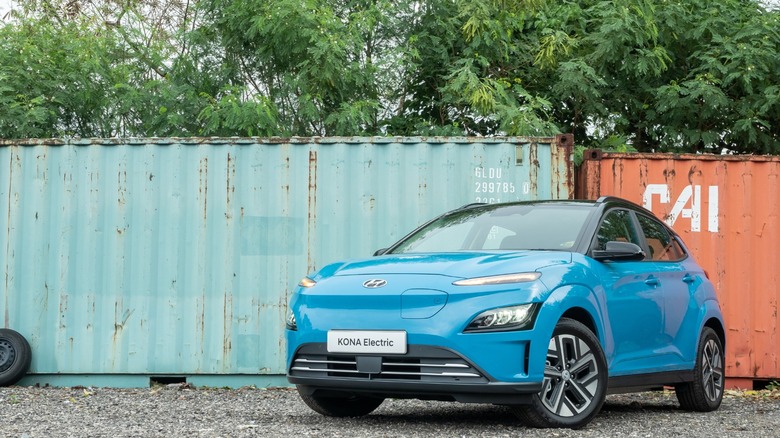 Teddy Leung/Shutterstock
Among electric vehicles, Tesla has a reputation for misaligned panels, faulty touchscreens, and recent safety recalls for self-driving tech. That said, Tesla isn't alone regarding electric reliability issues. The Hyundai Kona EV is one of the least reliable EVs today, scoring just 1 out of 5 in Consumer Reports' Predicted Reliability Rating.
As far as cars go, electric vehicles are straightforward. It's not much of an oversimplification to say they're just a motor and batteries. The comparatively simple construction of EVs gives them a substantial advantage over gas-powered vehicles regarding maintenance and service costs. Still, it doesn't completely exclude them from having their own issues. 
Recent years have seen supply chain shortages and a surge in demand result in a fair number of quality control issues regarding electric cars. Electric vehicles are more than twice as likely to suffer from drivetrain recalls than internal combustion vehicles. A perfect example of simplicity not equating to reliability is the Hyundai Kona EV. The Kona EV scores lower than the Audi e-tron, Nissan Leaf, several Teslas, and even Hyundai's own Ioniq 5, coming in dead last in the vehicles tested by Consumer Reports. 
A myriad of issues plague an almost unchanged 2023 Hyundai Kona
In general, Hyundai has a pretty good reliability record, especially of late, but that doesn't mean the company cannot have one or two bad models. Consumer Reports' Predicted Reliability Rating report for the 2023 model year gave the Kona a reliability score of 41 out of 100. 
Consumer reviews on Edmunds and information from Consumer Reports reveal that most of the issues with the Kona stem from the battery and motors that fail, needing complete replacement in many cases. Some owners also found problems with the AC system, with owner reviews and Consumer Reports' predictions mentioning failing AC units that become unresponsive to adjustments or stop working. 
J.D. Power notes that the Kona EV received significant updates for the 2022 model year, which were passed along to the 2023 version. That being said, the battery and powertrain remain the same, and that is where most of the issues lie.
The common issues are covered by the warranty, but repairs take time
The battery issues are not fantastic, but Hyundai offers a reasonably generous vehicle warranty — ten years or 100,000 miles for the battery and powertrain components, in the case of electric vehicles. That means if your car comes up with an issue shortly after buying it, as many owners report, it will be covered. Unfortunately, and perhaps due to the 2019-2020 Kona and Ioniq recall, Hyundai seems unable to fulfill warranty replacements within a reasonable time frame. 
Kona EV owners on Edmunds report long wait times for replacement batteries. Some owners say they waited as little as two weeks for the parts to arrive on back-order,  while others waited four months without any estimated completion date. To make matters worse, dealers and service centers were often unresponsive to communications from affected owners and left them in the dark for considerable periods while they had to make do without their vehicles. 
Unfortunately, Hyundai seems to have missed the mark with the Kona so badly since other models from Hyundai and its sister brand, Kia, have received praise in recent years for excellent reliability. If you were looking into buying a Hyundai Kona EV, and your budget allows for it, you may instead want something like a Volkswagen ID4, Hyundai Ioniq 5, or Kia EV6.