2023 Kia EV6 GT Review: How A Great EV Becomes A Tough Sell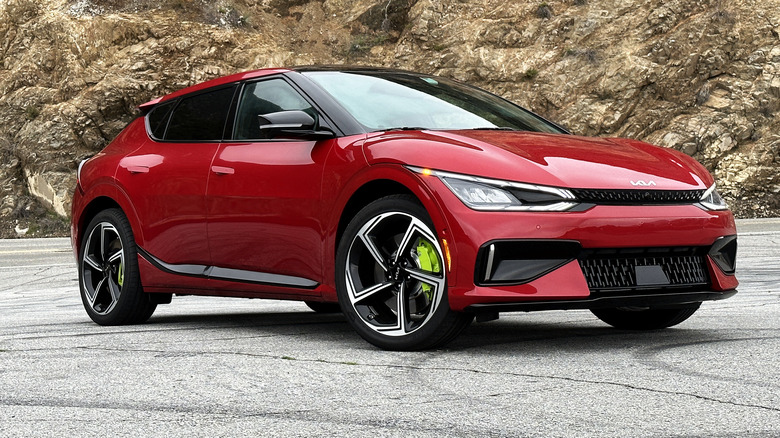 Steven Ewing/SlashGear
The 2023 Kia EV6 GT sure sounds super cool; what's not to love about an electric car with 576 horsepower, 545 pound-feet of torque, and a 3.4-second 0-to-60 time? The EV6 GT also looks super cool; check out those 21-inch wheels, acid green brake calipers, and racy sport seats.
But interesting as those individual attributes are, the EV6 GT kind of falls apart when taken as a whole. And when you factor in its more expensive price tag and substantial dip in driving range, the GT package really just makes the otherwise lovely EV6 less compelling.
The GT uses the same 77.4 kilowatt-hour long-range battery pack as other EV6 models but has more powerful electric drive motors mounted on each axle. There's a 214 horsepower motor up front and a 362 horsepower motor at the rear, and this gives the GT a healthy 256 hp increase over the all-wheel-drive EV6 Wind and GT-Line. The GT's 545 lb-ft of torque is a 99-lb-ft gain over the lesser trims, too. 
But there's a catch.
The GT giveth...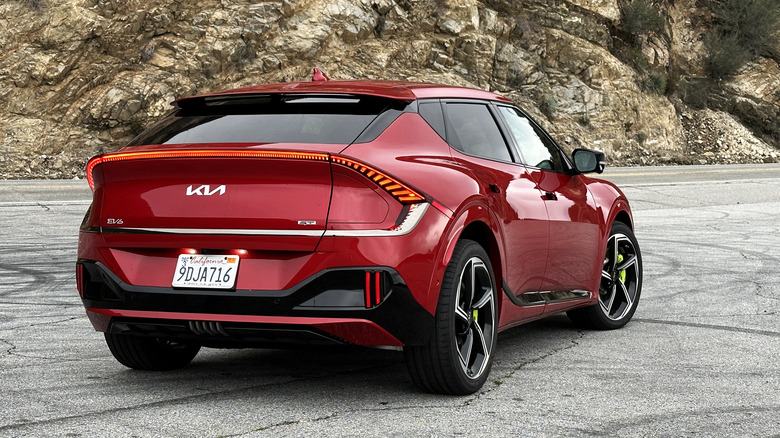 Steven Ewing/SlashGear
You can only unlock the full 576 hp if you're driving in GT Mode — accessed via the bright green button on the lower right side of the steering wheel — and if the battery has at least a 70% charge. If you drive the EV6 GT in its most efficient Eco mode, Kia limits you to 287 hp, and stepping up to the Normal and Sport modes still caps the powertrain at 430 hp.
The headline 3.4 second acceleration time to 60 mph can obviously only be achieved when you're in full GT mode attack. But it's not like the EV6 Wind AWD and GT-Line AWD, which can hit 60 mph in 5.1 seconds, are in any way slow. All electric cars are quick during their immediate 0-to-30 acceleration, and that's what gives you that neck-snapping thrill. It's a neat bragging right that a Kia EV6 GT can outrun a Ferrari Roma to 60 mph, but those are two different cars with two different missions, so honestly, who cares?
GT mode also automatically turns off the traction control, which is a step too far; I don't recommend disabling this tech during everyday driving on public roads. On the other hand, GT mode does add 0.2 g of regenerative braking force — a 50% gain over the standard driving settings — and the extra energy recuperation is really noticeable and welcome. For fans of one-pedal driving, this is great.
... the additions reassure...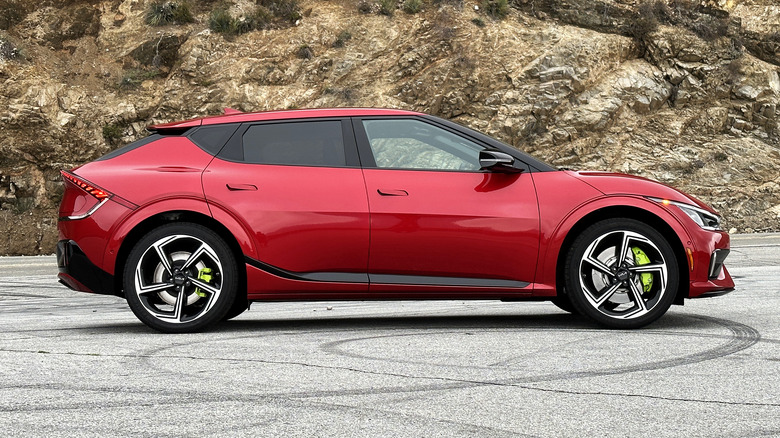 Steven Ewing/SlashGear
The GT's mechanical brakes have ventilated discs at all four corners which, at 15.0 inches front and 14.2 inches rear, are 2.2 and 1.4 inches larger than the standard EV6's, respectively. This helps shorten the GT's stopping distance, grinding this EV to a halt in 141 feet from 62 mph, an improvement of 6.6 feet. That's also good considering the GT carries around an extra 293 pounds of heft compared to other AWD versions, plus the calipers are painted neon green, which is extremely rad.
Electronically adjustable dampers are standard, stiffening and softening based on the selected drive mode. This helps with overall handling in the Sport and GT modes, but the biggest win for cornering composure is the standard set of 255/40-series Goodyear Eagle F1 summer tires. These grippier rubbers don't kill the ride quality, and they don't add much road noise, either.
... but the GT taketh away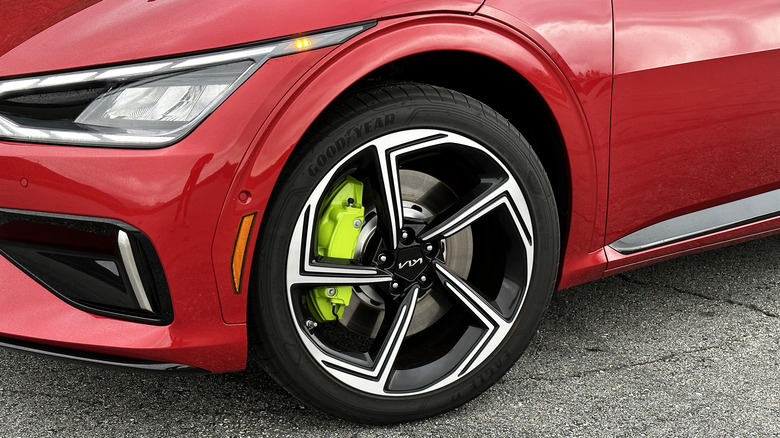 Steven Ewing/SlashGear
Get out your sad trombones: The GT's extra power, weight and sticker tires massively affect the EV6's electric driving range. An EV6 GT-Line on 20-inch wheels is EPA-estimated to go 252 miles on a full charge, but the GT drops that number to a measly 206 miles. And if you drive in Sport or GT mode — which is, you know, sort of the point of this model — you'll see even less than that.
At least the GT benefits from the same 800-volt electrical architecture as the rest of the EV6 lineup, meaning you can take advantage of 350-kilowatt public DC fast chargers. You won't actually charge at speeds of 350 kW, of course; Kia says you can expect a max charging rate of 240 kW. But that still means the EV6 GT can theoretically get to an 80% state of charge in as little as 18 minutes if the battery is preconditioned and the charger actually works and the planets are all aligned. You know the drill.
For those of you with home charging, the EV6 GT can replenish its battery in just over 7 hours on a 240 volt Level 2 charger. Plug it in before you go to bed and you'll be good to go in the morning — well, assuming you get more sleep than I do, anyway. And don't forget, the EV6 can also send juice in the opposite direction, thanks to V2L (vehicle to load) charging capabilities that let the car act as a generator, offering 1,900 watts of energy to power small appliances and more.
Cool seats and plenty of space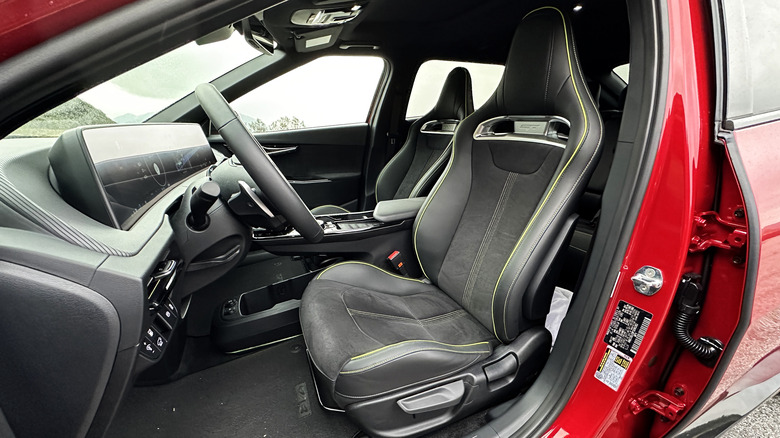 Steven Ewing/SlashGear
The EV6 GT's interior has a bunch of bright green stitching to match those model-specific brake calipers, and you'll find it on the steering wheel, dashboard and seats. Speaking of which, the GT's sport seats are way more supportive than the ones you get in a standard EV6, but at the same time, they aren't as comfortable. Plus, these chairs are manually adjustable, which feels like a downgrade, but at least they retain their three-stage heaters, which get nice and toasty hella quick.
Seats and green accents aside, the GT's cabin is the same as other EV6 models. Headroom and legroom are generous for both first- and second-row occupants, and there are plenty of little storage cubbies, including a large tray under the center console.
Much like its platform-mates, the Hyundai Ioniq 5 and Genesis GV60, the EV6 looks a lot smaller than it actually is. This is technically a compact SUV, just one with a fast roofline and raked rear window (that desperately needs a wiper, by the way). As such, Kia quotes 24.4 cubic feet of space with the rear seats upright or 50.2 cubic feet with the back bench folded flat. For reference, that's less than you get in a Kia Seltos crossover, but still plenty usable for groceries, luggage, Home Depot runs, the usual.
All the tech, all the time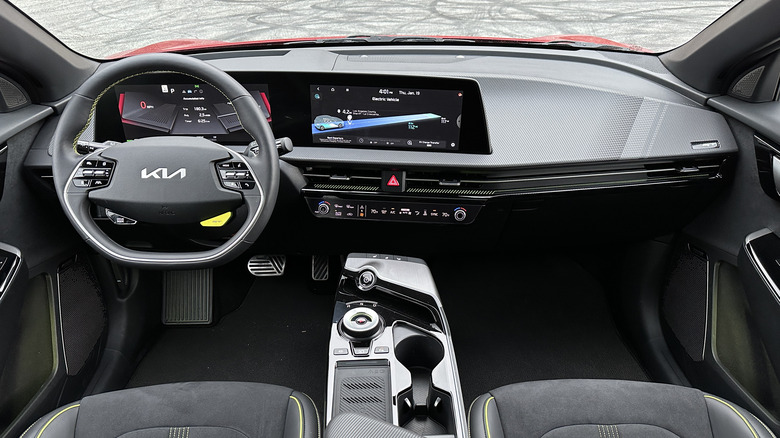 Steven Ewing/SlashGear
On the tech front, the GT doesn't differ from the rest of the EV6 family, and the multimedia suite will be familiar to anyone who's been in one of Kia's other new cars. There's a 12.3-inch digital gauge cluster with different layouts depending on drive mode, and to the right is a second 12.3-inch touchscreen that houses all the infotainment controls. The good news is that Kia's native system is incredibly easy to use thanks to large icons and a logical menu structure. The bad news is that, while Apple CarPlay and Android Auto are included, neither can be connected wirelessly. Oh, and you have to use a USB-A cable for the smartphone mirroring; the USB-C outlet up front is for device charging only.
Since the GT is the top-shelf EV6, it comes standard with every single one of Kia's latest and greatest active and passive safety technologies. All the usual things like blind-spot monitoring, lane-keeping assist, forward-collision warning and rear cross-traffic alert are all here, and the standard adaptive cruise control actually has machine learning capabilities, so it'll adjust its methods based on your driving style over time. The EV6 GT also has Kia's Highway Driving Assist 2 suite, which combines the aforementioned radar cruise and lane-keeping tech for assisted highway driving. It'll even complete lane changes automatically — you just have to hit the turn signal stalk.
2023 Kia EV6 GT Verdict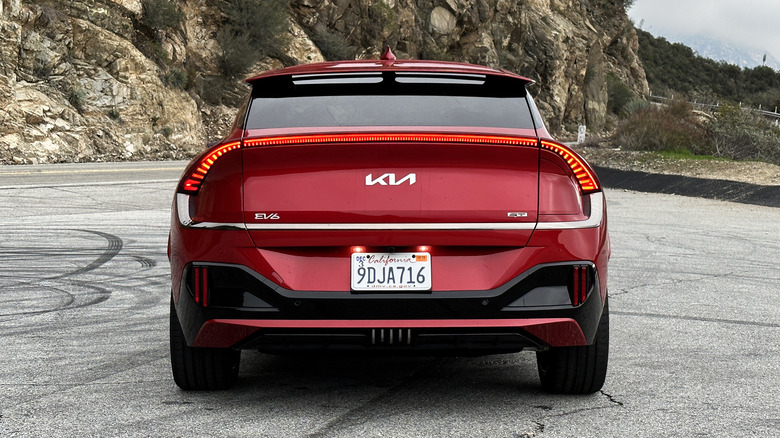 Steven Ewing/SlashGear
It's a good thing the EV6 GT comes fully loaded, because it certainly isn't cheap. All in, you're looking at $62,925 including $1,350 for destination. Sure, that's only $4,000 more than the dual-motor GT-Line, or a $9,000 upcharge compared to the slightly more spartan Wind AWD, but what are you really getting for that extra coin?
Think about it: The GT has more power, but the full punch isn't always available, and the toll it takes on range is alarming. The summer tires definitely give the EV6 more grip while cornering, but at the end of the day you're still hustling a 4,795-pound crossover. Even with its low center of gravity and additional poise, this isn't an EV that really enjoys being thrown around. Maybe wait for the upcoming Hyundai Ioniq 5 N, which is expected to be a bit more rowdy.
The EV6 GT is seriously attractive, relatively quick, pretty darn spacious and loaded with tech, plus it has one of the fastest onboard setups among new EVs today. Its problem is that you can also say every one of those things about the less-expensive GT-Line and Wind trims, and still have more range to boot.