The Luxurious Jaguar Limousine Fit For British Royalty
Imagine, if you will, car collector heaven. Alongside real-world classics like the Shelby Mustang and the Mercedes Benz 300SL, true gearhead paradise would feature cars that never were — should-have-been masterpieces that never made it to production. A Jaguar XJ220 that lived all the way up to its V12-powered hype. A properly modernized Miura. 
How about a successful marriage of the long-opposed powerhouses of northern Europe: a British luxury touring car with German engineering.
Believe it or not, the latter is more than a pipe dream. Germany and the U.K. got on the same page in at least one instance with the Jaguar Daimler DS420 limousine. The DS420 is a real car, not to mention probably the single most posh, fancy, and most upmarket vehicle built since the downfall of Duesenberg. The DS420 was the last in a storied line, and it took a factory full of Communists to make it happen.
[Featured image by MIKI Yoshihito via Wikimedia Commons | Cropped and scaled | CC BY 2.0]
Royal ambitions, working-class knowhow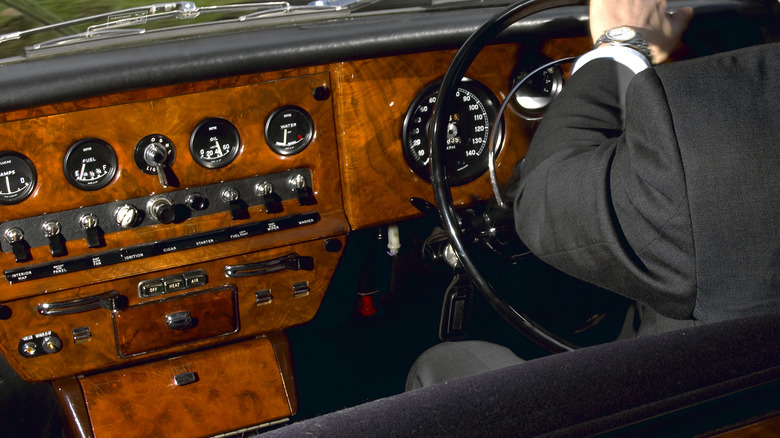 Heritage Images/Getty Images
The DS420 — known as the Daimler Limousine — was less a car than a dynasty. Built from 1968 to 1992, the Daimler Limo embodied the fraught history of luxury car manufacturing. The "Daimler" in question was Daimler Company Limited, a British-based enclave of German-inspired engineering that bought the rights to use the Daimler name from Gottfried Daimler himself in 1896. 
According to the Jaguar Daimler Heritage Trust, Daimler's pedigree was never in question — they received a Royal Warrant to build cars for the British royal family in 1902 — but Daimler struggled to build a customer base outside literal heads of state. Precarious finances led to a series of mergers, ultimately landing Daimler alongside Jaguar under the auspices of British Leyland in 1968.
If the Daimler Limousine was less a car than a dynasty, British Leyland was less a carmaker than a social movement. According to AR Online, British Leyland was a sort of unofficial nationalization of British vehicle manufacturing. At its peak, it controlled 40% of all vehicle production in the U.K. 
Workers at British Leyland were also famously active in the labor movements of the time, producing a distinctly left-wing, egalitarian corporate framework, with much of the company's decision-making power invested in ordinary workers and floor-level management.
A job well done
It would be difficult to imagine a less probable group of people taking over two ultra-luxe, elites-only brands like Jaguar and Daimler than the British Leyland workforce. Left-wing firebrands, proud egalitarians, and a non-negligible number of actual, practicing Communists built Queen Elizabeth's personal car. They did an amazing job.
From 1968 to 1992, the DS420 was the absolute last word in British luxury, with just enough German-inspired design philosophy from Daimler to make the masterpiece work. Per the Heritage Trust, the limousine stuck with the legendary 4.2 liter Jaguar XK engine throughout its manufacturing run; representing the final usage of the classic 6-cylinder, which powered everything from luxury cars to light tanks in its 50-year use history. 
Most of the limo's working components were as Jaguar as its engine, down to hand-built custom fit and furnishing in a special shop at the famous Browns Lane factory. Its lines and bodywork, however, owed a debt of design to Daimler, with signature sharp-edge paneling and unitary build.
Aside from providing royal steeds to the crowned heads of Europe, the royal houses of Denmark, Sweden, and Luxembourg enjoyed DS420 cars. Some are still in service — the DS420 was a successful model among chauffeur services and undertakers, furnishing some of the world's most stylish hearses. The Daimler Jaguar Limousine outlived British Leyland, meeting its own demise as a Jaguar product in 1992.