2023 Honda Pilot TrailSport Review: Off-Road Focus Misses Something Important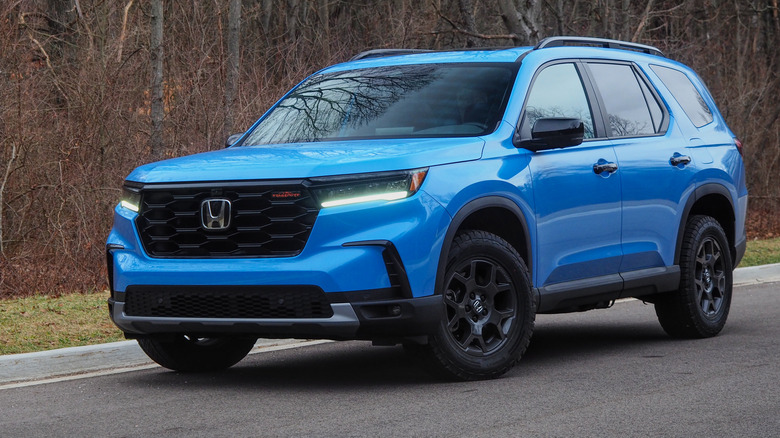 Chris Davies/SlashGear
In the fiercely competitive family SUV segment, it's no longer enough to be spacious, reliable, and moderately stylish. Buoyed by strong sales across the category, not to mention demanding shoppers, models like the 2023 Honda Pilot can't stop at the three-row basics. Standing out means possessing more personality than a household appliance.
The third-generation Pilot was a softie. Less memorable visually than its predecessor, it smacked of the "generic SUV" you see, badge-free, in commercials. Something vague, clearly an SUV but legally safe from infringing on any more interesting designs.
For the 2023 Pilot, Honda has upended that. A bigger grille, squinting headlamps, and stronger lines leave the new three-row SUV just as aggressive as you require for the Costco parking lot or defending your spot in the school run. Longer and taller, too, it also adds almost three inches to its wheelbase. That pays off in cabin space, as well as making the Pilot look more visually imposing.
AWD is optional, safety comes standard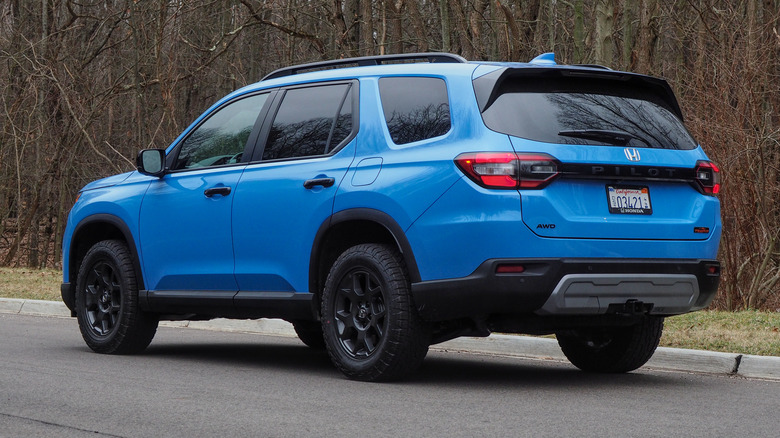 Chris Davies/SlashGear
New Pilot ownership starts at $39,150 (plus $1,345 destination) for the Sport 2WD; if you want all-wheel drive (AWD) that's a $2,000 upgrade. This TrailSport trim slots in the middle of the 2023 Pilot range — the Touring is cheaper, but not if you add the AWD that the TrailSport has as standard — from $48,350 (plus destination).
At the top end, there's the 2023 Pilot Elite, from $52,030. That also has all-wheel drive by default, as well as loading up on creature comforts and gadgetry like ventilated seats and a heads-up display for the driver.  
You don't need to spend more for the full active safety suite, mind. Honda Sensing is standard across the board, with adaptive cruise control including low-speed follow, collision-mitigating braking, road departure mitigation, and blind-spot information with cross-traffic monitor. Second-to-base EX-L trim (from $41,950 plus destination) adds parking sensors.
TrailSport trim gets butch for the big outdoors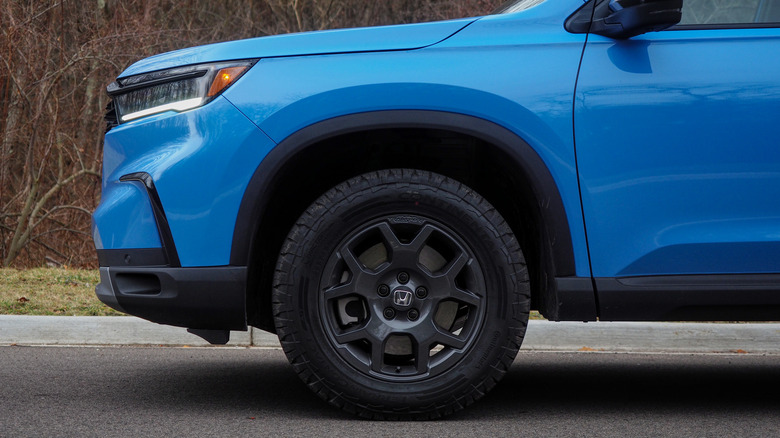 Chris Davies/SlashGear
Four out of the Pilot's five trims — Sport, EX-L, Touring, and Elite — are what you might expect for a mainstream audience. The TrailSport is the outlier. Honda isn't the first automaker to offer an out-the-box burly version of an otherwise sensible SUV, and indeed this fourth-gen Pilot isn't the first to sport the TrailSport badge, but it does feel more convincing than many.
An aesthetic that looks the part helps. The Diffused Sky Blue Pearl paintwork — a $455 option — and blacked-out grille, side mirror caps, lower trim, and wheels might have other drivers glancing nervously across, made suspicious by the Honda's first-glance similarity to a highway patrol car, but it definitely stands out in a parking lot. A handsome red is also on offer alongside the black, white, silver, and grays, which makes a welcome change from the monochromatic palette most automakers seem obsessed with.
Where even the base Pilot trim gets 20-inch wheels as standard, the TrailSport switches to 18-inch alloys shod in Continental TerrainContact all-terrain rubber. "TrailSport" logos on the wheels make sure everyone knows that was an intentional decision, though arguably you'll get most kudos if you've scratched the heck out of them off-road.
Taller and more capable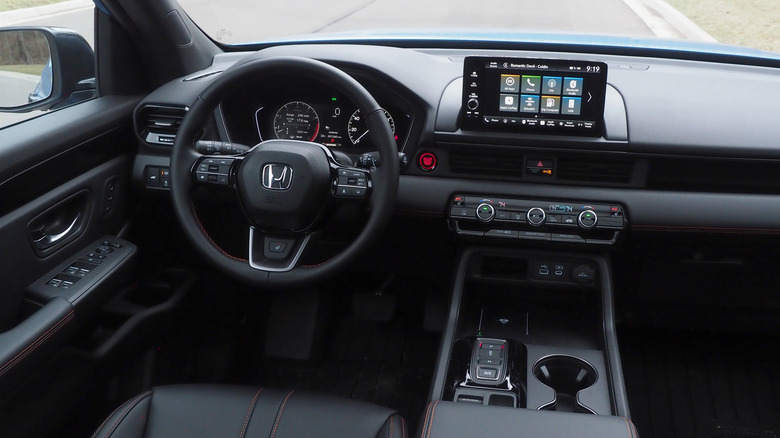 Chris Davies/SlashGear
Just how often that'll happen is the big question. Not so much because the Pilot TrailSport is difficult to place — trail cameras fill in for some of the middling sight lines generated by the blunt-edged styling — but because it's not unreasonable to be skeptical about just how many buyers of SUVs like these ever put their capabilities to the test.
The good news is that Honda's iVTM-4 all-wheel drive system is solidly capable. Up to 70% of total power can be pushed to the rear wheels; brake-based torque vectoring can then adjust how much power goes to the left or right. Trail and Sand drive modes (exclusive to AWD Pilot versions) determine how that happens, as well as other factors.
An extra inch of ride height takes the total to 8.3 inches, and the TrailSport has better approach, break over, and departure angles than the other trims. Kia's Telluride X-Pro rides one-tenth of an inch higher and boasts a better departure angle, but its approach angle falls short of the Honda. Neither, frankly, is probably going to be your first choice if off-roading is a weekly activity, but the ability to go off the beaten path without worrying too much is a welcome talent all the same.
Honda's single engine option is thirsty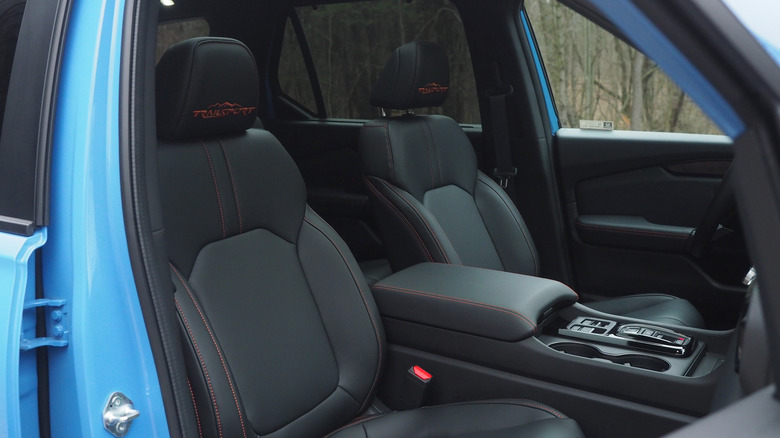 Chris Davies/SlashGear
There is, unsurprisingly, a compromise to be made for that rugged footing. Honda's single engine choice — a 3.5-liter twin-cam V6 — musters 285 horsepower and 262 lb-ft of torque, and while that's not bad it also doesn't leave the Pilot feeling urgent on regular roads. The ten-speed automatic far prefers cruising to pushing hard: Sport mode, and the transmission's "S" setting, expose a soundtrack that's more coarse than you'd expect.
The chunky tires and lifted suspension don't ruin the ride quality, though this is no sporting SUV. Still, it's easy to place and the steering avoids the over-assisted feel that some of its rivals suffer. The same goes for the brakes, which are reassuring and capable.
Likely to add up to more of an annoyance, though, is the fuel economy. The standard Pilot AWD is rated for 19 mpg in the city, 25 mpg on the highway, and 21 mpg combined by the EPA. Opt for the TrailSport, though, and that dips to 18 mpg city, 23 mpg highway, and 20 mpg combined. In my own, mixed driving, I saw just shy of 18 mpg.
Practical but short on tech glitter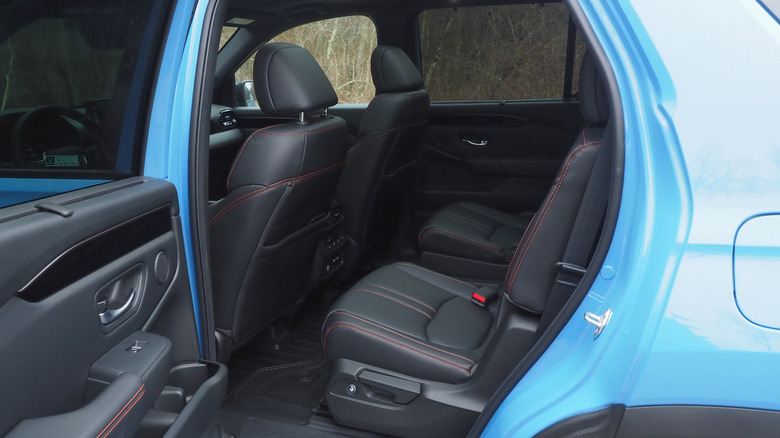 Chris Davies/SlashGear
Inside, practicality is king. Seats dressed in synthetic leather because it's more durable; sturdy rubber mats; and switchgear that's generally easy to control even if you're wearing gloves. That includes physical knobs for things like volume and temperature on the triple-zone climate control, but also the buttons for the one-touch folding second-row captain's chairs.
Despite the bright orange TrailSport stitching, Honda's cabin is a fairly dark place: if you don't like black seats then you'll be disappointed. A panoramic glass roof helps somewhat, but I missed the more charming detailing we've seen in the automaker's other recent models. A little Accord-style mesh wouldn't go amiss.
Neither, indeed, would that car's sizable infotainment screen. The Pilot TrailSport offers wireless Apple CarPlay and Android Auto, as well as several USB-A and USB-C ports, but base spec cars get a mere 7-inch touchscreen, and even the top Elite trim makes do with a 9-inch version. That feels cramped compared to the 12.3 inches you can enjoy in the Accord.
Three spacious rows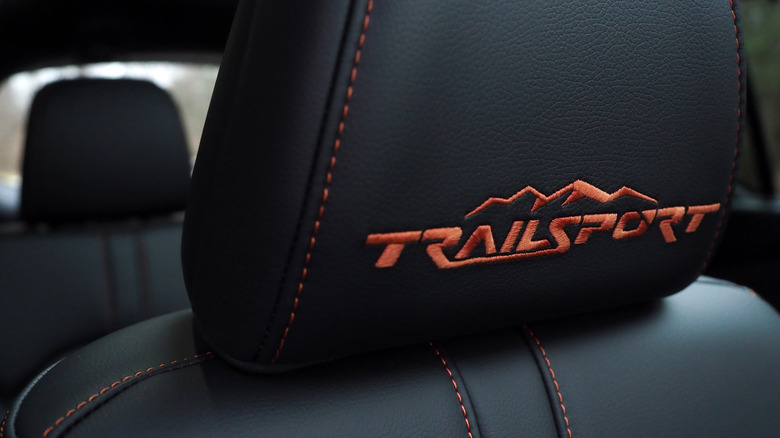 Chris Davies/SlashGear
What isn't cramped is the cabin. The TrailSport's second-row captain's chairs are standard, though other trims offer a three-seater bench taking the total Pilot capacity to eight. The stretch in the wheelbase and sliding second row mean those in the rearmost seats finally get the legroom to suit adult passengers.
In fact, with 32.5 inches back there, you get more than an inch extra over Kia's Telluride. Headroom is more spacious than the Telluride as well, though Kia does have an edge when it comes to cargo space with all three rows up: 21 cu-ft versus the Honda's 18.5 cu-ft. Drop the third row and the Pilot pulls ahead, with 48.5 cu-ft (versus 46 cu-ft in the Telluride), with both boasting 87 cu-ft with the second row down too.
Sadly, the TrailSport misses out on one of Honda's neatest features with the new Pilot: the removable center section in the second bench row. That can be folded into a console between the outbound seats, or taken out altogether. Honda has a nook under the trunk floor to store it, but the TrailSport fills that with a full-sized spare wheel. At least you get the same 5,000-pound tow rating as the other AWD Pilots (2WD only manages 3,500 pounds).
2023 Honda Pilot TrailSport Verdict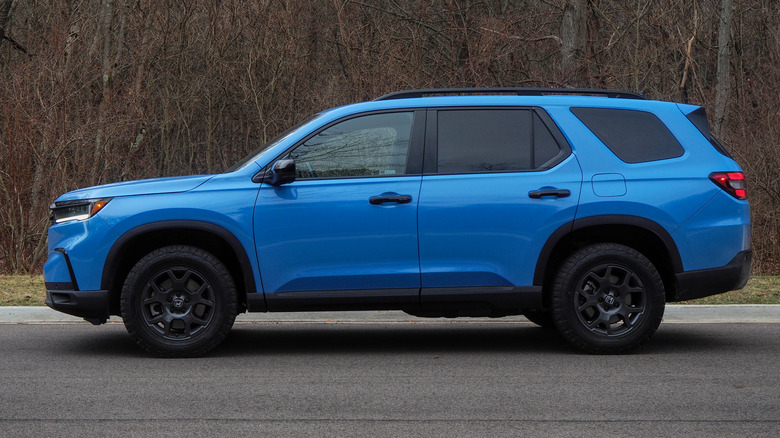 Chris Davies/SlashGear
When plenty of SUVs and crossovers slap on some chunky wheel-arch cladding and declare themselves off-road-ready, it'd be unfair to dismiss the 2023 Pilot TrailSport as merely LARPing. Certainly, Honda has taken pains to make sure it looks the part, but with the lift and the standard rubber, it's better equipped than many for life off the asphalt.
The downside is that off-road vehicles generally lack some refinement on-road, an inevitable compromise when you insist on compliant suspension and squishy, grippy tires. Honda manages to avoid that better than many, even without fancy adaptive damping or other electronic tricks, but the more road-focused Pilot trims undoubtedly still have an edge in outright comfort.
Honda's biggest problem, though, is just how good the competition is. The 2023 Pilot feels well-rounded, but Hyundai's cabin refinement and standard tech levels in the Palisade are more memorable, while Kia's Telluride X-Pro adds some off-road flare. Those on a tech hunt, meanwhile, will find the Honda thoroughly out-geeked by Jeep's Grand Cherokee L. The Pilot TrailSport is no joke, but Honda might regret not increasing its equipment levels while it lifted the SUV's suspension.