2023 Honda Pilot First Drive: Trailsport SUV Makes Big Promises On And Off-Road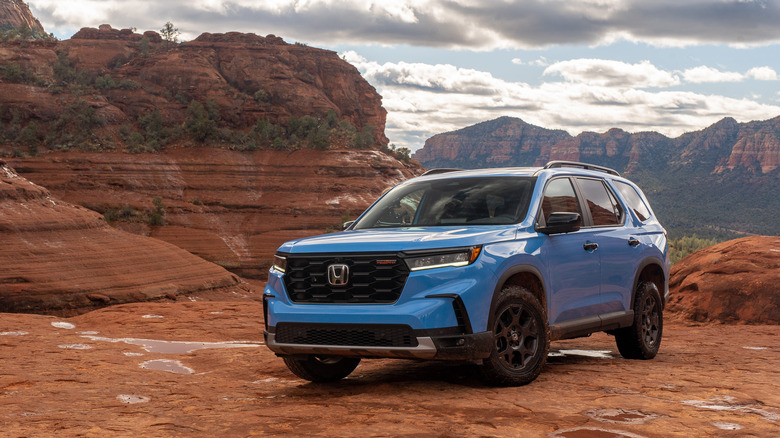 Victoria Scott/SlashGear
Americans seem to be slowly waking up to the only good part of living in the United States. There is, obviously, no solace to be found here in the gridlock of the interstate highways, or identically-perfect rows of beige suburban homes, or tech-startup-incubator-laden urban districts. Solace in this country can only be found in solitude. Escape all of America's structure. Drive as far as possible into the undeveloped, vast expanses of the gorgeous West. There, off the single-track trails, peace can be discovered, far away from other people, out where company is found in the form of untouched red rocks, pristine alpine lakes, the mountaintops that promise not a single soul for a hundred miles in any direction.
The explosion in off-roading—and off-roading SUVs'—popularity since the start of the pandemic is proof that this mentality is spreading at the pace of the novel coronavirus. Unfortunately, with this outbreak of trail-focused strains of crossovers, more people are now crowding the trails themselves. To find true solitude necessarily requires a keeping-ahead-of-the-Joneses approach to off-road capability, to ensure you don't run into the Joneses at your favorite hidden hot springs. Ideally, the Joneses can't even get to your favorite hidden hot springs. The modern market, in short, is a bit of an arms race to explore the outdoors. The newest barrage in the battle is this, the all-new 2023 Honda Pilot.
This fourth-generation Pilot—specifically the lifted, all-terrain-bedecked, weekend-warrior focused Trailsport trim—is the one that promises to be Honda's most capable off-roader; the SUV that can finally access those hidden respites that the Joneses' soft-roader crossovers can't reach.
Fresh new dimensions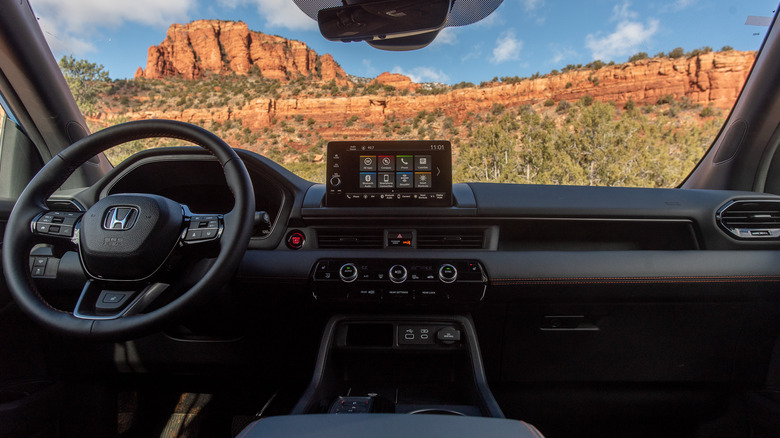 Victoria Scott/SlashGear
This is Honda's fourth generation of the Pilot, and it carries the same basic formula it always has: Three rows, relatively low entry cost, and a jack-of-all trades mentality while still keeping overall competence close to mastery. The 2023 Pilot is built on Honda's newest light-truck platform (shared with the Acura MDX), and in true built-for-America fashion, it's grown significantly over its third-generation dimensions as a result. It has a 2.8-inch longer wheelbase, over an inch of track width, and 3.4 inches of added length versus the outgoing 2022 model; it now clocks in at 16.6 feet long, three inches more than Kia's Telluride and about an inch more than Ford's Explorer.
Interior space is improved greatly as a result, with a cavernous 114.3 cubic feet of total cargo space with both rows folded flat; that's 34 more cubic feet than the Telluride. The rear tailgate area boasts 22.4 cubic feet of storage behind the third row, a nearly six-cubic-foot jump from the '22 Pilot. Legroom is, similarly, up in spades—2.4 more inches over the outgoing generation for middle-row legroom, a bit over an extra half an inch for third-row to stretch in, up to 33 total—and Honda says all this makes the newest Pilot the largest SUV it's ever built.
For an extra touch of super-sized Americana, it also boasts 14 cupholders. For usable volume in this class (the base LX trim starts just under $36,000), there's not much competition.
Fresh new kicks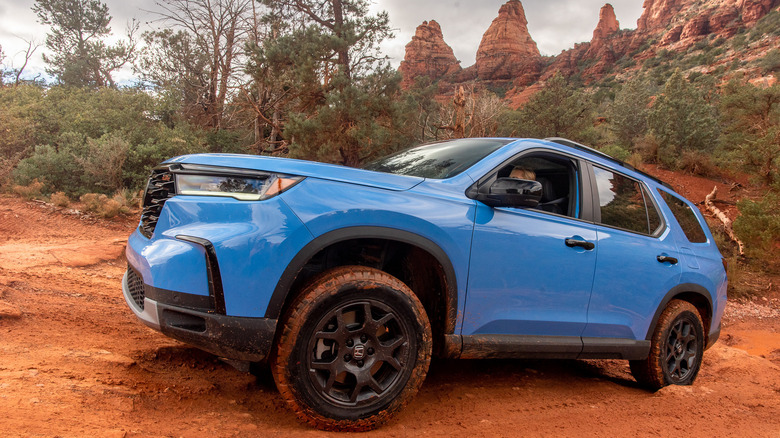 Victoria Scott/SlashGear
The '23 Pilot offers one drivetrain: an all-aluminum 3.5-liter twin-cam V6 that Honda says has been completely revamped from the outgoing 3.5-liter single-cam V6. The resulting bump in performance is underwhelming, though—the extra camshaft's only good for five more horsepower, up to 285 HP from 280, and identical torque, at 262 lb-ft. It comes coupled to a ten-speed automatic transmission, up an additional gear from the previous generation's nine speeds; the biggest real-world change for most buyers will be the 5,000 pound towing capacity that comes without the need for any dealer-added transmission or oil cooling equipment.
The real crux of Honda's off-road magic, however, isn't under the hood, it's under the chassis itself. The Pilot's secret sauce is the iVTM-4 all-wheel-drive system (and inhabitants of snowy climes take note: it's available on all trim levels, not just the off-road focused Trailsport).
First introduced on the 2022 Honda Passport, iVTM-4 is Honda's top-level all-wheel-drive that offers vastly more intelligent torque vectoring and power distribution than most typical front-wheel-drive-biased systems. The Pilot can route up to 70% of its power to the rear wheels, and then direct all of that torque either left or right, depending on which wheel has traction and can use the power; combine this with a healthy amount of trail programming, and it allows the Pilot to pull off vastly trickier climbs than it looks like it can.
Freshly meaner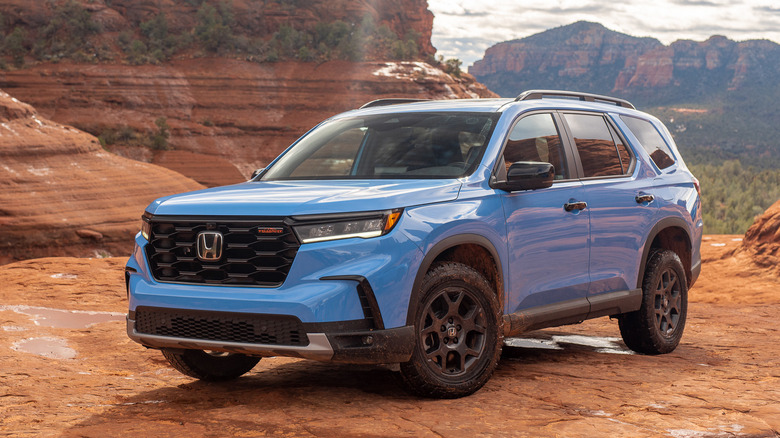 Victoria Scott/SlashGear
The Pilot is bigger, more powerful, and lifted: it needed to get an American attitude adjustment to match. Gone is the unobtrusive styling of the third-generation; now the Pilot boasts the upright, in-your-face mesh grille and raked-angle LED running lights that originated with the Ridgeline and slowly spread across the Honda lineup. Delicately-trimmed pillars are gone; the C-pillar seemingly takes its inspiration from structurally-critical beams found in brutalist skyscrapers. From the front and side-profile, it's attractive. It stops short of being comedically machismo, but it's a lot more butch than the outgoing model, and it's a welcome change.
Unfortunately, the rear is where it all falls apart for me. The taut lines and well-carved character lines originating from that handsome mesh grille spoil by the time they reach the rear, with nothing left but a disappointingly mushy, rounded liftgate bracketed by taillights that I couldn't identify as a Pilot's out of a police lineup. For as memorably handsome as the front 3/4s is, the rear is simultaneously forgettable and unattractive.
Getting to the trailhead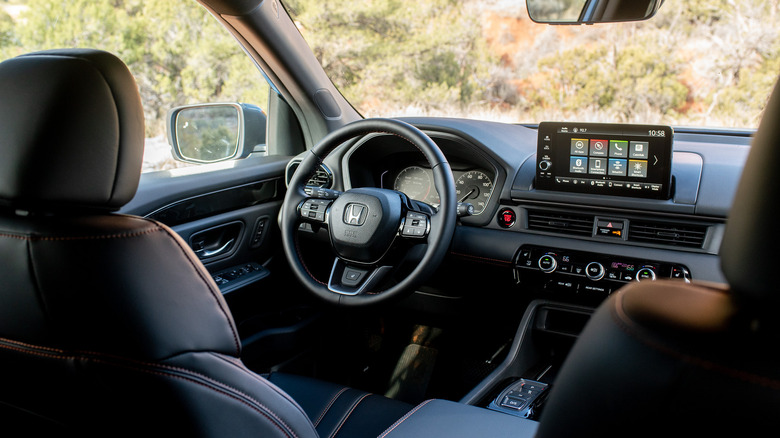 Victoria Scott/SlashGear
So my job at this point was to determine if driving the Pilot lived up to the front or the rear half of its styling. To test the new SUV, Honda dropped me in Sedona, Arizona and promised me red-rock trail-runnin'. I was excited, but as with most days of off-road adventuring, I first had to traverse the hellish confines of Society to arrive there.
On first contact, that cavernously large interior is eminently comfortable. I am 6'1" and yet with the driver's seat fully back, I could barely touch the pedals. I had massive amounts of headroom even with the panoramic sunroof. Space is never going to be at a premium, even for 95th-percentile drivers and passengers.
The driver interface is pleasant, thanks to the choice of tactile, non-touchscreen switchgear on both the wheel and some center-console areas for climate control, drive modes, and volume controls. Despite the physical controls, however, the dash layout still feels a bit sparse, and the center, top-of-dash-mounted infotainment touchscreen Honda has integrated so seamlessly into its other models feels a bit more like a glued-in tablet here. In base models, it's forgivable; in the $52,030 Elite trim, it feels cheap.
Every trim above the mid-level Sport gets a nine-inch touchscreen and wireless Android Auto/Apple CarPlay. (LX and Sport trims make do with a seven-inch screen and wired-only connectivity.) The sound system sounds great when cranked up, although I noticed only a negligible difference between the Trailsport's lower-trim sound system (a nine-speaker unbranded one) and the Elite's top-trim audio (a Bose-branded 12-speaker system). Either option feels fully-featured enough that I couldn't complain.
First, we take the interstate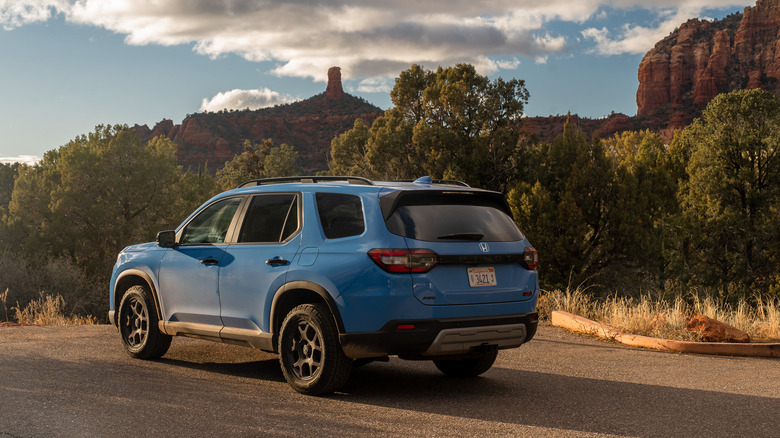 Victoria Scott/SlashGear
The driving experience on the highway is solid, in no small part thanks to the standard Honda Sensing driver-assist package. It bundles radar and cameras for adaptive cruise control with slow-moving traffic capabilities, lane keeping assist, and a host of other driver aids. All of those feel more sure-footed than previous iterations of Honda's Sensing-equipped cars. Radar-cruise-control braking upon reaching a car in front of me was gentler than on earlier Honda models, and the lane-centering assist had no vagueness to it.
That 3.5-liter V6 is adequate to merge from a standstill, although expect to hear it working hard at higher RPMs. The driving experience is fairly sedate away from the top end of the rev ranges; even in the Trailsport, road noise was minimal in the cabin despite the all-terrain tires.
Off the highway and back in town, though, I found the ten-speed automatic less than satisfactory, especially when trying to do things at half-throttle. Despite having plenty of power to handle mild grades and less-than-rapid passes, the transmission feels like it hesitates a bit before selecting the gear it needs to in Normal mode. Once it finds it, the shift is plenty quick, but it could never quite make up its mind if I was asking for one gear down, or two. Technically, the Pilot does offer paddle shifters as standard, but I wouldn't hope to Ayrton Senna my way around transmission programming in a 4,685-pound SUV.
Ride quality, however, is plenty comfortable in all trims. The Trailsport, thanks to its softer anti-roll tuning and travel-oriented suspension, definitely has a feeling of more traditional SUV heft than the Elite—you won't forget that 200-inch length easily—but with an extra inch of ground clearance and all-terrains, it's more than forgivable.
Then we head out of the state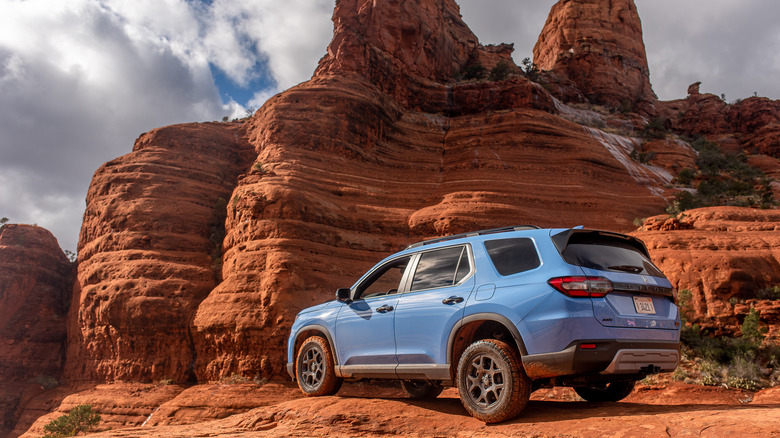 Victoria Scott/SlashGear
To put that ground clearance to the test, Honda aimed us at one of the simpler sections of Broken Arrow Trail, a famous 4x4 destination widely considered Sedona's finest. The Pilot, as expected, performed incredibly well at not getting stuck even on slick, uneven rock, with the all-wheel-drive's trail logic seamlessly picking up slack when a tire left the ground. Unlike its younger sibling, the Passport Trailsport, which solely receives all-season rubber, the Pilot Trailsport gets a set of Continental TerrainContact all-terrain tires, so it can actually put power effectively down to the dirt. In short, moving forward will virtually never be a problem.
The rest of the Trailsport's off-road chops are adequate. It has a good-for-its class 19.8-degree approach angle—better than the Nissan Pathfinder Rock Creek, for example, but worse than the Ford Explorer Timberline—but I still put the front bumper through a bit more work than I'd prefer to in a $50,000 car that, ostensibly, would still need to take me to the office on Monday. It feels every inch of its 67.5-inch track on tight corners, too, as I consistently worried I'd take out a mirror on rocks near the trail.
That fresh new face didn't do me any favors navigating, either, as the front sight lines are severely truncated by the upright grille, and although the Pilot has excellent trail cameras, sometimes I do actually like to see what's in front of me on something other than a screen.
Ride height, similarly, is mid-pack for the class at 8.3 inches on the Trailsport (a full inch more than the road-focused trims of the Pilot). Every driver in our group used the steel skid plates to their fullest, because with a 19.6-degree breakover, it was unavoidable to scrape them when summiting rocky ascents on a trail as technical as Broken Arrow.
It still did get us to the end of the trail, and that counts as a success in my book.
A buyer's market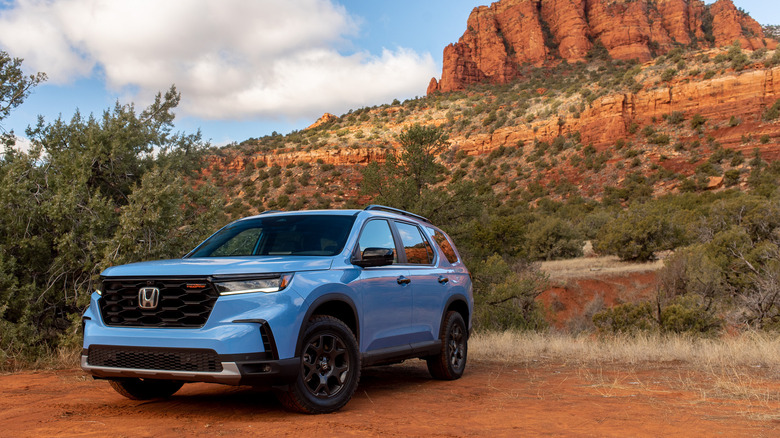 Victoria Scott/SlashGear
On the road, the Pilot is solid, although it is no longer a runaway choice as it was twenty years ago. It offers excellent capacity for its price, especially in base LX trim, but buyers looking for a hybrid, more power, or a more luxuriously laid out interior will all need to shop elsewhere. There will still be a lot of customers perfectly satisfied with what the Pilot does offer in driving sensibilities, especially toward the lower end of its trim range.
As for the much-hyped Trailsport: in the eight-seat mid-size off-road-oriented crossover under $50,000 market, it's a strong choice thanks, primarily, to its capable all-wheel-drive system. Outside of that niche—or even inside it, given the Subaru Ascent has nearly half an inch more ground clearance and starts at just under $34K—there are cheaper, more capable options for actual trail-running, but if taking seven friends camping is the job, the Pilot Trailsport can get it done. Just don't expect to fully slip the shackles of society without hearing those skid plates putting in some work.