2023 Honda Accord First Drive: The Sedan Is Far From Finished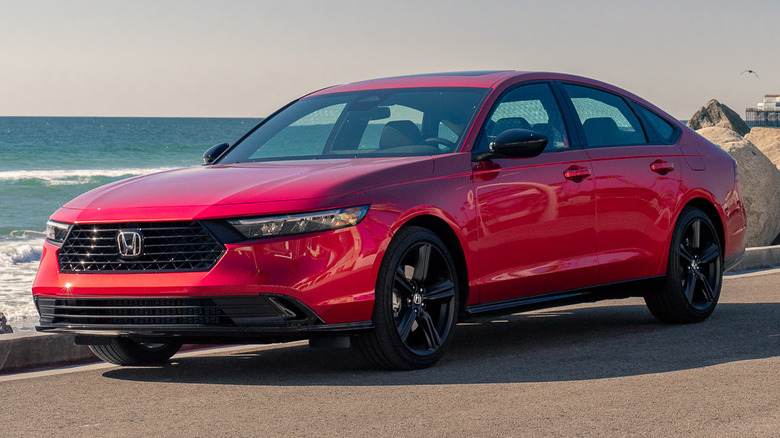 Victoria Scott/SlashGear
I have only been an auto writer for three years, and I already have the ability to reminisce about the "good ol' days". Why, when I started all those years ago, we still had copious options of the classic American staple, the sedan. Alas, it wasn't meant to last. In 2021 alone, I watched as the Ford Fusion, Chevy Impala, Jaguar XE, Lexus GS, Lincoln Continental, Lincoln MKZ, Cadillac CT6, and Acura RLX all bit the dust—almost entirely without any successors to speak of. The Invisible Hand of the market has plucked our four-doors from dealerships, leaving us old-school grizzled car enthusiasts with nothing left but fond memories of the days sedans plied our highways.
So the 2023 Honda Accord—newly refreshed for its 46th birthday—is simultaneously novel and nostalgic. As it's reached middle age, it's buttoned up a bit from its wilder days—out with the V6 and turbo-four, in with a naturally-aspirated-Sport-hybrid-trim—and gotten a bit bigger and broader. Crucially, though, it's still excellent, which has always been the truest spiritual link between generations of Accord. Driving it makes me miss the sedans we've lost a lot less, because this newest Accord has kept the torch aflame for them with aplomb.
May You Drive In Interesting Times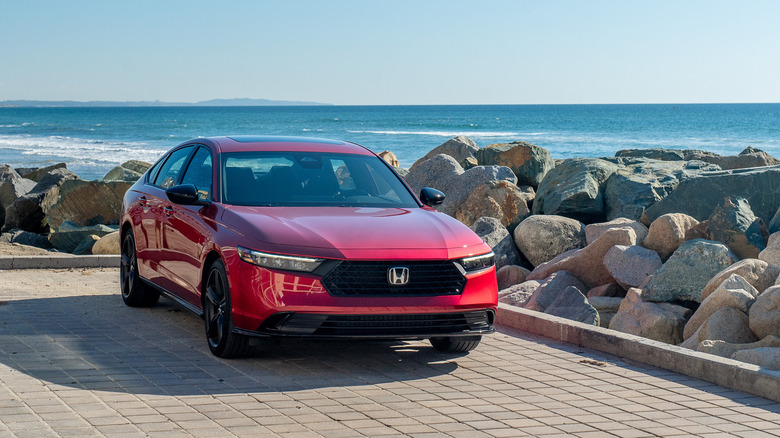 Victoria Scott/SlashGear
No one could accuse the Honda Accord of living a boring life. It was introduced in 1976 as a way to prove that the Japanese upstate car company, fresh off the success of the Civic CVCC, could compete with more heavily-optioned, higher-priced domestic coupes and sedans; 46 years later, it has watched virtually all of its American competitors slowly wither and die as it has endured. Indeed, the new Accord might at long last lay claim to bearing the title of the last true American sedan; US-bound models have been built in Marysville, Ohio for forty straight years.
To survive this long requires adaptation of the highest form; this newest eleventh-generation car has once again changed with the times and now offers only two drivetrains: base-trim LX and EX buyers get the 1.5-liter turbocharged inline-four first seen in the eleventh-generation Civic and good for 192 horsepower; those with over $30,000 to spend on higher trims receive the higher-power, more-efficient 2.0-liter inline-four hybrid that puts out 204 combined horsepower and 247 pound-feet of torque. Both drivetrains are solely mated to continuously-variable automatic transmissions.
The silver fox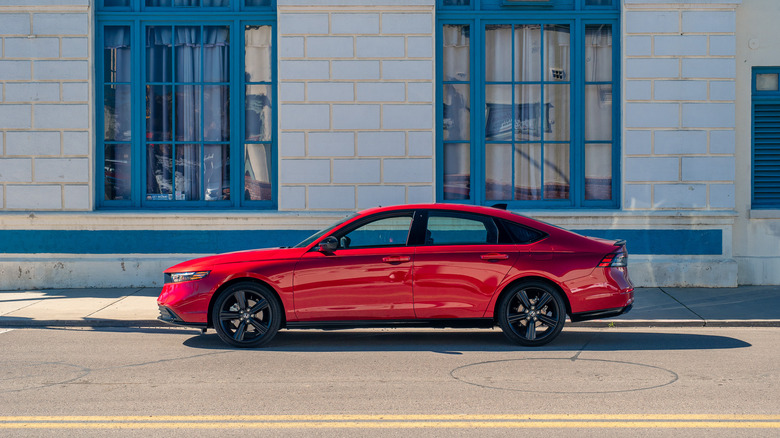 Victoria Scott/SlashGear
While it may have lost some of its youthful edge under the hood, the new Accord has stayed delightfully handsome. Despite a batch of initial press photos that made its side profile look almost blandly generic, I'm pleased to report I found it impressively good-looking in person. The rear's heckblende light strip ties together the clean trunk and fastback-style roofline with grace, and the less-is-more approach to side-profile beltlines and adornment is a welcome breath of fresh air after the overwrought sedans of the twenty-teens. Out front, Honda has given the Accord a Chad-esque jawline to frame its aggressive new corporate grille and razor-sharp LED headlights, while somehow avoiding making it look angry. In a post-Mazda 6 world, for my money, this is the best-looking mid-size sedan you can buy.
Inside, it's similarly clean and attractive, with a healthy feature list. The center display—a 7-inch display in the base LX and EX and a 12.3-inch touchscreen in others—is well-positioned for usability without excessive distraction. The metal-grated centerline of the dashboard is an extremely classy touch that also hides the vents for a cleaner look, and almost all touchpoints are well-chosen materials.
Safer in your old age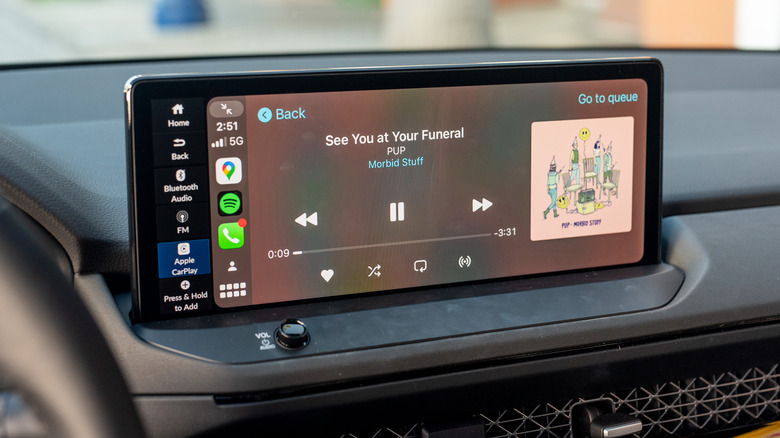 Victoria Scott/SlashGear
Tech integrations are, broadly speaking, plenty for its class. Touring models get a wireless device charger, cooled seats, and built-in Google Maps and Assistant with three years of unlimited data; cars with the 12.3-inch touchscreen all get wireless Apple CarPlay and Android Auto (LX/EX buyers need to bring a cable).
All cars come standard with the newest version of Honda Sensing, the company's driver-assist package, which boasts adaptive cruise control with traffic-jam assistance, lane departure warning and assist, automatic emergency braking, and even traffic sign recognition. No matter what trim, the new Accord is bigger inside than ever—my six-foot-one frame fit comfortably in the rear seats easily—with one of the largest trunks in the midsize sedan game, and the seats are genuinely some of the most comfortable I've ever found in a $30,000-ish car. It didn't take long to recognize the eleventh-gen Accord will be a slam-dunk commuter, just like the models that came before it.
The upsell is worth it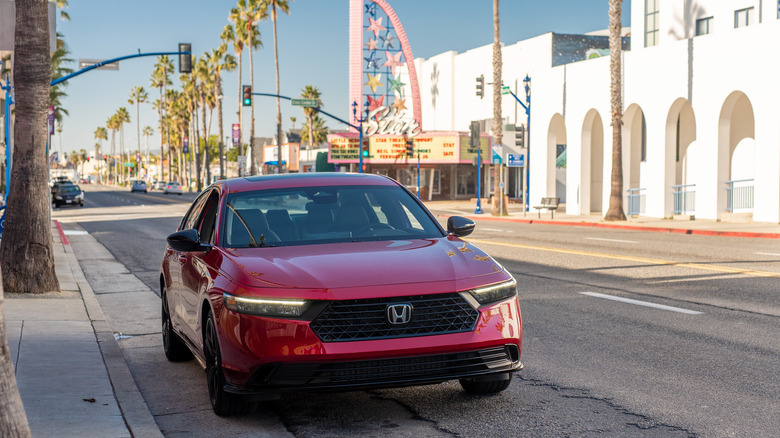 Victoria Scott/SlashGear
Honda handed me three different trims to test in the hills surrounding San Diego: the hybrid top-trim Touring, hybrid Sport-L (featured in these photographs), and a gasoline-only EX.
Off the bat, I decided the hybrids are going to be the sweet spot for almost all buyers. The Accord starts at around $28,000 now, but it should really only be considered as a $33,000-or-more purchase for the mid-tier Sport trim or above. The base-model LX—which omits comfort features including heated seats, the moonroof, and half the sound system's speakers (for a paltry total of four) while still ringing up at over $28,000 after destination charge—feels bare.
The gas models in general are generally just not as good in motion, either. That 192 turbocharged horsepower feels like it's working a bit hard to get the Accord up to speed, and the noise it makes propelling the 3,280 pound chassis lends to the feeling the powerplant is stressed out, even if paper statistics say otherwise. Honda says it expects to sell at least 50% of new Accords as hybrids, but I will assure you that number should be 100%.
Cruisin' 101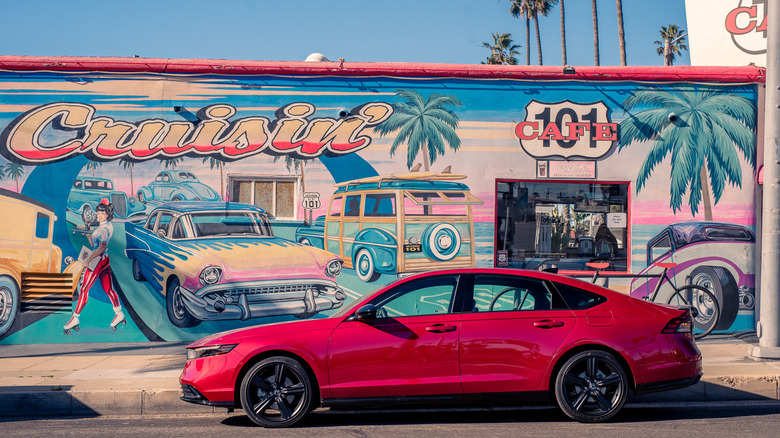 Victoria Scott/SlashGear
I say this because the hybrid feels incredibly polished; the turbo model isn't bad, but the hybrid is great. In electrified form, the Accord is a fantastic highway cruiser, and it retains just enough fun to make it hearken back to past days of sedan dominance.
The hybrid motor's integration is completely seamless; I tried for quite a while to experiment with different throttle and driving mode settings to see if I could get the drivetrain to feel clunky, and I never did—it's smooth no matter how you drive. The brake pedal, similarly, swaps between (very strong) regenerative braking and actual pad-on-rotor deceleration with no noticeable step, or overly harsh initial pedal bite. Combined with the extremely low noise the gas engine generates and the hybrid system is barely perceptible in normal city driving.
Electrified is the way to go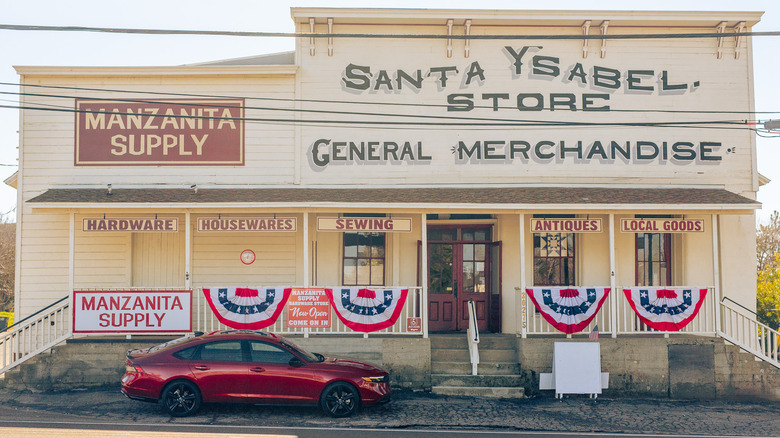 Victoria Scott/SlashGear
Thanks to its 247 lb-ft of electric-motor torque at 0 RPM, it also feels significantly quicker than the gas-only models from a dead stop, and the hybrid drivetrain feels a lot less stressed from stoplight to stoplight. The Sport-trim hybrid also costs $2,250 less in fuel costs over five years than the gas-only model, according to the EPA, meaning that not only is the hybrid a nicer overall driving experience, it's close to break-even price-wise in the long run.
On highways, the noise levels of the cabin are low enough that the Accord feels more like a low-cost BMW competitor than it has at any point since the mid-1980s. The freshly-revised Honda Sensing system has sanded down all the rough edges from highway cruising, with much smoother braking upon encountering traffic and no lane ping-ponging to be found when keeping the car centered, and the stereo—even in Sport-trim eight-speaker configuration—is clear and plenty powerful. Even the sight lines are relatively excellent for a modern car, which helps make the cabin feel airy, and despite its considerable length, I found the turning circle sufficient for quick u-turns. As a daily driver, I'd recommend the hybrid trims without hesitation.
Paddle power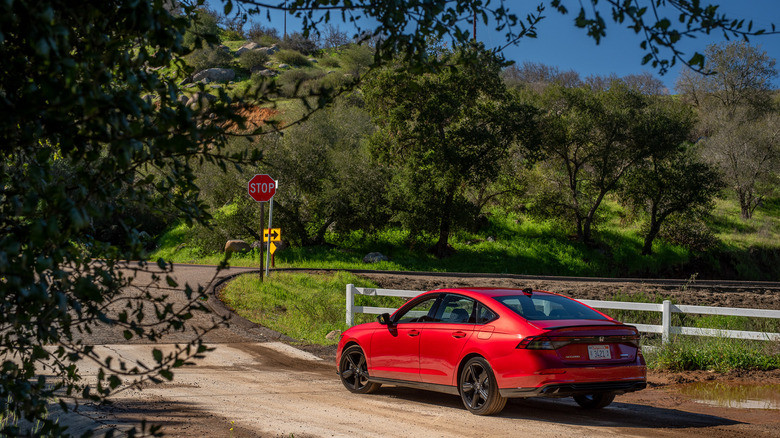 Victoria Scott/SlashGear
Once I headed into the mountains of the Peninsular Ranges outside of the stop-and-go of San Diego, and the traffic thinned out, I began to see if the Accord still retained its fun-mid-size crown. In short, it's like most formerly hard-partying 46-year-olds: still fun, but it's dialed way, way back from its youthful peak. Accelerating the 3,400-lb hybrid out of corners—especially at higher altitudes on the wide-open throttle, 50 MPH+ roads around Palomar Mountain, where the 147 HP inline-four is doing most of the heavy lifting—definitely lacked a bit of the raw muscle-lite experience of older, sportier Accords, although Honda's excellent steering feel kept it from ever seeming boring.
Despite the fact it will assuredly harm my "real car girl" credentials, I admit I enjoyed the hybrid-only paddle shifters in the corners. Instead of having the paddles "simulate" downshifts of the CVT—an experience that neither fools nor satisfies anyone—slapping the paddles changes the strength of the regenerative braking. The highest of the six settings lets the Accord have one-pedal driving, and the lowest allows it to coast like a typical gas-powered, automatic-transmission car. It's a useful feature and it adds an engaging hook to an otherwise straightforward sedan.
Motion Management System, or We Know You're Not Ayrton Senna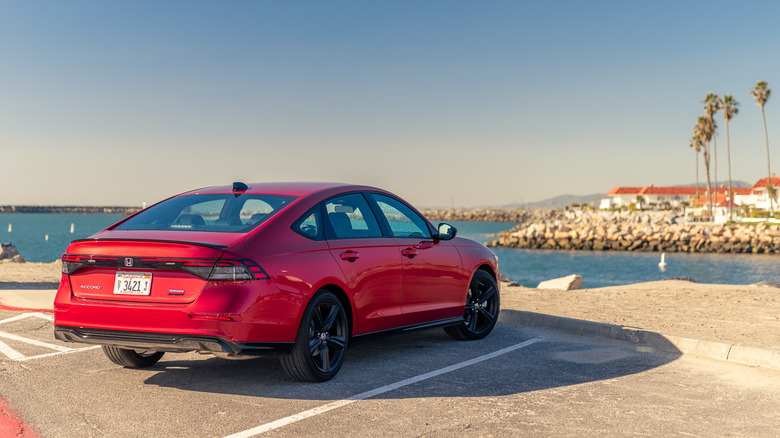 Victoria Scott/SlashGear
One downside from a performance perspective is the new "Motion Management System", which automatically pulls power and adds slight braking in sharp corners. It gives driving the Accord hard a Gran-Turismo-with-all-the-assists-on feel. The car tracks smoothly through the corner, but I found it incredibly hard to find its limits. It's not a crucial part of the driving experience to be able to power-understeer your Accord into a tree, admittedly, but it means that few 11th-generation buyers will ever consider autocross.
Let's be honest with ourselves, though: despite the deep-seated beliefs of the automotive-journalist industrial complex, most Accord buyers wouldn't consider autocross anyway. Most sedan buyers still left in 2023 just want something that feels sportier and less massive than a crossover, and the Accord succeeds at that with flying colors. 
Because of the basic physics of being a sedan, the overall center of mass is low and it feels more planted than crossovers can. Its sight lines are excellent, and it feels more open—and less shielded from the outside world—as a result. The computer-driven braking in corners makes it safer to have casual fun in. The suspension doesn't suffer from much body roll on back roads, while still maintaining comfortable highway padding. Ultimately, all of these traits mean the Accord makes a compelling case to the average buyer to get a sedan, which in 2023 is no small feat.
See you at your funeral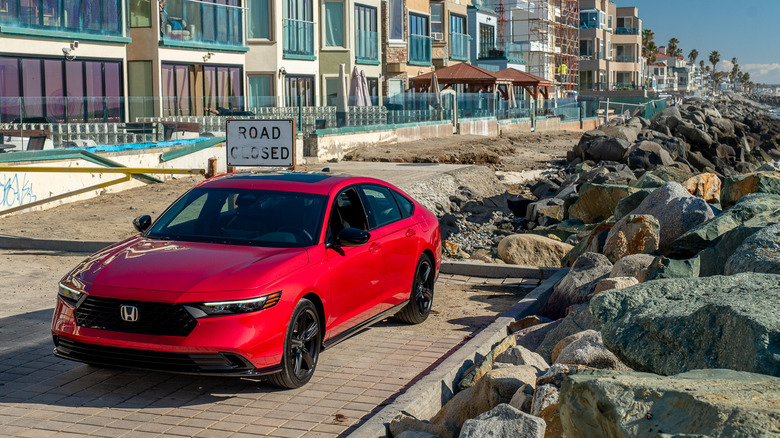 Victoria Scott/SlashGear
Old Accords had to compete with a slew of American-produced three-box-style competitors, but now, it's the only one of the old guard left standing. Instead of out-featuring a Taurus or out-sporting an Impala, it must directly face the crossover that slayed its past foes.
The eleventh generation does that exceptionally well. It's simultaneously more comfortable, sportier, stylish, and more efficient than almost anything bearing the profile of an SUV; if cargo space isn't a daily concern, it would be hard to imagine choosing a similarly priced CR-V (or Sportage, or RAV-4, or Escape, etc.) over an Accord. The great American sedan won't die just yet, at least, not if Honda has anything to say about it.