The Most Expensive Cars In F1 World Champion Jenson Button's Collection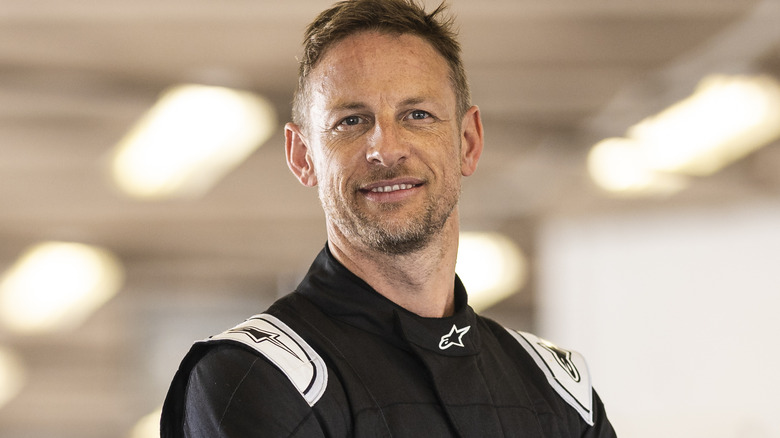 James Gilbert/Getty Images
Formula One world champion Jenson Button has an awe-inspiring auto collection. Like many of his racing contemporaries, Button is a certified car nut, and has amassed an impressive lineup of exotic cars, racing machines, and vintage rides in his garage. With a current net worth of about $150 million, Button's ultimate dream as an 11-year-old karting champion is to win the penultimate title in motorsports.
His dream came true in 2009 upon winning the F1 world championship with first-time contenders Brawn GP. According to Formula 1, Button etched his name in F1 history "with a breathtakingly assertive performance" while securing the constructor's championship for his racing team.
Jenson Button is the youngest driver to win the European Formula Super A championship (17 years old) and the youngest to score points in an F1 race (20). He also earns the reputation for being one of only two of Lewis Hamilton's teammates to outscore the seven-time world champion. However, with his passion for speed and the privilege of having among the deepest pockets in F1, Jenson Button's car collection is not for the faint of heart.
What is Jenson Button's most expensive car?
In a report by GQ, Jenson Button plunked down a hefty deposit for an all-electric Lotus Evija in 2022. The Evija is one of the most extreme EV hypercars of modern times, and it's also one of the most expensive: It has an astounding $2 million+ base price, making it the most expensive car in Jenson Button's collection. However, in return for its astronomical MSRP, the Evija could eat through the wind with its four electric motors that churn out 2,000+ horsepower and 1,254 foot-pounds of torque.
With those numbers, the Evija could reach a 200-mph top speed, accelerate from 0-60 mph in under three seconds, and deliver 250 miles of range with its standard 2,000 kW lithium-ion battery pack. With its checkbook-busting $2.2 million price tag, Lotus guarantees exclusivity as it promises to produce only 130 examples of the Evija — and Jenson Button has one.
Then again, the Lotus Evija is not the only million-dollar vehicle Jenson Button owns (or used to own). He used to have a Bugatti Veyron, Ford GT, Ferrari Enzo, Porsche Carrera GT, and Ferrari F40 sitting in his garage, but has since sold all as of this writing.
Exclusivity is money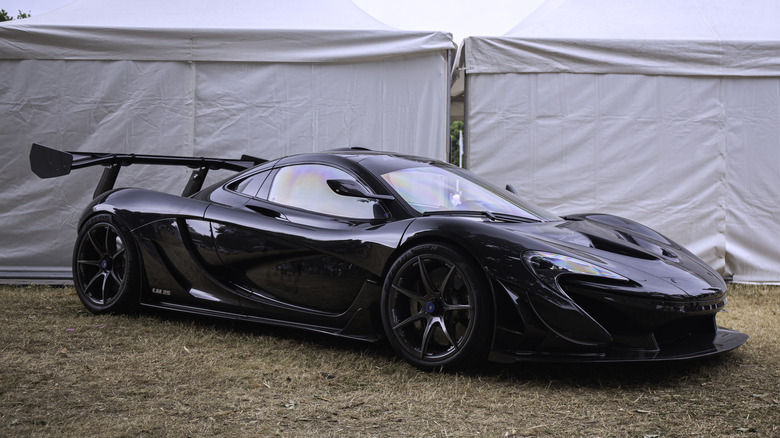 Martyn Lucy/Getty Images
Jenson Button is also the proud owner of a McLaren P1 hybrid supercar, which he bought for a discount while racing for the McLaren F1 team. According to the Dupont Registry, only 375 units of the P1 exist today, and each had a $1.2 million base price in 2013. Moreover, Button has a 964-series Porsche 911 Carrera 4 by Singer (worth upwards of $1 million), an Extreme E Odyssey 21 electric off-road racer (roughly $500,00), and a Radford Type 62-2 JPS (around $400,000).
Jenson Button is currently the co-owner of British coachbuilder Radford. The automaker's first car — the Type 62-2 — pays tribute to vintage Lotus Type 62 racing cars, and production is limited to 62 units. The range-topping JPS (John Player Special) variant has a 600-horsepower Toyota V6 engine, a six-speed manual gearbox, a rear-wheel drivetrain, and a glorious JPS racing livery. The Radford Type 62-2 is also available in a "Classic Edition" or "Gold Leaf" variant with distinctive features and tuned V6 engines.