10 Game Boy Advance Games We Want To See Come To Nintendo Switch Online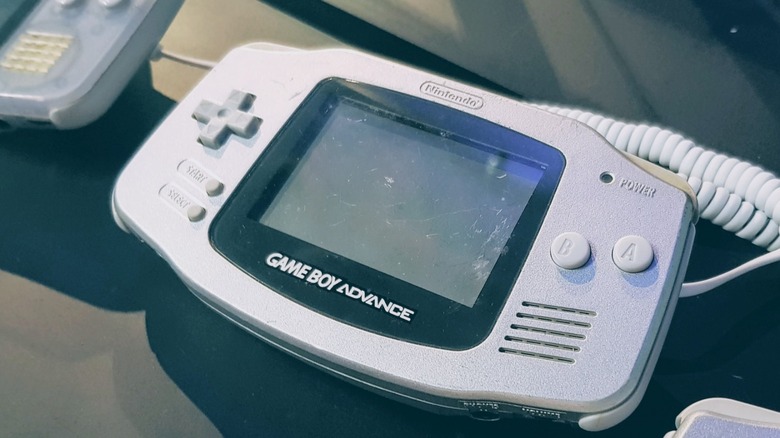 Wirestock Creators/Shutterstock
The Game Boy Advance continued the success of Nintendo's handheld systems, paving the way for a string of highly successful 32-bit games that could take advantage of the extra horsepower and vibrant color palette. With Nintendo's recent announcement that Game Boy and Game Boy Advance games are now available through Nintendo Switch Online, players are already speculating what games might come to the service.
Titles like "The Legend of Zelda: The Minish Cap" and "Mario Kart Super Circuit" have already been confirmed and are available to play right now, while a few others are on the way. But there are still many games from the handheld system's vast library that have not yet been mentioned but would make valuable additions to the Nintendo Switch Online offerings.
Here are some of the best games from the portable console that every Nintendo fan will want to see released on the Switch.
Pokémon Ruby and Sapphire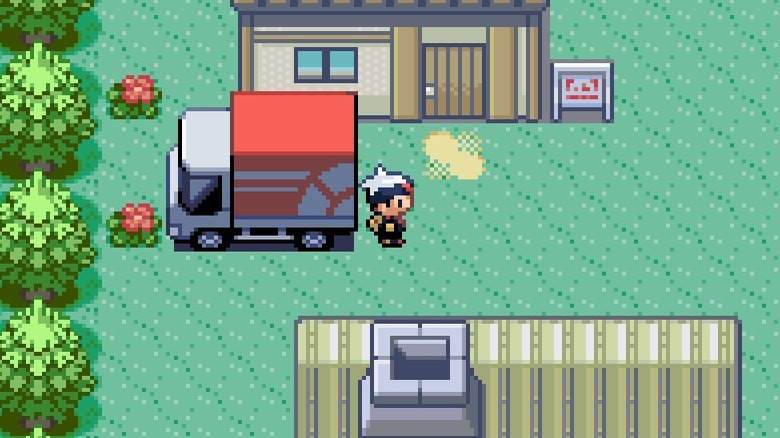 Nintendo
Until now, the Nintendo Switch Online service has only allowed access to classic home consoles such as the NES, SNES, and Nintendo 64. With the mainline "Pokémon" series being exclusive to handheld systems such as the Game Boy and Nintendo DS until the release of the Nintendo Switch, there hasn't been any real opportunity to have the first few generations added to the service. With the announcement that Game Boy and Game Boy Advance games are now coming to the hybrid console, that means that the earliest titles from the series could now be added for players to jump back into.
If that's the case, there's no better place to start than with "Pokémon Ruby" and "Pokémon Sapphire." These two games, along with "Pokémon Emerald," were the third generation of "Pokémon" games and introduced some new ideas to the series as well as a noticeable jump in visual quality. This included the addition of Pokémon abilities, natures, and double battles — all elements that persist to this day. Taking place in the region known as Hoenn, it also brought a collection of fan-favorite creatures such as Blaziken, Kyogre, Groudon, and Rayquaza.
There are also some other options for Nintendo and The Pokémon Company if they don't want to add "Pokémon Ruby" and "Pokémon Sapphire" to Nintendo Switch Online. They could instead opt to go for "Pokémon FireRed" and "Pokémon LeafGreen," enhanced remakes of the original games that included third-generation improvements. Of course, both collections of releases should be added to give players access to some of the best "Pokémon" games.
Final Fantasy Tactics Advance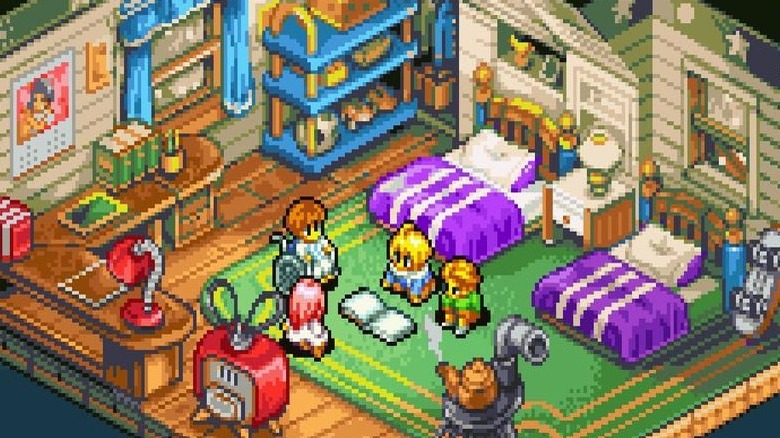 Square Enix
Following on from the success of "Final Fantasy Tactics" in 1997, Square Enix developed a new entry in the series for the Game Boy Advance in 2003. Taking the somewhat uninspired name "Final Fantasy Tactics Advance," the gameplay and general concept of this tactical role-playing game is the same as its predecessor. As a spin-off of the "Final Fantasy" series, it features many characters, locations, and creatures that players are familiar with but switches the action to turn-based tactical battles on an isometric playing field.
Although the game faced some criticism that it had been dumbed down from its earlier PlayStation counterpart, "Final Fantasy Tactics Advance" still has plenty to offer fans. This includes the new Laws system that forbids certain actions during each battle, forcing players to think creatively and constantly change their approach. It also assigned specific jobs to different characters and addressed tough themes such as the effects of bullying and grief.
The combination of engaging story and rewarding gameplay made "Final Fantasy Tactics Advance" a must-play game at the time it was released and it is little wonder that it became one of the most successful Game Boy Advance releases following its launch. Critics and players alike also praised the music and bright colorful visuals of the game.
Tony Hawk's Pro Skater 2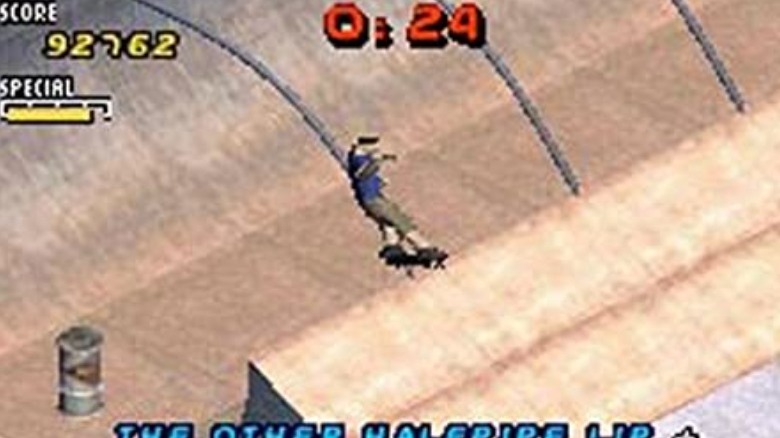 Activision
The "Tony Hawk's Pro Skater" series revolutionized skateboarding games and helped bring the sport to a far wider audience than it had ever reached before. The second entry in the franchise, "Tony Hawk's Pro Skater 2" is often discussed among the greatest games ever made and is still one of the best-rated sports titles ever released. First launched in 2000 for the PlayStation, it subsequently came to almost every available platform, including a Game Boy Advance release in 2001.
Like its console counterparts, the Game Boy Advance version of "Tony Hawk's Pro Skater 2" was lauded by critics, with praise focusing on the way it captures the action of the original port and manages to transfer it to the handheld in a way that remains satisfying and enjoyable. Proclaimed to be the best portable skateboarding game ever made, the release included all of the features that have made the game so iconic, such as the smooth controls, the large open environments, and the wide array of available game modes.
With its isometric view, "Tony Hawk's Pro Skater 2" is a slightly different experience compared to what many players may recognize if they have only played the console version before. That alone makes it an interesting game to add to Nintendo Switch Online even without all of the critical acclaim it received.
Advance Wars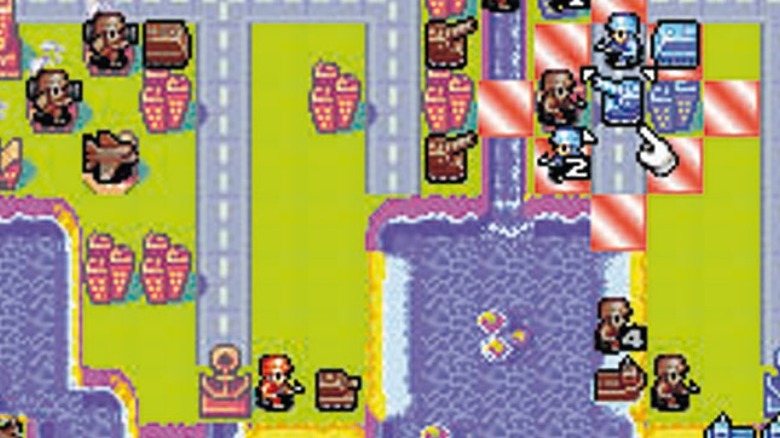 Nintendo
Prior to the release of "Advance Wars" and its sequel on the Game Boy Advance, the series had been exclusive to Japan. This meant that some six games, including releases on the NES, Game Boy, and SNES, were unavailable to those outside of the region. That all changed in 2001 as the turn-based military simulation series came to the handheld system. Set in a fictional land, the story sees two warring factions continuing a decades-long conflict. Players take on the role of a commanding officer tasked with defeating the opponent, with each level offering new units to destroy.
Thanks to its replay value, addictive gameplay, and deep combat mechanics, "Advance Wars" and its sequel are two of the best strategy games on the Game Boy Advance and are just crying out for a release in their original forms.
There's just one problem that might stop these classic Game Boy Advance titles from coming to the service. Nintendo might not want to release the original versions of "Advance Wars" and "Advance Wars 2" through Nintendo Switch Online as remakes of both games are in the works. "Advance Wars 1 + 2 Re-Boot Camp" will include a host of upgrades and is expected to be released in 2023.
Castlevania: Aria of Sorrow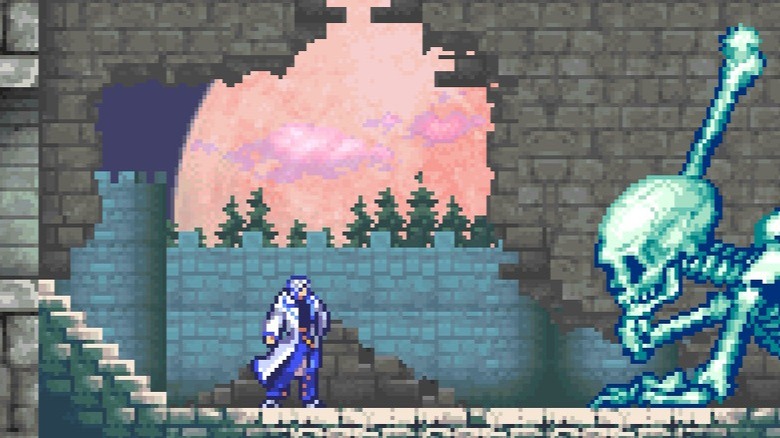 Konami
A total of three "Castlevania" games were released on the Game Boy Advance — in the form of "Circle of the Moon," "Harmony of Dissonance," and "Aria of Sorrow" — and including any of them would be a positive move as all three are excellent games. However, the standout among them is arguably "Aria of Sorrow." Set in the strangely futuristic time of 2035, this 2003 game stands out for a number of reasons apart from the obvious unique change in setting.
It introduced the Tactical Soul System used in a number of "Castlevania" games going forward and was the first to include a proper New Game+ mode that can be selected from the main menu. The acquired souls give players the ability to grow their character and access new abilities in a way that is unlike any previous entry in the franchise.
Players assume the role of Soma Cruz, a man who inherits Dracula's powers at his castle as part of a reincarnation prophecy that foretold of the famous vampire's return following his defeat decades earlier. Soma must battle against the evil forces that seek to take his powers and allow Dracula to once again return in his full form. Often said to be the best game in the series since "Castlevania: Symphony of the Night," it is a must-play title and would be a worthy addition to Nintendo Switch Online.
Kirby: Nightmare in Dream Land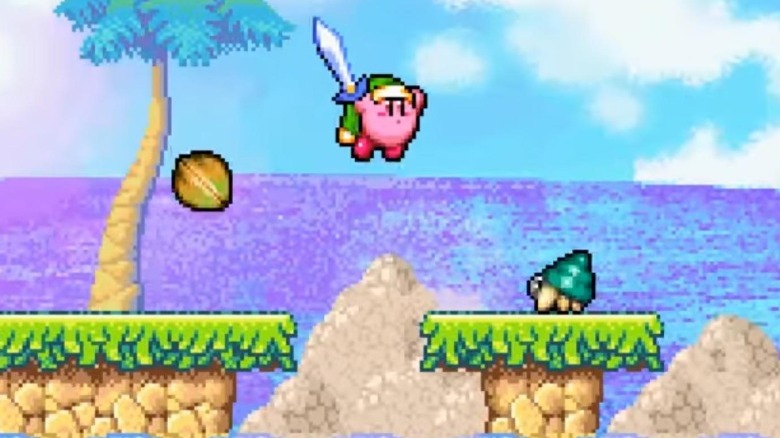 Nintendo
Nintendo Switch users are already getting access to one "Kirby" game in the form of "Kirby & the Amazing Mirror." There's no denying that players are getting a great game from the series with that particular entry but there's plenty of space for other "Kirby" games to also make their way to the Nintendo Switch Online service. Chief among them is "Kirby: Nightmare in Dream Land," a 2002 Game Boy Advance game that is actually an enhanced remake of "Kirby's Adventure."
Originally a 1993 release for the NES, "Kirby's Adventure" saw a number of upgrades when it was remade as "Kirby: Nightmare in Dream Land." These include improved graphics and sound, support for multiplayer, and some balance changes to hidden worlds and boss fights. That makes this a much better way to experience the game and means it is still worth including despite the fact that "Kirby's Adventure" is already available via Nintendo Switch Online.
Both versions of the release have received praise for the varied levels, tight gameplay, and colorful visual style. Easily one of the best entries in the "Kirby" series, fans deserve a chance to play it in its full remade glory.
Wario Land 4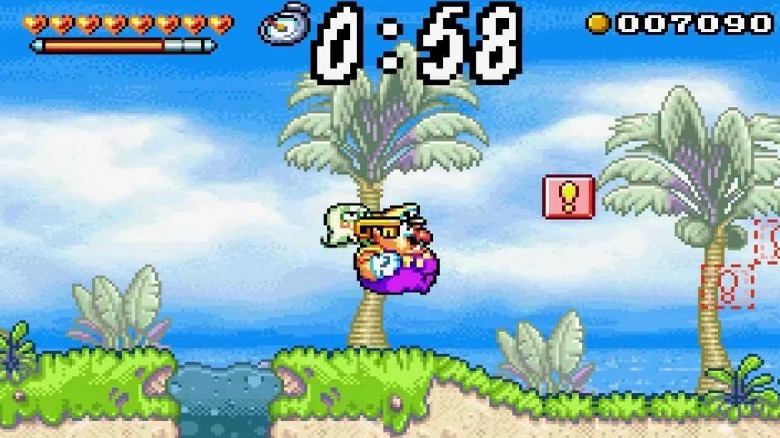 Nintendo
Despite the fact that many fans are more familiar with Wario from the "WarioWare" series, the occasional arch-rival of Mario also has his own series of platforming games. The franchise began back on the original Game Boy and by the time that "Wario Land 4" came out in 2001, it had made the jump to the Game Boy Advance. Although these titles are closer to the original "Super Mario Bros." games, they include features and mechanics that are very different. For instance, Wario has a health bar and moves at a slower pace as the focus is on collecting items and overcoming obstacles.
"Wario Land 4" sees the yellow and purple anti-hero journey to a hidden pyramid in the middle of a mysterious jungle to try and recover a statue of Princess Shokora. Becoming trapped in the large structure, he has to travel through four distinct areas to find hidden treasures and defeat the evil Golden Diva. Having sold over 2 million copies and received widespread acclaim from critics, "Wario Land 4" is a strong contender for release on the Nintendo Switch. Considering that "WarioWare" is already being included, this game would give players the chance to learn more about the character and his powers without having to play through endless mini-games.
Sonic Advance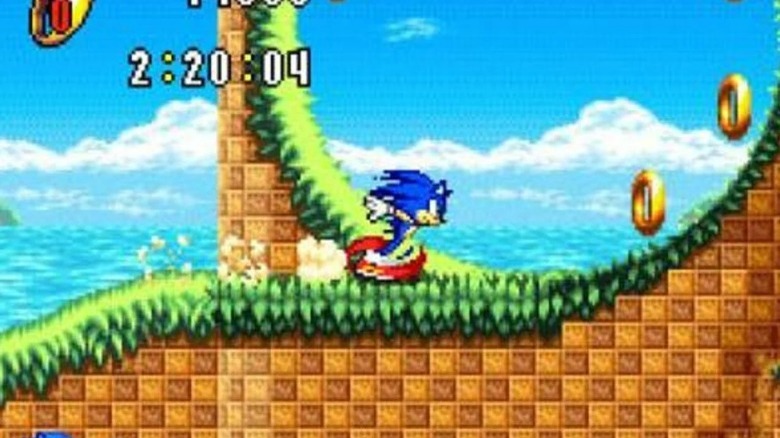 Sega
While the modern "Sonic the Hedgehog" games have had their share of ups and downs, the older titles generally had a reputation for being high quality. Nowhere is that more clear than with "Sonic Advance." Developed by Dimps and Sonic Team, it is a 2001 platform game that stays fairly faithful to the experience that players first got when they encountered the original 1991 release. This game was also the first in an entire series of great titles, although it makes sense for "Sonic Advance" to make its way to the Nintendo Switch before the others.
Featuring the lightning-fast gameplay that fans of the franchise will be more than familiar with, "Sonic Advance" allows players to play as both Tails and Knuckles in addition to the heroic hedgehog. In terms of gameplay, the inclusion of the two extra characters and their unique abilities means that every level can be played in a different way and it is possible to find a number of hidden paths depending on the character you choose. Throw in the adorable mini-game Tiny Chao Garden where players can grow their own cute Chaos and this is one of the better "Sonic the Hedgehog" games.
The inclusion of "Sonic Advance" would also make sense given Sega and Nintendo's close working relationship in recent years, so hopefully, fans will get to play through this classic again in the near future.
WarioWare: Twisted!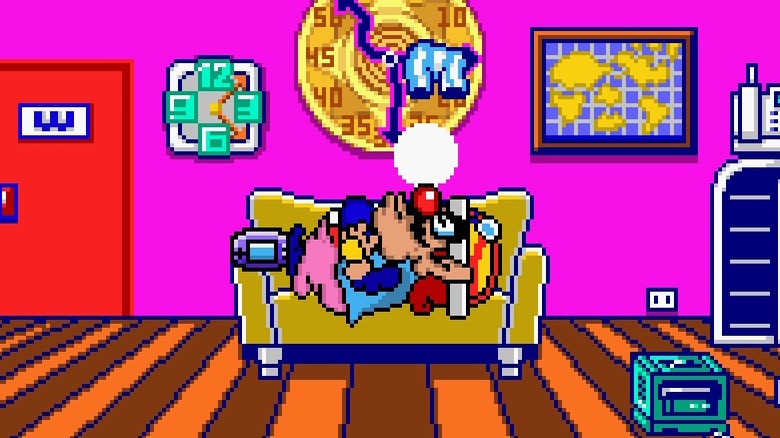 Nintendo
Nintendo has already confirmed that the first game in this bizarre series is coming to Nintendo Switch online as part of the addition of Game Boy Advance games. "WarioWare, Inc.: Mega Microgame$!" is certainly a worthy inclusion and it received plenty of praise when it first launched in 2003. However, there is another "WarioWare" title that came out a year later that should also make the grade. "WarioWare: Twisted!" was co-developed with Intelligent Systems and would be a perfect title to release in a later update for those who have played "WarioWare, Inc.: Mega Microgame$!" to death and find that they want more chaotic fun.
Like its predecessor, the action in "WarioWare: Twisted!" revolves around completing a series of fast-paced mini-games. The sequel wasn't just a standard installment that included more mini-games. Instead, it had a number of innovative features that made it stand out from the original title. One of these was a gyro sensor in the cartridge that allowed for motion-based gameplay, while the second provided force feedback during the mini-games.
This meant that most of the challenges involve moving around the Game Boy Advance system and is something that could be emulated with the Joy-Con controllers. It would also be a chance for players in Europe to experience "WarioWare: Twisted!" for the first time as it was previously only available in selected regions.
Mother 3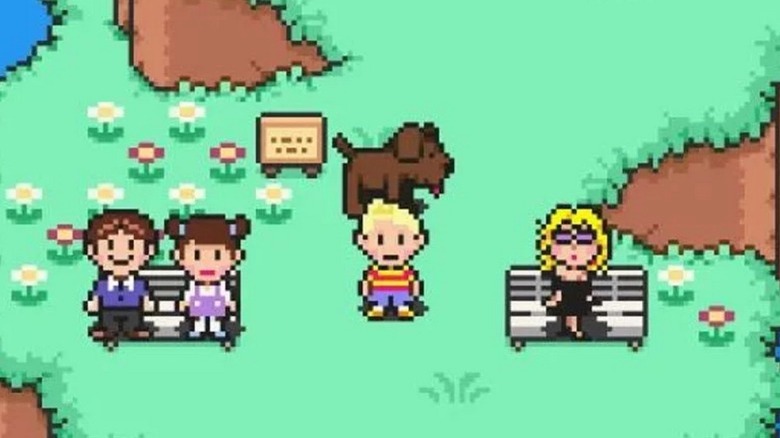 Many gamers may not even have heard of "Mother 3" but the game has developed a cult following over the years and would definitely be a worthy addition to the Nintendo Switch's Game Boy Advance offerings. The third entry in the "Mother" series and a sequel to "EarthBound," it is a game that was never released outside of Japan and has never received an official release in English. Nintendo now has the chance to remedy that situation and give fans of "EarthBound" the chance to see how the story continues.
Like its predecessors, "Mother 3" is a role-playing game focusing on a group of children who set out to save the world. It contains the same top-down perspective and turn-based battle system as well as the strange pop culture references littered throughout the world. It also features a new musical combat mechanic where enemies can be attacked in time with the beat of the soundtrack.
"Mother 3" was a financial and critical hit in Japan when it hit store shelves in 2006 and has remained popular, with a re-release on the Wii U via the Virtual Console. Widely considered to be one of the best role-playing games on the Game Boy Advance, it won particular praise for its story and world design. Although it would involve more work than other titles, requiring an English translation, many fans outside of Japan would be very grateful to see it made available on the Nintendo Switch.