Samsung Galaxy S23 Has Launched Globally, And Pre-Orders Are Already Exceeding Expectations
Nearly three weeks after Samsung announced the Galaxy S23 series at the first Galaxy Unpacked event for 2023, the devices have been launched globally. Pre-orders for all three S23 devices, including the Galaxy S23, Galaxy S23 Plus, and the Galaxy S23 Ultra, commenced on February 1, same day as the devices were officially announced. Samsung offered consumers a free storage upgrade for pre-ordering, in addition to Samsung credits up to $100.
The Galaxy S23 series are near-identical copies of their predecessors, albeit with minor design changes that could only be spotted by an eagle-eyed fans. The Galaxy S23 Ultra is slightly heavier and wider than the S22 Ultra, along with changes to the curvature of the screen on the device. Most of the changes to the S23 lineup are in the internals, with all editions of the phone using Qualcomm's powerful Snapdragon 8 Gen 2 chip. The phone also gets UFS 4.0 storage, and the primary camera on the S23 Ultra now has a 200MP sensor.
In a press release announcing the global launch of the S23 series, Samsung claimed to have achieved impressive pre-order numbers for the devices. The blog post also indicates that the vast majority of S23 buyers are opting for the flagship model — the Galaxy S23 Ultra — despite the device being significantly pricier than the standard Galaxy S23.
60% of Galaxy S23 pre orders were for the S23 Ultra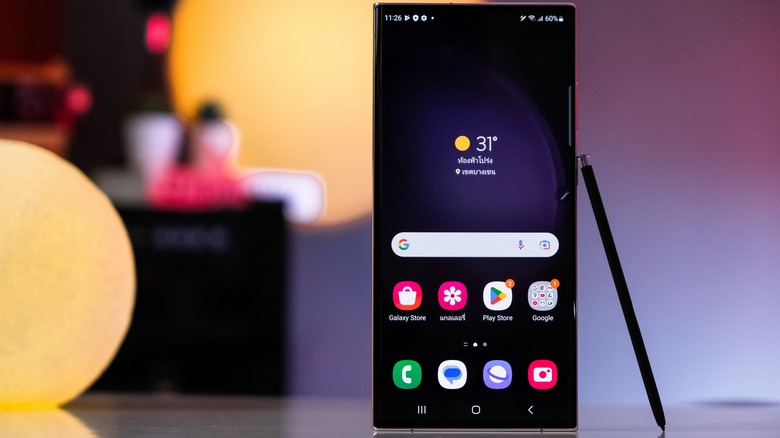 Framesira/Shutterstock
Samsung did not give a detailed breakdown of the pre-order numbers for the Galaxy S23 series, but what it did confirm was pre-orders were "impressive" and exceeded the previous Galaxy S22 series last year. Despite the Galaxy S23 Ultra appreciating in price in several overseas markets, people seem to overwhelmingly prefer the flagship device from the S23 lineup. 
Early reviews of devices from the Galaxy S23 lineup — including SlashGear's own Galaxy S23 Ultra review — have been overwhelmingly positive, which could have been another reason for the outstanding response to the S23 series.
Commenting on the impressive pre-order numbers posted by the Galaxy S23 series, TM Roh, President and Head of Mobile eXperience Business at Samsung Electronics, said; "The great momentum we're witnessing speaks to customer's excitement about products that push the envelope," they said. "This year's pre-order numbers echo our customers' strong trust in our brand and demonstrate how our commitment to ground-breaking innovation and sustainability continues to resonate with consumers."