The Futuristic Suzuki Nuda Concept Is An Ultra Sleek Motorcycle We Would Have Bought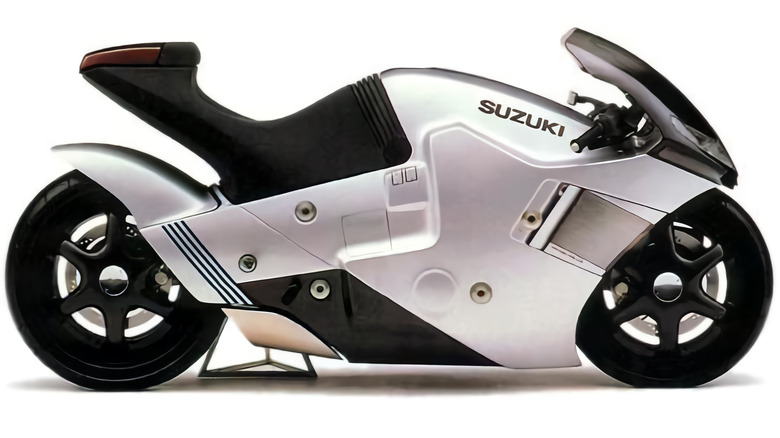 Suzuki
It's a quirk in the nature of modern marketing that, in some cases, products and projects can't just be futuristic — they have to look futuristic. Whether it's Apple's ubiquitous white plastic, or a whole city constructed to capitalize on AI assistance and green energy infrastructure, some things are designed to be a vision of what technology makes possible.
Whether it's cars in the 1920s, planes in the 1950s, or 2000s TVs, products with immaculate sci-fi stylings (at least, by the standards of their time) have on various occasions hit the actual marketplace to varying degrees of success.
Such was the fate of the exceedingly impressive Suzuki Nuda, a two-wheeled slice of Japanese cyberpunk tech that the Hamamatsu-based manufacturer debuted at the 1986 Tokyo Motor Show. Looking like it just rolled off a page from "Akira," the motorcycle offered a range of flashy innovations in everything from drivetrain to styling.
Nothing wrong, just not quite right
If there's a short answer to "why didn't Suzuki build the Nuda?" at the time, nobody in the automotive press seems to know what it is. As RideApart reports, the Nuda was largely built around Suzuki's successful GSX-R750, a top-line sports bike with plenty of fans in both the Japanese and international markets. With the R750's reputation preceding it, the Nuda's cyberpunk styling alone could have set it apart among its peers, like the one-piece fairing and wraparound headlights, 20 years early.
The Nuda was more than a pretty face, too. Aside from the bike's serious stats — the Nuda never saw production, but AutoEvolution credits the concept with 148 horsepower and a top speed of 175 mph — Suzuki's concept was full of futurist flourishes. The bike was two-wheel-drive for a start, with a front swingarm and hub-centered steering. Between those numbers, that build, and styling straight out of a cyberpunk anime, the Nuda seemed like a perfect match for moneyed sci-fi lovers who wanted serious speed.
Motorbike manufacturing mysteries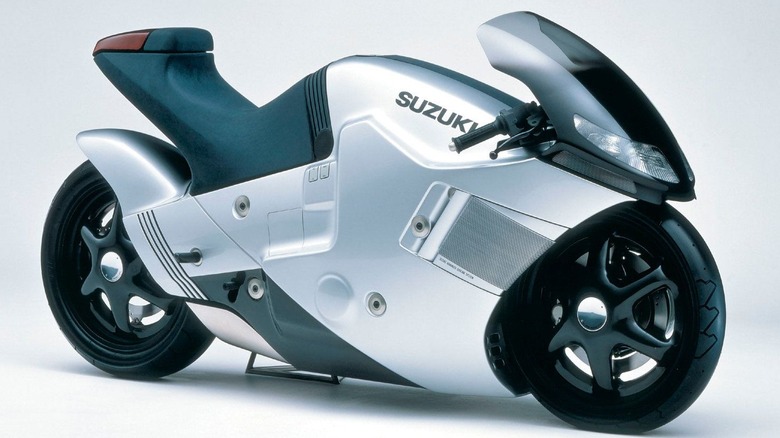 Suzuki
Ultimately, Suzuki exhibited the Nuda in 1986 and 1987, then quietly put it to bed without ever pitching a manufacturing date. By all appearances, Suzuki seemingly elected not to proceed with the project. Suzuki may have looked at the ongoing success of the un-futurized GSX-R750 and decided not to mess with a good thing. RideApart suggests the manufacturing costs were high, and that the two-wheel-drive system may have had reliability issues. Barring an official source from Suzuki, all gearheads can do is speculate.
One final note: the Nuda got a species of revival in 2007, when Suzuki premiered the Biplane, another concept with wild future stylings and two-wheel-drive. Per Disano Art, it even borrowed Nuda's rear wheel covering and flush seat-to-tank setup. Unfortunately, history repeated itself: the Biplane debuted at the 2007 Tokyo Motor Show, then vanished without trace.
But who knows? A concept bike capable of rising from its ashes 20 years after its debut and still turning heads might have another reinvention in its future.