The Suzuki B-King Streetfighter Bike First Appeared As A Supercharged Motorcycle Concept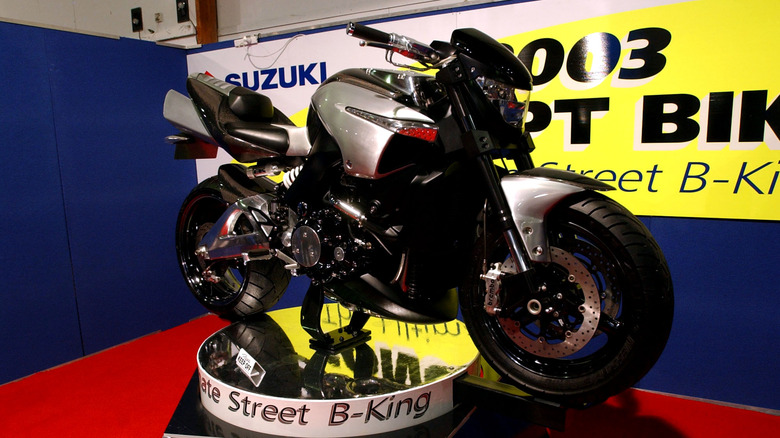 Dean Purcell/Getty Images
Streetfighter motorcycles hold a special place in the hearts of many performance-minded riders. Resembling nothing so much as a superbike with all the plastic sheared off, streetfighter bikes are the motorcycle world's answer to the muscle car: nothing showy or extraneous, just pure performance, and plenty of grunt.
While streetfighter bikes, also called "naked" or "muscle" bikes, had their genesis in Europe — aggressive riders who crashed their bikes found they got better performance if they just tore all the lovely bodywork off and patched with dirt-cheap dirt bike parts. Among comparable streetfighter bikes, Japanese models have consistently been among the best. Kawasaki's Z-series, Yamaha's MTs, and Suzuki's SV were all major contributions to the style (via RideApart).
One of the classic streetfighters, the Suzuki B-King, had an origin very different from its peers, however. Seven years before its official debut, it made an appearance in a setting wholly at odds with its eventual steel-and-asphalt rebirth.
Runway model turned street brawler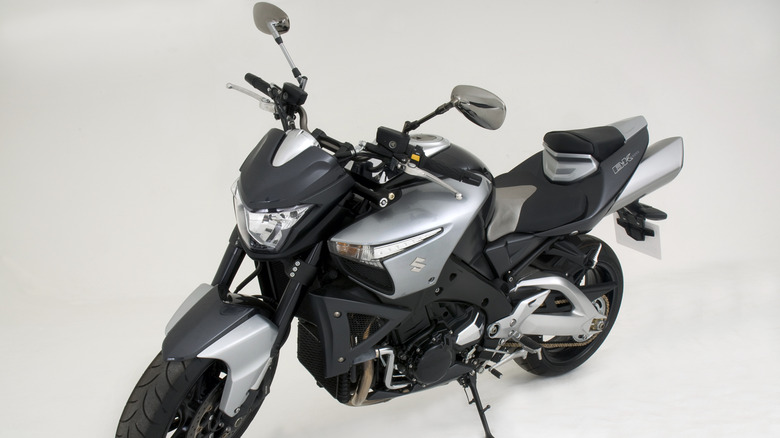 Heritage Images/Getty Images
Rather than emerge as a product of semi-legal street modification, Suzuki's B-King got a debutante-level launch party as a concept bike at the 2001 Tokyo Motor Show (via Suzuki Cycles). Back then, it was a top-shelf competitor in every respect. The B-King sported Suzuki's top of the line Hayabusa engine with a new supercharger — promising as much as double the raw power of the already massive original. The bike also supported next-generation quality-of-life elements, including a fingerprint-based locking system and onboard GPS — complete with warnings about inclement weather.
Unfortunately, for many years, the B-King also came with an asterisk — it wasn't headed to mass market. Between 2001 and 2007, Suzuki was steadfast in its insistence that the B-King was merely a showcase for what was possible in motorcycle engineering.
By 2007, however, time was catching up. Several of the B-King's innovations had already hit market on other models. Some of its more fanciful ideas, like a digital helmet visor, had been scrapped entirely. What was left was a serious, accomplished streetfighter bike ready to tear up the tarmac. The B-King performed well in the market, putting up serious performance numbers (via Suzuki) and, per Motorcycle News, delivering a more balanced and reliable ride than some of the shakier streetfighters. It would go on to be manufactured from 2007 to 2012 and build a solid fanbase, even if it never became the "Akira"-esque future behemoth fans dreamed of in 2001.