Ducati Streetfighter V4 SP First Ride: Racy Doesn't Even Begin To Cover It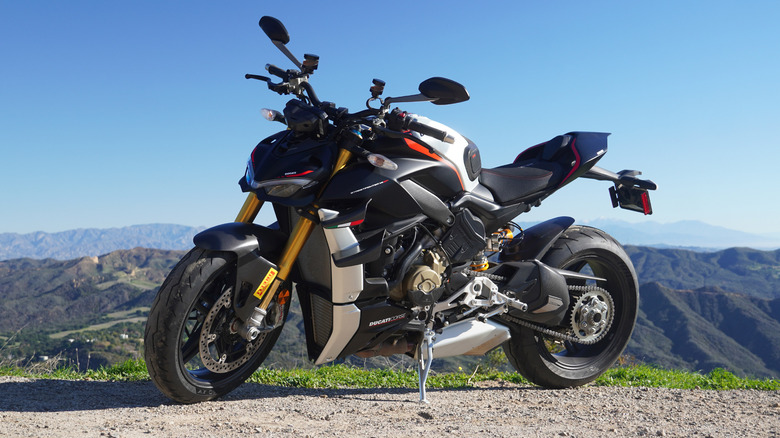 Michael Teo Van Runkle/SlashGear
Hustling the 2022 Ducati Streetfighter V4 SP up a winding ridge in Malibu, I pop my first ever wheelie on a motorcycle. At first, I don't believe what I'm experiencing—after all, I purposefully set the ride mode to "Street" with the bike's Ducati Wheelie Control EVO system activated. And the decision seemed wise, given that I had only recently stepped up to the V4 SP from a Streetfighter V2. Doubling the cylinder count adds only 148cc of displacement and bumps power output from the 90 degree Desmosedici Stradale up to an ungodly, untameable, undeniably unnecessary 208 horsepower without actually adding more weight to the frame.
But wheelie control can only do so much, precisely because Ducati manages to tame the V4's bulk via the copious application of carbon fiber for the wheels and nearly every visible piece of trim. Throw in a lightweight lithium-ion battery and the result? A V4 bike that actually weighs two pounds less than its V2 sibling and delivers exhilaration 100% unsuited to amateurs.
Call the V4 SP obscenely fast if you must, but everyone—amateurs and experts alike—needs to plant their feet firmly on the adjustable pegs before cranking hard on that throttle. And yet, as mind-boggling as straightline power that can lift the nose off the ground at speeds well into the triple digits might seem, actually keeping both wheels firmly and confidently planted during hard cornering reveals Ducati's mythical engineering magic.
Perfectly comfortable as a daily, the V4 SP can easily snatch breath from lungs off the line and simultaneously invokes that ineffable flow state almost immediately while cornering. On such a bike, the horde of Ducati diehards that only swells larger and larger, year in and year out, suddenly seems slightly less stupefying.
SP spec steps up the Streetfighter's game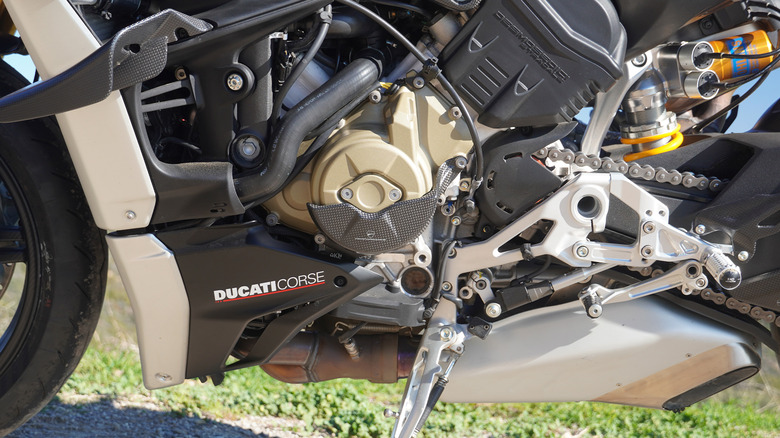 Michael Teo Van Runkle/SlashGear
In both V4 and V2 form, the Streetfighter pairs aggressive elements from Ducati's sport and superbikes with a more upright posture still comfortable enough to daily. The geometry takes over the original Monster's mantle, with a steeply raked fork (just shy of sport bike standards at 24.5 degrees) and a low center of gravity. Taking into consideration perhaps a bit of help from the steering stabilizer, the Streetfighter seems ready and willing to lean over with just the slightest shift of weight, making smooth cornering even more tempting than blasting off with a hard launch from every red light and stop sign.
Luckily, refined throttle modulation never allows all 208 ponies to overwhelm regular rides. And modern electronics on the Streetfighter lineup include cornering ABS and traction control, the former with a "slide by brake" system that might sound iffy but allows for manageable drifts into curves depending on selectable settings as the program detects rear wheel lift. Only the most dedicated track rats might actually feel when the nannies kick in, though—for most riders, simply choose between the three Riding Modes (Street, Sport, and Race) and forget about the rest as the computer does the work.
Carbon fiber galore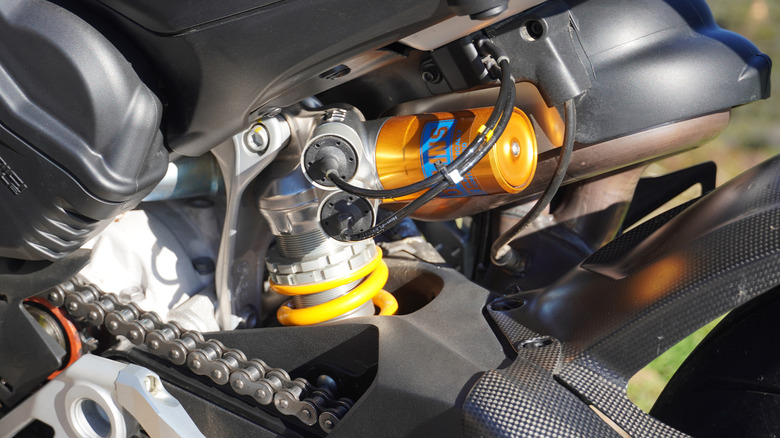 Michael Teo Van Runkle/SlashGear
The SP-spec carbon fiber wheels make a world of difference, too, shaving over three pounds versus lower-spec V4s' forged aluminum units and helping a set of electronically controlled front and rear Öhlins dampers absorb road imperfections so well that the sensation can approach disconcerting. After riding up Topanga Canyon Boulevard, I pulled over at the first liquor store turnoff to check for a flat rear tire—no joke. No more prangy lightweight alloys for me, ever. As road cyclists say: "An ounce on the wheel is a pound on the frame."
The effects of weight savings paired with such a potent powertrain go far beyond simple straightline acceleration, however. Without understating the joy of hard pulls, all that carbon fiber helps the V4 SP stay planted and predictable at higher velocities while also allowing every rider to brake later and carry more speed through, and therefore out of, long sweepers and tight corners alike. Prepare to replace those Pirelli Diablo Rosso Corsa II tires regularly while pushing the V4 SP anywhere near the limit, to say the very least, even if the Brembo brakes with monoblock Stylema R front calipers avoid biting hard enough to tear up rubber at every opportunity.
Ready for track days straight from the factory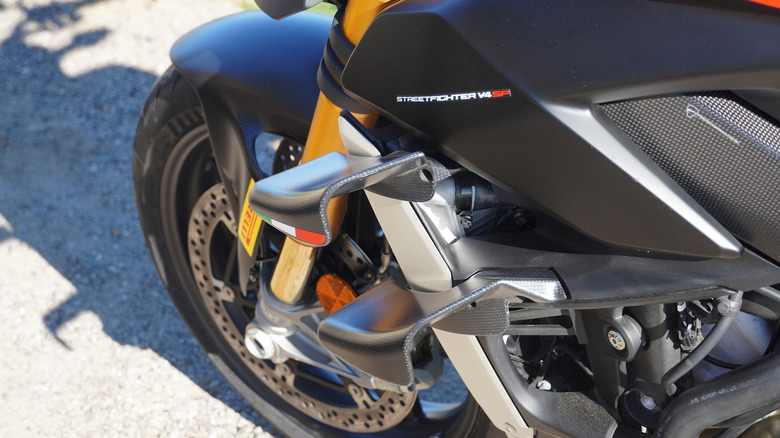 Michael Teo Van Runkle/SlashGear
Other than carbon-fiber Moto GP-style diveplanes that resemble Formula 1 nose cones, perhaps the most immediately noticeable element of the V4 SP greets the ears, not the eyes, when the engine is at idle. For anyone accustomed to keeping an ear out for problems given Ducati's pre-VAG reliability concerns, the factory standard dry clutch will definitely sound unnerving at first, especially with the clutch pulled in and the six-speed transmission in gear.
But you move past the chattering quite quickly because, simply put, this might be the best clutch ever, proved by absolutely perfect pressure and travel of the clutch lever (adjustable, of course). A short snick of the left boot and the gears shift instantaneously and positively—even into neutral, unlike other Ducatis and most other motorcycle transmissions in general. And never fear, the rattly noise also doesn't signal excessively bitey or violent shifting action because the V4 SP comes equipped with a slipper clutch from the factory, as well.
Throttle blips come as standard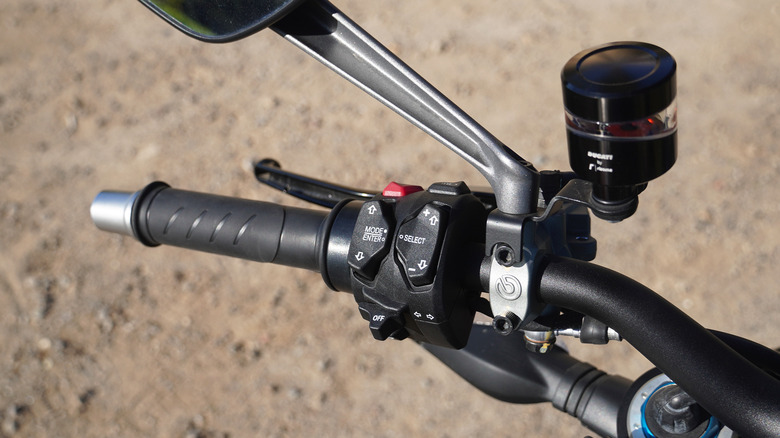 Michael Teo Van Runkle/SlashGear
At or near full throttle, the Quick Shift EVO 2 also stands out with lightning fast upshifts nearly any point in the stratospheric 14,500-RPM rev range, not just between when peak torque of 90.4 lb-ft hits at 9,500 RPM on the way to peak power at 12,750 RPM. During downshifts, the quickshifter smooths out any potential forward weight transfer and casually blips the throttle nicely, especially at more spirited pace.
Even compared to the Streetfighter V2, the V4 SP application works noticeably better (likely thanks to additional reciprocating mass within the drivetrain). In town or on weekend rides, that silky operation can make any rider feel like a star but on the flip side, almost takes away from the immense joy of nailing gearshifts with the superb dry clutch. Such are the trials of life one must balance when deciding whether to take on arguably Ducati's best bike.
A tough decision to take on Ducati's best bike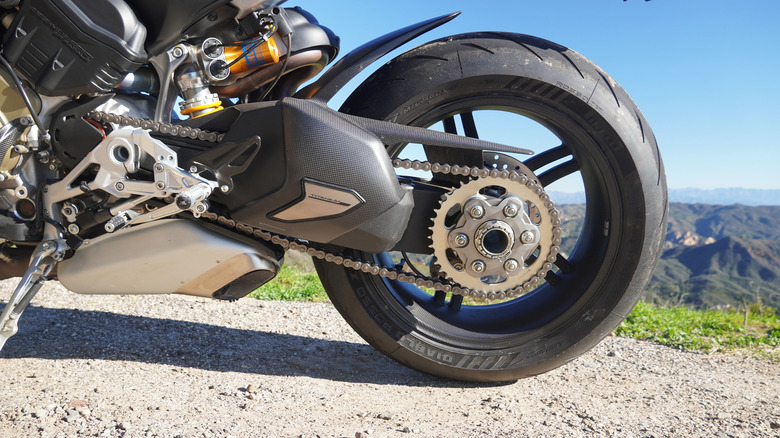 Michael Teo Van Runkle/SlashGear
Actually buying the Streetfighter V4 SP, though, requires some serious commitment (not to mention capital). A starting sticker of $35,500 includes that dry clutch—a status symbol among Ducati devotees—but also presents quite a dilemma given the base Streetfighter V2's excellence and value at less than half the MSRP, only $16,995.
Does double the price actually result in double the pleasure? Well, in consideration of our collective budgets, I can't recommend taking both bikes for test rides back-to-back lest the smoother low-end power, screaming redline, and polished demeanor of the V4 SP render the V2 absolutely obsolete in hindsight.
At 1,103cc versus the V2's 955cc, the four-valve V4 sounds better from start to finish, too. Sure, the Superquadro V2 borrowed from the Panigale sounds more distinctly "Ducati" but the deep burble of a V4 overwhelms such considerations immediately without potentially annoying neighbors (too much, anyhow).
In stock form, the cacophony echoing even at cruising speeds through canyons in Malibu forced plenty of glorious reverberations through my helmet, even overwhelming wind noise when the road opened up. I struggle to imagine how the V4 SP might sound with a popular Akrapovic exhaust system bolted on, all raspy revs and surging throttle spinning up through revs.
However the rider rides, this bike delivers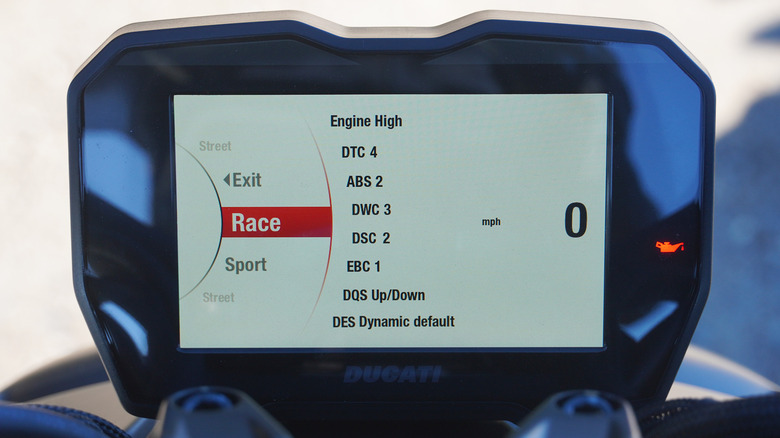 Michael Teo Van Runkle/SlashGear
That communication between man and machine—from the exhaust bark to throttle and clutch modulation, all the way to nearly telepathic transmission of road and tire grip—everything on the V4 SP comes together perfectly and helps explain why just about everyone seems to agree that the Streetfighter is Ducati's best all-around bike. The smoothed fairings of a Panigale or SuperSport might actually signal more aggressive dynamics, but those lower handlebars and firmer suspension components translate to diminished comfort on long rides, reduced visibility in traffic, a wider turning radius, and occasionally concerning ground clearance. Meanwhile, moving around the Streetfighter V4 SP's pegs can contribute to scooting rear ends higher and further back on that single seat, thereby lowering shoulders while pushing harder and cornering tighter to more closely mimic more identifiable sportbike posture.
I gave back the V4 SP wishing for more time to acquaint myself with everything the bike offers—and with no doubt in my mind that the bike coaxed out the best of my abilities, not-so-subtly entreating for my continued education over the course of a short loan period. Could I have braked harder, cornered lower, and accelerated faster? Of course. But absent a steady diet of track time on such a potent scalpel, public roads still perfectly reveal the dual nature of this Ducati's do-it-all personality.
Can any other bike actually compare?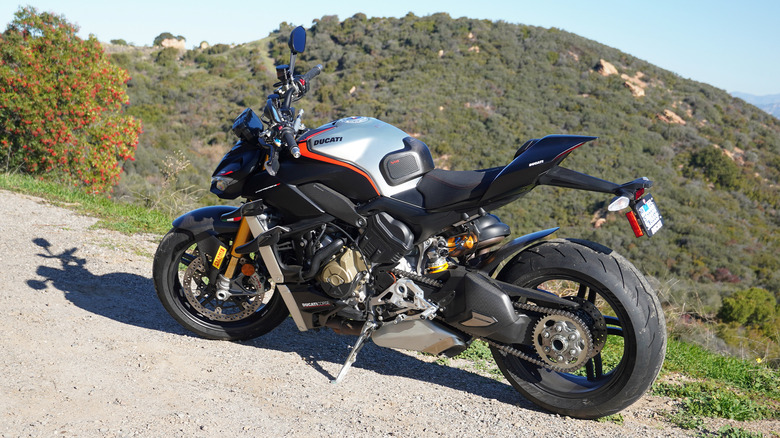 Michael Teo Van Runkle/SlashGear
Compared to the V2 I swapped the V4 SP out for, similarly tall gear ratios that often caused the twin to sputter at low speeds vanished thanks to smoother revs, the reduced unsprung mass almost vaporizing speed bumps and cracks in the road despite firmer damping, and the knowledge of more power available everywhere on the tach (plus a bit more auditory feedback) helped me feel safer in traffic. 
In many ways, I might have better acclimated to each bike after living with them longer. But early impressions do reveal just how much more machine the doubled (and then some) price tag buys. Just steel yourself to burn through gas receipts while living above 10,000 RPM on a bike with a 4.23-gallon fuel capacity.
For a while there, actually finding a 2022 Streetfighter V4 SP presented a challenge—hence a press bike actually arriving for media reviews in Los Angeles only at the tail end of the calendar year. But industry tides are changing as interest rates go up and the dealer-customer dynamic may well shift soon, if it hasn't already. Competitors from other brands, like BMW's semi-fairinged M 1000 R, KTM's 1290 Super Duke R, or Aprilia's Tuono V4 might cost a fair amount less. But if only the finest all-rounder naked bike will do, then the Streetfighter V4 SP is your best bet for now—at least, until deliveries of the 2023 V4 SP2 begin, anyway.