Here's How Fast The Porsche 911 Turbo S Really Is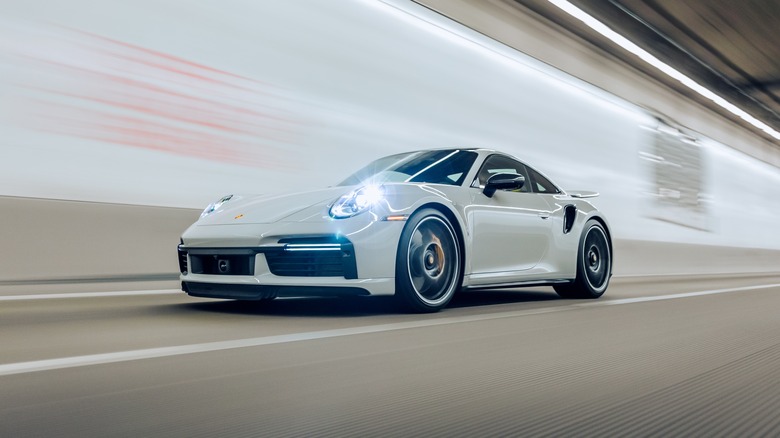 Brandon Woyshnis/Shutterstock
The 992-series Porsche 911 Turbo S is the quickest iteration of the German automaker's most iconic grand-touring sports car. Enthusiasts could argue the Carrera T is the most driver-focused among the 911's growing portfolio, and they're not far off. 
Equipped with a standard seven-speed manual transmission, adaptive suspension, a torque vectoring rear differential, and a 379-horsepower 3.0-liter six-cylinder engine with twin turbocharging — the Carrera T is an ode to 911s of yore. Still, it's far from being the fastest 911.
If you're looking to blow away hyper-tuned electric cars like the Tesla Model S Plaid and hardcore supercars like the Lamborghini Huracan Performante in a Porsche 911, take a long and hard gander at the Turbo S variant. The spicy, yet lesser-endowed 911 Turbo is not what you would call "slow" with its 572-horsepower turbo flat-six, but the crazy-fast 911 Turbo S has taken the meaning of speed to an entirely new dimension.
Porsche 911 Turbo S: Redefining supercar performance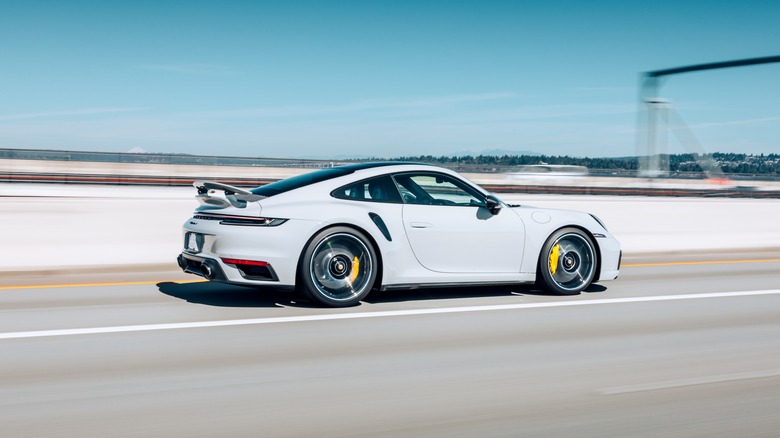 Brandon Woyshnis/Shutterstock
Car and Driver have given insight into the new Porsche 911 Turbo S and its blindingly-quick persona. Porsche quotes 0-60 mph in 2.6 seconds and a 205 mph top speed for the 911 Turbo S with the Sport Chrono Package — crazy numbers for an everyday, reliable sports car. But, as it turns out, the actual numbers are crazier than that. It blasted from 0-60 mph in 2.2 seconds at Car and Driver's test track, making it the second-quickest car in the publication's 67-year history.
Furthermore, the 992-series Porsche 911 Turbo S has beaten the Porsche Taycan Turbo S and the Tesla Model S Performance in Car and Driver testing, and it's only a tenth of a second slower than the Porsche 918 Spyder, the fastest car the publication has tested so far. Motivated by an excellent 3.7-liter turbocharged flat-six with 640 horsepower and 590 foot-pounds of torque, the 911 Turbo S dispenses the quarter-mile in a fantastic 10.1 seconds at 137 mph.
For perspective, the McLaren Senna could smash the quarter-mile run in 10 seconds at 147 mph (per DuPont Registry) with its 789-horsepower twin-turbocharged 4.0-liter V8 engine. It has more power than the Porsche, but the Senna is a track toy and is unsuitable for grocery shopping, highlighting the brilliant engineering underneath the Porsche 911's slightly-more-grown-up sheet metal.