2020 Porsche Taycan Turbo S First Drive Review: Electric Excellence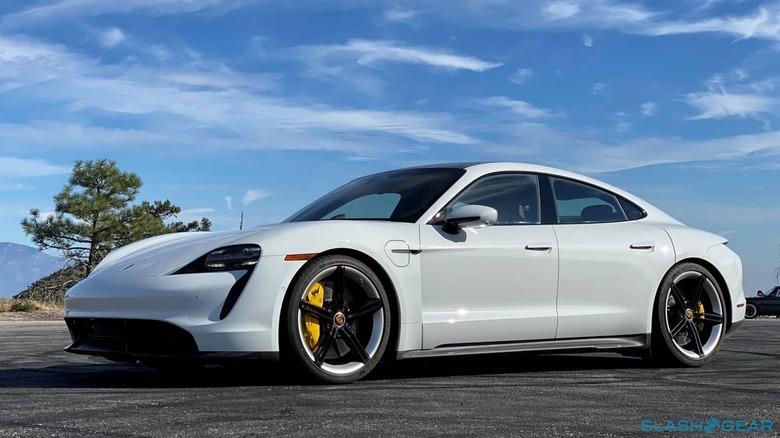 There are electric cars, and there's the Porsche Taycan. Make no mistake, the Taycan is a very big deal for Porsche and every other performance electric car released in the future. For the sake of simplicity, what started out as the Mission E concept around five years ago has morphed into what is really an electrified and elongated version of the Porsche 911, and that's all for the better. In the process, though, you can't miss the chatter around how the Taycan is around $50,000 more than a Tesla Model S Performance model, a car which goes faster to 60 mph, can accommodate five grown adults comfortably, and theoretically has a longer range.
Believe me, I understand where these folks are coming from, and it all has something to do with Porsche's legacy for building cars that drive exceptionally well. Tesla wasn't the first mass-produced EV to go mainstream, but the American EV maker has proven electric vehicles can be more than just a home appliance on wheels. With it, the legacy of EVs were born. It started with the Tesla Roadster, then the Model S and X. Pending the arrival of Tesla's extreme Model S plaid version with three electric motors, the Model S is essentially a touring sedan at heart.
Sure, the Model S Performance can shame most sports cars with its zero-to-sixty time of 2.4-seconds, and yes it can even drive itself (well, sort of) using Tesla's advanced Autopilot autonomous driving technology. But the Model S – despite the ability to scamper faster than a cheetah on steroids – is not a performance car. It doesn't look like a performance car (despite the swooping yet generic aerodynamic body style), and it doesn't handle like one, either.
This is where the Taycan enters the fray. From day one, Porsche wanted the Taycan to be a proper Porsche. Specifically, it should be able to tackle the road like a 911, but be as comfortable – and as practical – as a Panamera. Based on my initial test drive of the Taycan, I can verify Porsche has done that precise thing.
The new Taycan will initially be available in two models: the Taycan Turbo and the Turbo S. I drove both cars back-to-back, and no matter which you choose, you get two electric motors – one for each axle – and a large 93.4 kWh battery pack in-between. The Taycan Turbo generates 670-horsepower and 626 pound-feet of torque in over-boost mode and is good for 280 miles of range on the European WLTP cycle (though a lot less by EPA figures); altogether it's enough to propel the rather heavy Taycan to 60 mph in around 3.2-seconds. The Taycan Turbo S, meanwhile, is the one to get if you want a real speed demon, a car that can potentially shame a Tesla Model S Performance edition in repeat performance given the right circumstances.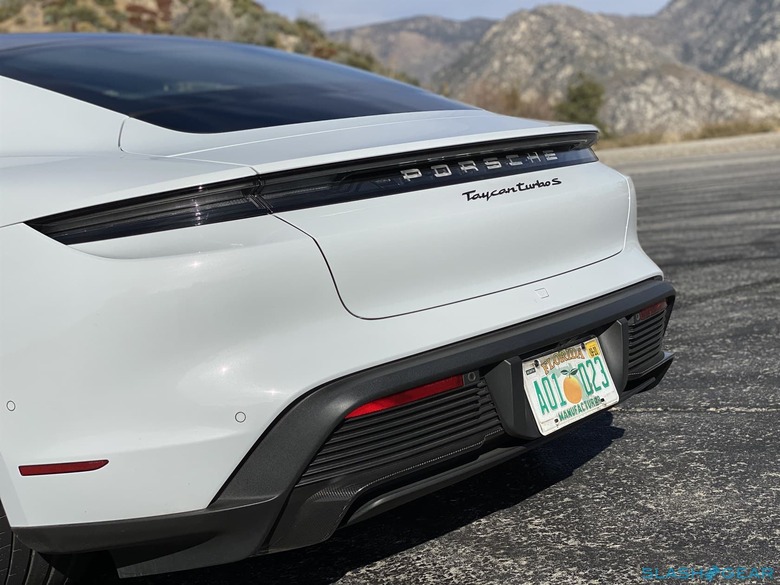 The Turbo S offers additional torque and horsepower over the Turbo model in over-boost mode, which is really the only performance difference between the two models. At most you get 750-horsepower and 774 pound-feet of torque, enough for a zero to 60 mph time of 2.6-seconds while reaching the quarter-mile in approximately 10.8-seconds. Due to the stronger power output, the Turbo S has a lower WLTP range of 260 miles. In reality, though, both models deliver an everyday 616-horsepower without the over-boost function in launch mode. Porsche gives the Taycan Turbo S a larger front inverter and some electronic tweaking in order to produce more power. No matter the case, both Taycan Turbo models have a top speed in excess of 160 mph.
As I said, the Taycan Turbo and Turbo S are simply divine to drive, and even more so if you have access to lots of empty back roads with elevation changes or congestion-free highways (a la a convenient Autobahn).
In my opinion, the Taycan turbo with "only" 616-horsepower is more than enough for the daily grind. Both cars use a unique two-speed gearbox along with an 800-volt electrical architecture. The former is responsible for the agile responses of the Taycan: first gear is engaged at up to 50 mph, whereupon a taller second gear takes over to maximize range and efficiency. It's a first in an EV and is only fitting for a performance-oriented EV like the Taycan.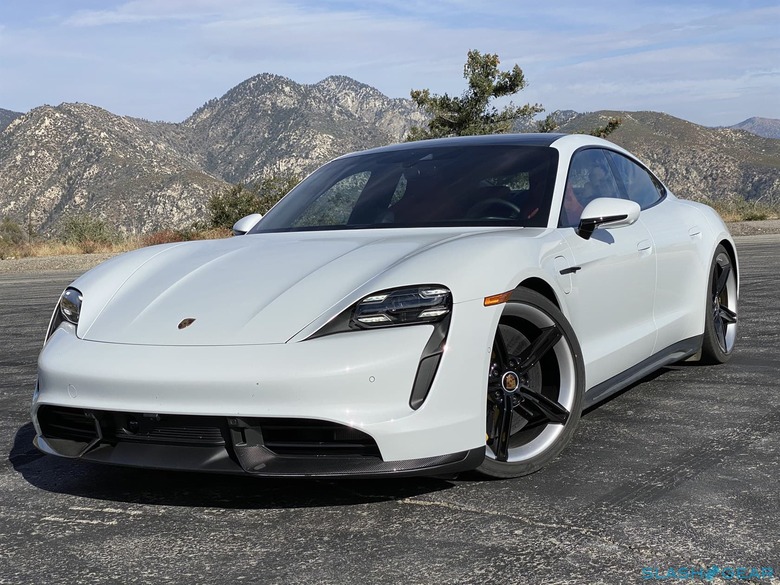 While there's something to be said for simplicity, I do think having more than a single gear is the real future of EVs. The same could be said for 800-volt architecture, which contributes faster charging, less battery heat, and more compact wiring for better packaging. And by faster charging, this means the ability to top up the batteries in less than 30 minutes: assuming you can find a 270 kW DC fast charging station. Porsche admits developing this electric architecture is costlier than Tesla's 375-volt system, but it pays dividends in terms of consistent power delivery.
Electric cars are known for their plentiful torque. Even so, the power in the Taycan Turbo S isn't just consistent and relentless as you push the accelerator pedal: it can be downright violent, to the point of inducing nausea or fear, depending on who you ask. The Taycan is a fast car even in base Turbo trim, while the Turbo S model is, well, ludicrous for lack of a better description.
Outright speed is a given. After all, it was Porsche's intention to make it feel exactly like a 911. But what really impressed me is the interior design. Unlike Tesla, the Taycan's interior is a triumph in modern minimalism with better materials and a more luxurious feel, topped off with enough tech to satisfy the most geekiest of geeks. True, the steering wheel is lifted directly from the 911, but it's hard not to see that as a good thing, and the rest of the cabin design and layout is spot-on. The only physical buttons you'll see inside are on the doors and steering wheel. Everything else is controllable by a plethora of touchscreens along with intuitive voice controls.
The seating position is very low, which contributes greatly to the sports car-like driving feel. Also like a proper sports car, while the driver and front passenger have more than enough room, it's a different story in the rear seats. True to form, taller passengers might find the rear quarters slightly claustrophobic and tight by modern standards, but at least you get sufficient cargo room in the trunk – as big as that of a VW Golf – along with a smaller front trunk for a large computer bag.
Ride comfort surprises. Even with 21-inch wheels and lower-profile tires, the standard air suspension does a good job of isolating the cabin from major humps and bumps, even in the Normal or Sport setting. Summoning Sport+ mode is a different story, giving the Taycan the sort of ride similar to a car fitted with street-spec racing coilover suspension. By that I mean stiff, mildly jarring, and yet eager to embrace a winding corner at higher speeds.
The steering is precise and thankfully brimming with feel, although initial feedback could use some tinkering to keep it on par with the 911. The brakes are large and glorious when peering through those gorgeous alloys, as they should be for such a beastly car. It took me a minute to get to terms with the brake pedal feel in the Taycan, and I don't want to blame the regenerative braking system for that. True, the system can harvest up to 265 kW of energy to feed back into the battery pack, but you'll need to be entirely familiar with the brake pedal modulation to catch up with a Tesla Model S on a winding mountain road. In normal driving, though, you'll be engaging the regenerative brakes for almost 90-percent of the time, which also means the brake pads in a Taycan can last for a long, long while.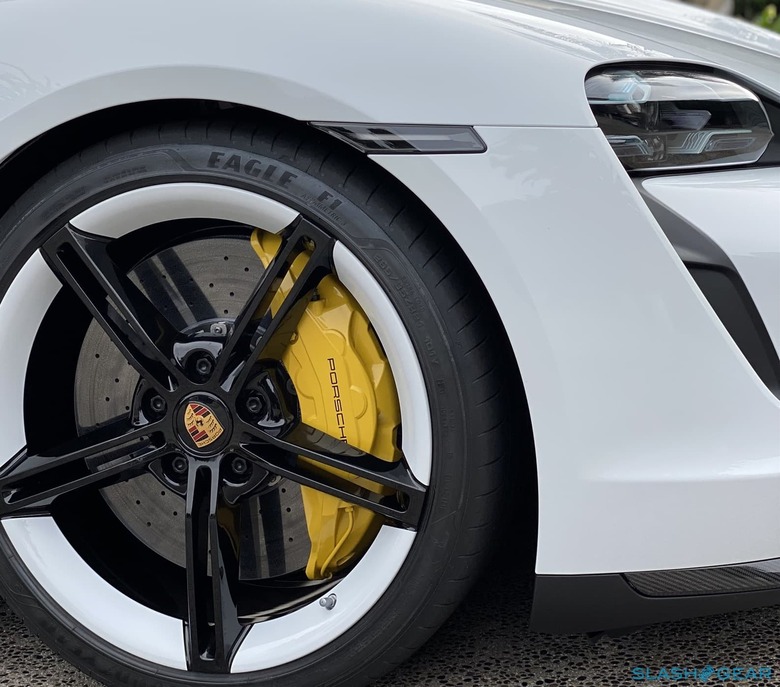 Despite all the high-tech components and engineering effort, what boggles my mind is just how the Taycan manages to feel as sporty as a 911 despite the weight penalty. Make no mistake, Porsche's EV can go like nobody's business, but no amount of tinkering can overtake the laws of physics on this one. The Taycan may feel light on its feet in a straight line, but you'll feel the weight of the car once you're aiming for the apex. And yet, the Taycan can sort itself out without minimal effort or drama.
The added weight and lower center of gravity enable the Taycan to tackle corners you'd initially assume you'd need to slow for, but you do feel the heft of the vehicle. By contrast, the Tesla Model S feels cumbersome at higher speeds while the Taycan feels planted and ready to attack every corner you can throw at it. Also, the two-speed gearbox makes the Taycan feel more exciting. In fact, this feature alone makes it feel like a normal car. Aided by Porsche's Electric Sport Sound that pipes in some artificial mechanical noise inside the cabin, the Taycan managed to feel like a normal performance car with nothing lost in translation towards electrification.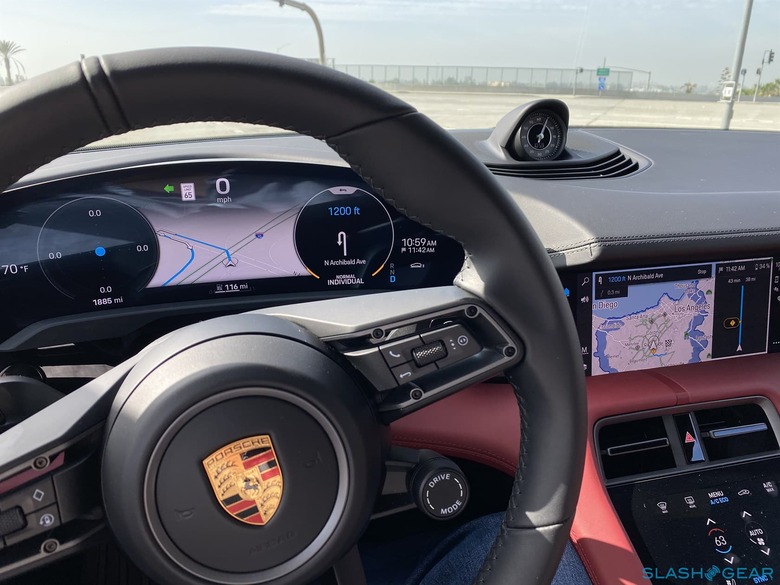 After an hour or so of thrashing the Taycan, selecting Normal or Range from Sport+ transforms the car from an Autobahn-beating machine to a silent, comfortable, and almost tame daily driver. With this in mind, it's better than a 911 around town, and you get four doors, impressive cargo space, and proper seats for humans in the back. At this point, the regenerative braking will do most of the anchoring for you. For all its technological might and vast reserves of power, the Taycan is no harder to drive than a compact car.
Porsche did its homework with the Taycan. It's far from being perfect, but true beauty is not without natural flaws. Tesla can rightly say the Model S is faster or possibly more capable of scaring the bejesus out of everyone in the cabin. But in terms of handling, ride comfort, and overall driving feel, I'd say Elon Musk and the rest of the gang at Tesla have some homework to do.