Apple MacBook Pro M2 Max Review (2023): The Price Of Portable Power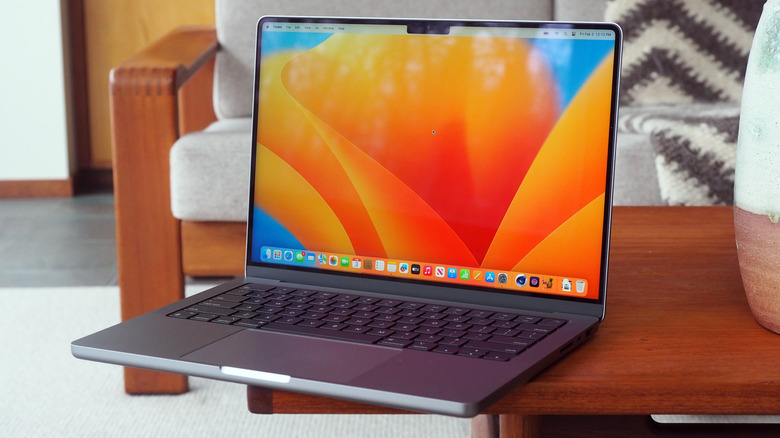 Chris Davies/SlashGear
Not everything needs to be a revolution, a fact that Apple knows better than most. The tech world certainly isn't shy of either hyperbole or regular reinvention, and yet to look at the 2023 MacBook Pro and you'd be entirely forgiven for not knowing it's the very latest and greatest of Apple's pro-series laptops. In fact, that ignorance could last until you check out the "About This Mac" dialog (or your credit card statement).
That's because Apple has long stuck to the "if it's not broke, don't fix it" approach to industrial design. Mostly that's worked out, laggardly fixes to the butterfly keyboard and a decision — one way or the other — about the future of the Touch Bar notwithstanding. This newest iteration of its most expensive notebook may look identical to last year's model, but it's what's inside that's important.
You get the same choice of 14-inch or 16-inch displays, the same sleek aluminum chassis, and the same array of ports. The latter two saw some course corrections in 2021, with Apple finally conceding that the world wasn't ready to wholeheartedly embrace Thunderbolt 4 in preference to everything else. The Star of the show, though, is Apple Silicon.
The chip world doesn't stand still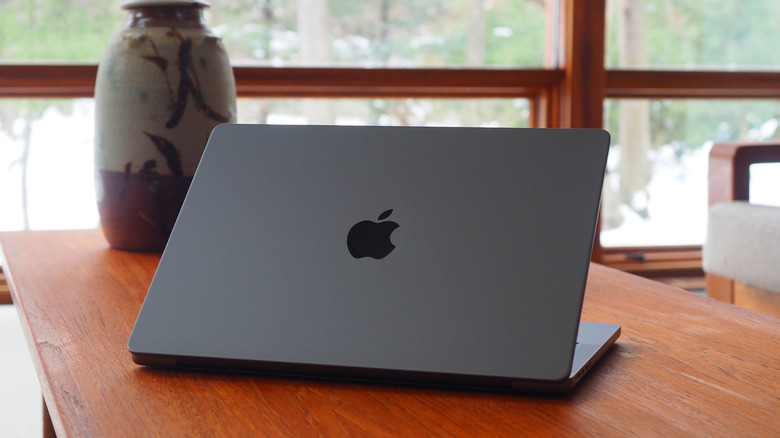 Chris Davies/SlashGear
It's fair to say that Apple's transition to its own chip designs has been a grand success. Ousting Intel seemed like an uphill challenge — and, to be fair, it's a journey that isn't quite finished yet — but the benefits have been considerable. For the sort of multimedia, coding, and other creative tasks that the MacBook Pro has long been appealing for, Apple Silicon has demonstrated a laser-focused balance of performance and efficiency.
Time in the processor world doesn't stand still, however, and so the M1 Pro and M1 Max of late 2021 have been replaced by the M2 Pro and M2 Max for this 2023 refresh. There's more grunt, obviously, but longer runtime promises too, and Apple has taken the opportunity to address other user requests like memory capacity, display support, and wireless connectivity.
An expensive iteration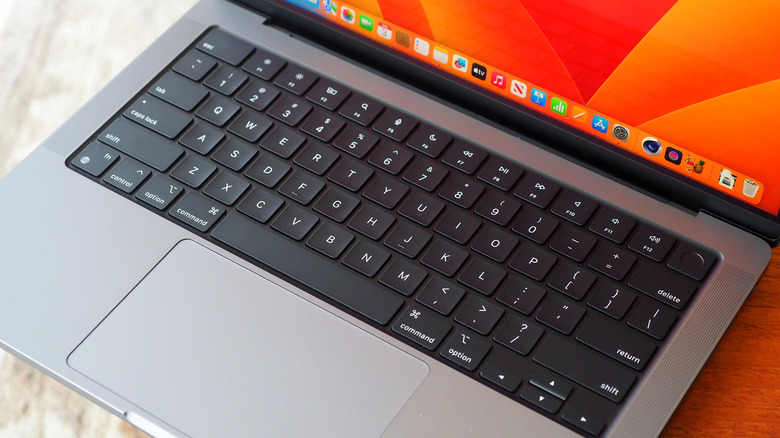 Chris Davies/SlashGear
At its cheapest, the $1,999 14-inch MacBook Pro gets an M2 Pro chipset with a 10-core CPU, 16-core GPU, and 200 GB/s memory bandwidth, paired with 16GB of unified memory. Options include a version of the M2 Pro with more CPU and GPU cores, the M2 Max with up to a 12-core CPU, 38-core GPU, 400 GB/s memory bandwidth, and up to 96GB of memory. That's beyond the 64GB maximum that the old laptop supported. Storage ranges from 512GB up to a whopping 8TB.
The 16-inch MacBook Pro starts at $2,499, meanwhile, though it has more CPU and GPU cores in its M2 Pro base configuration. It, too, offers chipsets all the way up to an M2 Max with a 12-core CPU and 38-core GPU, and up to 96GB of memory.
Maxing out the processor and memory on the 14-inch model will cost you $4,099, or $4,299 on the 16-inch version. As is usually the case, there's no support for user-upgradable RAM or storage. Fully loaded, with that beefy 8TB option, you're looking at $6,299 or $6,499 for the 14- or 16-inch models respectively.
Bleeding-edge benchmarks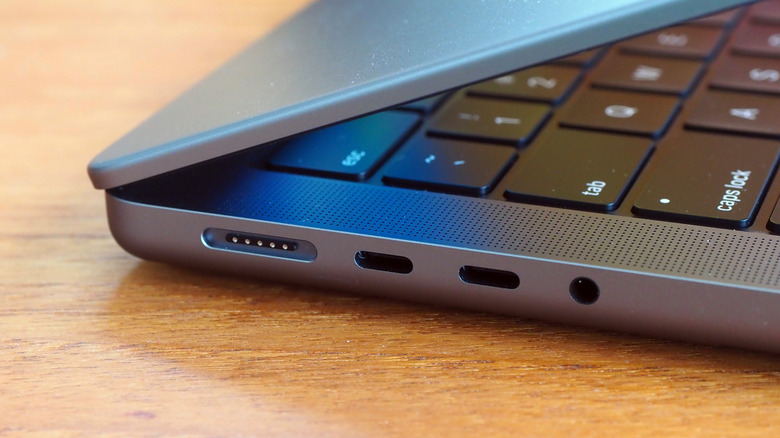 Chris Davies/SlashGear
My 14-inch review unit has the M2 Max in its most potent, 12-core CPU and 38-core GPU configuration, paired with 96GB of memory and a 4TB SSD. Altogether it's $5,099, and that is undeniably a whole lot of money. Then again, Apple says you could see a 30% improvement in GPU performance versus the M1 Max.
It's an uptick reflected in benchmarks. In Geekbench 5, the M2 Max scored 1,978 in the single-core and 15,232 in the multicore tests, and 72,864 in the Compute test. In Cinebench R23, it scored 1,611 in the single-core and 14,701 in the multicore tests (and got noticeably toasty in the process).
More practically, the sort of multimedia and deep learning models that daily workloads are increasingly including are shrugged off with the sense that the MacBook Pro is hardly breaking a sweat. Using Handbrake to transcode a 1GB 4K video to 1080p resolution took as little as 33 seconds. Final Cut Pro whips along with lag-free abandon, applying effects and more with sinuous ease, while things like tone mapping in Affinity Photo are similarly rapid.
Using DiffusionBee, which allows you to run Stable Diffusion locally and create AI-generated images from a text prompt, was also impressively swift. With the HQ version, at the default settings, it took just 12 seconds to generate an image.
Tweaks where they count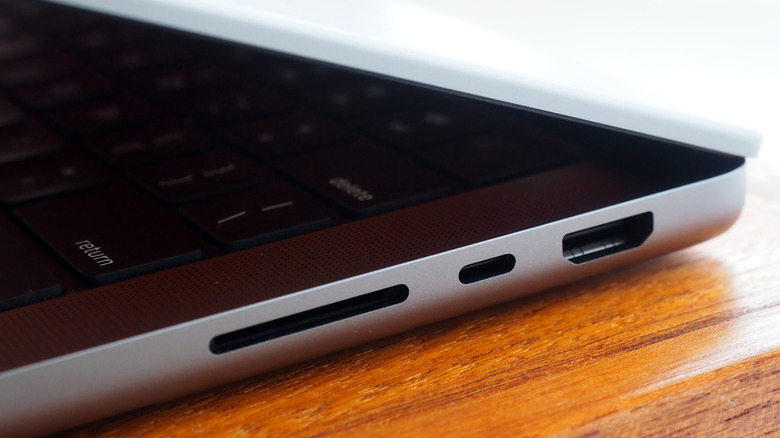 Chris Davies/SlashGear
You'll be unsurprised to hear, then, that the MacBook Pro handled my daily workflow with aplomb. More browser tabs in Chrome and Safari than I could keep track of; all the messaging in Slack, iMessage, and others; email, documents, photo editing, and everything else. An M2 Max is overkill in this sort of situation, sure, but I can't argue with the headroom you'd have for years of macOS updates.
Then there's general usability. The SDXC card reader is still one of the best improvements with this latest generation of MacBook Pro design (even if it still doesn't support UHS-III, maxing out at UHS-II). The upgrade to Wi-Fi 6E corrects another annoyance from 2021, promising improvements in speed if you have a compatible router, but just as important I noticed a bump in range, too.
Then there's the upgraded display support. The old MacBook Pro had HDMI 2.0; 2023's gets HDMI 2.1 and so can now drive up to 4K/240 or 8K/60 screens. If you have the M2 Pro, you can have the laptop's own screen and additionally plug in two external displays with up to 6K resolution. The M2 Max can handle up to three 6K/60 external screens via Thunderbolt, a 4K/144 screen on the HDMI port, and its own display, for a seriously epic amount of display real estate.
One of the best laptop screens around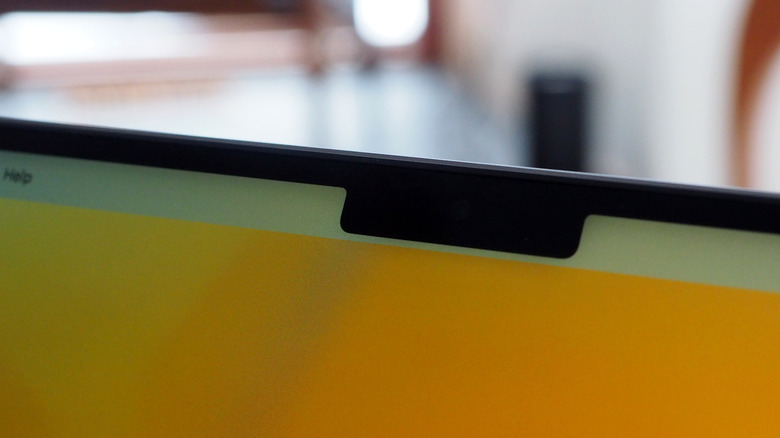 Chris Davies/SlashGear
Even without a desk full of external screens, though, using the MacBook Pro is a slick affair. Apple's Liquid Retina XDR display technology uses miniLED technology, packing 3024 x 1964 native resolution in 14-inch form, or 3456 x 2234 for the larger 16-inch version. Both support 1,000 nits of sustained brightness or 1,600 nits of peak brightness, P3 wide color support, True Tone to automatically adjust color to the surrounding environment, and ProMotion adaptive refresh up to 240Hz.
It remains one of the best screens around on a laptop, bright and color-rich. I also like how low you can crank the brightness without sacrificing visibility.
The notch — accommodating the 1080p FaceTime HD camera — is still here and remains controversial. Honestly, most of the time I forget it's there, and I think it's a worthwhile compromise in return for the higher-resolution webcam. I still also wish Apple could squeeze in Face ID as on its iPhone and iPad models, but Touch ID in the power button is a reasonable compromise.
Longer battery is welcome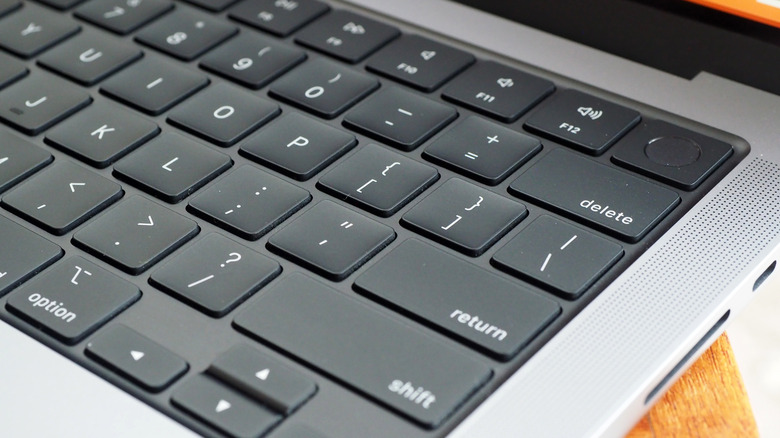 Chris Davies/SlashGear
The keyboard hasn't changed from the previous generation, which I'm absolutely fine with as it's among my favorites to type on. Decent travel, useful shortcuts, and of course that developer-favorite, a physical Escape key. The triple array of microphones is carried over, too, and while I'm not sure I'd follow Apple's suggestion and rely on it in a studio setting, it's definitely great for calls when paired with macOS' Voice Isolation.
Six speakers — four woofers and a pair of tweeters — also punch above their scale. Laptops aren't typically known for their sonic performance, but Apple coaxes more volume (and, particularly, more bass) out of its setup than you'd think possible.
Then there's battery life. If you have the 16-inch MacBook Pro, Apple suggests you could see up to 22 hours of runtime from its 100 Wh pack. That's assuming you're doing nothing but watching videos; it dips to 15 hours of web browsing over WiFi.
The 14-inch version has a smaller, 70 Wh battery, which Apple claims is sufficient for 18 hours of video playback or 12 hours of wireless browsing. Obviously, that's hardly what most people are going to be doing here, but the general improvement between this and an effectively maxed-out M1 Max version has been 2-4 hours more runtime. A whole day's regular use away from the power adapter is more than feasible.
MacBook Pro 14-inch (2023, M2 Max) Verdict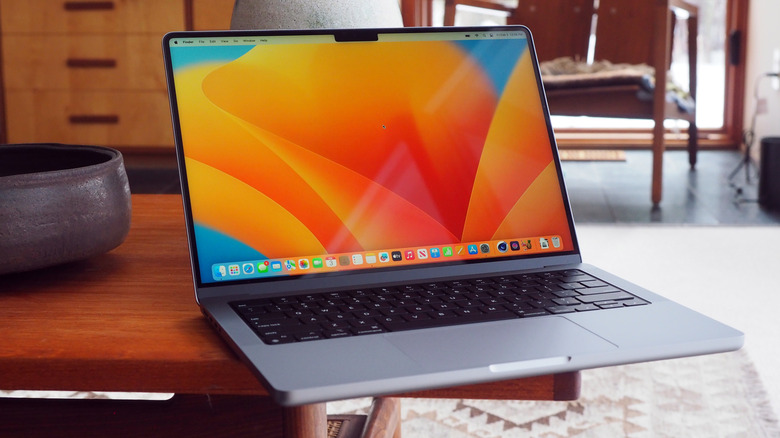 Chris Davies/SlashGear
That independence, mixed with power, is why the MacBook Pro shines. On the one hand, the improvements for 2023 are moderate: an uptick in performance, battery life, and connectivity. All the same, they're improving on what was already a comprehensive all-rounder.
Though the 16-inch MacBook Pro is undoubtedly a beast, I can't get past just how good the 14-inch version is when you factor in portability. Yes, a MacBook Air M2 is less of a hit in your bag (and your wallet), but being able to do desktop-level tasks from a laptop that doesn't care if I inadvertently left the power supply at home feels borderline magical. Road warriors are going to love it, particularly given the footprint which lends itself to getting things done even when you've only got an airline table or a slice of a Starbucks bar to work at.
You pay for that privilege, certainly. I couldn't fault anybody for sweeping in and grabbing an M1 Pro or M1 Max version from the last generation, and saving cash in the process, or if the desk-bound opted for the astonishingly good Mac mini with the M2 Pro chipset. For those who need the most potent flavor of macOS on the road, though, paying for the best Apple has to offer right now comes with even fewer compromises.