Apple Mac Mini Review (2023, M2 Pro): One Key Option Makes It An Easy Decision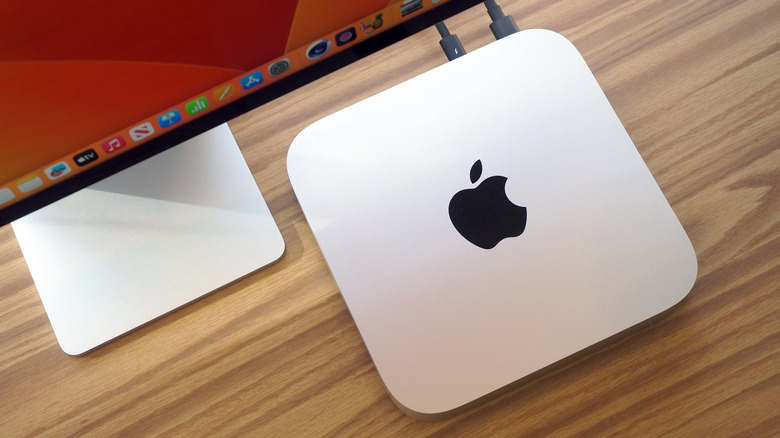 Chris Davies/SlashGear
We may receive a commission on purchases made from links.
Apple's new Mac mini is a reminder never to judge a book by its cover. Or, in this particular case, never judge Apple's homegrown chipsets by the chassis in which they arrive, an admittedly tricky challenge when the company's smallest Mac is so darn surreptitious. The switch to Apple Silicon has confounded plenty of assumptions over the past couple of years, but seldom are expectations so comprehensively upended by this Mac mini with M2 Pro.
Among the first of the Mac line-up to make the Apple Silicon transition in 2020, the Mac mini helped illustrate that the switch to homegrown chips would mainly bring performance, not pain. Ostensibly the same as its Intel-powered predecessor, the unassuming silver box continued to do what the Mac mini had always done: offer an affordable gateway to macOS.
That first Apple M1 chipset may have been outclassed by now — though, frankly, for most people it's still perfectly adequate for their web browsing, emailing, and document creation — but the ethos remains. Stripped of the screen, sleek peripherals, and portability, the Mac mini leaves Apple's software experience to hold the spotlight. Only this time around, it's more than just a nod to computer buyers on a budget.
One Mac mini, two distinct purposes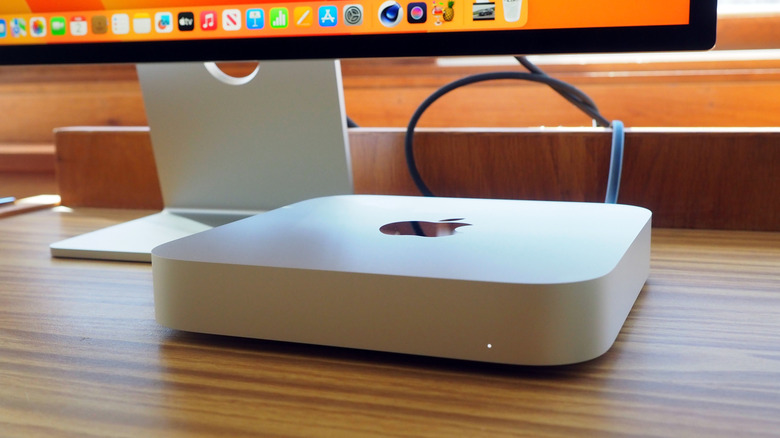 Chris Davies/SlashGear
Instead, though Apple doesn't quite pitch it that way, the 2023 Mac mini splits into two. On the one hand, there's the Mac mini M2, cheaper than its M1 predecessor at $599, and getting a welcome uptick in performance to match the latest MacBook Air. Plug in your own display, add your choice of keyboard and mouse, and you're off to the races with macOS Ventura in its most attainable form.
Alongside it, though, is the Mac mini with M2 Pro. Identical at first glance — well, until you check out the ports — it's the same silver metal box with a glinting Apple logo. Despite being less than 1.5 inches tall, though, it packs an unexpected punch.
Apple's M2 Pro has a 10-core CPU — combing six performance cores and four efficiency cores — along with a 16-core GPU and 16-core Neural Engine. At 200 GB/s there's twice the memory bandwidth of the M2, and Apple doubles the standard memory out of the box as well: 16GB, with 32GB as a $400 option. You get double the storage as well, starting at 512GB with options up to a whopping 8TB of SSD.
Taking on the Mac big boys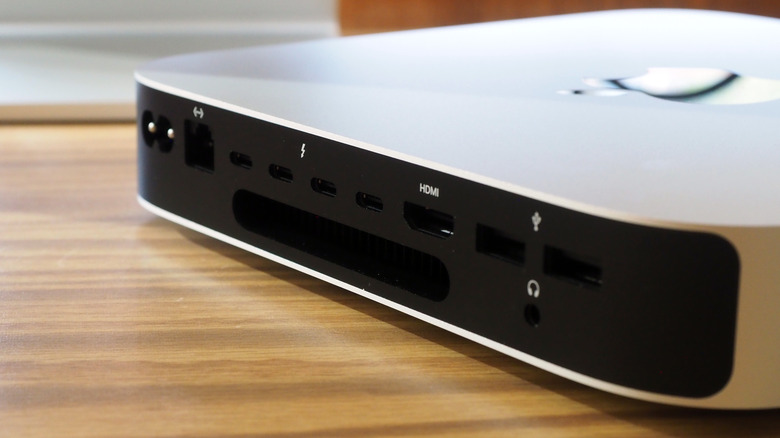 Chris Davies/SlashGear
Pricing starts at $1,299, but Apple offers a $300 upgrade to the M2 Pro 12-core CPU/19-core GPU if you want even more grunt. Max everything out, and throw in a 10 Gigabit port, and you're looking at a $4,499 Mac mini.
That's pretty wild, but if you're cross-shopping with Apple's Mac Studio a more conservative configuration could still make sense. Taller — and more expensive — than the Mac mini, the Mac Studio carved out a space as a miniature Mac Pro for those still waiting for an Apple Silicon version of the burliest tower. In its $3,999 Apple M1 Ultra form, the Mac Studio is still going to squash even a maxed-out 2023 Mac mini, but the delta between that and the $1,999 Mac Studio M1 Max is a lot narrower.
The review unit Apple sent me for this review got the upgraded, 12-core CPU version of the M2 Pro, but with the standard 16GB of memory and 1TB of storage. That adds up to $1,799, and some astonishing benchmarks.
Seriously impressive benchmarks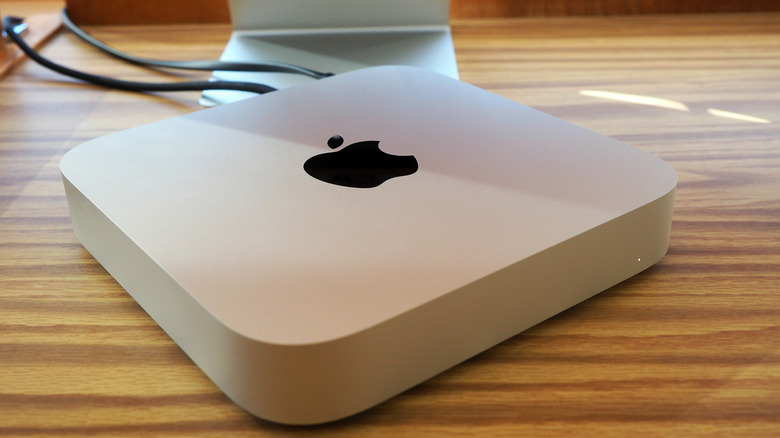 Chris Davies/SlashGear
In Geekbench 5, the Mac mini scored 1,967 in the single-core and 15,074 in the multicore CPU test. By way of contrast, that's roughly the same as the latest MacBook Pro with Apple's M2 Max; it was only in the Geekbench 5 Compute test, with scores of 44,477 for the desktop but 72,864 for the laptop, where the considerably more expensive MacBook Pro pulled ahead.
Things get even more interesting in Cinebench R23, where the Mac mini M2 Pro scored 14,775 in the multicore and 1,651 in the single-core tests. They're almost identical numbers to the MacBook Pro with M2 Max.
Obviously synthetic benchmarks only tell you one part of the story, but it's clear that there's a whole lot of potential in this diminutive Mac. That's particularly the case if your workload is graphics-heavy: video or photo editing, for example.
Real world gains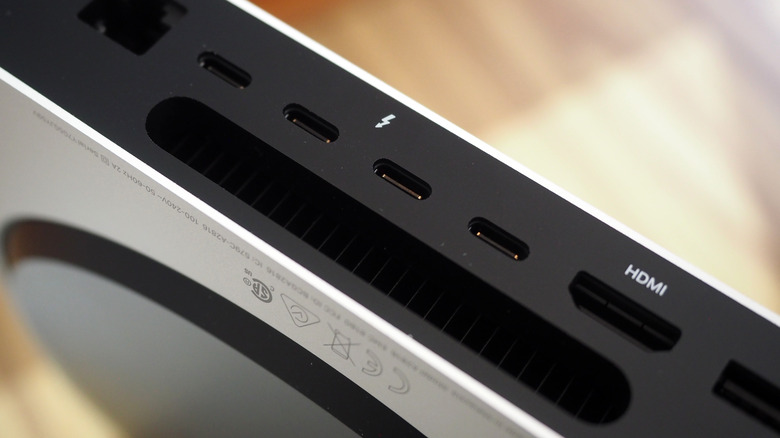 Chris Davies/SlashGear
With Handbrake, transcoding a 1GB 4K video to 1080p resolution took 40 seconds; a Mac mini M1 needed 1 minute 15 seconds to do the same thing. DiffusionBee — which allows you to run Stable Diffusion locally, using AI to generate images from text prompts — took 20 seconds to generate a picture in the HQ version at the default settings.
On the MacBook Pro with M2 Max, that process took 12 seconds; the Mac mini M1 took 58 seconds. Though AI-generating images may seem like a niche case, we're likely to see increasing use of the sort of deep learning models Stable Diffusion relies upon.
Unsurprisingly, this new Mac mini also handled everything my typical day threw at it. Lots of tabs open in Chrome and Safari; Slack, Telegram, and other instant messengers; image editing with Affinity Photo; and video streaming. Honestly, the M2 Pro is probably overkill here, but being able to quickly throw some computationally-intensive HDR effects on an image, or batch-convert a whole folder of files without taking a coffee break was a nice productivity booster. While it's actively cooled — unlike the MacBook Air M2 — it was hard to load the Mac mini down to the point where the fan came on.
Connectivity gets a boost, too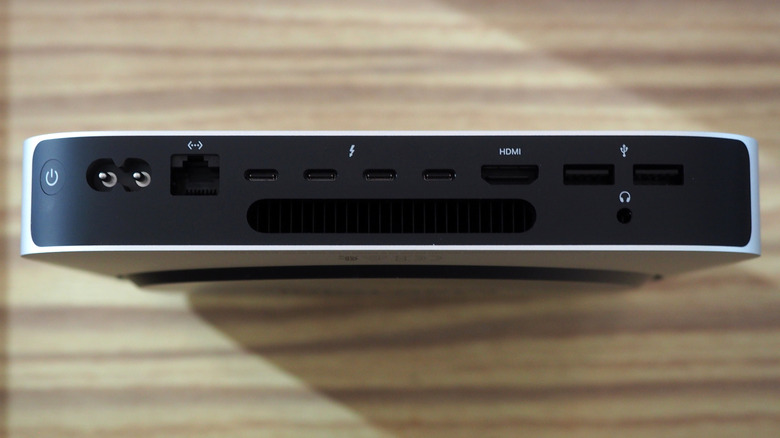 Chris Davies/SlashGear
There are other improvements for the M2 Pro version. The standard Mac mini has two Thunderbolt 4 ports, an HDMI 2.0 (supporting up to 4K60), two USB-A, a gigabit ethernet, and a 3.5mm headphone jack; it can handle up to two displays simultaneously, resolution depending.
The Mac mini M2 Pro throws in another two Thunderbolt 4 ports, and its HDMI 2.1 port supports up to 8K/60 or 4K/240 resolution. It can also drive up to three displays — including two at 6K/60 via Thunderbolt 4 — for a seriously large amount of screen real estate.
Both get Wi-Fi 6E — a welcome upgrade that noticeably improves range; I was seeing distant neighbors' wireless networks that were invisible to my Wi-Fi 6 MacBook Pro. This unit also has Bluetooth 5.3. Bluetooth SIG, Inc. suggested this version of Bluetooth improved over Bluetooth 5.0 with more focus on energy efficiency and reliability — not that these enhancements make any noticeable difference on a desktop machine, but still, it's nice to know Apple's latest product has the most advanced Bluetooth on the market.
Apple Mac mini with M2 Pro Verdict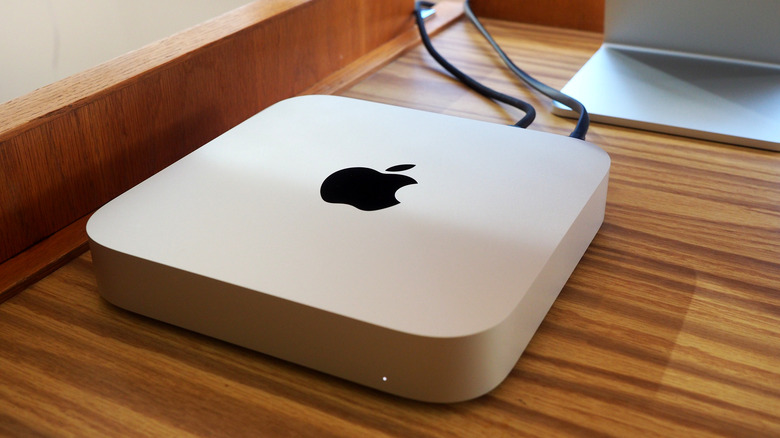 Chris Davies/SlashGear
Some of the longstanding Mac mini caveats remain. You'll need to budget for a screen and peripherals, of course. It's hard not to be charmed by Apple's own Magic Keyboard with its convenient Touch ID fingerprint sensor; it's equally hard not to be bemused still by the inelegant way the Magic Mouse is charged. Then there's the absence of front ports — something the Mac Studio addressed — and the omission altogether of an SD card slot.
Nonetheless, the Mac mini has always been a gem in Apple's line-up, and this far more potent version of the desktop only underscores that value. Punching far above its tiny footprint, it fills a sweet spot for those who need more than the Mac mini M2 can deliver, but without dragging them into the realm of the more expensive Mac Studio.
Indeed, the most practical spec of this Mac mini M2 Pro undercuts the Mac Studio, yet still offers performance in some areas akin to Apple's most fearsome laptops. As ever, restraint on the options list helps temper the credit card pain — I'd say cough up for Apple's memory upgrade since there's no DIY option there, but Thunderbolt 4 external drives should offset the need for bigger internal SSDs — but on a punch-per-dollar basis, there's little here not to like. This may be Apple's smallest Mac, but its appeal is huge.
You'll find the Mac mini M2 Pro available via Amazon for a starting price of $1299, while the standard M2 version will cost closer to $599 through Amazon in its base configuration.