Apple Mac Studio Blows Mac Pro Out Of The Water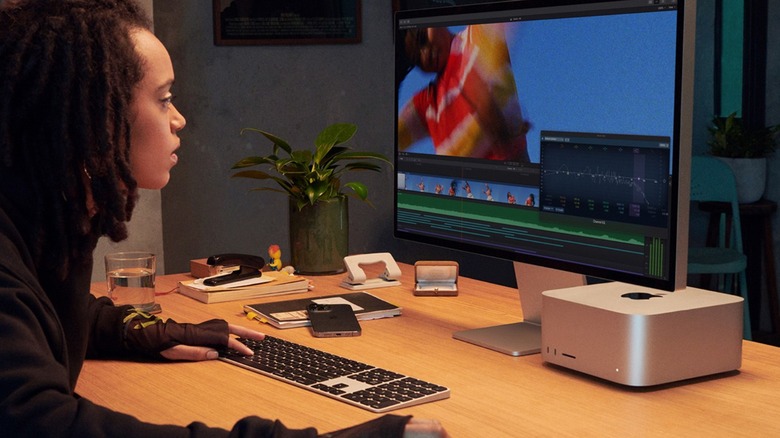 Apple
Apple revealed a pair of Mac devices that might very well bring the company to a new golden age of desktop computing. The Mac Studio and Apple's Studio Display will be available for purchase separately, but the company has effectively pushed the pair as a unit. The Mac Studio has the same desktop footprint as a Mac Mini and is more powerful than a Mac Pro,with a price tag that reflects such. The Apple Studio Display is optimized for the power the Mac Studio brings and also delivers a power-to-price ratio that's just right.
To be fair, it's not as if Apple's released a wide variety of monitors in the past. They only really have the Apple Pro Display XDR as a premium device and no device in the "mini" category. With the only monitor Apple has in stock costing thousands, the Pro Display XDR can finally give some shelf space to a slightly more affordable piece of hardware. The Mac Studio also fills a major void in Apple's desktop device collection: a powerful computer that's not too large, not too small, and priced just right.
Hardware specs for Mac Studio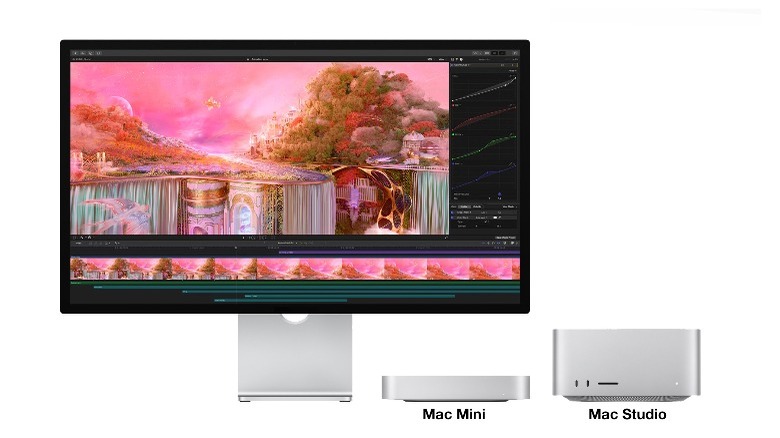 Apple
The Mac Studio desktop machine works with an up to 20-core CPU, up to 64-core GPU, with M1 Max and M1 Ultra chip options. Apple says it offers up to 7.4GB/s storage performance, up to 128GB memory, and up to 800 GB/s memory bandwidth. Above you'll see the new Apple Studio Display with both the most recent iteration of the Mac Mini and the Mac Studio nearby. This device looks very much like a taller iteration of the Mac Mini (2020), with a squircle shape from above, and mostly smooth, flat sides, all in a single light metal. The Mac Studio has its own SDXC card slot up front near two USB-C ports and a power indicator light. 
Around the back are four more USB-C ports (Thunderbolt 4), 100Gb ethernet, full-sized HDMI port, full-sized headphone jack, two full-sized USB-A ports, a physical power button, a power jack, and a grille for airflow the built-in speakers, featuring Spatial Audio.
Mac Studio performance, plus price and release date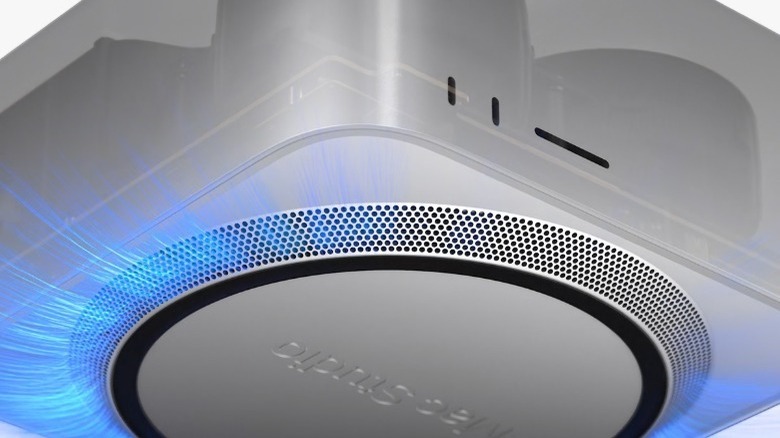 Apple
Apple also suggested that a Mac Studio with M1 Max inside delivers "up to 50 percent faster CPU performance than Mac Pro with a 16-core Xeon processor" and "3.4x faster graphics performance than the 27-inch iMac." Likewise, the company claimed that the Mac Studio with an M1 Ultra processor enables "up to 3.8x faster CPU performance than the fastest 27-inch iMac with 10-core processor." Apple made clear that this device was an absolute monster, suggesting that the M1 Ultra Mac Studio was "up to 12x faster than the 27-inch iMac, and up to 5.6x faster than 28-core Mac Pro when transcoding video." We'll need to test real review units to see how accurate these relatively broad claims are, but one thing seems clear enough already: Mac Studio is no slouch.
The Mac Studio powered by M1 Ultra has a starting price of $3999, with 64GB unified memory and a 1TB SSD. The Mac Studio powered by M1 Max will have a starting price at $1999 USD. There'll be a whole lot of options available for configurations and pre-orders start March 8. The full release date for Mac Studio is March 18. These dates are the same for the Studio Display, which will retail for $1599 on its own.