Apple's Mac Studio Display Boasts Staggering Visual Specs & Costs Less Than You'd Think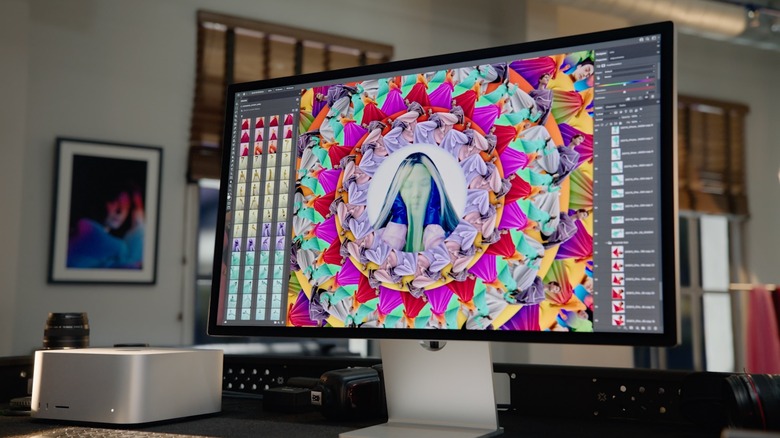 Apple
Apple has unveiled its long-anticipated new monitor, targeting consumers and pros with the new Apple Studio Display. As we've been hoping for, the Studio Display is a more affordable option for those wanting an Apple-branded screen to plug into their Mac.
The Pro Display XDR, launched alongside the current-generation Mac Pro in 2019, certainly doesn't stint on image quality, but it's also incredibly expensive. In fact, it'll set you back $5,000 before you even add a stand.
In contrast, the new Studio Display is a comparative bargain. It starts at $1,599 for the model with standard glass, which Apple promises has low reflectivity. If you need the special nano-texture version – which scatters light even further, to be even less reflective – that's $1,899. The Studio Display is set to be released alongside the Mac Studio, a new desktop machine with MacOS and the newest in new M1 processor power.
A 5K Retina display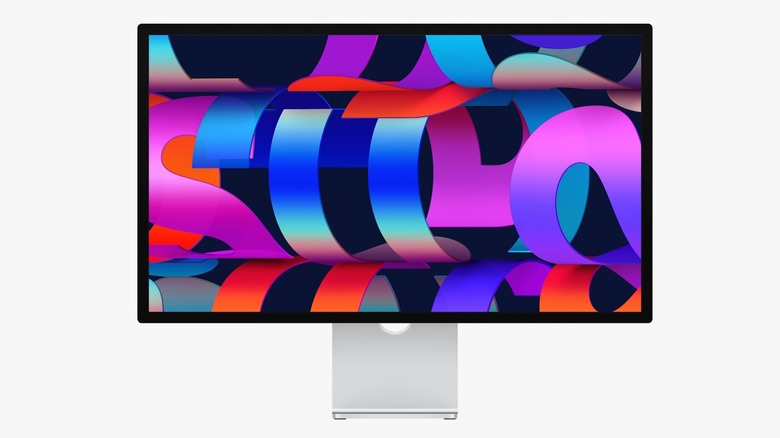 Apple
Both prices include a regular stand, which tilt-adjusts. It's based on the same design that we saw Apple use with the M1 iMac. Pairing it with a tilt and height-adjustable version, with a cantilevered arm that floats the panel much in the same way that the Pro Display XDR's stand does, starts at $1,999 for the standard glass model. Finally, there's a VESA mount adapter, from $1,599, for those wanting to mount the Studio Display on a wall – in portrait or landscape orientation – or on the third-party mount of their choosing.
Whichever you pick, you get the same 5K Retina display. It's a 27-inch panel, running at 5120 x 2880 resolution for a total of 218 pixels per inch. There's support for 1 billion colors, Apple says, along with P3 wide color gamut; there's also True Tone support, which adjusts the color temperature according to the ambient conditions of the room. It'll crank up to 600 nits of brightness.
The heart of an iPhone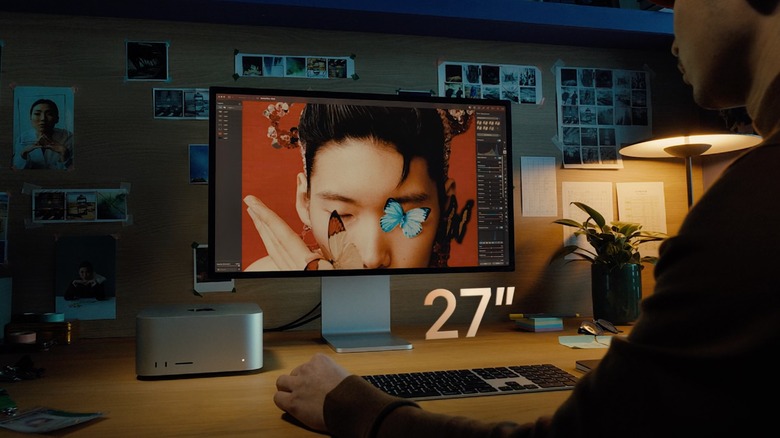 Apple
While the magic might be on the front, that doesn't mean there aren't some surprises inside the new Studio Display, too. For a start, there's actual Apple's A13 Bionic chip, borrowed from its iPhone line-up, which the monitor uses to power a 12-megapixel Ultra Wide camera. That supports Center Stage, using person-tracking to keep users centered in the middle of the frame for video calls.
There's also a triple microphone array, which Apple says features a particularly "low noise floor" for better clarity calls and voice recordings, as well as supporting "Hey Siri" voice control. As for audio output, there are a total of six speakers squeezed inside, too. That includes four force-cancelling woofers – two on each side – paired with a high-performance tweeter each side. There's support for spatial audio with Dolby Atmos.
Plenty of ports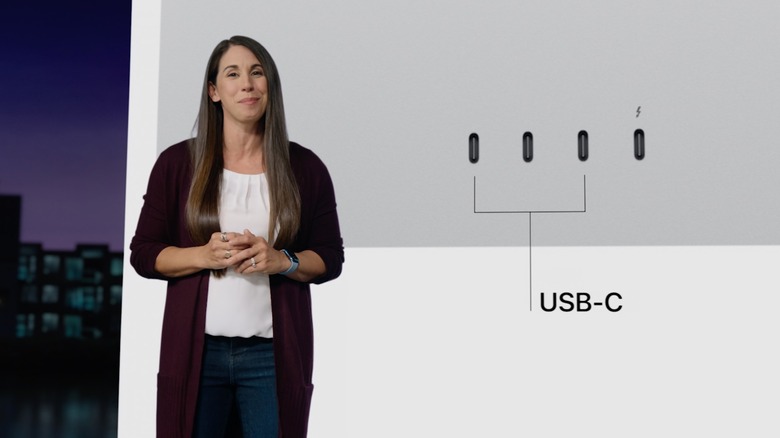 Apple
For connectivity, there's a row of four familiar ports along the rear. Three are USB-C which can each support up to 10 Gb/s for peripherals like storage, networking adapters, and accessories such as a wired keyboard. Alongside them is a Thunderbolt port, which is used to connect the Studio Display to your Mac. It can supply up to 96W of power, too, meaning a Studio Display can fast-charge a 14-inch MacBook Pro.
Up to three Studio Displays can be connected simultaneously to a single MacBook Pro, Apple promises, for a huge amount of screen real-estate.
It'll work with the new Mac Studio, also announced today, of course, but also with a 16-inch MacBook Pro from 2019 or later, the 2021 14-inch MacBook Pro, any 13- or 15-inch MacBook Pro from 2016 or later, and the MacBook Air from 2018 or later. It'll also play nicely with the Mac mini (2018 or later) and the Mac Pro (2019 or later), plus 2021's 24-inch iMac, the 27-inch iMac (2017 or later), the 21.5-inch iMac (2017 or later), and the 2017 iMac Pro.
If you've got an iPad Pro 12.9-inch (3rd generation or later), an iPad Pro 11-inch, or an iPad Air (5th generation), those tablets can also work with the Studio Display. You'll need to be running iPadOS 15.4 or later, mind.
Preorders of the Studio Display begin today, with the monitor priced from $1,599; you do, happily, get a 1 meter long Thunderbolt cable in the box. It'll ship from March 18th. NOTE: This is also the Apple Studio Display release date, March 18, 2022 in Apple Stores.