The Dodge M80 Was A Throwback Truck Concept Ahead Of Its Time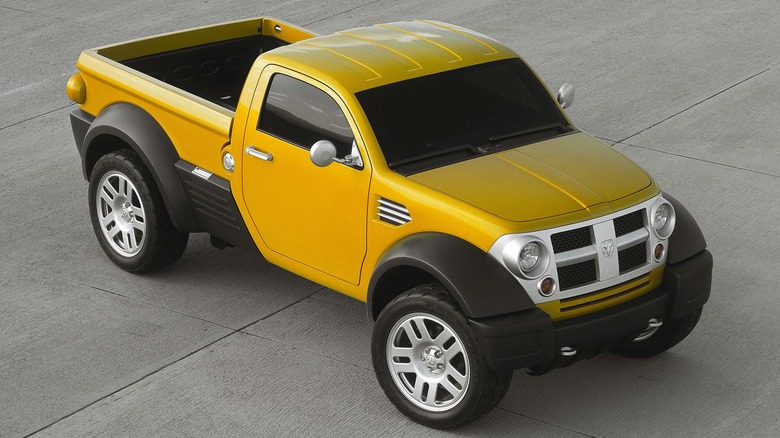 Stellantis
If Ford Maverick demand and its perpetually sold-out nature are any indications, the public really likes compact trucks. Chevy wouldn't make multiple variations of the Colorado if there wasn't a market ready to buy it and Jeep wouldn't have added a bed to the Wrangler in the form of the Gladiator if it didn't think there would be swarms of off-roaders itching to snatch it up. At times the midsize or compact truck market looks like it's playing second fiddle to larger trucks like the F-150 or the Chevy Silverado. 
But that was not always the case. There were multiple years in the early 2000s when the compact truck market was barely hanging in there and a few years where the market hardly existed at all in the span of years after the demise of the Dodge Dakota and before the updated and refreshed models of the Colorado and Ford Ranger came to be. Way back in 2002, however, Dodge was optimistic about the future of small trucks, and it debuted a concept that looked retro but sported a few features that wouldn't look out of place today. That concept was the 2002 Dodge M80 (via Stellantis). 
Dodge's hopeful little truck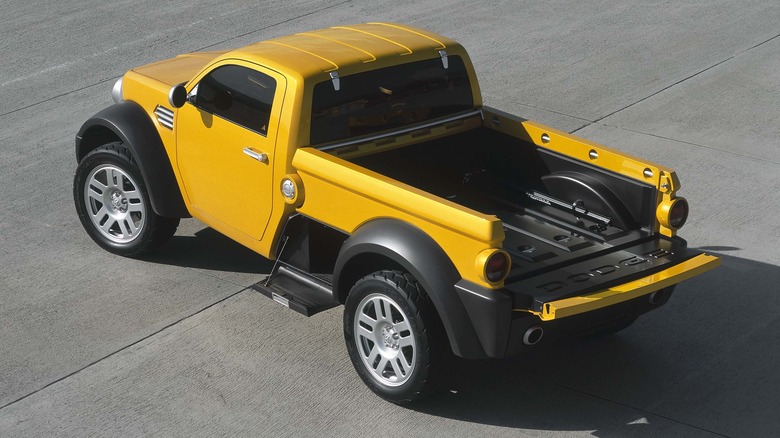 Stellantis
If Fisher-Price made combat vehicles in World War II, it might look like the Dodge M80 concept. The M80 was a retro-inspired vehicle in the same way that the PT Cruiser and Plymouth Prowler harkened back to the old days of motoring. Although unlike the PT Cruiser and the poor Prowler, the M80 didn't make anyone who looked at it think cars in general were a bad idea. 
As reported by Canadian Driver in 2002, the Dodge M80's exterior was entirely new, but it had familiar bones as it was based on the Dodge Dakota and was powered by a 3.7-liter 210-horsepower V6. With an estimated weight of just 2,500 pounds, it would have been a featherweight next to other trucks at the time. For comparison, a Ford Ranger from the same year had a curb weight of 3,085 pounds (via Edmunds). Where the M80 really shined was its proposed simplicity and capability. The interior was spartan and therefore easy to clean. Pictures of the concept show compartments galore, including a rear window that allowed either access to the bed while in the truck or effectively lengthened the truck bed. GMC is currently putting a similar feature to use in the EV version of the Sierra.
The Dodge M80 unfortunately never came to pass. As such, it was not able to breath life into the floundering compact truck market at the beginning of the new Millenium. Fortunately, the future is bright for small trucks with the introduction of the Ford Maverick and Hyundai Santa Cruz.