Why Ford Is Done Selling The 2023 Maverick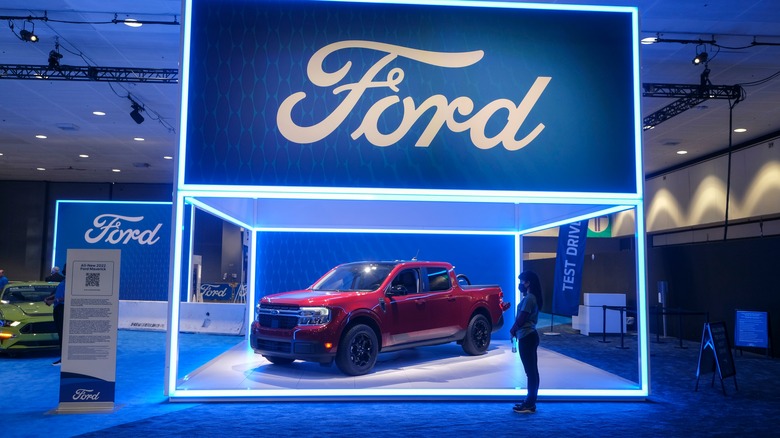 Ringo Chiu/Shutterstock
Not everything is sweeter the second time around. Take the 2023 Ford Maverick, for instance. It's probably one of the top-selling vehicle debuts in Ford's history, barring the iconic Ford Mustang and Ford Transit van. According to Motor Biscuit, the 2022 Ford Maverick became an instant best-seller upon its debut, accounting for about 73% of U.S. vehicle sales in 2022. However, the COVID-19 pandemic, burgeoning supply chain issues, and impending recession spell trouble for production, and Ford made that clear when it suspended orders for the Maverick in early 2022. Talk about dousing cold water on a rising bonfire.
Ford cannot keep up with the demand for its all-new Maverick — an affordable, versatile, rugged, and sweet-driving hybrid compact pickup truck — hence the suspension order. It re-opened the order books for the 2023 Ford Maverick on August 2 (per Motor Biscuit). Soon after, it closed the order books again in September due to the high volume of orders. Motor1 adds Ford sold 48,648 Mavericks after re-opening orders through August, most of it coming from first-time Ford buyers or customers new to truck buying.
2023 Ford Maverick Tremor: Adding fuel to the flame
The Ford Maverick debuted in three well-equipped trim variants: XL, XLT, and Lariat. The standard engine is a 2.5-liter four-cylinder engine and a hybrid system that generates 191 horsepower and 155 lb-ft of torque. Power goes to the front wheels via a standard continuously variable gearbox, while all-wheel-drive is available with the optional 250-horsepower 2.0-liter turbocharged engine. Pricing starts at under $24,000 for the base XL, about $26,000 for the mid-level XLT, and under $30,000 for the range-topping Lariat.
But for 2023, Ford has added a more rugged Tremor off-road package to the Maverick. We understand that a compact, unibody pickup won't stand a chance against its ladder frame siblings (see: Ford Bronco and Ford Ranger) in off-road environments. Still, the Tremor package is more than merely a cosmetic upgrade: it gets a bevy of dark exterior treatments, orange tow hooks, an updated grille, etc. But what matters most is what's beneath the sheet metal.
The Tremor package starts with the optional 2.0-liter EcoBoost four-cylinder gas engine. It includes an all-wheel drivetrain, a more rugged suspension system, a lockable differential, strengthened half-shafts, and a trail-rated gearbox cooler to better cope with challenging terrain. Moreover, the Maverick Tremor package comes with trail control, a feature that Ford refers to as "cruise control for off-road driving."
Of course, you'll need to wait long and hard for any Ford Maverick, including those equipped with the Tremor package. According to Bowen Scarff Ford, there's a strong possibility of the order books re-opening (again) in August 2023. If you can't wait, the closest alternative is the Hyundai Santa Cruz, which costs about $3,000 more than the Maverick.