2023 Ford Ranger Raptor First Drive: A Pickup Fit For The Baja 1000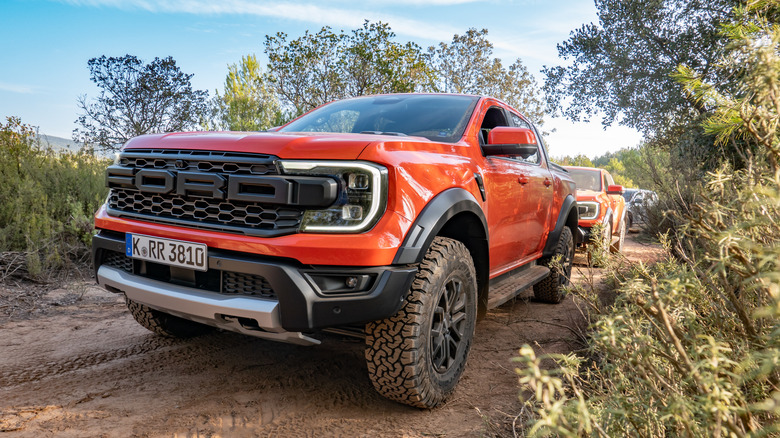 Alistair Charlton/SlashGear
The first thing you need to know about Ford's 2023 Ranger Raptor is that it has a sensor for detecting when the truck is fully airborne. This then tells the new Fox suspension to turn the damping up to 11 and prepare for landing.
This isn't some sort of smart crash safety system. It's there because the new Ranger Raptor — like its bigger Raptor truck siblings — is absolutely designed to get some air.
Also new for the 2023 model, which is available in Europe now ahead of coming to the U.S. next year, is, well, pretty much everything. From the in-your-face 'FORD' branding across the grille, to the C-clamp headlights, the V6 engine, locking differentials, plush new interior and seven drive modes, including one enticingly called Baja, this truck is all-new.
It's a comprehensive redesign that makes the flagship Raptor looks more like an (only slightly) scaled-down sibling of the F-150 Raptor, not least due to the car being 3.9 inches wider than its predecessor.
Seven drive modes to pick from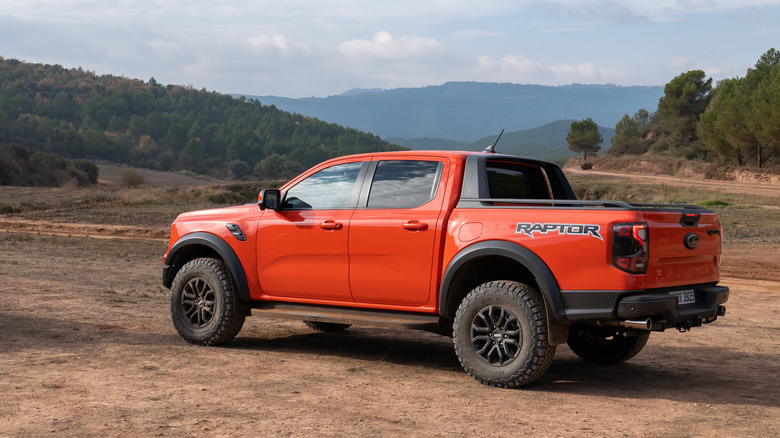 Alistair Charlton/SlashGear
Today's cars are smarter than ever, and with that comes a huge range of configurability on the fly. To demonstrate this point, the 2023 Ranger Raptor has no fewer than seven drive modes. These include three for on-road driving — called Normal, Sport, and Slippery — and four for when the going gets tough — Rock crawl, Sand, Mud/Ruts, and Baja.
On top of all this, the exhaust gets four modes of its own, namely Quiet, Normal, Sport and Baja. The latter isn't street-legal (at least, not on the European-spec vehicle, which Ford invited SlashGear out to test in Spain), and is claimed to make the exhaust act like a racing straight-through system.
There's also a new function called Trail Control, which acts like off-road cruise control for slow, steady driving without the driver needing to touch either the accelerator or the brake pedal.
Power comes from a new, 3.0-liter, twin-turbocharged V6 EcoBoost engine that replaces the previous Raptor's 2.0-liter turbo diesel. Its power output varies by region, with the European model tested here rated at 284 hp and 362 lbs-ft of torque, while the Australian market is treated to 387 hp and 429 lbs-ft. The model we drove has a claimed 0-62 mph (100 km/h) time of 7.9 seconds and a top speed of 111 mph.
Surprising on-road comfort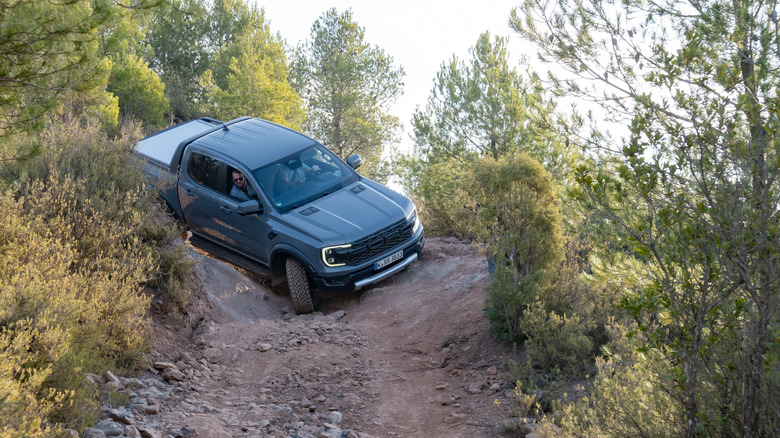 Alistair Charlton/SlashGear
Before we get to the Baja course and rock crawl, we travel by road. Here, driven in either Normal or Sport mode, the 2023 Ranger Raptor is far more civilized than the styling suggests. Even those chunky off-road tires — BF Goodrich KO2 all-terrains — play nicely with the Spanish asphalt. The cabin is quiet and the Raptor feels more like a refined SUV than a rough-and-ready truck.
The steering is precise enough for a 2.5-ton truck and the dampers do a superb job of smoothing out imperfections in the road below. It lacks the alertness of a sports car, of course, and there's only so much a ladder frame chassis can handle, but it's composed enough across quick country roads, not too cumbersome to be a menace in town, and could quite easily be your only car.
Rear passengers won't be too thrilled by the flat, bench-like seating, but there's enough space back there, and up front the new cabin is a great place to be. The seats, inspired by the F-22 Raptor fighter jet (naturally), are as supportive as they are comfortable. The steering wheel and digital instrument cluster look like those from many other Fords, and the large, 12.4-inch touchscreen display is bright, sharp and responsive.
Running Ford's Sync 4 operating system, it has wireless Apple CarPlay and Android Auto, and a 12-speaker sound system by Bang & Olufsen. Ford wisely fitted physical cabin temperature controls below the portrait-orientated display.
So far, so not entirely truck-like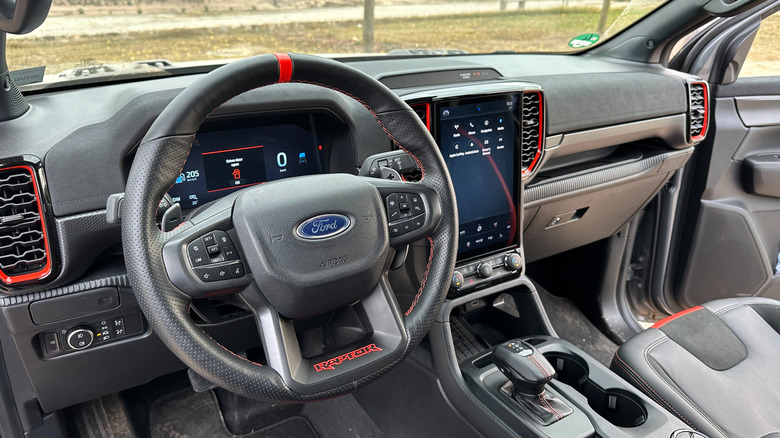 Alistair Charlton/SlashGear
We arrive at the off-roading facility, not far from Barcelona but with an aesthetic that wouldn't go amiss in California or Mexico. The latter is more apt, given we're told Baja 1000 teams bring their cars, trucks, and bikes here for some serious off-road testing ahead of the race itself.
For our drive of the Ranger Raptor that means a series of long and challenging off-road driving stints, before a few fast laps of a dirt track complete with jump.
This is the first generation of Raptor to get a full-time four-wheel-drive system, fitted with a new electronically-controlled, two-speed transfer case, and front and rear locking differentials — kit that off-road aficionados will nod sagely at. With rock-crawl mode engaged and diffs locked, the Ranger Raptor drags itself over truly difficult terrain with minimal fuss. Ground clearance of 10.7 inches and a wading depth of 33.5 inches are both admirable for a truck best-suited to fast dirt driving instead of Land Rover Defender-esque off-roading.
There's a hearty chunk of torque from the twin-turbo motor and the Raptor repeatedly puts on its best mountain goat impression as we tackle steep dirt tracks and gorges littered with boulders. Occasional heart-stopping moments where the Ford tips onto three or even two wheels are all taken in its stride, and it's the sort of performance even the most battle-hardened SUV would be proud of.
Baja mode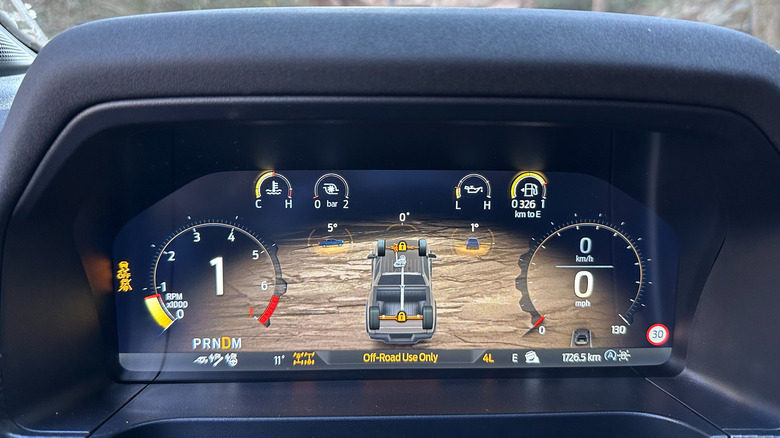 Alistair Charlton/SlashGear
Rock-crawling complete, it's over to the baja track and a chance to experience the Ranger Raptor's trick new suspension. Made by Fox Racing, the system comprises 2.5-inch internal bypass shock absorbers and has active ride control to keep the truck level on-road. But the clever stuff comes when you fire the Ford across a loose and undulating surface at speed. A feature called Live Valve adjusts how each damper responds, hardening or softening the damper force depending on what each wheel is dealing with at that moment.
The result is an off-road ride quality that is eerily comfortable and compliant, with even sizable bumps and compressions impressively ironed out. Up the speed and point the Ranger Raptor towards a dirt ramp and yes, it'll take off and land with grace and dignity. Thanks to that sensor mentioned earlier, warning the dampers to quickly firm up and brace for landing, the Raptor returns to Earth with sure-footedness and a total lack of rebound.
This is all done with Baja mode enabled, and doing so also opens up the exhaust to its loudest and most raucous setting. It's not quite the "straight-through" effect Ford claims, and it doesn't impress too much when stationary. But on the move it's the sort of racing truck rasp that never fails to raise a smile — although it feels slightly at odds with the so-so straight line performance, and we suspect at least some of the soundtrack is coming from those 10 B&O speakers.
Race on Sunday, sell on Monday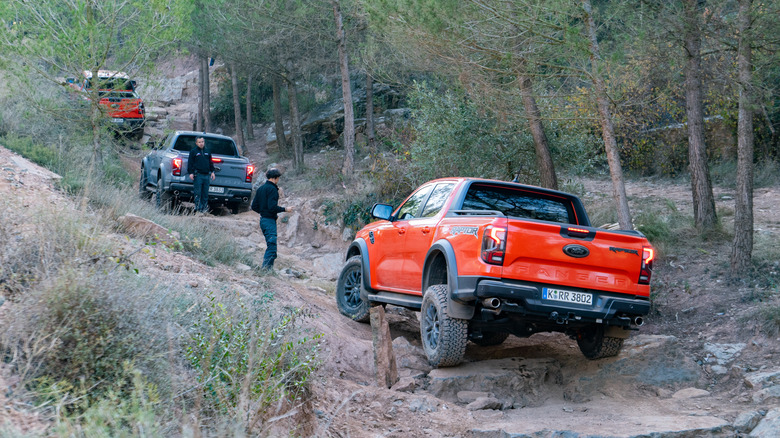 Alistair Charlton/SlashGear
Ford's naming of the Ranger Raptor's most extreme off-road driving mode isn't purely the work of the marketing department. The company entered, and completed, the 2023 Baja 1000 using a Raptor that was almost completely stock, save for a snorkel, roll cage, Perspex rear windows, a fire extinguisher, long-range fuel tank mounted in the bed, and seat harnesses.
The street-legal Raptor finished the race "without any major incidents or repairs," Ford said, adding that it "took the checkered flag in such good condition that the Ford Performance team decided to drive the vehicle back to its base following the event".
Although a Raptor made it to Mexico for the Baja, Ford is launching the truck in Europe and Australia first, before hitting the U.S. and other markets in 2023. For now, Ford isn't saying what engines will be offered in North America, nor what their power output will be.
It's got anti-lag, but not as you know it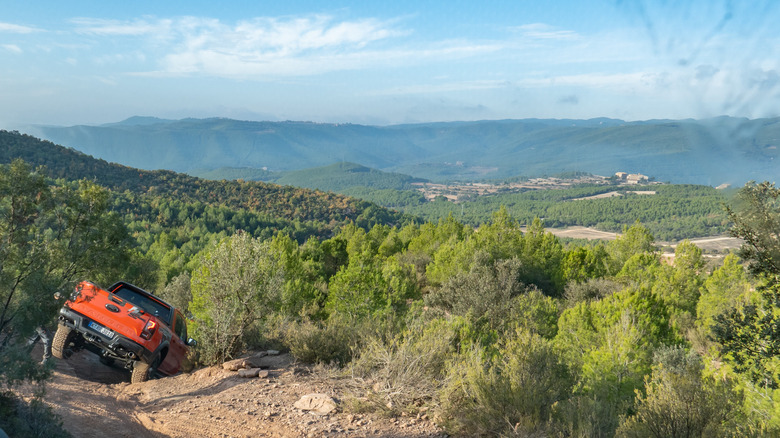 Alistair Charlton/SlashGear
You might know anti-lag as the flame-spitting tech first deployed to eliminate 1980s Formula One turbo lag, before being adopted by later by world rallying. This isn't quite that.
There aren't any flames here, but with Baja mode selected the Raptor's anti-lag system keeps the turbochargers spinning for up to three seconds after you've backed off the accelerator. That way, the turbos are already spooled up and ready to go when you get back on the gas, without any lag. The system is also deployed during gear changes, and each of the truck's 10 gear ratios has its own turbocharging boost profile to optimize performance.
That's the theory, but in reality all that tech is trickier to spot. Yes, the motor didn't seem to suffer from turbo lag as we navigated the Baja course, but then it also felt fairly perky in Sport mode on the road, when anti-lag is disabled.
Baja mode might feel like a gimmick to Brits and Europeans, with their limited opportunities for driving off-road at speed — and, indeed, getting airborne in a truck. But there's no doubt U.S. and Australian buyers will have more opportunities to drive their Ranger Raptors as intended. For those, and the other 170+ countries to eventually receive it, the Ford delivers smiles and practicality in equal measure.