2023 Maverick Tremor Gives Ford's Smallest Truck A Big Off-Road Boost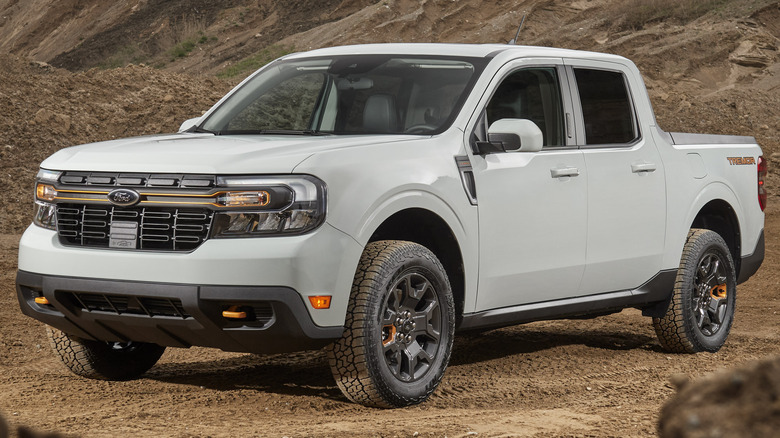 Ford
Ford owners who have a thing for the outdoors will be pleased to know the company is making its Tremor off-road package available for its Maverick line of vehicles. With the package in place, Ford expects the Maverick — which is the company's first truck to feature a full hybrid powertrain — to be ideal for both day-to-day use in the city and the occasional offroad trip through the backwoods.
Todd Eckert, Ford's truck product marketing and brand manager, says: "Ranger, F-150 and Super Duty customers have embraced the unique off-road capability, technology and appearance updates found across our Tremor family of trucks. Maverick Tremor delivers on this same promise with new functions and features designed for off-roading – all while keeping the truck's signature size, affordability, and Built Ford Tough durability and capability."
The Maverick Tremor's unique stylistic features include blacked-out Ford logos, headlamps and taillamps, signature Tremor Orange tow hooks, an updated fender vent, and a new grille. Underneath that styling, the Maverick Tremor will boast a 2.0-liter EcoBoost engine, all-wheel drive, a lockable diff, a "unique" suspension system," a heavy-duty transmission cooler, and upgraded half-shafts.
One really unique feature the new Tremor offers is trail control. Ford explains that this feature is essentially an off-road version of cruise control. There may be a very good reason trail control hasn't been added to an off-road vehicle before now: maybe it's a bad idea, maybe it's pointless, or maybe it's exactly what offroading needs. Regardless, it's going to be interesting to find out. If you just want the looks, the Tremor Appearance package will cost you $1,495 on top of the Maverick's base price. Performance comes at a premium, so if you want to go all the way and opt for the Tremor Off-Road package, you'll be spending $2,995.
Ford re-opens order banks for its most popular vehicles
The other big piece of news coming out of Michigan is Ford's announcement that it is reopening its retail order banks. The company will again be taking orders for its Bronco Sport, Edge, Explorer, and Ranger ranges of vehicles. Prospective customers will be able to place their orders for the popular vehicles from August 2, 2022.
Like many automotive companies, Ford has had to scale back production in recent months due to the global chip shortage; eight of its North American factories were affected as production was trimmed back in February. The move caused a dip in the supply of some of Ford's most popular vehicles, including the Mustang Mach-E, the F-150, the Bronco, Lincoln Aviator, Ranger, Transit cargo van, and Explorer SUV. Despite the dip in supply, customers could still purchase vehicles from Ford dealerships — though that process had issues of its own. 
Dealerships were accused of price gouging, and Ford responded to the worst offenders with some pretty heavy threats. The main area the reopening of the retail order bank will affect is custom orders. Ford fans will once again be able to select their car's color, wheels, interior, gadgets, and whatever other optional features they desire. Orders for the 2023 Ford Maverick, along with the two optional Tremor packages, are set to open in September. Ford says production of the vehicles is scheduled to begin this fall.