Ford Just Made The Maverick Pickup More Expensive
The 2022 Ford Maverick has a lot going for it. It's the first pickup truck in America to feature a standard full-hybrid powertrain, a fuel-sipping combination that effortlessly yields an EPA-estimated 40 mpg in city driving. In addition, the Maverick has four doors, seating for five, and a 54.4-inch cargo bed to haul oversized items. Moreover, the new Ford Maverick started at under $20,000, and it's easy to see why buyers are filling up the order books like there's no tomorrow.
According to Reuters, Ford dealers sold the new Maverick like hotcakes, and most units carry a significant price premium over the intended MSRP. Ford cannot keep up with the demand that it announced it would stop taking orders for the 2022 Maverick Hybrid as of January 27, 2022, only seven months after the vehicle debuted in June 2021. The order books will reopen in late summer for the 2023 Maverick, but you will likely need to pay more than the initial sub-$20k base price.
Ford Maverick Price Hike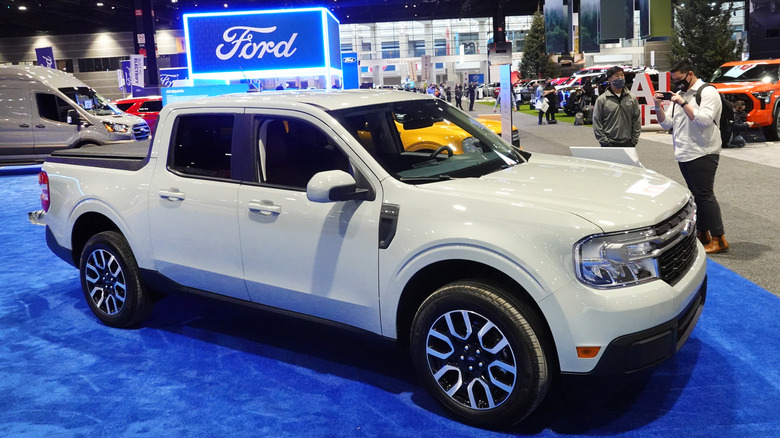 Scott Olson/Getty Images
In a report first posted by the Maverick Truck Club forum, Ford sent a retail price increase bulletin to dealerships effective December 27, 2021. The document lists mild price hikes across specific Maverick trim variants, vehicle options, and equipment packages. The mid-level Maverick XLT will cost $80 more, and the range-topping Lariat is now $370 more expensive than before. In addition, the Lariat Luxury Package costs $410 more, while the power moonroof is $200 more costlier than before. If you add it up, a fully-equipped Ford Maverick Lariat will ring about $1,000 more than you initially anticipated.
There's good news for buyers of the base Maverick XL as it still starts at $21,490 (including $1,495 destination fees). For the money, you get a 2.5-liter four-banger and a hybrid system with 191 horsepower and 155 lb-ft of torque. The deal includes a generous list of standard features like 17-inch steel wheels, LED headlamps, an 8-inch touchscreen with Apple CarPlay and Android Auto, a six-speaker audio system, and cloth upholstery.
Optional Turbo Engine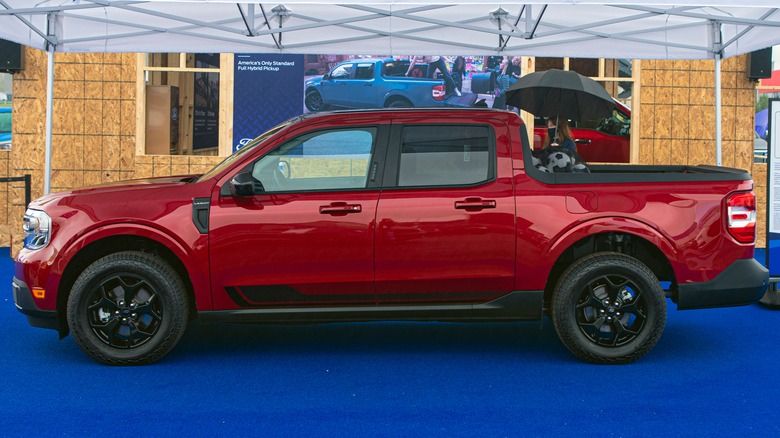 Darren Brode/Shutterstock
We're happy to report no price increases for the optional turbo mill. For about $435 more, you can get the optional turbocharged 2.0-liter four-cylinder engine with 250 horsepower and 277 lb-ft of torque. The turbo mill has an eight-speed automatic transmission with either front or all-wheel drive. Meanwhile, the Maverick hybrid is exclusively available with front-wheel drive and a CVT gearbox.
The turbo engine is available across all trim variants of the Ford Maverick. Don't expect it to be more fuel efficient than the hybrid, though, as the EPA has rated the Ford Maverick Turbo with a combined 26 mpg in FWD and about 25 mpg in AWD format. Furthermore, the Maverick Hybrid can tow up to 2,000 pounds, while the Turbo AWD version can tow up to 4,000 pounds if equipped with the available Tow Package.
Patience is a virtue if you want a new Ford Maverick hybrid, but for 2023, you'll need to pay a bit more, too.