OnePlus Pad Tablet Leaks To Try Where Other Android Slates Failed
If you're looking for an Android tablet, your options are pretty limited at the moment. You basically have Samsung dominating the field with its Galaxy Tab lineup, and everyone else at least two steps behind. This is somewhat due to limited market appeal, but also thanks to a lack of commitment from tablet makers — especially when compared to Apple, which arguably leads the tablet market with its ever-popular iPad lineup.
The winds of change blow in the Android tablet world, though, and every few months there are whispers, rumors, and even devices launches from some of the biggest players in the Android space. Most recently, and perhaps most importantly, Google announced the launch of the Google Pixel tablet, slated to arrive at some point in 2023. 
The Pixel Tablet is important to the Android world, not because it's destined to be a phenomenal tablet — which it may well be, but it remains to be seen — but because it means Google will be devoting significant resources to make Android more suitable for the big-screen format, allowing other Android tablet makers to also make more successful devices.
If the rumors are to be believed, OnePlus is also going to be joining the fray sooner rather than later. OnePlus has already made a name for itself, for better or worse, in the Android smartphone space as a company that delivers decent value and solid performance, despite some recent software blunders. Will the company manage to bring its success over to the tablet space?
A sleek 11-inch tablet to rival Samsung's Galaxy Tab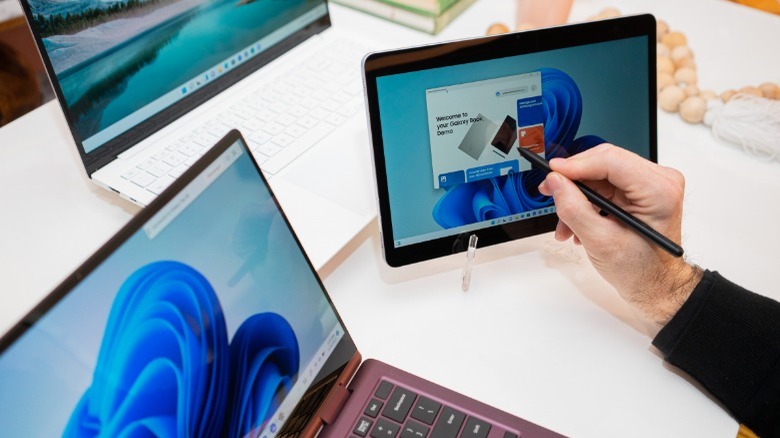 Bloomberg/Getty
OnePlus has been expanding its lineup in recent years, with the release of the OnePlus Buds, as well as more budget-orientated Nord phones. Now, according to leaks from MySmartPrice and @OnLeaks on Twitter, OnePlus is planning on releasing a premium Android tablet as soon as February 7, 2023. While it's unsurprising that OnePlus is releasing a tablet, the few specs we do know about the OnePlus Pad are fairly compelling. 
The leak claims that the new tablet will feature an 11.6-inch display, a metal unibody chassis, and seems to feature a silo to house a stylus. Other than that, the only other details that were revealed are a center-mounted circular rear camera bump and rounded screen corners.
The size and presence of a stylus in the OnePlus Pad instantly draws comparisons to something like the Samsung Galaxy Tab S8 Plus, since it's playing in the same 11-inch form factor and features Samsung's excellent S Pen. If leaks are accurate, OnePlus is going to have to deliver on the performance and software front if it wants to compete with Samsung's Galaxy Tab. 
Samsung has done a lot of work to perfect the hardware and software formula on its larger devices, and they're finally in a place where Apple might have some serious competition. One place where OnePlus might put significant pressure on Samsung is price, since the devices in the Galaxy Tab S8 lineup command a premium of over $800.
I turn 46 today so as Bday gift, I bring you the very first look at the #OnePlusPad!🥳

On behalf of @mysmartprice👉🏻 https://t.co/LLU5N01Lyg

PS: To support me, you can send a little Bday tip using Twitter's Tip Jar or Paypal 😇👉🏻https://t.co/10vfi7Lwip

Thanks 🤜🏻#FutureSquad🤛🏻! pic.twitter.com/r4fTXautK2

— Steve H.McFly (@OnLeaks) January 26, 2023