Cybertruck Mass Production Not Happening Until 2024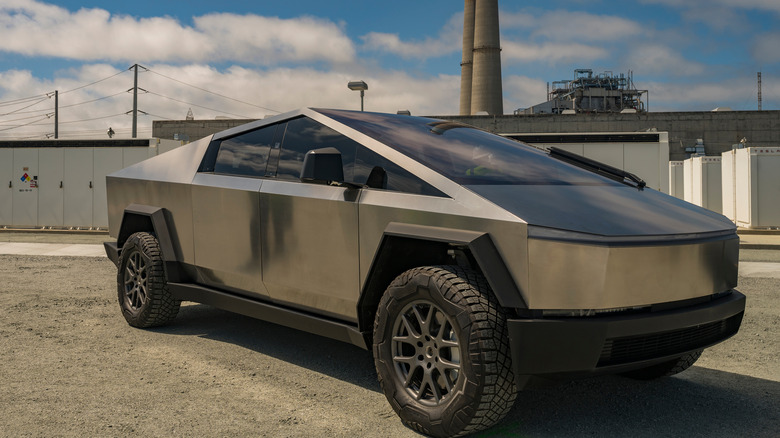 Bloomberg/Getty Images
The production of Tesla's long-awaited Cybertruck has been pushed back yet again. The electric truck, first unveiled way back in 2019, is now unlikely to enter mass production until 2024, the automaker has confirmed. It isn't the first time the Cybertruck has been delayed, mind, with production initially promised in 2021. However, numerous factors including a global semiconductor shortage prevented that from happening, and fans were told to expect the truck in "late 2022." 
Late 2022 came and went without a single Cybertruck leaving the factory. The production date was revised to "early 2023" before being shifted again to "late 2023." Now, a month into the 23rd year of the new millennium, word has emerged that Cybertruck fans still clutching a three-year-old reservation might have to wait even longer.
Those pre-orders aren't surprising, given how the Cybertruck was pitched. The company described it as having "better utility than a truck with more performance than a sports car." While several different versions are planned, at its best it does pull some fairly impressive stats. The Tri Motor AWD version will go from 0-60 in under 2.9 seconds, Tesla promises, pull more than 14,000 pounds, and travel more than 500 miles on a single charge. The cheaper, single motor RWD, variant isn't too shabby either, with a claimed 0-60 time of 6.5 seconds, 7,500 pound towing capacity, and 250 mile range.
Some production may start this year, but don't get your hopes up
Pricing initially started at $39,900 for the entry level truck, all the way up to $69,900 for the tri-motor — with the full self-driving package initially costing an extra $7,000. But there has been suggestion that the Cybertruck's pricing and specs could be somewhat different if it ever actually makes it into production.
During Tesla's Q4 2022 earnings call, Musk seems to have provided a bit more information about the company's Cybertruck production plans. Production may start this year, but from the sound of things it will only be a trickle. Actual high-volume Cybertruck production, the kind that will see the large number of pre-orders the company has been sitting on for years start to be fulfilled, might still be over a year away. 
"We do expect production to start, I don't know, maybe sometime this summer," Musk said, Electrek reports. "But I always like to try to downplay the start of production because the start of production is always very slow. It increases exponentially, but it's always very slow at first. So I wouldn't put too much thought into the start of production. It's kind of when does volume production actually happen, and that's next year."
It's worth noting that Tesla has been gearing up its Texas Gigafactory and hiring staff specifically there to build Cybertrucks. Other industry pressures also seem to be easing, with the price of other Teslas dropping massively as supply lines re-open. So the Tesla Cybertruck may finally hit the road late this year or early next year. Or we could be writing another one of these pieces in a few months explaining why production is going to start shortly after Musk lands on Mars.