Tesla Cybertruck specs: Elon Musk's pickup by the numbers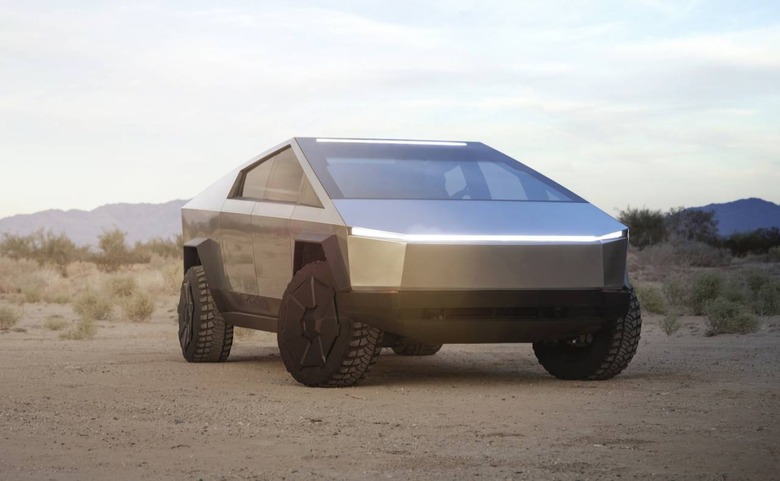 Whether you're feeling Elon Musk's surprising design for the Tesla Cybertruck or not, there's one thing you can't argue with: the specifications. Production may still be a couple of years away, but already the Cybertruck is laying down some big numbers for upcoming electric pickups to compete with. Read on for the headline figures truck fans need to know.
Tesla Cybertruck towing capacity
Truck owners like to tow things, that's a given. Just how many pounds you can tow can be big bragging rights into the pickup world, and Tesla isn't messing around. With as many as three electric motors to play with, the Cybertruck has some serious towing potential.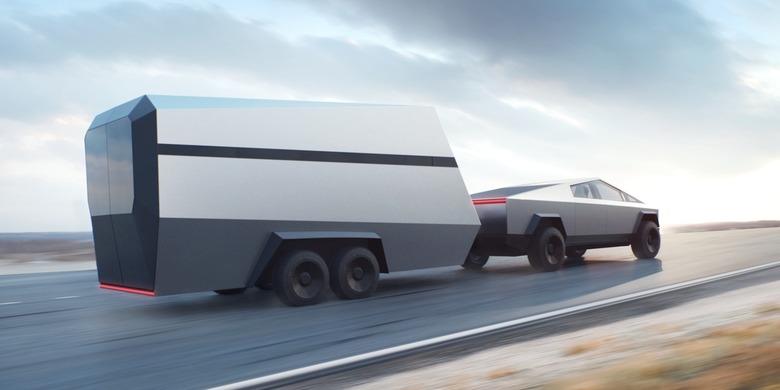 The entry-level Single Motor RWD Cybertruck will be rated to tow around 7,500 pounds. Step up to the Dual Motor AWD – which has a motor for the front axle and another for the rear – and you're looking at around 10,000 pounds of towing capacity.
Finally, there's the heavyweight of the trio, the Tri Motor AWD Cybertruck. That will be able to tow more than 14,000 pounds, Tesla claims, thanks to the combined grunt of its trio of motors.
Cybertruck 0-60 speed
"Better utility than a truck with more performance than a sports car," Tesla says, and the Cybertruck has the numbers to prove it. Tesla showed it drag-racing a Porsche 911 during the big unveil, in fact, just to demonstrate that in a straight line its new electric pickup has what it takes. You might not need that sort of speed on a work site, but Tesla just hates to make a slow car.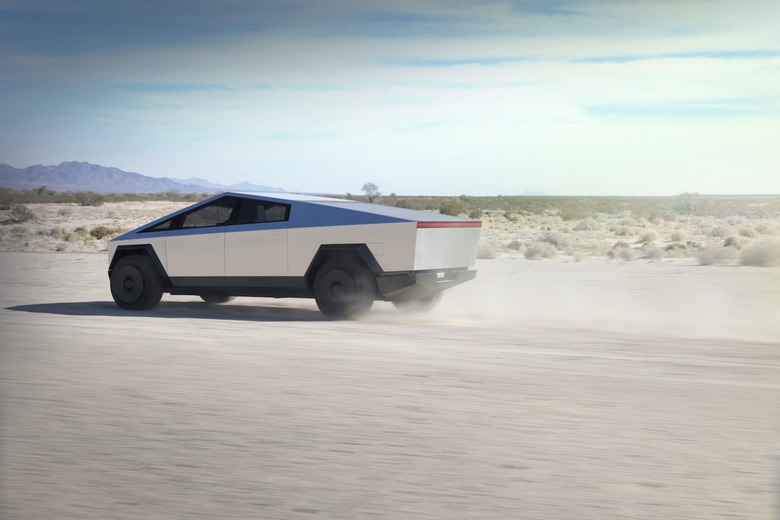 So, the Single Motor RWD version of the pickup should do 0-60 mph in under 6.5 seconds. The Dual Motor AWD cuts that down to under 4.5 seconds. Tesla's most powerful Cybertruck, the Tri Motor AWD, should do that in under 2.9 seconds the automaker claims.
To put that into context, Ford's F-150 Raptor – a performance truck much-loved by eager drivers and pickup fans – can do 0-60 mph in around 5.1 seconds. It starts at $53,205.
Cybertruck bed and frunk
Tesla calls the Cybertruck's bed its "Vault," mainly because it has a slide-down tonneau cover that can safely lock away whatever you stow in there. More important to truck enthusiasts, though, is just how much capacity the bed has.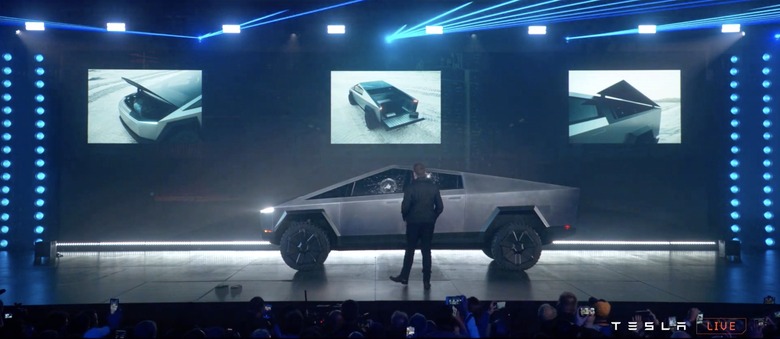 It's 6.5 feet long, and is rated for more than 3,500 pounds. There's a handy under-bed storage area, too, to keep things like tools from rattling around as you drive. As with Tesla's other models, there's a front trunk – or "frunk" – with more space; the Cybertruck also adds extra capacity in the buttress-like sail pillars.
Altogether you're looking at 100 cubic feet of exterior space. Items in the bed can be charged up, too, via 110/240V outlets. Inside, meanwhile, the rear seats lift up to reveal more room for cargo.
Cybertruck range and charging
As with any electric vehicle, one big question is range. Tesla isn't talking specific battery sizes at this point, but it is confirming the range for each of the three Cybertruck versions. It's worth noting that, for now, these are just EPA estimates, and there'll need to be final testing before they're fully signed-off on.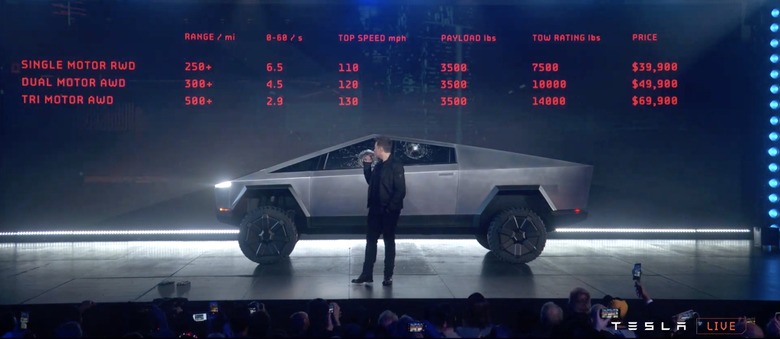 Still, even at this early stage, they're impressive figures. The entry-level Cybertruck should do more than 250 miles, Tesla claims, while the mid-range Dual Motor AWD extends that to over 300 miles. The Tri Motor AWD should do more than 500 miles, the company suggests.
When it comes to charging, there'll be 250+ kW support. With a suitably high-powered Tesla Supercharger it shouldn't be long before you're back on the road.
Cybertruck pricing
For the moment, Tesla is taking a $100 refundable deposit in order to secure a reservation for the Cybertruck. Actual orders aren't going to be taken until closer to production starting, in late 2021.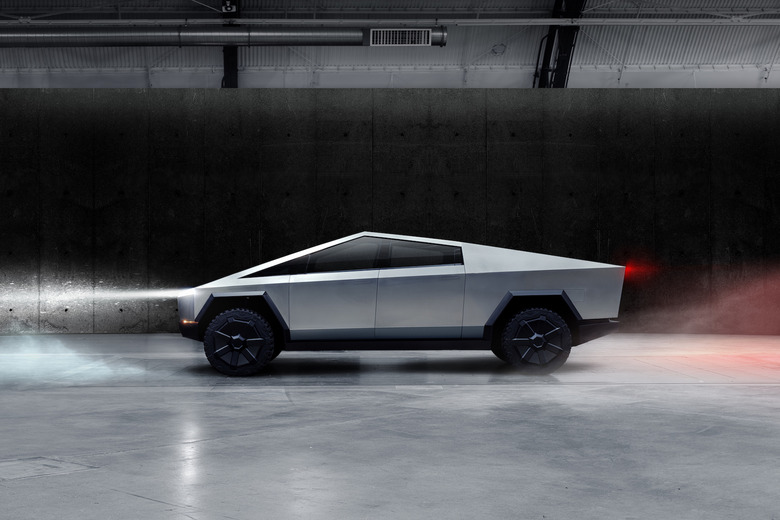 We do know starting pricing, though. The Single Motor RWD will begin at $39,900, and the Dual Motor AWD from $49,900. The Tri Motor AWD – production of which won't start until late 2022 – will kick off at $69,900. If you want the Full-Self Driving package, that's $7,000 on top.
None of those numbers, it's worth bearing in mind, include a US federal tax credit for EVs. Tesla has burned through all of those already, and by the end of 2019 buyers of its cars won't be eligible for any federal incentives (though state incentives may still apply).