The Big Reason You Might Want To Hold Off On Buying A Used Tesla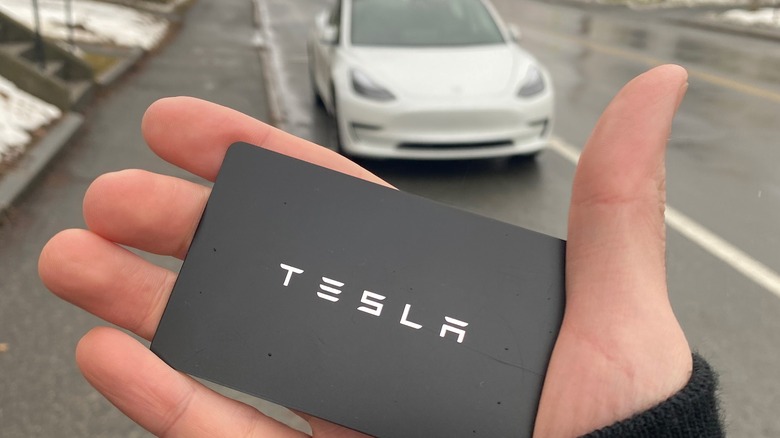 chettarin/Shutterstock
The new and used car markets have gotten a little crazy over the last few years. A global semiconductor shortage, inflation, manufacturing issues, and various diplomatic spats have created a situation where the price of new vehicles has gone through the roof, and the price of used vehicles has somehow exceeded the inflated MSRP of new cars in certain cases. 
Tesla is a good example of the phenomenon. The company, which wasn't great at getting vehicles off the production line on time already, may have been hit harder than anyone by the events of the last few years. The prices of several Tesla vehicles have been raised several times during that period, and the long waiting lists have had an odd effect on the used market.
In recent times, used Tesla vehicles have actually been more expensive than their brand-new counterparts. This is because certain individuals didn't want to spend months on a waiting list, and others were happy to give up their new EV for an instant, significant profit. As a result, around a third of used Teslas on the market last April were being "flipped" or quickly sold at an inflated price. 
Last summer (hopefully) saw vehicle prices hit their peak, both for new and used cars. Since the start of the year, there have been a few telling signs that things are heading back towards normality. It is for this reason that buying a used Tesla may be a hasty idea at the moment.
Tesla prices have come way down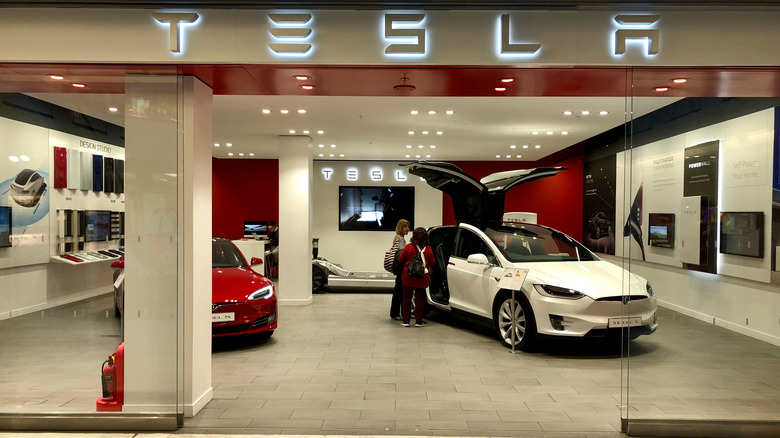 photocritical/Shutterstock
Prices on some Tesla models have recently dropped dramatically, so there really isn't much point in paying for an overpriced used vehicle when you can get a new one for something reasonable. New Tesla prices have dipped by up to 20%, with the "performance" version of the Model Y coming down to $56,990 from its summer high of $69,990. The price drop also means you may see some additional savings on the Model Y, which is now selling for $52,990. 
Tesla's Model Y was retailing for $65,990, but now it has dropped back below the threshold for the clean vehicle tax credit of $55,000. You can get a tax credit for used EV purchases, but the savings on new vehicles are more significant. The Model 3 Performance has also found itself in tax credit territory, after its price came down to $53,990 from $62,990.
As the price of new cars has tumbled, the price of a used Tesla has also dropped similarly. The in-demand EVs are now 17% cheaper on the second hand market, with the average cost of a used Tesla being $55,750. Why would you pay that amount for a used Tesla when a brand-new one is essentially the same price or even slightly cheaper? If you were particularly affluent, it may have made sense to skip the waiting list during a shortage. But the rapidly falling prices indicate that Teslas are available, so that's no longer a selling point.
Used Teslas have dropped in price too, but buying one is a bad idea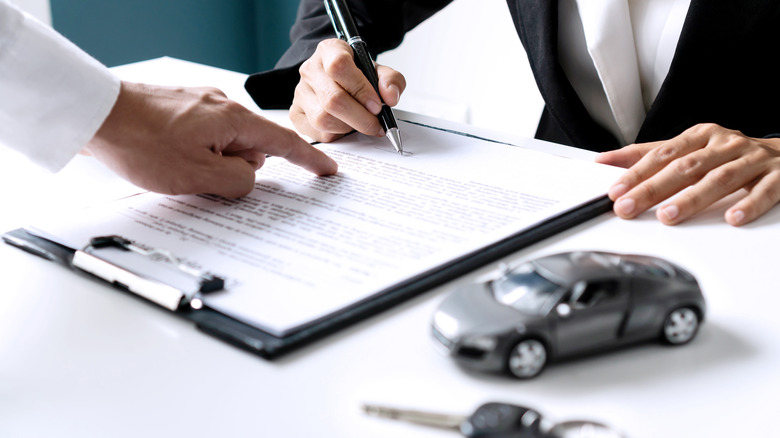 Opat Suvi/Shutterstock
There are also downsides to buying used. Even if you got the vehicle with less than 1,000 miles on the clock, there will still be "two previous owners" at least, which may affect the resale value if you eventually sell it yourself. Then there are the perks that come with buying from a dealership. Standard warranties covering the motors, body, and batteries will transfer between owners. Little perks like free car washes and services, or additional warranties, may not though. 
In addition to this, the clock starts ticking on all warranties from the moment of initial purchase. So if the used Tesla has sat in a garage for six months, you've lost half a year of coverage. Financing is also something to consider. Tax credits aside, a dealership may have more options if you're buying a new car, and a bank may offer more favorable loans for new vehicles. If it's a private sale, finance may not be an option unless you can get a car loan first.
Then there's the new car experience you'll miss out on. It's nice knowing you're the only person to have really sat behind the wheel of a car, and a valet job doesn't replicate it. You might still be cursed with mental images of the "previous owner" getting fast food crumbs, skin cells, or other materials all over the place. As with all used vehicles, the tradeoffs are worth it if you're getting somewhat of a bargain. However, if the used price is in any way similar to new, just get the new one.