The Incredible 2008 BMW Concept Car We'd Take Over Any New BMW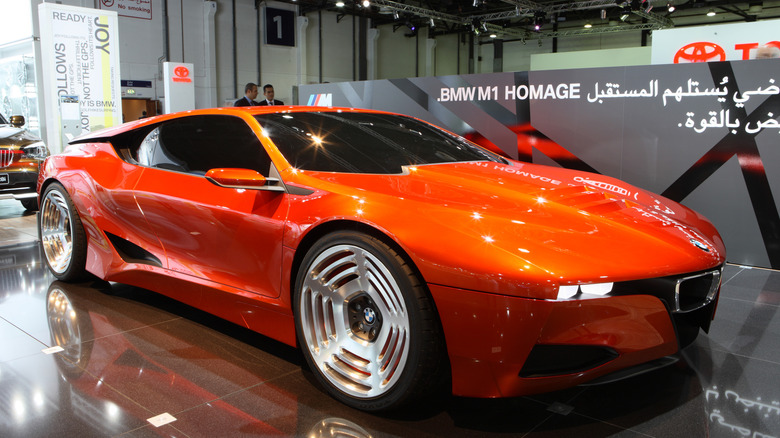 Haider Yousuf/Getty Images
BMW's history is full of excellent designs. The E30 3-Series, especially the M3, embodies all the boxy goodness of the 1980s performance cars. The BMW Z3 is a classic roadster that even super spy James Bond took a liking to in the 1990s. Prior to the current generation, the BMW 7-Series was a stately and handsome executive sedan with a healthy amount of power under the hood in its stock form. BMW's current design language is a departure from conventions of the past to say the least. The emblematic BMW "Kidney Bean" grille has been enlarged on the current lineup giving the cars a more aggressive look than ever. 
Concept cars from BMW, however, are a different story. The current i Vision Dee is a sleek EV with a color changing exterior to add extra style points and looks almost friendly next to the brand's current performance-oriented BMW M4 CSL. The BMW M1 Hommage concept from 2008 is a spectacular design in its own right and served as the long awaited design sequel to one of BMW's most beloved cars, the M1.
Respecting BMW's past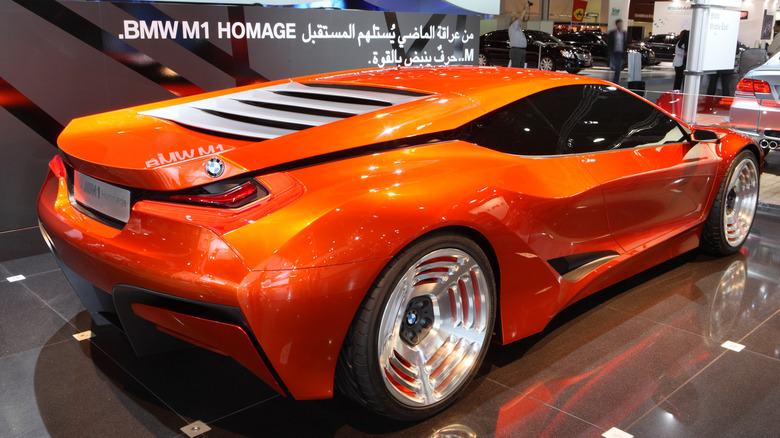 Haider Yousuf/Getty Images
The BMW M1 Hommage was first penned in 2008 by then BMW designer Chris Bangle. As the name implies, it was mean to pay homage to not only BMW concept cars of the past like the 1972 BMW Turbo, but also the M1, which saw full production in 1978. That car was designed by automotive design legend Giorgio Giugiaro, the man who came up with the Volkwagen Golf and dozens of other cars. 
The resulting concept car was nothing short of astonishing. It borrows a lot from the M1, namely the color Liquid Orange, yet looks radically different than other BMWs from the era. It looks decidedly more like a low-slung supercar than a refined touring car and embodies some of the wild lines and shapes from the 1972 concept that inspired the original M1. Interestingly, the M1 Hommage was not designed with an engine in mind. That not an oversight from BMW's engineering department, but rather a conscious decision. It was meant to be a design study only, according to BMW. Adrian van Hooydonk, the Design Director of BMW Group said: "The BMW M1 Hommage showcases the creativity and potential of the BMW design team. A project like this is a valuable source of inspiration for our daily work."
The public never got to drive the M1 Hommage unfortunately as it was never meant to see production. But many aspects of the design lived on in the BMW i8 hybrid that the brand debuted in 2013.