2023 BMW M4 CSL First Drive: The Untamable Monster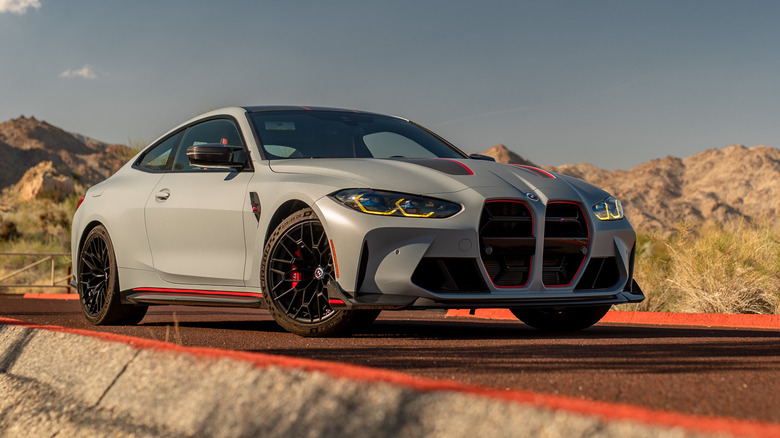 Victoria Scott/SlashGear
We are closer to the demise of legally buying a new ICE vehicle in California (13 years) than we are to the initial introduction of the Tesla Roadster (15 years). Despite this, the internal combustion engine seemingly refuses to die, as every manufacturer with a performance division comes back for one last hit of 93 octane, even as they simultaneously update flagships and base offerings alike with lithium-laden models. The seemingly eternal limbo the industry is trapped in brings to mind an Antonio Gramsci quote: "The old world is dying, and the new world struggles to be born. Now is the time of monsters."
And to accommodate the times, BMW has simply built a monster. In return for north of $140,000, the 2023 M4 CSL disposes of every pleasantry, grabs you by the shoulders, and demands: can you handle me?
Put a 'Ring on it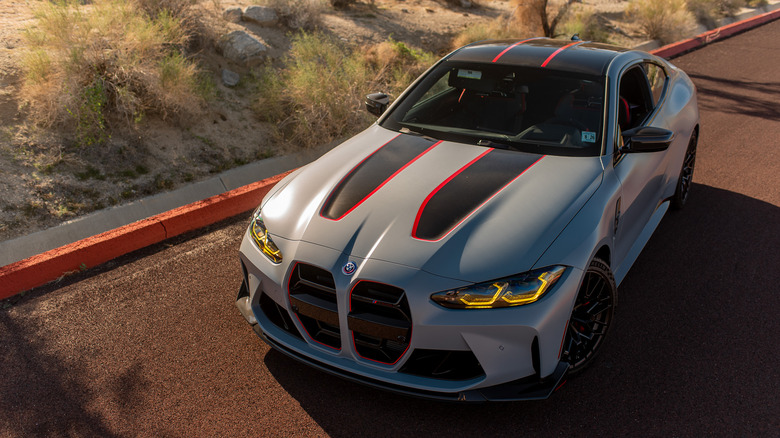 Victoria Scott/SlashGear
The M4 CSL is the most cranked-to-eleven version of BMW's M4 sports coupe the company could make. Its 3.0-liter twin-turbocharged straight-six boasts 40 more horsepower than the already-intense M4 Competition, for a total of 543 horsepower and 479 pound-feet of torque. 40 horsepower, however, is only a small part of the story; what makes the CSL so absurdly intense is its single-minded obsession with the track day, bro.
To prep the M4 for apex-taming, the CSL drops 240 pounds off the M4 Competition's curb weight. It does this by disposing of the rear seats, the automatic climate control, and some 33 pounds of sound-deadening material; further weight is shed by swapping the front seats for full carbon-fiber buckets, a carbon-fiber-reinforced-plastic roof, trunk, and hood, lightweight forged alloy wheels, carbon-ceramic brakes, and a titanium exhaust silencer. If you need further proof of its track-minded focus, one of the only additions offered on the M4 CSL over its tamer brethren is a helmet carrier.
Cuts for the curb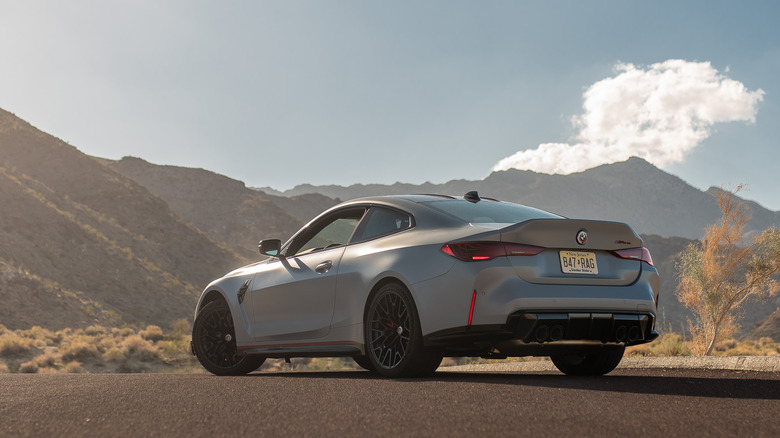 Victoria Scott/SlashGear
All this automotive keto gives the M4 CSL a curb weight of 3,640 pounds; admittedly, for a "Coupe Sport Leichtbau", it could stand a little more Leichtbau. Despite shaving several hundred pounds off its tamer M4 Comp sibling, it's also slower from 0-60 by nearly a full second, with a solely-rear-wheel-launch clocking in at 3.7 seconds vs. the xDrive M4 Competition's four-wheel-powered 2.8-second sprint to 60.
However, thanks to the weight reduction and power bump (and the CSL-exclusive adaptive suspension, CSL-exclusive anti-roll tweaks, CSL-exclusive Michelin Sport Cup 2 R tires, CSL-exclusive strut tower bracing—I can keep going) the M4 CSL puts down a Nurburgring lap time of seven minutes, 20 seconds—an improvement of seven seconds over the previous 'Ring-lap record holder from BMW. That is the number that the engineers in Bavaria wanted to deliver, and the CSL did it with flying colors.
Bavarian barbarian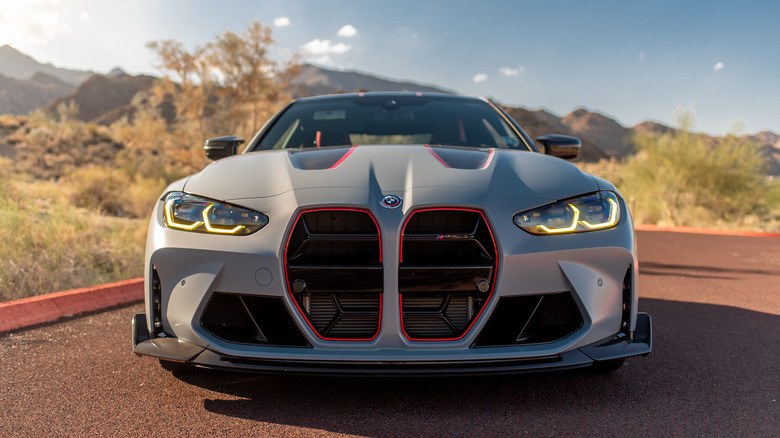 Victoria Scott/SlashGear
A track car, however, cannot just be fast—it needs to let everyone know it is fast. So the other obvious way the M4 CSL informs everyone in a 100-foot radius that it's no regular M4 is, of course, the styling. The CSL takes the already-divisive massive kidneys of the lower M4s, outlines them with a bright-red sharpie, and rips out all the mesh so that all that's left is a gaping maw of intercooler and intake. The double-bulged hood, the GT4-car-inspired yellow running lights, and the massive carbon lip all work are dripping with sculpted machismo; while it might not be to everyone's taste, there's no disputing the styling makes an ACR Viper look low-T in comparison. 
If you thought you could escape the testosterone-fueled atmosphere by sliding into the driver's seat, you'd be wrong. Inside the CSL is a suede-wrapped steering wheel paired with a set of fixed-back carbon-fiber bucket seats; they dispense with heating, cooling, and height adjustment (at least not without a full set of wrenches), and in their place they add a massive chunk of carbon-fiber right down the center of your crotch that forces your legs into a man-spread just to reach the pedal box.
Grinding to the best roads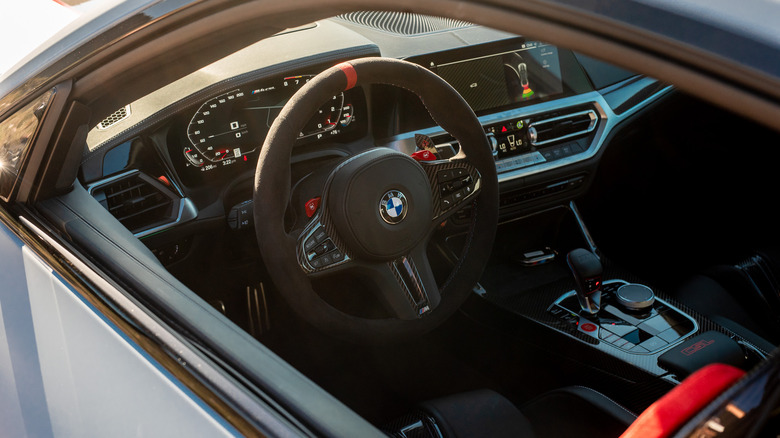 Victoria Scott/SlashGear
The chunk of crotch-carbon underlies the main point of the CSL succinctly: It's not supposed to be comfortable, because it's a track car, bro. Luckily, I found myself in Palm Springs, home of the nearly-mythically-perfect stretch of pavement that is California 74—Pines to Palms Highway, a road home to more hairpins than a Victorian woman's dressing table—which would assuredly be the perfect place to test a car so hell-bent on serious performance.
Of course, first I had to get there, and city driving is a little less perfect a place for the CSL.
Those removed rear seats and sound deadening transform the entire rear of the car into an acoustically-perfect amphitheater for the growling straight-six and its nine-pounds-lighter titanium silencer, and it is truly deafening. That electronic suspension is incredibly stiff, no matter what mode you put it in; combined with the already-uncomfortable, unadjustable-back buckets, it was a ride that gave my late-20s spine flashbacks to previous flareups of rheumatoid arthritis. The barely-street-legal Michelins twitch over every bump and pick up every pebble on the road, and callously fling all of them at the exclusive-CSL-option satin paint.
Don't you know that I'm toxic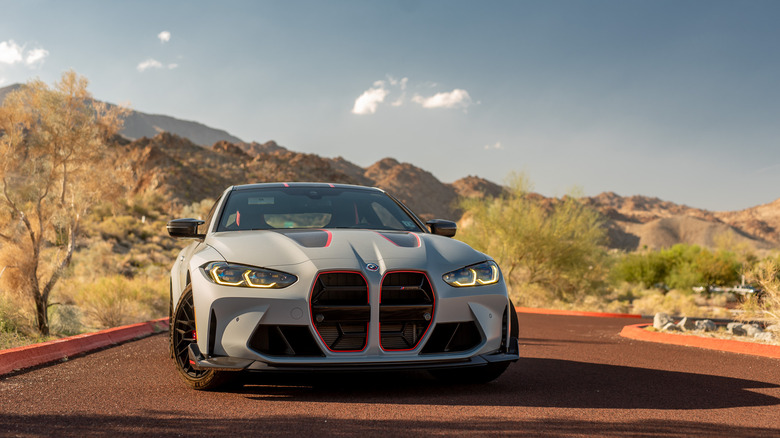 Victoria Scott/SlashGear
At one point in my life, I owned a gutted-and-bucket-seat-bedecked 80s Supra. Lowered track-ready coilovers, stiffest sway bars you could find, massive Brembo brake swap—you name a chassis modification, I had it on there, and in-town sensibilities suffered for it. The M4 CSL is the first production car I've ever driven around town that brought back visceral memories of my Toyota from my early 20s. Of course, unlike my old hatchback, the BMW holds a monster powerplant under the hood to match its boorish street mannerisms. The real question I had to answer now: was the suffering worth it?
By the time I finally slogged my way through the traffic of Palm Springs and arrived at CA-74, my nerves were fried. I can assure you, however, that I found the suffering worth it once I got onto the gas headed up the legendary Seven Level Hill. I nailed the throttle as I pulled onto the first straight, and the twin-turbo straight six that had been resonating off the inside of my skull all through the basin of the desert finally got a chance to sing off the canyon walls instead, and suddenly the gutted interior didn't bother me anymore.
Downshifts are addictive and optional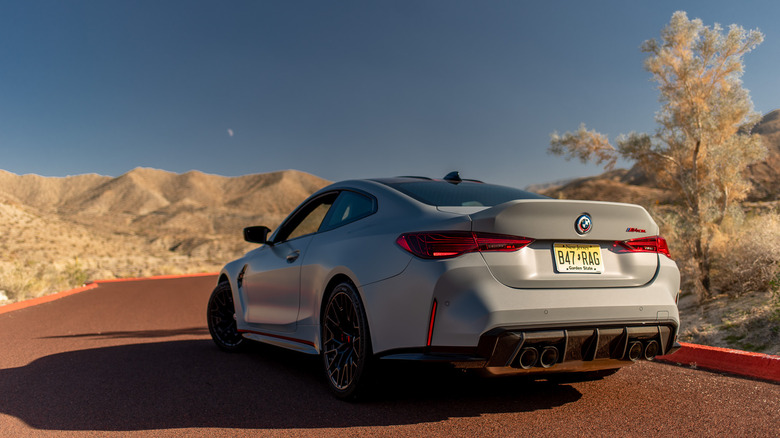 Victoria Scott/SlashGear
A slap of the right paddle to get the ZF eight-speed automatic to feed me another gear came with glorious DCT-like rapidity—and violence. The motor may only pack 40 more horsepower than the M4 Competition's, but the transmission ensures every watt of that force goes directly to the pit of your stomach.
Even better, however, were the downshifts; the transmission was programmed for absolutely seamless transitions between gears at full-tilt driving, especially mid-corner, so even when I found myself needing to scrub off a little more speed a little later than I'd preferred, the chassis never protested.
It's not like I needed to downshift to get the car slowed down, of course. The massive ceramic brakes did an excellent job testing just how solidly my suspensory ligaments held in my eyeballs, and the Cup 2 Rs at each corner made sure that using the brakes was an optional exercise anyway. Michelin states that the Sport Cup 2 R is good for about half a second faster lap times for every kilometer of track length driven versus a traditional Sport Cup tire; the 140-treadwear is truthfully about as close to a slick as DOT will still let you get plates with.
The fear is real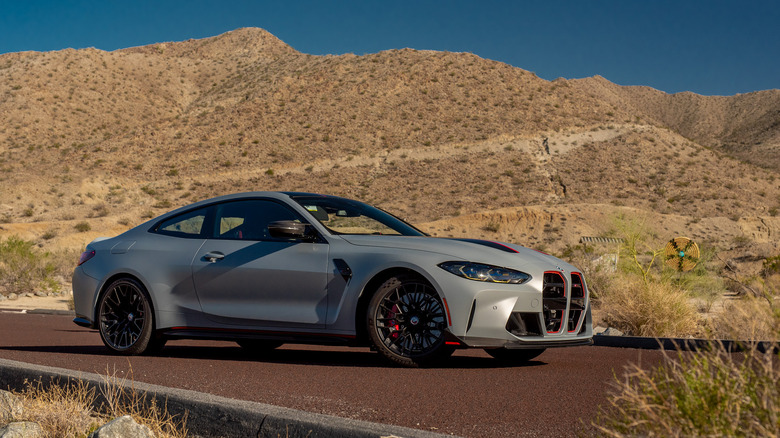 Victoria Scott/SlashGear
And this was where I felt the downsides begin. On a perfect road, on a perfect day, with warmed-up tires, and a ridiculously high speed limit paired with absurdly tight corners, I still never felt like the car got settled. The suspension had an incredibly harsh initial compression that felt like it bounced the car around, even on the glass-smooth pavement of Pines to Palms Highway, but the relatively soft rebound made sure the car never actually skittered.
It was set up this way to wring those extra seconds out of that 'Ring lap, but feeling this level of turbulence at 60 miles an hour with rock cliff faces on either side was not a confidence-inspiring activity for me. Even at 45 miles an hour around a relatively mundane, wide sweeper, I felt like I was going vastly faster than I was, because the chassis was incapable of feeling relaxed. If a car could be diagnosed with clinical hyperactivity, it would be the M4 CSL. It wanted to go faster, all the time. I just couldn't ever satisfy it.
Dr. Frankenstein, your ride is here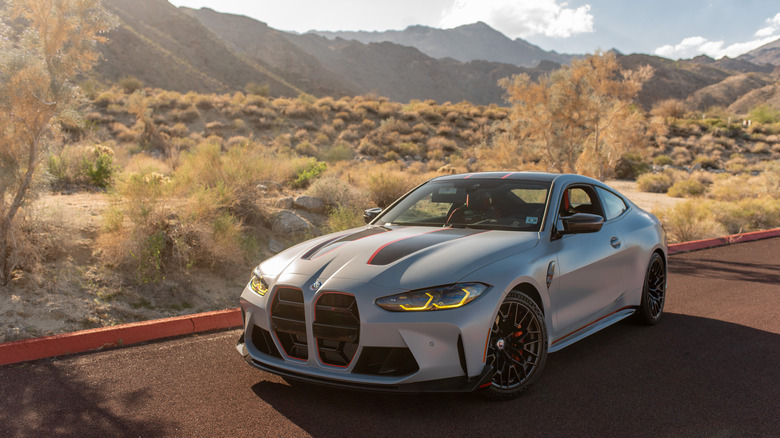 Victoria Scott/SlashGear
When I returned the M4 CSL to BMW and exchanged it for an M3 Competition, I was relieved. The CSL had objectively bested me. There was no sane way to approach its limits on the roads, and I was exhausted from even trying to get close. When I hit California Route 74 once more in the Comp, it was objectively much slower, much less razor-sharp; it had margin for error baked into its demeanor. It was also way more fun. 
If I finished the evaluation here—M4 CSL vs. a tamer Competition model—we could simply conclude I am getting weak in my old age, and I would admit defeat at the hands of BMW's Coupe Sport Leichtbau. I fully admit I'd take the softer, friendlier Competition every day of the week. It looks much less glaringly obnoxious, it's still faster than most human beings can handle, you'll save $50,000, and you can actually hear yourself think while driving it.
But the M4 CSL is not for the weak such as me. It is for people who want their car to be a challenge to handle, a lap-record setter that sits on a knife's edge even when stopped at a red light, a furious GT car with a license plate. In short, yes, a monster.