Why Every Car Fanatic Should Drive A BMW E30 At Least Once
Passions are a funny thing, as it's almost impossible to explain to someone why we are passionate about something if the other person doesn't share the same feelings. Some are passionate about motorcycles, while other people are all about big rims and subwoofers, and many of us are truly passionate about cars and driving those cars. For the rim and subwoofer crowd, driving is simply a means to get from one event to the next in order to show off a blazing new system, but for those who love driving, getting behind the wheel is a source of enjoyment in and of itself. Ask any enthusiast which car you should be sure to drive at some point in your life, and there's a good chance you're going to hear about one model in particular: the BMW E30. 
When it debuted in 1982 to replace the outgoing E21 version of BMW's 3-Series, the automaker's E30 lineup set out to do battle with other luxury models like the Audi V8 and Mercedes 190E. Over the course of its lifespan, which ended in 1994, the E30 3-Series was made available in a total of five body types worldwide, and there were no less than six different engines and four different transmissions among those body types. BMW even went so far as to create a one-off pickup truck out of a 3-Series model. Despite all of its variety, though, the E30 was never the best at any one thing, even if the E30 M3 trim did come pretty close. In light of that, what makes this car so coveted? It's impossible to point toward any single thing as the big reason enthusiasts love this model, but it has impressed many who have gotten behind the wheel regardless.
The BMW E30 is more than the sum of its parts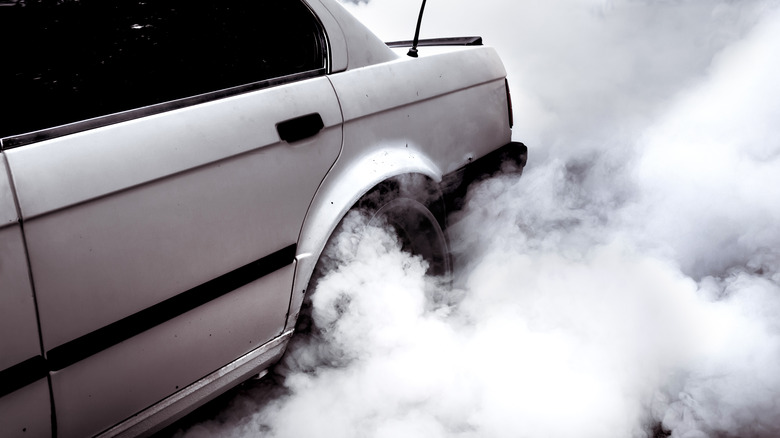 Jean Andrian/Shutterstock
When the first E30 M3 rolled off the line in 1986, BMW found itself garnering attention in a new arena: racing. Built as a homologation model for Group A rally racing, the M3 had great success, according to SIGFest, winning the DTM, European Touring Car Championship, and even the one-off world title in 1987. Auto-Data reveals that not only did the M3 sport a nearly 50/50 weight distribution, but it also boasted one of the best power-to-weight ratios in the business thanks to its 215 horsepower naturally-aspirated four-cylinder engine and svelte 2,645-pound curb weight.
In terms of acceleration and speed, Acceleration Times pushed the E30 M3 from 0 to 60 mph in just 6.1 seconds and recorded a top speed of more than 140 mph, which was impressive for the mid-1980s. As quick as those times were, however, the E30 M3 still didn't make it as one of the Car & Driver's fastest cars of the 1980s. Fortunately, BMW made the E30 M3 for those who loved to drive. Not everyone was going to race their car off the showroom floor, so with things like a sunroof, optional leather seats, ABS, power locks, and power windows, the E30 also managed to fit into the luxury category, striking a balance as both a high-end passenger vehicle and a sports car.
The journey is the destination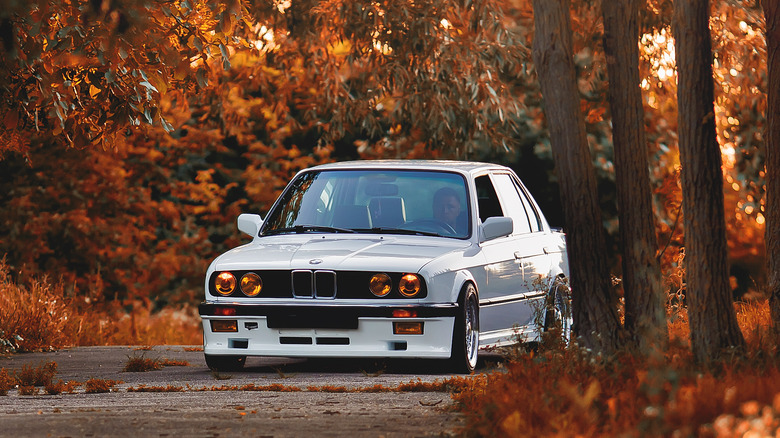 ANAID studio/Shutterstock
At $34,495, the E30 M3 was neither the cheapest nor the most expensive car of its time. So why then should every car fanatic drive one? There were plenty of other exciting features on the E30 that could have attracted any given driver's attention — things like its McPherson struts, its independent rear suspension, its 11-inch vented disc brakes, and its S14 engine, which could rev to nearly 7,000 rpm, as noted by UltimateSpecs.
While all of those things are enticing in and of themselves, none of them are the big reason so many have fawned over the E30 M3. Though to some, the model was just another set of mechanical parts propped up on rubber, the personality of the E30 M3 was undeniable to those who loved cars. As Car & Driver said about its test of the E30 M3, "Few road cars can take to the track with such poise. The M3 leaps through the corners like a cat, its feisty engine spinning and spitting until you snatch another gear or the rev limiter grabs it by the tail." 
Ultimately, the E30 managed to bridge the gap between those who loved racing and those who just wanted a comfortable commuter car, and even objective journalists couldn't help but give respect where it was due. MotorBiscuit said of the E30 M3, "You could genuinely drive it to work during the week, then slay corners on the weekend." The E30 M3 is one of the special models that managed to offer the best of both worlds, satiating enthusiasts' desire for an engaging and visceral sensory experience while also meeting their needs for a commuter car that could be used for everyday activities.