2023 Hyundai Santa Fe Review: Family SUV Makes An Unexpected Argument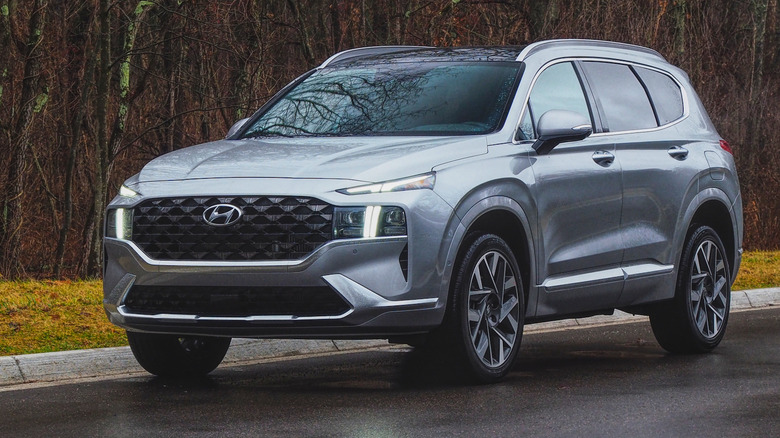 Chris Davies/SlashGear
Deep in the heart of the family SUV segment, things are competitive. Whether your budget is tight, your power needs are aggressive, your tastes for luxury are lavish, or your willingness to compromise is pretty much non-existent, most automakers have at least one option to catch the eye. It's impressive, then, quite how well the 2023 Hyundai Santa Fe stands out of the crowd.
We ask plenty from our midsize SUVs. While three rows may be beyond them — you'll need to step up to the Hyundai Palisade for that — there's still the expectation that they'll fit a family, its luggage (and pets), and still hopefully provide a little entertainment along the way. For those demanding even more, there's this Santa Fe Calligraphy trim, its top-tier specs clocking in from $42,050 ($1,295).
Though it may not be quite as visually striking as other models in Hyundai's range, the Santa Fe still stands out in the sales charts. Second only to the smaller, cheaper Tucson in terms of overall U.S. demand in 2022, it straddles the line between being conservative enough to have broad appeal while still trying to be more than just another crossover.
Love it or hate it looks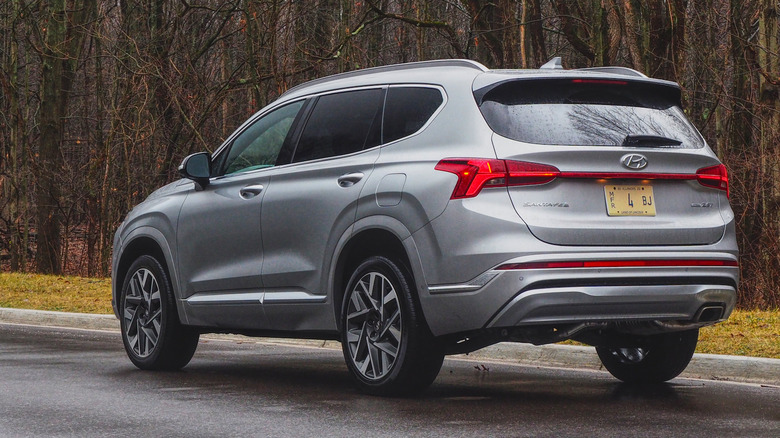 Chris Davies/SlashGear
Hyundai's current aesthetic is a divisive one. There's a sense that, if you like the product but you want a more straightforward design, then you should walk over to the Kia dealership next door. The Santa Fe has a little of the basking shark to its fascia, at least to my eyes, though I like the way the narrow upper headlamps continue their daytime running light pattern through to the lower segments. I can't help but see some Volvo XC60 in the profile, mind.
Calligraphy trim includes 20-inch wheels as standard, while lesser Santa Fe trims get 18- or 19-inch versions. LED headlamps are standard across the board, with High Beam Assist; the more expensive Limited and Calligraphy trims upgrade them to projector-type LED, and throw in LED taillights too.
As we've seen on other Hyundai models, there's a midrange XRT trim with a blacked-out look for the exterior. The Calligraphy kicks it more old-school, in contrast, with a dark chrome grille, silver and chrome outer trim, and body-color side mirrors. At least Hyundai's alloy wheels are a little more interesting than usual, even if they're not quite as avant-garde as what luxe sibling Genesis is up to.
Skip the base engine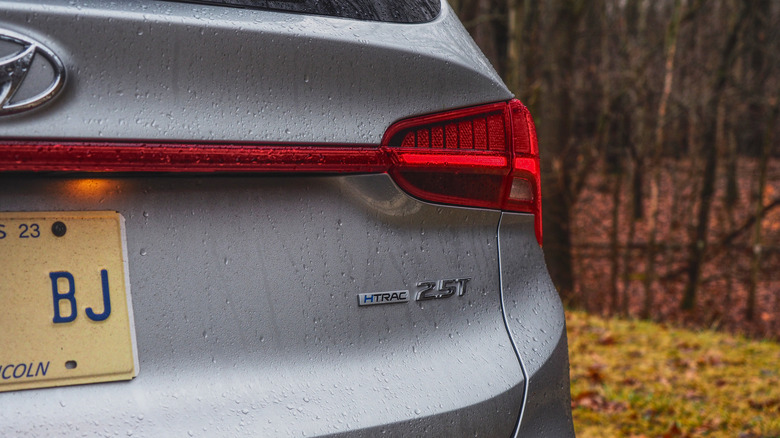 Chris Davies/SlashGear
Base SE, SEL, and XRT trims of the Santa Fe come with Hyundai's 2.5-liter inline-four gas engine. It's good for 191 horsepower and 181 lb-ft of torque, and an eight-speed automatic transmission as standard. Adequate, certainly, but they're not power numbers that set you up for speed, even if the 26 mpg combined fuel economy rating isn't dire.
The Limited and Calligraphy, however, switch that engine out for a 2.5-liter turbocharged inline-four. That kicks things up to 281 horsepower and 311 lb-ft of torque, the latter arriving conspicuously earlier in the power band at 1,700 rpm versus the non-turbo's peak torque at 4,000 rpm. It also gets an 8-speed shifter, but a wet dual-clutch version instead.
The result is an SUV that feels pleasingly perky, even without twisting the drive mode dial to Sport. The turbo Santa Fe dashes forward eagerly from stop lights and nips happily through traffic. On the highway, there's no shortage of power in that all-important 60-80 mph overtaking range.
Fair economy, but not great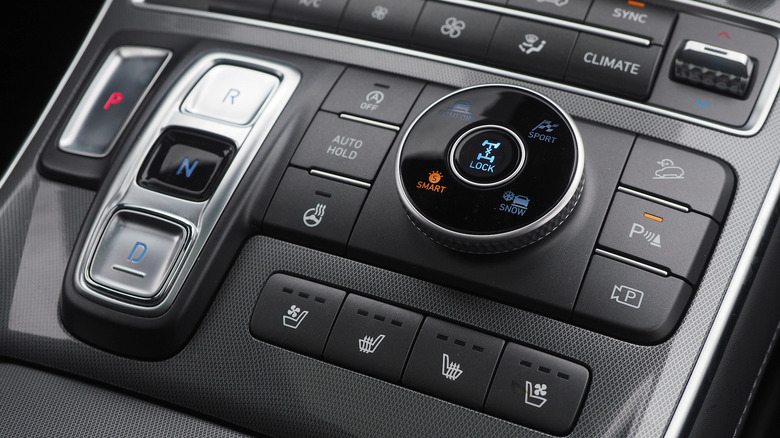 Chris Davies/SlashGear
Front-wheel drive is standard; all-wheel drive is a $1,700 upgrade. Hyundai doesn't add adaptive suspension, relying on the fairly firm tune of the standard MacPherson gas-damper struts at the front and multi-link rear to keep the Santa Fe level. The result feels poised and stable, though this is clearly not a sports SUV. On the flip side, there's no wallow or jounce, even in Comfort mode.
Another reason beyond power to opt for the turbo engine is towing capacity. The base engine is rated for 2,000 pounds (with trailer brakes); this Calligraphy upgrades that to 3,500 pounds.
The flip side is economy. The EPA rates the Santa Fe's turbo at 22 mpg in the city, 28 mpg on the highway, and 25 mpg combined: that extra urban punch costs the SUV three points versus its cheaper, naturally-aspirated sibling. In my own, mixed driving — including a decent chunk of highway time — I just crossed the 21 mpg mark.
The hybrid makes more sense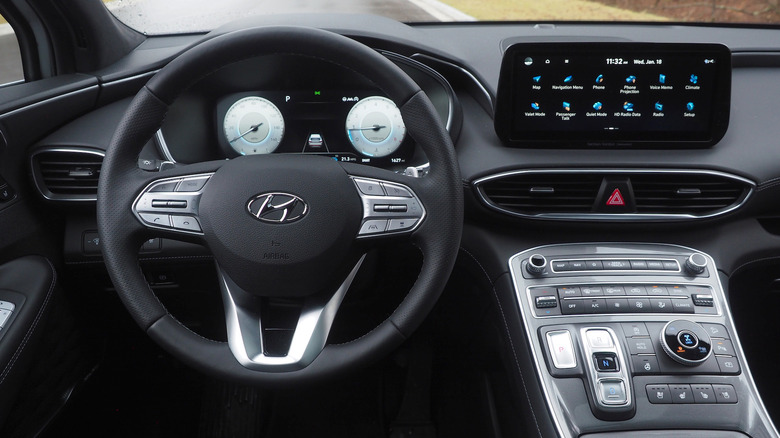 Chris Davies/SlashGear
If there's a reason to look elsewhere, ironically it might be Hyundai itself that has supplied it. The same $42k that gets you a Santa Fe Calligraphy will also put you behind the wheel of a Santa Fe Hybrid or Plug-in Hybrid (albeit not quite Calligraphy-spec), with the electrified SUVs starting at $35,660 and $40,000 (plus destination) respectively.
Both have all-wheel drive as standard — rather than as a paid option — and comfortably exceed the turbo-four's economy. The Santa Fe Hybrid boasts up to a 34 mpg combined rating, while the Santa Fe Plug-in Hybrid hits up to 33 mpg combined. The PHEV can also drive 30 miles on electric power alone.
That's not bad, though if you're willing to plug in your hybrid then Mitsubishi's new 2023 Outlander PHEV deserves a look. It's similarly priced to the Santa Fe PHEV, but bests its EV range at 54 miles, and has a (snug) third row of seats, too.
A sensible cabin with plenty of buttons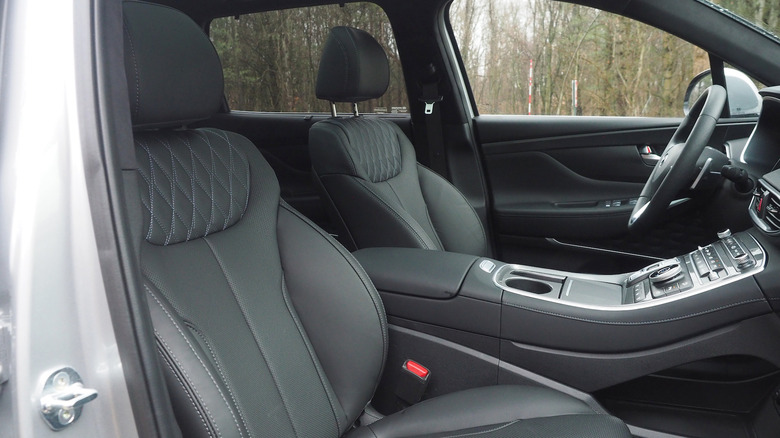 Chris Davies/SlashGear
Inside, the Santa Fe puts feature accessibility ahead of stylized design. The broad center console is a riot of buttons and knobs, with physical controls not only for the HVAC system but the push-button transmission selector and more. There are shortcuts for the infotainment sections, and a big mode knob for cycling through the SUV's Smart, Comfort, Sport, and Snow drive modes (plus a button in the center that locks the AWD version's drivetrain).
Above it is a 10.25-inch touchscreen, standard on all trims bar the base SE which makes do with an 8-inch panel. Even the larger display feels a little small, compared to the 12.3-inch screen the Palisade enjoys. Hyundai's UI is clean if not especially striking, and there's wired Apple CarPlay and Android Auto support; all trims aside from SE get navigation, but the base car does cut the cord for Apple and Google's smartphone projection. It's a weird limitation of Hyundai Group's larger-screen infotainment systems that we've observed before.
Four USB ports — two up front, two for the rear — are standard, and everything above SE gets wireless phone charging. Limited and Calligraphy trims have a 12.3-inch fully digital driver display, the gauges of which can flip into camera views of the adjacent lane when you indicate. Lower trims get regular gauges sandwiching a smaller, 4.2-inch display.
Lots of active safety tech as standard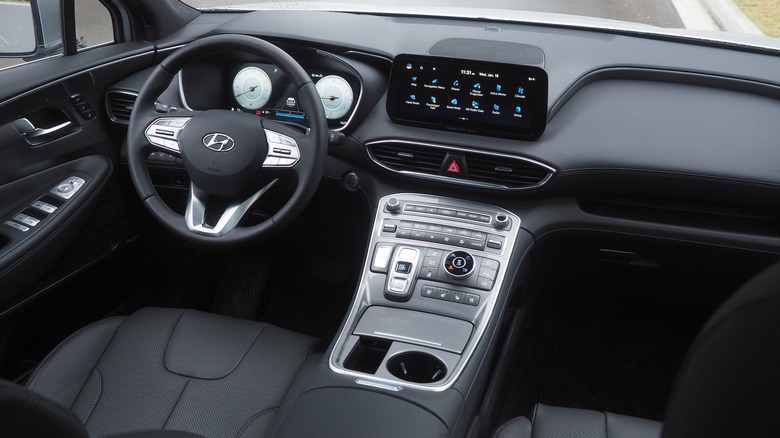 Chris Davies/SlashGear
It all feels sturdy, if not stand-out special. Hyundai's glossy silver plastic trim and black, soft-touch dashboard feel like they'll stand the test of time, and the switchgear is solid if not premium. The seat leather, too — quilted Nappa leather on the Calligraphy — is fine, with standard heating and ventilation on the two top trims.
Really, though, it's the practical details that stand out. Hyundai's buttons to power-fold the 60/40 split rear bench from the trunk, for instance, and the useful underfloor storage tray. With the bench up, you get 36.4 cu-ft of cargo space; that climbs to 72.1 with them folded.
The ample active safety tech is also welcome. All trims get rear cross-traffic collision avoidance resistance, forward collision avoidance assistance with pedestrian, cyclist, and junction-turning detection, plus lane-keeping and lane-following assist.
Adaptive cruise control is standard, too, with SEL and above upgrading that with navigation-based adjustments and curve control. There's also Highway Driving Assist (HDA), Hyundai's hands-on steering assistance tech: it can actually be activated on roads other than just highways, adding a little help to your turns. Upper trims get a 360-degree camera and parking sensors front and rear, and the Limited and Calligraphy will even let you pull the Santa Fe in and out of parking spots from outside the SUV, via buttons on the key fob.
2023 Hyundai Santa Fe Verdict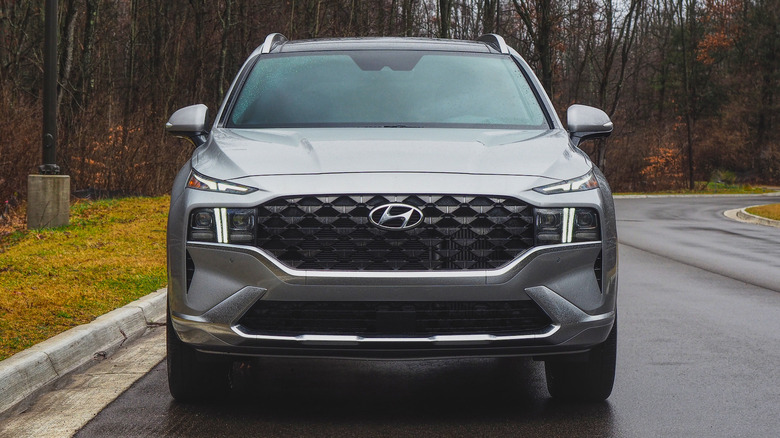 Chris Davies/SlashGear
That still feels like a gimmick and stands out for that mainly because the rest of Hyundai's SUV feels gimmick-free. The 2023 Santa Fe is spacious, comfortable, and flexible, and Hyundai's warranty coverage is ample. 5 years/60,000 miles of standard coverage, 10 years/10,000 miles of powertrain coverage specifically, and 5 years of unlimited-mileage roadside assistance.
My biggest complaint is that the turbocharged engine isn't available as an option on the more affordable trims: if you want it — and, honestly, I think you probably do — then you need to be looking at the Santa Fe Limited at least. At that point, I suspect my eye would be caught by the Santa Fe Hybrid, which is AWD as standard and more economical in a $35,660 Blue trim. Better still, the $39,520 Santa Fe Hybrid SEL Premium layers on the equipment while still being rated for 32 mpg combined.
That's not to say the non-electrified Santa Fe underwhelms; more, really, a recognition that hybrids make a whole lot of sense in this family SUV segment. Hyundai's packaging and pricing here have appeal, but with gas prices an ongoing concern for U.S. drivers the benefit of even a mild hybrid pays dividends while you're enjoying that lengthy standard warranty.