2023 Hyundai Palisade Review: Family SUV Finds The Sweet Spot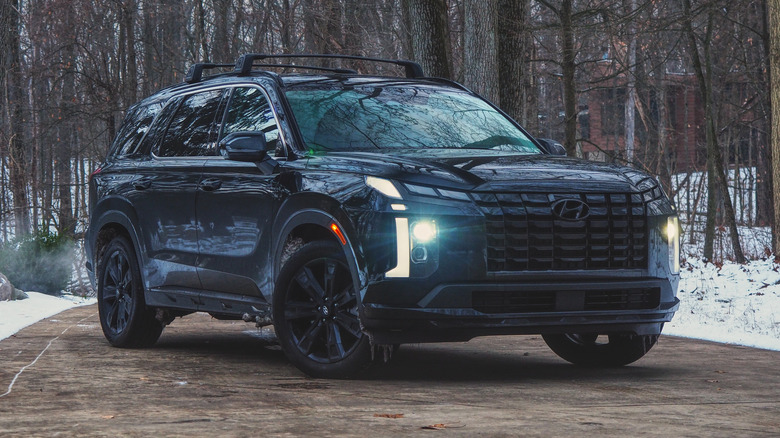 Chris Davies/SlashGear
Black wheels, black bodywork, blacked-out grille. The 2023 Hyundai Palisade doesn't quite make it to sinister status, but if you need three rows of family transportation but aren't willing to embrace the minivan quite yet, this hardly feels like a compromise.
It's also unexpectedly affordable. Palisade ownership kicks off at $35,250 (plus $1,295 destination), but this 2023 Palisade XRT AWD trim nudges that up to $43,445 all-in. You can, if you really want to, push the boat out and spec things all the way up to Calligraphy trim, and end up north of $50k in the process, but even then you're getting a whole lot of SUV for your money (and getting closer to the Genesis GV80).
That, quite frankly, is what we've come to expect from Hyundai — and, for that matter, from cousin brand Kia. In fact, you could make a solid argument that the Palisade's biggest competitor is, ironically, the SUV it shares the most DNA with. The 2023 Kia Telluride is no joke, either.
XRT adds a moodier style option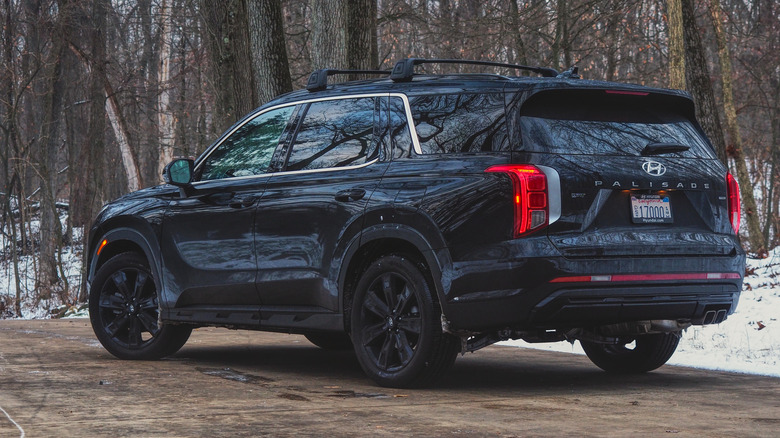 Chris Davies/SlashGear
Which turns your head in the parking lot comes down, of course, to personal taste. The Palisade isn't handsome in the classical sense, with Hyundai's latest facelift seemingly taking inspiration from Tetris as much as anything else. The new grille, with its blocky cascade, is a lot easier to stomach in sober XRT form. Other trims go heavy on the chrome instead — the result unnervingly reminiscent of the maw of an industrial shredder.
It's flanked by bi-LED headlamps on every trim, their segmented appearance giving the Palisade a somewhat insectile look. 18-inch alloy wheels are standard, though the XRT trim steps up to unique 20-inch alloys instead.
There's some pleasing detailing, in among what's a fairly predictable silhouette. The way Hyundai has integrated the turn signals into the side mirrors is fun, for example, and this XRT's cladding manages to avoid looking too bulky. At the other end of the scale, Calligraphy trim gets its own 20-inch wheel design and contrast cladding.
Seating for up to eight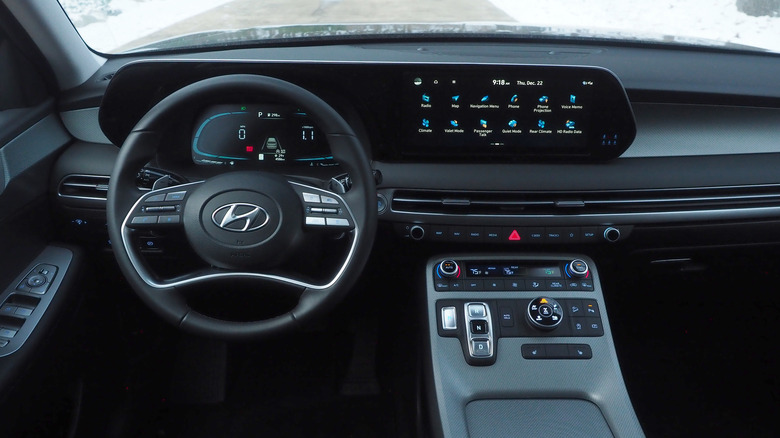 Chris Davies/SlashGear
Inside, there's seating for up to eight in the SE and SEL trims, courtesy of three-seat benches in the second and third rows. XRT, Limited, and Calligraphy models sacrifice a spot in favor of second-row captain's chairs. With all the seats up, there's 18 cu-ft of cargo space; drop the third row, and that expands to 46 cu-ft. You're looking at a healthy 86 cu-ft with the second and third rows both down.
Hyundai throws in plenty of useful cubbies and nooks, too. There's storage under the trunk floor, and a pair of decent-sized bins in the center console between the front seats. I like that you can click away the Palisade's front cupholders, too, in case you'd prefer more storage space instead.
There are three USB ports in the front row and two in the second. Limited and Calligraphy trims add two more for the third row. SE, SEL, and XRT trims have a standard sunroof, with the upper trims swapping that for a dual-panel version. Hyundai's H-Tex fabric for the seats feels sturdy, but it's only available in black on the XRT; combined with the predominantly dark dashboard it leaves the whole cabin feeling less airy and spacious than it actually is.
Heated front seats are standard on SEL trim and above; some trims — though not the XRT — can have ventilated front and second, and heated second and third-row seats. The higher trims get leather along with a power-folding/unfolding and reclining third row.
Decent levels of tech by default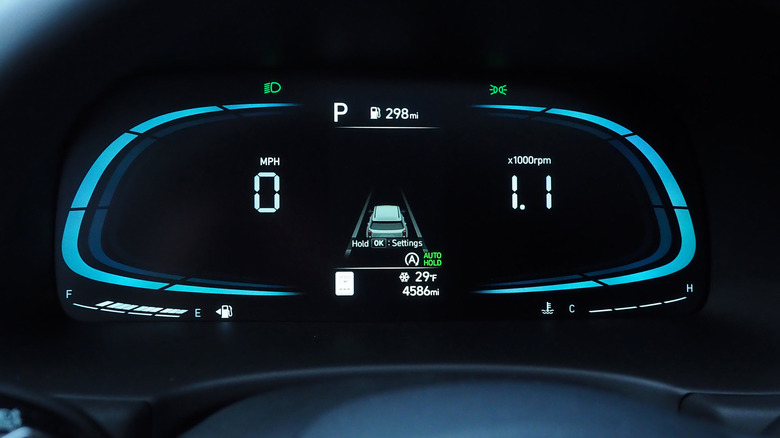 Chris Davies/SlashGear
All Palisade trims get a 12.3-inch center touchscreen, with Hyundai's clean and easy-to-use infotainment system. There's Apple CarPlay and Android Auto, support for having two Bluetooth devices paired and active simultaneously, and navigation standard across the board. A Harmon Kardon 12-speaker audio system is standard on Limited and Calligraphy, and an option on the SEL, though weirdly not on the XRT; the same goes for the Driver Talk in-car intercom.
At first glance, you'd be forgiven for thinking the driver gets a fully digital instrument panel. In fact, it's only a small central portion that is fully digital; it's flanked by old-school segmented displays for speed and engine speed. The end result looks cool, in a faintly retro way; you'll need a Limited or Calligraphy trim — or the SEL with the Premium Pack ($4,950) — to get Hyundai's 12.3-inch fully-digital version.
If you've bemoaned the general shift away from physical controls to virtual ones, the Palisade should come as a pleasant surprise. While the infotainment system isn't half-baked, there are still plenty of buttons and knobs to control the essentials, and they're fairly straightforward in how they're laid out, too. Considering how confusing the smaller Tucson crossover's dashboard is, with so many small and near-identical buttons, the Palisade feels like a breath of fresh air.
One engine but no electrification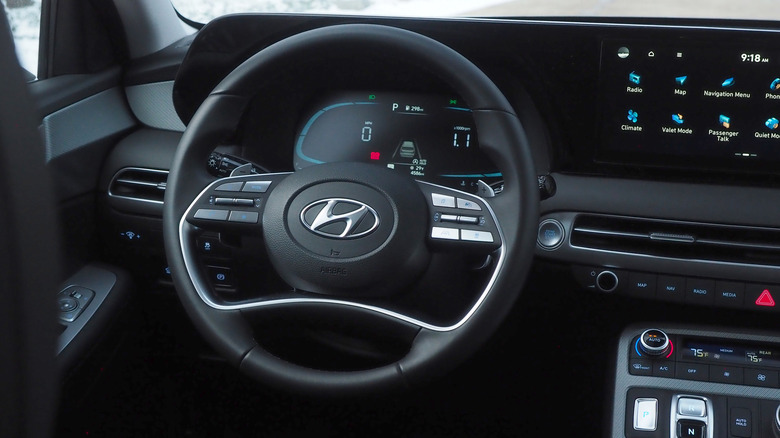 Chris Davies/SlashGear
Hyundai has a single-engine option for the Palisade, a 3.8-liter V6 paired with an eight-speed automatic transmission. Regardless of trim, you get 291 horsepower and 262 lb-ft of torque, plus a 5,000-pound maximum tow rating. Front-wheel drive is standard across the board, with all-wheel drive a $1,900 option.
Unlike other Hyundai SUVs and crossovers, there's no plug-in hybrid version and not even a mild hybrid Palisade at present; we may have to wait for a production version of the Hyundai SEVEN Concept for that. The FWD Palisade's economy figures reflect that: 19 mpg in the city and 27 mpg on the highway, or 22 mpg combined. The AWD Palisade does a little worse on the highway, at 25 mpg, and the combined economy drops a point, to 21 mpg.
My own, mixed driving saw 19 mpg, though snowy Midwest conditions meant I was relying on more heat than usual. Hyundai's numbers line up well with the 2023 Jeep Grand Cherokee L, the three-row SUV which also currently lacks an electrified version.
Relaxed and refined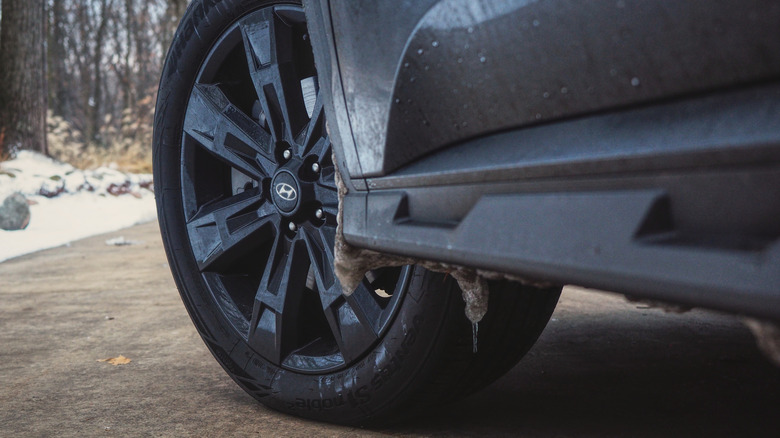 Chris Davies/SlashGear
From behind the wheel, the Palisade is a smooth and relaxing drive. It's no sports SUV — not even with the easy-to-operate drive mode knob switched to the Sport setting — and there's certainly body roll if you take the corners too enthusiastically. Better to allow the smooth delivery of power to cosset instead, and while the numbers on paper may not look high, Hyundai's gearing does a solid job of getting you moving with more pep than you might predict.
With snow on the ground, I was glad to have the optional all-wheel drive. Snow mode lessens the likelihood of wheel spin by tamping down on throttle inputs, which works well right until you're trying to escape a hectic junction. Then, it just leaves the Palisade twirling its thumbs.
There's a Smart mode that promises the best of all worlds, and isn't quite so black & white in its settings, along with the option to lock the AWD system. That works at speeds under 25 mph, beyond which the Palisade automatically moves between 2WD and AWD by itself.
Most safety tech comes as standard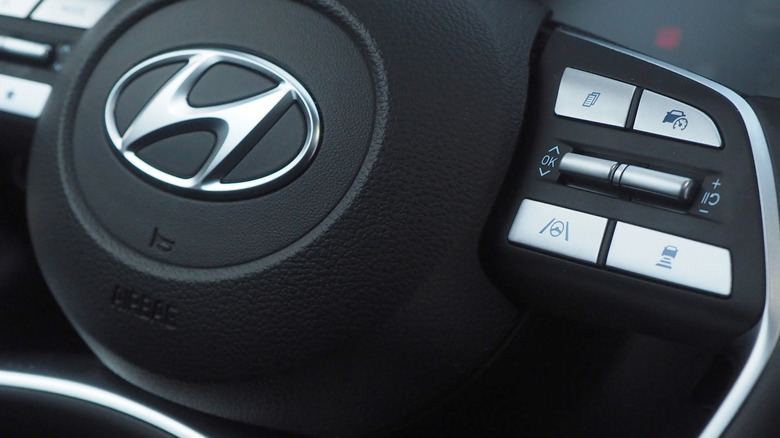 Chris Davies/SlashGear
Highway Driving Assist is standard regardless of trim, effectively adaptive cruise control with lane-centering and following assistance. Highway Driving Assist 2 (HDA 2) is standard on the Limited, Calligraphy, and SEL Premium Package; it adds lane-change assistance, along with some other tweaks. HDA has been one of my favorite hands-on driving assistance systems, and the Palisade's implementation doesn't change that, with smooth and natural support.
All trims get blind-spot warnings, front collision avoidance assistance, and rear cross-traffic collision assistance, along with lane-following and lane-keeping assist. There are also rear parking sensors, safe-exit assist, and auto high beams. The XRT misses out on a 360-degree camera, front parking sensors, and Hyundai's upgraded front collision-avoidance system that can aid with evasive steering among other things. Remote Smart Parking Assist is saved for the flagship Calligraphy trim alone.
2023 Hyundai Palisade Verdict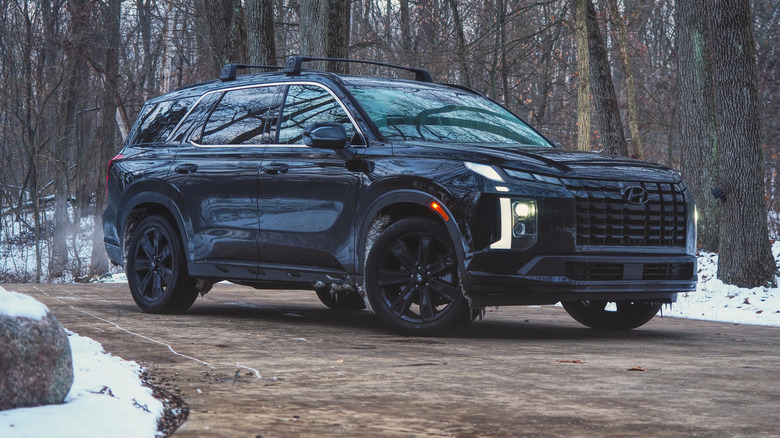 Chris Davies/SlashGear
I like the XRT's looks, but I'm not sure it's the sweet spot of the 2023 Palisade range. The SEL trim has similar equipment levels, and comes in at $41,445 (including destination) with the all-wheel drive option. Throwing in the Premium Package does make for a more expensive SUV, at $46,395 (including destination), but you're getting considerably more active safety and cabin comfort features for the $2,735 delta over the Palisade XRT.
Honestly, though, arguing about spec levels only builds on the fact that the Palisade is a great SUV, period. Family-scaled across all three rows, and yet not unwieldy to drive, it's affordable without feeling spartan.
Yes, the aesthetic may be hit or miss — take a wander over to Kia's dealership and check out the Telluride if you're struggling with the design here — and the absence of even a mild hybrid still rankles. In the end, though, if you're looking for dependable transport without either breaking the bank or getting the automotive equivalent of a hair-shirt experience, the 2023 Palisade hits the reset button on just what you can expect from a family SUV.