2022 Hyundai Tucson PHEV Review: Plug-In Hybrid Promises Easy Electrification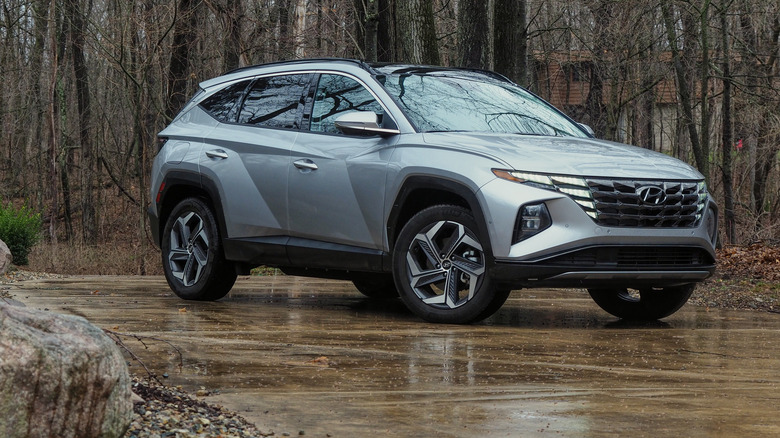 Chris Davies/SlashGear
EDITORS' RATING: 9/10
Electric cars may be the future, but not everyone is quite ready to take the step into an entirely battery-electric vehicle. Consider, then, the plug-in hybrid, promising the best of both worlds and — in the case of the 2022 Hyundai Tucson PHEV specifically — also sitting pretty as the automaker's flagship compact SUV.
Remember to plug in and charge the Tucson PHEV, and you have the promise of sufficient electric range to do the average daily trip of the typical American driver. Forget to plug in, though, and there's the reassurance of a gas engine to fall back on.
Combine the two, and you're looking at up to 420 miles of range and an 80 MPGe rating. Sufficient, so the EPA says, to save $2,000 in fuel costs over five years of ownership. You'd be forgiven for asking what the downside could be.
The greenest Tucson is also the most powerful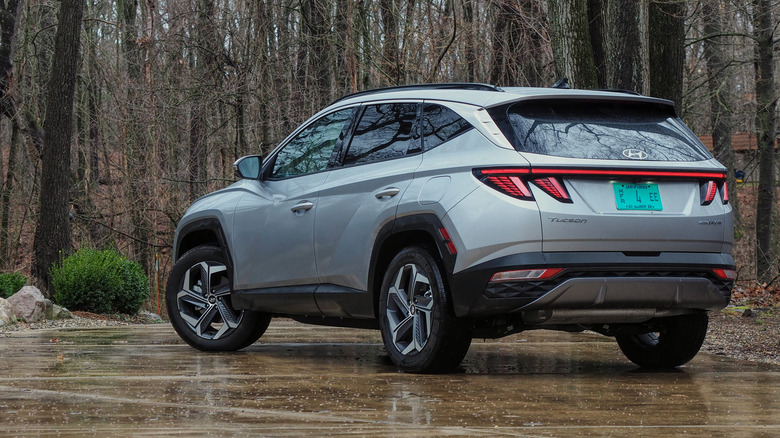 Chris Davies/SlashGear
The regular Tucson is a likable compact SUV, to be sure. Affordable, well-equipped for the price, and stylish, our primary concern has always been power. That's where the Hyundai's electrified versions weigh in.
While the naturally-aspirated 2.5-liter inline-four gas engine makes do with 187 horsepower and 178 lb-ft of torque, the Tucson Hybrid nudges that up to a far healthier 226 horsepower. The Tucson Plug-in Hybrid, meanwhile, musters 261 horsepower and 258 lb-ft of torque through its combination of a 1.6-liter turbocharged inline-four and a single electric motor.
With a 13.8 kWh battery, the Tucson PHEV gets some all-electric range but not, say, what an Ioniq 5 would deliver. Expect around 33 miles of EV driving on a full charge, according to the EPA, though the crossover defaults to a hybrid mode where the electric and gas drive is combined automatically.
Still striking style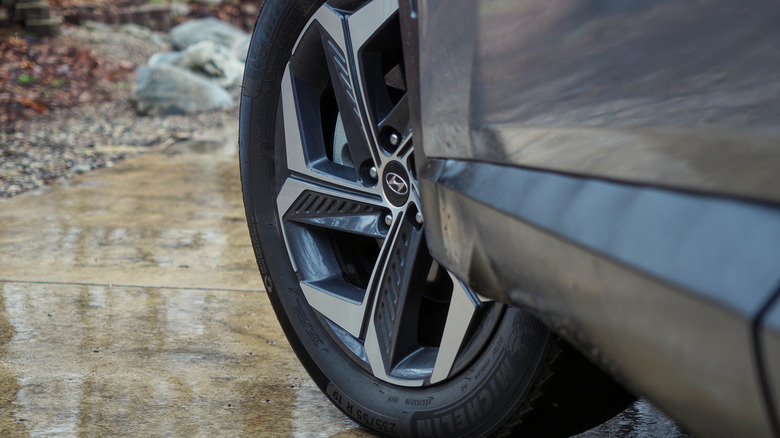 Chris Davies/SlashGear
From the outside, you'll need to pay attention to the badging in order to tell the plug-in hybrid apart from its regular Tucson siblings. It's a fairly handsome, distinctive SUV, with some neat style detailing like the way the daytime running lights are interwoven with the broad front grille. Hyundai's sharply angular surfacing remains memorable, a nod back to the Hyundai Vision T Concept at the 2019 Los Angeles Auto Show.
At the rear, I still occasionally mistake the taillights of the Tucson to those of the Mustang Mach-E. Lighter colors, like the Shimmering Silver of this particular review car, tamp down on the impact of the exterior chrome, too. Darker colors help emphasize the shiny flourishes around the roofline a little more.
Both the SEL and this Limited trim ride on 19-inch alloy wheels as standard. The Limited upgrades the headlamps to projector-type LEDs, as well as adding a hands-free power tailgate.
No sports car, but not slow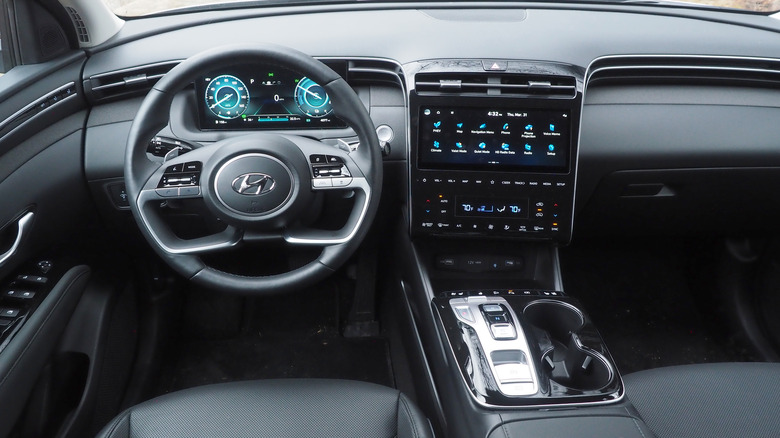 Chris Davies/SlashGear
All-wheel drive is standard on the Tucson PHEV, and since it's a mechanical system it means you don't lose that AWD even if the battery runs down. Of course, without that electric addition, you're down on horsepower and torque: the turbo-four alone is good for 180 hp and 195 lb-ft. Still, more than the non-PHEV crossover, certainly, but with a curb weight of 4,235 pounds, it's also several hundred pounds heavier, too.
Thumb the push-button shifter into Drive, and you'll be glad you have a charged battery. The Tucson PHEV accelerates more eagerly than the non-hybrid version and is a little quieter at it too. It feels smooth and compliant, the steering on the light side but not unduly for the segment.
Hyundai uses a six-speed automatic transmission, and — unless you've hit the EV mode button — brings the gas engine into play when you demand more power than the electric motor alone will provide. Switching into Sport mode will keep both halves of the drivetrain active for maximum punch; nobody is going to confuse the Tucson PHEV for a sports car, no, but it adds an extra degree of responsive nippiness that's welcome.
A bigger battery means a smaller trunk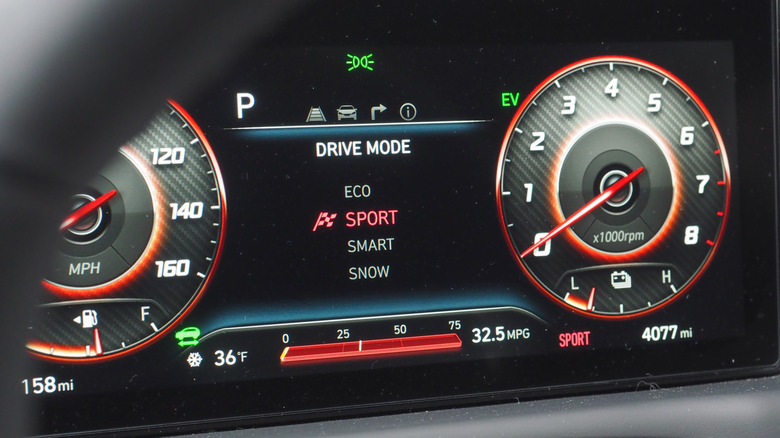 Chris Davies/SlashGear
On the flip side, point-and-squirt action on electric power alone is more than sufficient for whipping around town. I didn't quite hit the 33 miles that the EPA says is possible, but then again I wasn't treating the Tucson PHEV as though it was on a miserly test cycle. Hit 15% of battery power remaining and the gas engine will automatically kick in.
When it comes to charging, the Tucson PHEV has a 7.2 kW onboard charger. The expectation — as with most plug-in hybrids — is that you'll be charging at home. There's no DC fast charging support, and you can expect a full Level 2 charge to take about two hours.
One downside to electrification is the hit you take on cargo space. The Tucson PHEV's trunk will hold 31.9 cu-ft with the rear seats up, or 66.3 cu-ft with them folded down. That's a considerable dip from the 41.2 and 80.3 cu-ft respectively that the gas-only Tucson will accommodate. The tow rating remains at 2,000 pounds maximum, regardless of drivetrain.
Just the two trims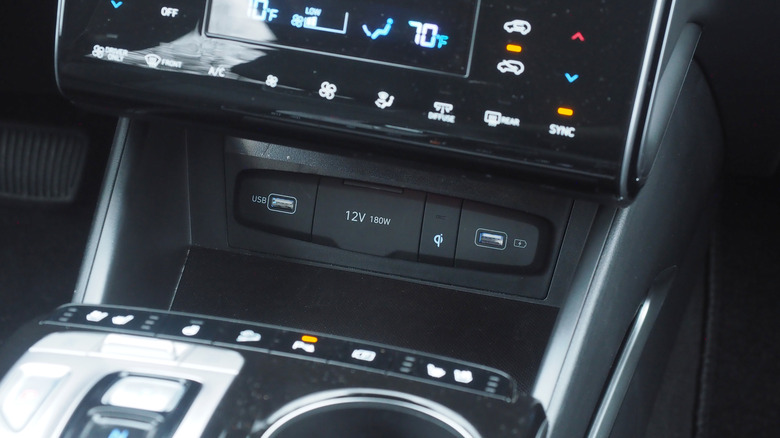 Chris Davies/SlashGear
Price of entry into the Tucson PHEV club is a little higher than for the gas version, partly because Hyundai's base trim for the plug-in hybrid is the SEL at $35,400 (plus $1,225 destination). That gets you cloth seats, power adjustment for the driver's seat but not the front passenger, heated front seats, and dual-zone climate control. The SEL gets an 8-inch touchscreen infotainment system with wireless Apple CarPlay and Android Auto, a 4.25-inch gauge cluster display, and four USB outlets.
It's a not-insignificant step up to the $43,200 (plus destination) Tucson Limited PHEV you see here, but then again the spec sheet bulges considerably with that uptick. Leather on the seats and the now-heated steering wheel; ventilated front seats — both with power adjustment — and heating for the second row, a panoramic sunroof, plus wireless phone charging, a larger 10.25-inch gauge cluster, Hyundai Digital Key, and 64-color ambient lighting.
Limited trim also gets a 10.25-inch infotainment touchscreen, Bose audio, plus navigation. In the process, though, you lose wireless smartphone projection: remember to pack a USB cable instead.
Get your microfiber cloth ready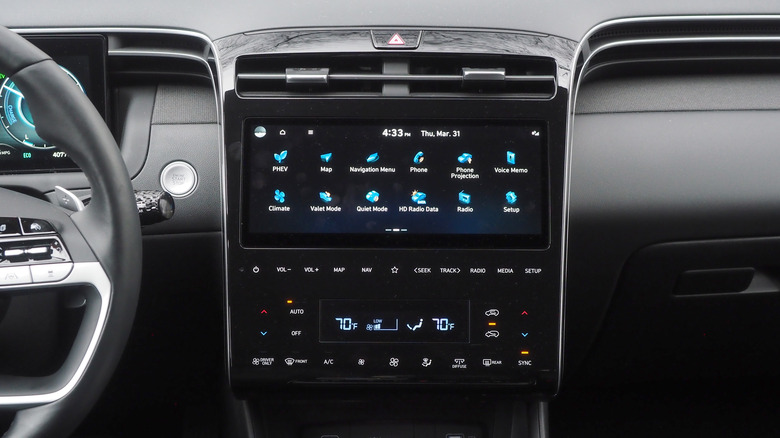 Chris Davies/SlashGear
Regardless of trim, there's Hyundai's somewhat complex dashboard to get to grips with. There are plenty of physical buttons in the center console — as well as a fair amount of storage cubbies and other space — for the transmission as well as drive modes, seat heating, and locking the drive. However, the center stack makes a wholesale switch to touch-sensitive keys instead.
It's a big swathe of glossy black plastic, catnip to both dust and fingerprints. Expect plenty of the latter, too, as you hunt'n'peck around to find the right spot to jab at. Hyundai really could've done better delineating each button's zone, or at the very least could have given us a physical volume knob.
Both trims have forward collision avoidance assistance, blind-spot collision avoidance assistance, lane-keeping and lane-following assistance, rear cross-traffic collision avoidance assistance, and safe exit warnings.
Limited trim adds a blind-spot view monitor (which beams a camera view of the relevant adjacent lane to the dashboard when you hit the turn signal), upgrades the standard adaptive cruise control to Highway Driving Assist with very successful hands-on lane centering, adds front and rear parking sensors along with rear collision-avoidance assistance, a 360-degree camera, and ultrasonic rear occupant sensor. There's also Remote Smart Parking Assist, Hyundai's moderately-gimmicky way to slowly move the SUV in and out of a parking space from buttons on the key fob.
Tucson PHEV versus the plug-in hybrid SUV competition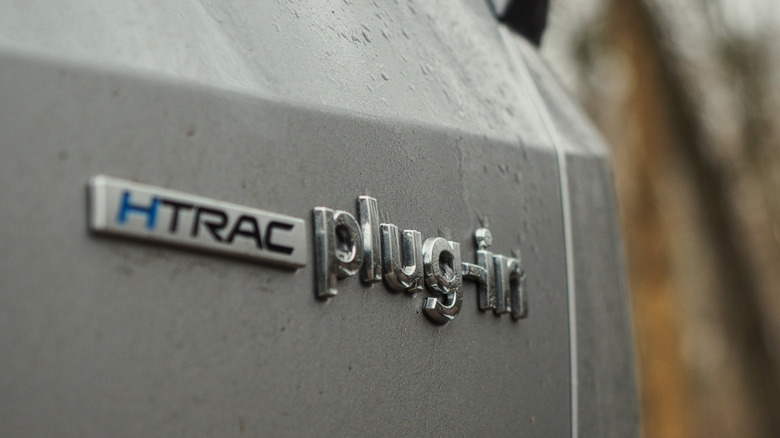 Chris Davies/SlashGear
Plug-in hybrids are often cited as a good stepping stone to electrification, particularly for those who might want the environmental and economical benefits of an EV but can't quite do without the convenience and flexibility of gas engines yet. Saying that, though, the shortlist of options there — particularly if you want a crossover — is surprisingly, well, short.
Toyota's RAV4 Prime is probably the most obvious alternative, with — at 42 miles — more electric range than the Tucson PHEV, and considerably more horsepower, too. It's more expensive, though, needs a battery charge for the all-wheel drive to work as expected, and doesn't have the same healthy equipment sheet as the Hyundai.
What might flip the script is the upcoming 2023 Mitsubishi Outlander PHEV. Priced just under $40k (before destination) it'll have seating for up to seven, DC fast charging support, and 38 miles of electric-only range.
2022 Hyundai Tucson PHEV Verdict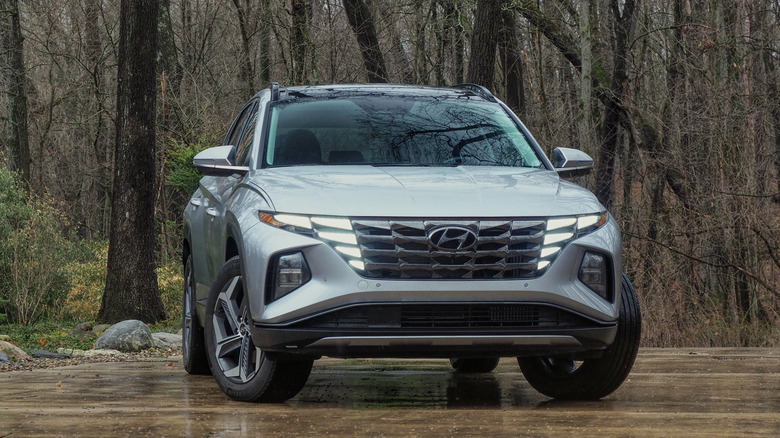 Chris Davies/SlashGear
Good as the RAV4 Prime may be, and as promising as the upcoming Outlander PHEV is shaping up, it's tough not to be charmed by what Hyundai is offering here. While it may only seat five at most, it feels like an admirably complete package overall. Generously specified, laden with active safety features, and — perhaps most important — requiring little in the way of overthinking when it comes to managing the gas and electric elements of the drivetrain.
If the idea of an electric vehicle has put you off because of the complexity, that straightforwardness could be a big deal. If my pick of the regular Tucson was the SEL AWD with the Convenience package, at $32,145 including destination, then the $4,500 for a similarly-equipped Tucson PHEV SEL AWD at $36,625 all-in feels like a reasonable premium for the extra performance and EV flexibility.