2022 Hyundai Tucson Review: Compact SUV Goes All-In On Features And Style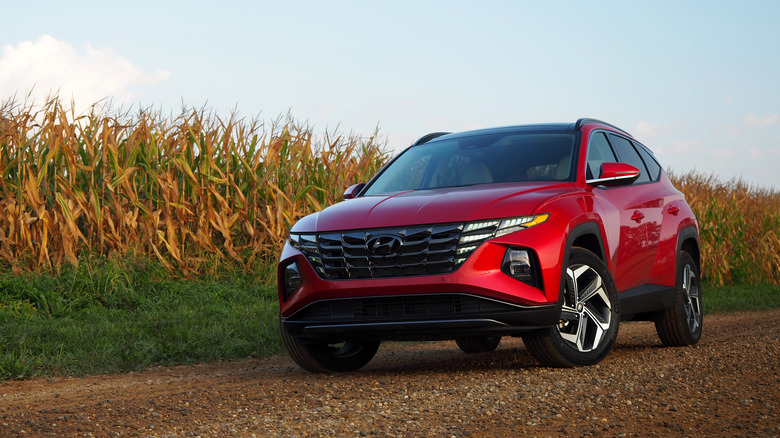 Chris Davies/SlashGear
If it's reasonable to suggest that the compact SUV segment is fiercely competitive, then it's equally reasonable to laud Hyundai for making the 2022 Tucson so impressive. Now in its fourth generation, the automaker's best-selling SUV has evolved dramatically from the unmemorable design of its predecessors, but just as important it hasn't forgotten the other reasons drivers choose a vehicle in this segment.
Style turns heads, after all, but it's practicality, comfort, economy, and driving dynamics which make a handsome SUV into a great long-term experience. Strong value for money doesn't hurt, either, and with the 2022 Tucson kicking off at $25,500 (plus $1,185 destination) Hyundai makes an aggressive play out of the gate.
Admittedly that only gets you the Tucson in front-wheel drive form, but all-wheel drive is an affordable $1,500 upgrade for those who insist on the extra traction. Either way there's a 2.5-liter four-cylinder gas engine and an 8-speed automatic transmission. Hyundai does, however, have both a Tucson Hybrid and a Tucson Plug-In Hybrid, both with standard AWD, and priced from $29,350. The latter offers up to 33 miles of all-electric range and up to $6,253 in US federal tax credits, which certainly sweetens the $34,900 sticker price. Problem is, just like the well-received Ioniq 5 all-electric SUV, Hyundai is only selling the plug-in hybrid in a small number of US states. 
An SUV style statement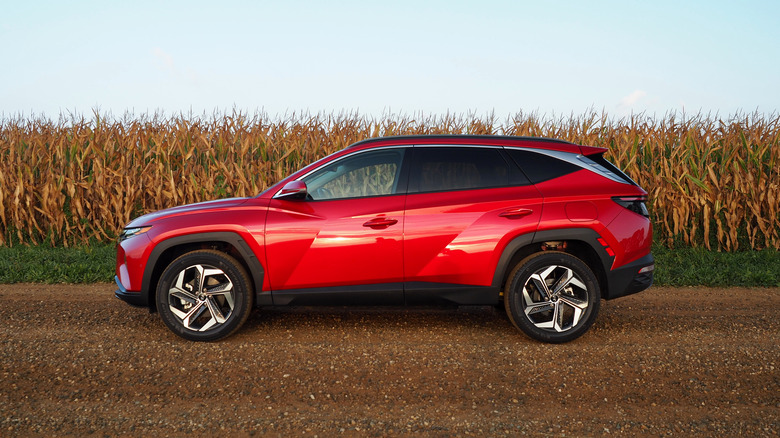 Chris Davies/SlashGear
Whichever of the three you opt for, you're making a statement in style. Previewed by the striking Hyundai Vision T Concept at the 2019 Los Angeles Auto Show, the Tucson is a perfect example of the automaker's near-pitch-perfect design language of the moment. It's a pleasing blend of curves and creases, with the side treatment such a particularly mesmerizing interplay of angles that it's tough to imagine being feasible on a mass-market SUV only a few years ago.
The front has Hyundai's distinctive multi-segment grille, which integrates the daytime running lights in upper trims. The headlamps stretch into the muscular front fenders which feature practical plastic cladding. At the rear, there are hints of Mustang Mach-E in the toothy taillamp clusters, while a judicious application of chrome helps visually lower the roofline.
The end result — complete with the 19-inch alloy wheels on this 2022 Tucson Limited AWD, upgrades from the standard 17-inch versions on the SE trim — is punchy from every angle. I'd argue it's far more appealing than the new Kia Sportage with which it shares a platform, too. The Mazda-rivaling "Calypso Red" paint is an affordable $400; it's one of two brighter finishes — the other "Intense Blue" – in Hyundai's otherwise sober line-up of predominantly grays and silvers. 
Great value for money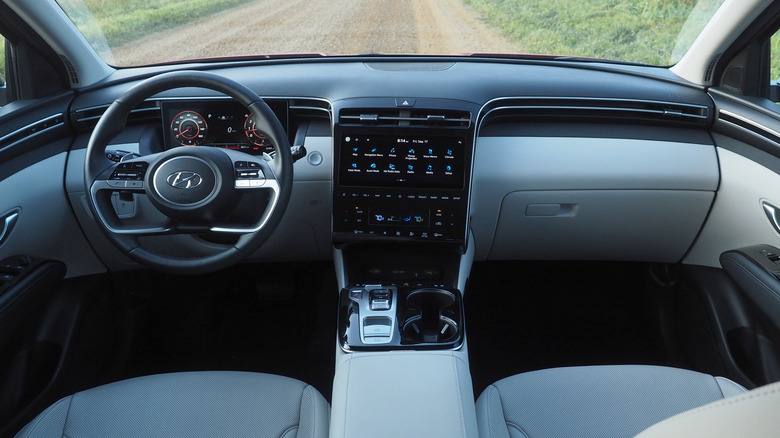 Chris Davies/SlashGear
Hyundai's value strategy continues to satisfy. It's hard to turn your nose up at the 5 year/60,000 mile warranty (or, for that matter, the 10 year/100,000 mile powertrain warranty, or the 3 year/36,000 mile complementary maintenance), but the Tucson's healthy equipment levels don't disappoint either. The entry-level SE trim gets wireless Android Auto and Apple CarPlay on an 8-inch touchscreen, cloth seats, dual front USB ports, cruise control, lane-keeping and lane-following assistance, and forward collision-avoidance assist with pedestrian detection.
Step up to the $26,800 SEL, however, and blind-spot assist, rear cross-traffic assist, and safe-exit warnings become standard, along with LED taillights, heated side mirrors, rear privacy glass, a power sunroof, and proximity key with push-button start. Hyundai also throws in a power driver seat, heated front seats, Sirius XM, Bluelink connected car services, two more USB ports in the rear, and adaptive cruise control.
By the time you reach this 2022 Tucson Limited AWD trim, things feel positively lavish — despite the $36,200 (plus destination) sticker. Leather seats with driver's side memory and ventilation for the front row, a leather steering wheel, a power auto-opening liftgate, panoramic sunroof, 10.25-inch digital instrument cluster, wireless phone charger, LED ambient lighting, dual-zone automatic climate control, and a Bose premium audio system are all included.
Active safety tech which delivers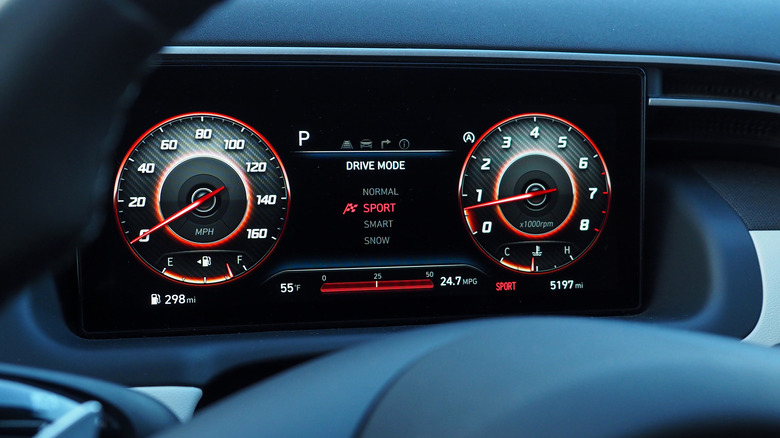 Chris Davies/SlashGear
It also ramps up on active safety tech. Parking distance sensors front and rear are standard on Limited trim, along with reverse collision-avoidance assist, a 360-degree camera, video beamed to the dashboard from the side cameras when you indicate to change lanes, and navigation-based smart cruise control that adjusts speed according to upcoming corners. Hyundai's Remote Smart Park Assist – which allows you to pull the car in and out of snug parking spaces from the key fob – is included, too, though still feels a little like a gimmick.
Far more impressive is Highway Driving Assist, Hyundai's hands-on driver-assistance system. No, it doesn't turn the Tucson into an autonomous car, but it does an unexpectedly good job at smoothly keeping the SUV in its lane. It also works off highways just as well, I've found, and is one of those rare systems which actually delivers on its promise to reduce a little of the mental workload at the wheel.
A $2,600 Convenience Package adds a lot of the gadgetry niceties of the Limited trim to the SEL, while a $1,700 Premium Package includes upgrades like leather upholstery, ventilated front seats, and the Bose audio system.
Adequate power, but not eager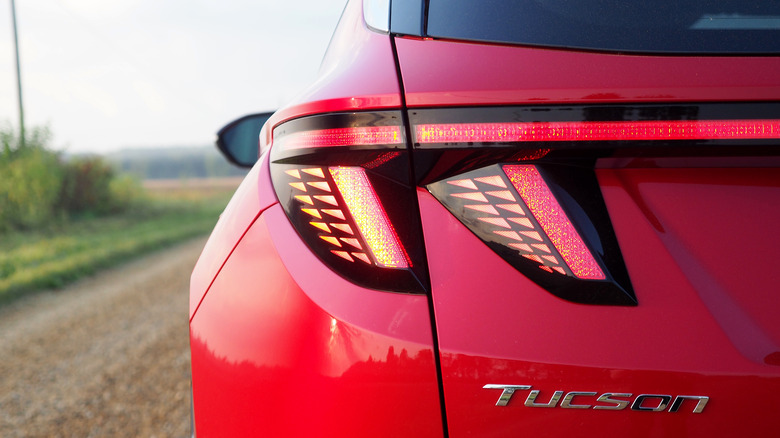 Chris Davies/SlashGear
Regardless of trim, the 2.5-liter gas engine brings 187 horsepower and 178 lb-ft of torque to the party. That's lower than what you get from the Tucson Hybrid or PHEV, and slightly lower than the 2.5L in the Santa Cruz, Hyundai's pickup version of the SUV. There's also no way to upgrade to the far more pleasing 2.5-liter Turbo engine, that Santa Cruz buyers can opt for.
As a result, the 2022 Tucson feels adequate but not especially eager. Certainly, power levels feel ample for day to day driving, and the non-turbo four-cylinder never felt breathless on the highway; the standard 8-speed transmission prefers leisurely, smooth shifts rather than quickly downshifting in the name of power. Eager drivers might want to consider its electrified siblings: the Tucson Hybrid has 226 horsepower on tap, which the Tucson PHEV kicks that up to 261 horsepower.
Better, then, to settle in and enjoy the Tucson's surprising degree of ride refinement. There's no trick adaptive suspension here, regardless of the drive mode you switch to, but the compact SUV still manages to feel planted and polished even on more unruly asphalt. Slap a Genesis badge on the wheel and you'd happily accept this is the sort of handling and dialed-in dynamics that comes with a model from Hyundai's vaunted luxury arm.
A dashboard with a learning curve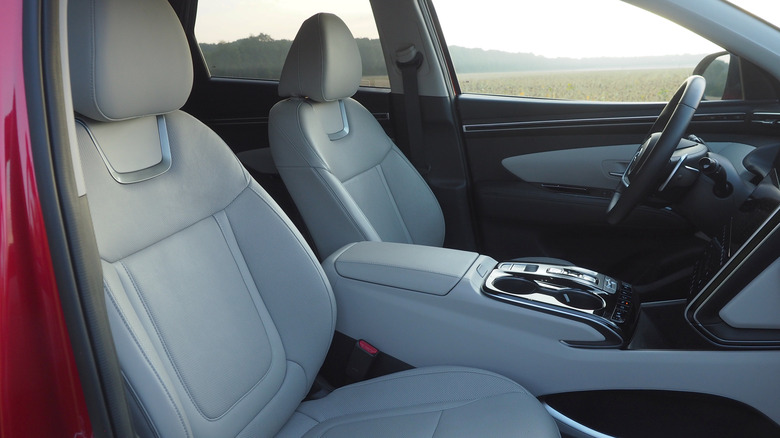 Chris Davies/SlashGear
The same goes for the general accommodations. There's plenty of room inside, both for people and cargo. The latter delivers 41.2 cu-ft with the 60/40 split rear bench up, extending to a capacious 80.3 cu-ft with it folded down. Hyundai quotes up to 2,000 pounds of towing capacity, too.
The Tucson's high-end infotainment system takes a little getting used to, and the absence of physical buttons that lower trims have on the center stack plays a not-insignificant part in that. As well as being a fingerprint and dust magnet, the various touch-sensitive keys for the HVAC system, adjusting volume, and navigating sections of the infotainment aren't conducive to tapping without looking down first. Even just some etchings to better outline each button would be a vast improvement.
It's not the only oddity. Unlike the lower-trims, Tucson models with the larger touchscreen revert back to wired Apple CarPlay and Android Auto. That's something we've seen on other Hyundai Group cars, and remains a head-scratcher — especially since it's only on those more expensive models where you get a wireless charging pad, too.
2022 Tucson vs compact SUV rivals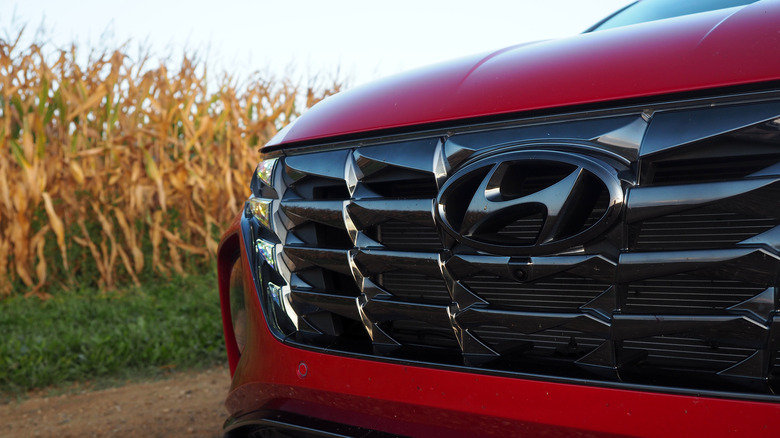 Chris Davies/SlashGear
Overall, though, there's plenty to like here, whether you're in the comfortable and supportive front seats or the reclining rear. The 24 mpg city, 29 mpg highway, and 26 mpg combined EPA fuel economy figures proved accurate, too. In my own, mixed driving I saw just short of 25 mpg.
That compares reasonably well with the Tucson's primary rivals. Mazda's CX-5 AWD rewards more from behind the wheel, but it's more expensive; Volkswagen's Tiguan 4Motion has more power from its turbo engine, but lower economy. Arguably the most obvious pick is Honda's perennially-popular CR-V, which has a more frugal 1.5-liter turbo engine, though the Hyundai has more tech and feels a little more refined.
It's that balance which leaves the 2022 Tucson feeling like such a wildcard in the segment. Were it my money, I'd skip the Limited and opt for an SEL AWD with the Convenience package. That would grab most of the cabin niceties, and still come in at $32,145 including destination. Of course, I'd also be looking more than a little longingly across the aisle at the excellent Santa Cruz. What stands out, then, is just how compelling both Hyundai's compact SUV and its compact pickup options are. Though both face big-name competition, the blend of practicality and features make them compelling alternatives to the status-quo.