Twitter Is Auctioning More Than 600 Items From Its SF Headquarters Including Pizza Ovens And Kegerators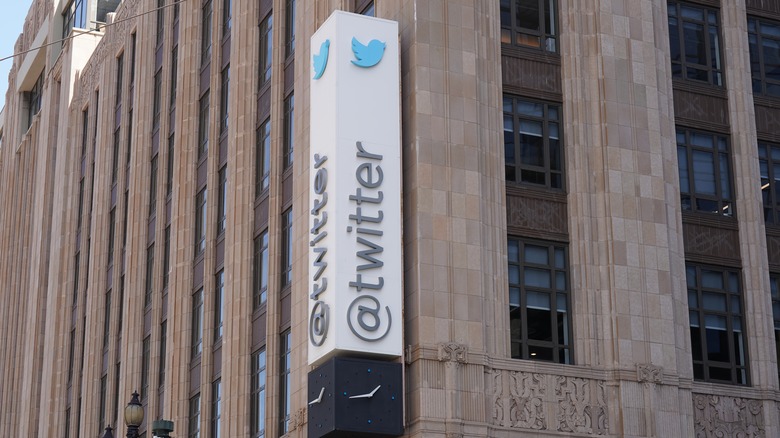 Phil Pasquini/Shutterstock
Things haven't been going smoothly at Twitter lately. From massive layoffs and terrible product decisions to evictions for non-payment of rent, Twitter isn't living its best days under CEO Elon Musk. The latest addition to the unpredictable Twitter saga is auctions of office gear, which includes everything from coffee machines to a giant neon-lit Twitter bird logo. Heritage Global Partners has currently listed "Twitter: Online Auction Sale Featuring Surplus Corporate Office Assets of Twitter" on its website, and it has it all, from boring divider boards to some cool decor items.
To start, some very rich soul has actually placed a bid worth $35,000 for the giant neon Twitter bird logo, while a sculptured planter shaped like an "@" has a $13,000 bid on it. A solid Twitter bird statue is listed for a staggering $32,000, which is absolutely mind-warping to me. On a serious note, if you are looking to build a well-specced workspace, you can get everything from storage and electronic gizmos to full-fledged sound-proof conference and phone booths, borrowed straight from the chill days at Twitter. Some of the computing deals, however, are downright terrible.
This is some restaurant-grade kitchen gear
As part of the auction, the 27-inch iMac is listed for $1,400, which is a bad deal because you can get the M1-powered iMac for a couple of hundred dollars cheaper right now. However, it was the kitchen gear that really caught my attention. I went through all 11 pages of auction items from Twitter and couldn't help but feel that you can start a fancy restaurant with great decor using just the items Twitter is offloading from its offices. Some of the chairs and tables I came across are really, really eye-catching.
There are several espresso machines of various shapes and make, with some of them going for as high as $13,000. Looks like one of Twitter's employee perks was refined coffee, to go with items that need a rotisserie and giant ovens, all of which are also up for bidding for over $8,000. Refrigerators, dehydrators, ice-making machines, pizza prep tables, electric smokers, fryers, griddles, kegerators, slicers, and broilers are just some of the Twitter kitchen memorabilia you can snag right now. On the corporate side of things, Musk has drastically trimmed the employee perks, from laundry to travel allowances, and has apparently ignored toilet maintenance, too.