Apple iMac 24-Inch Review: The Right Mac For Most People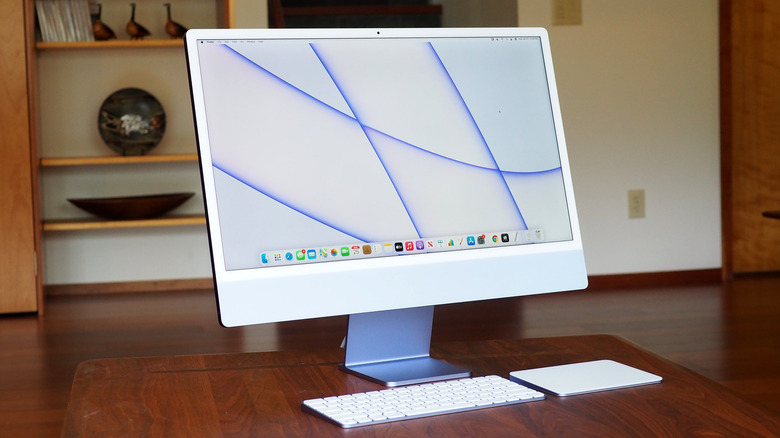 Chris Davies/SlashGear
Little illustrates the wide potential of Apple Silicon like the iMac 24. Apple's homegrown chipset now runs the gamut from fanless frugality in super-skinny designs, through to hyper-potent iterations sufficient to give Intel and AMD sleepless nights. Compared to the old iMac, the bowed back of which always hinted at chunky components the Cupertino designers did their very best to hide, this new version of the all-in-one has no such embarrassing angles.
The best view is from the front, though, since that's where the 24-inch Retina display is. It's a 4.5K panel (4480 x 2520 resolution) with P3 wide color support and 500 nits of brightness. Not the most eye-searing screen out there, no, but it's unlikely to face the same direct sunlight issues as a MacBook might.
Apple's True Tone technology remains one of those things you don't want to go without once you've experienced it, automatically adjusting the color temperature of the display according to the ambient lighting conditions in the room. And while there are certainly larger monitors out there — with the iMac 24 capable of driving one external display at up to 6K/60Hz — this 24-inch panel feels nicely scaled for leaving out without it dominating a room, such as on a kitchen counter.
Wait, where's the rest?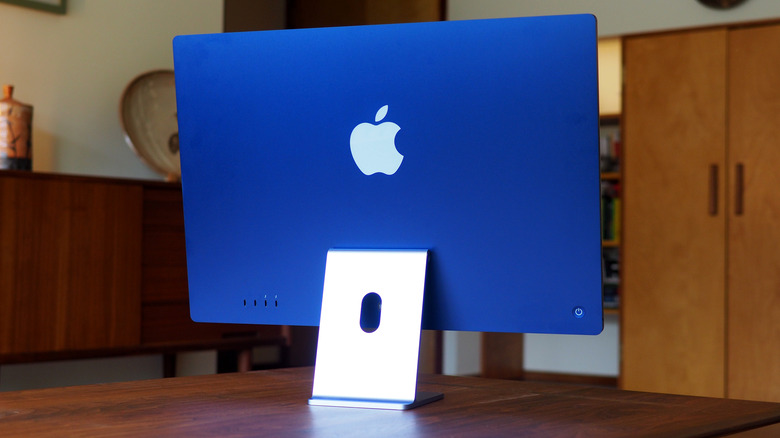 Chris Davies/SlashGear
At first glance, you'd be forgiven for wondering if Apple has sold you a display rather than a full computer. The iMac 24 stands 18.1 inches tall and 5.8 inches deep, but the screen itself is a mere 11.5 mm thick. That's less than two iPhone 13 Pro stacked one atop the other.
The stand is the default option, with a tilt-adjustable hinge though no height adjustment. If you'd rather use your own stand for that — or mount the iMac on the wall — Apple has a VESA mount version. That doesn't actually save you any money, but it does get you the standard four-screw mounting plate.
Apple's design is admirably restrained. The screen surround is white, and then there are a total of seven color finishes — blue, green, punk, silver, yellow, orange, and purple — each with two tones used for the iMac's chin, edges, stand, and rear panel. An Apple logo is on the back, but nowhere else. While it's fairly light, at 9.88 pounds, actually transporting it is a little trickier than you might think, as there's no carrying handle.
A tale of two iMacs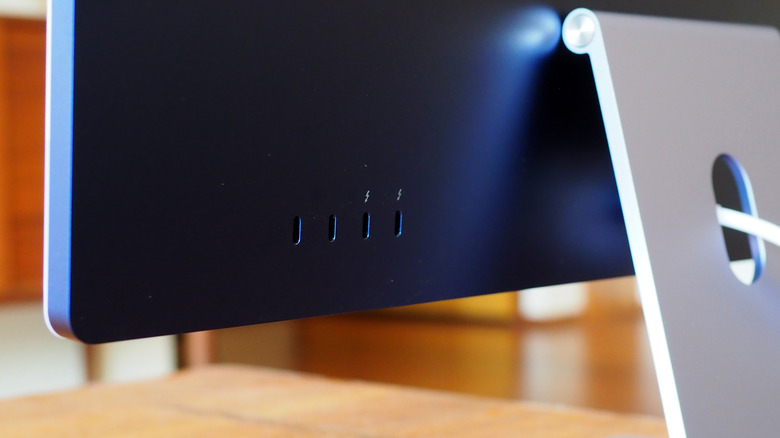 Chris Davies/SlashGear
While the iMac 24 lineup kicks off at $1,299, I can't really recommend that version so enthusiastically. It all comes down to ports.
Apple's base configuration has a version of the Apple M1 chip with an 8-core CPU and 7-core GPU, paired with 256GB of storage and 8GB of unified memory. On the back there are just two ports: both Thunderbolt / USB 4. A 3.5mm headphone jack is on the side, while the custom power cable plugs in through a hole in the stand. No SD card slot, no USB Type-A, so get used to living the dongle lifestyle. 
Maybe, if you embrace wireless peripherals, you can live with just two USB-C. I suspect many will find that leads to a lot of plugging and unplugging, though. Apple does have a version of the iMac 24 with two extra USB 3 ports on the back too, but that starts at $1,499. It comes with the same storage and memory, but an 8-core GPU, and a clever power adapter with a built-in gigabit ethernet port that the cheaper version misses out on.
For most people considering the iMac 24, I doubt the extra GPU core will make all that much of a difference day to day. This is never going to be a gaming machine, after all, and those looking to do more than the very basics of video editing in iMovie will probably be looking to more potent Macs. It really comes down to avoiding the frustration of having to juggle wired peripherals or have a potentially ugly USB hub dangling off the back of your sleek all-in-one.
Everyday performance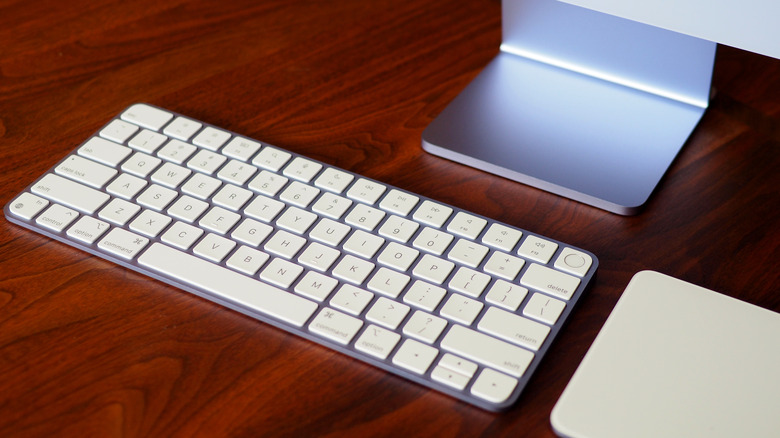 Chris Davies/SlashGear
There is, just as with the other Apple M1-based Macs we've tested, no shortage of power if you're browsing, writing email, working on documents, watching videos, and the like. Storage and memory are the primary limiting factors for ambitious video editors: you can have up to 2TB of SSD and up to 16GB of unified memory (which Apple Silicon shares dynamically for CPU and GPU purposes) but those options get very expensive. Max out both — which you'll have to when you order it, as nothing in the iMac 24 is user-upgradable — and you're looking at $2,499, and I'm not sure everyday users really need all that.
Don't read "everyday" as a slight, however. What makes the iMac 24 so rewarding is that things just work like they're meant to. The 1080p webcam is crisp and doesn't turn into a mess in low-light conditions. The microphone array is actually good enough that you can skip a dedicated headset for video calls, and the speakers punch above their weight given the relatively small amount of space they have to work with.
Then there's Touch ID, which is standard on the keyboard Apple includes with the $1,499 iMac and above. It's another reason that it's well worth the step up from the base configuration: once you've signed into website accounts and authorized Apple Pay payments with your fingertip, you won't want to go back to typing in a password again.
This isn't a fanless design, but the times you'll actually hear the fans spin up are few and far between. I had to coax them into showing themselves in action with some continuous 4K exports in Final Cut Pro. Even then, it was a far cry from the boisterous thrum of previous, Intel-powered iMac models.
There are a few budget Mac options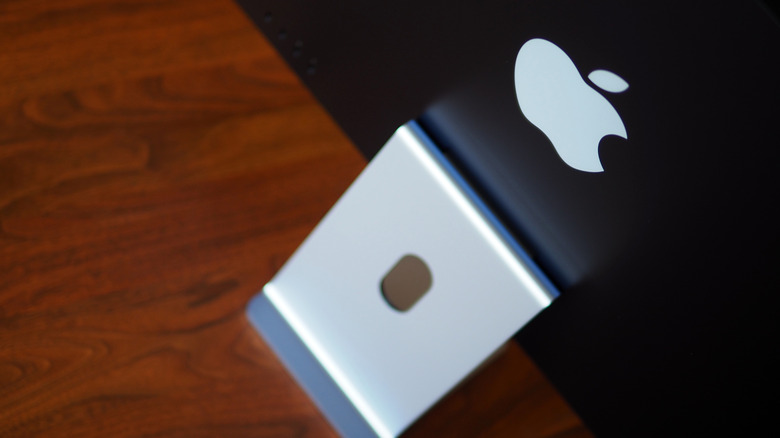 Chris Davies/SlashGear
There are, undoubtedly, cheaper ways to put a new Mac on your desktop. Apple's Mac mini, for example, starts at $699 and remains a great way to get into macOS. You'll need to supply the display yourself, mind, along with the peripherals, though the fact that there's a standard HDMI port along with DisplayPort support over Thunderbolt 3 does at least mean you're not required to buy Apple's own $1,599 Studio Display.
Alternatively, there's the MacBook Air. That starts at $999, and since it's a laptop you get the display and peripherals built-in. It does limit you to a mere 13.3-inch screen, however, compared to the 24-inch iMac, though the upside is portability and the ability to roam away from an outlet.
Much in the same vein, there are more potent versions of Apple Silicon out there, if you have the budget for them. For those who need to roam, the latest MacBook Pro can be had with a screaming-fast M1 Max chipset: it's incredibly quick, albeit probably overkill for most regular users. The same goes for the Mac Studio, which starts at $1,999 and delivers performance to make a Mac Pro blush.
The best Mac for the most people (for now)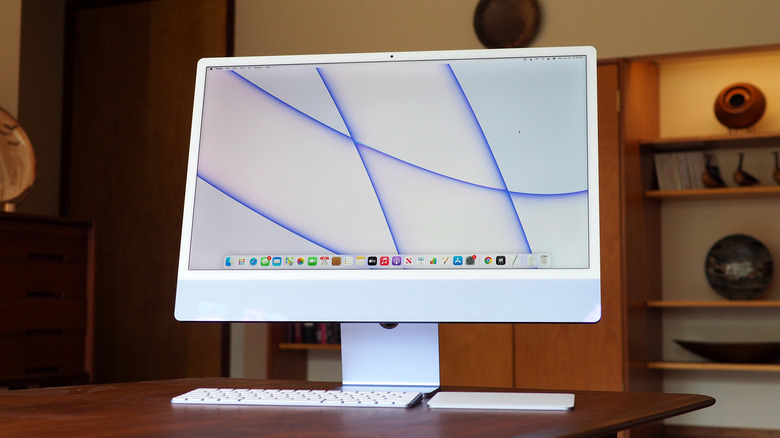 Chris Davies/SlashGear
It can be hard to predict how something will hold up, once the sheen of the new wears off. Apple's old iMac was a tried-and-true design: I held off reviewing this wholesale reinvention of it, to see if the iMac 24 and Apple Silicon could live up to that legacy even once the "box fresh" smell faded after several months. The good news is that yes, it truly can.
There are some people, certainly, for whom the latest iMac won't be the right fit. Those on a significant budget, for instance, or those looking for more performance for video, audio, and image editing. It's not to say the iMac 24 can't do them, just that your workflow will be more constrained than it would be with, say, a Mac Studio. If your kids are just doing some iMovie projects for a school class, though, you'll be fine.
Apple's promises for its in-house chip design were impressive, and it's equally impressive just how well the iMac 24 holds up to those commitments. At the same time, I'm also excited to see how Apple's history of delivering a long line of software upgrades for its iOS and iPadOS models translates over to Apple Silicon Macs, too. It feels a little easier to stomach paying $1,500 for an iMac if you're also buying into years of macOS updates.
It's that feeling of buying not just a computer but a whole package that stands out, here. Apple's iMac 24 isn't cheap, and it isn't perfect, but it's stylishly cohesive in a way rival Windows PCs can't quite match up to. Though stronger versions of Apple Silicon are on the way, there's a lot to be said for today's iMac experience that just works.