The 15 Most Fuel Efficient Cars You Can Buy In 2023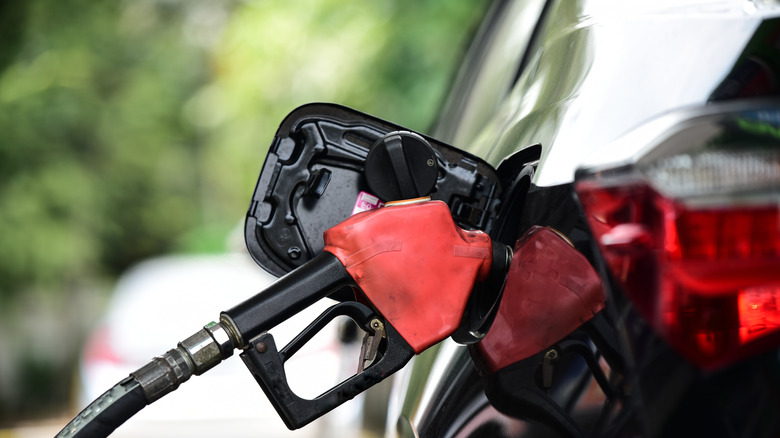 CHAI UM-IM/Shutterstock
Cars serve a number of purposes. Some people like vehicles that can transport a large number of items. Others like something that can haul heavy things like trailers. Then there is the off-road crowd and the petrol heads that just crave raw speed. However, if you want something the majority of people look for in a vehicle, you have to think of fuel economy. Gas is still pretty expensive, and with other costs rising, too, saving a few dollars at the pump can make a huge difference. To make things easier, we've gathered a list of the most economical cars on the market this year. It is worth noting that the rankings are based on EPA estimates, and your actual fuel economy depends on many things including your driving style.
Unlike last year, every single car on this list is a hybrid. This may reflect the changing times and the direction the automotive industry has been heading in for a while. We've hit a point where even ultra-compact vehicles with tiny, efficient engines just can't compete with hybrids when it comes to fuel economy. But like last year, we've decided to leave both electric vehicles and plug-in hybrids out. Electric vehicles don't require fuel, and if your day involves nothing but short trips, you could in theory get unlimited miles per gallon from a plug-in. Some of the cars on our list may have a plug-in hybrid version, but we're judging them on their regular hybrid versions.
15. 2023 Hyundai Tucson Hybrid Blue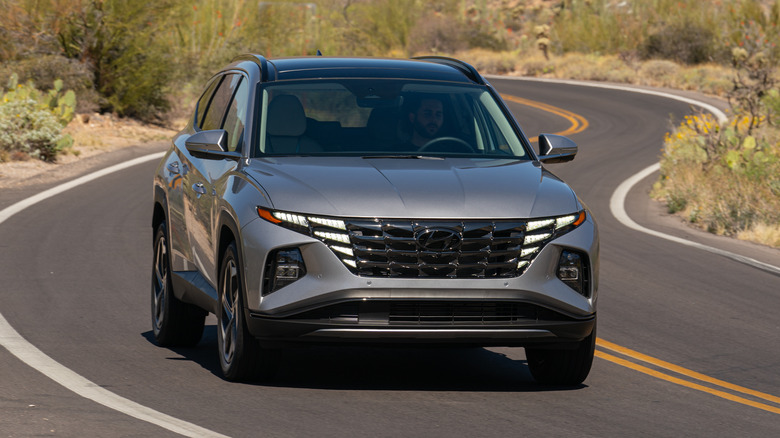 Hyundai
Coming in at 15th on the list with a still-impressive average fuel consumption of 38 mpg is the 2023 Hyundai Tucson Hybrid Blue. The combined average of 38 miles per gallon may be the easiest piece of math the EPA has had to do in a while, as the Tuscon Hybrid Blue does both 38 mpg in the city and on the highway. You can pick up the basic version of the hybrid SUV starting at $30,900, but SEL Convenience and Limited trims are also available if you have a bit more room in your budget.
The combined power output of the engine and motor is a fairly meager 59 horsepower, so you're unlikely to be going anywhere fast in the Tucson. Despite the lack of power, the amount of cargo volume in the vehicle is somewhat of a redeeming feature. With the seats up, you'll have a very handy 38.7 cubic feet of space to pack things into. Folding the seats down bumps this up to 74.5. So you're not going to set any land speed records, but there is still a good degree of utility in the 2023 Hyundai Tucson Hybrid Blue to go along with its fuel economy.
14. 2023 Toyota Venza AWD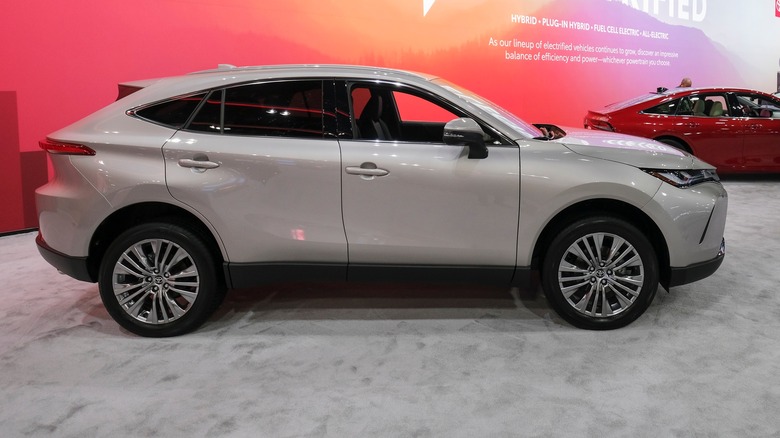 Ringo Chiu/Shutterstock
The 14th — or more accurately said the joint-11th — most fuel-efficient car of the year is the 2023 Toyota Venza AWD. The original Venza disappeared around 2015, but the model was revived as a new line of Toyota hybrids back in 2021. These days it's essentially just a fancier version of Toyota's other hybrid SUV, the RAV 4. Prices start at $34,120 (via Toyota), which puts the Venza firmly into the mid-range category. 
For your money, Toyota promises "an uncompromising drive that brings style and tech to the next level." Three trims are available: the standard "LE" model, the "limited" model, and the "Nightshade Edition." However, no matter which edition you opt for, you're getting the same deal under the hood.
All three vehicles have an output of 118 horsepower at the front and 54 at the rear, combining for a total of 172 horsepower. The fuel economy also remains the same. You can expect 40 mpg in the city and 37 mpg on the highway for an average of 39 mpg combined (via EPA). The "premium interior" has room for five passengers most of the time. The 60/40 rear seats mean that number might drop to four, three, or two depending on how many of the rear seats you choose to fold down when transporting something.
13. 2023 Lexus NX 350h AWD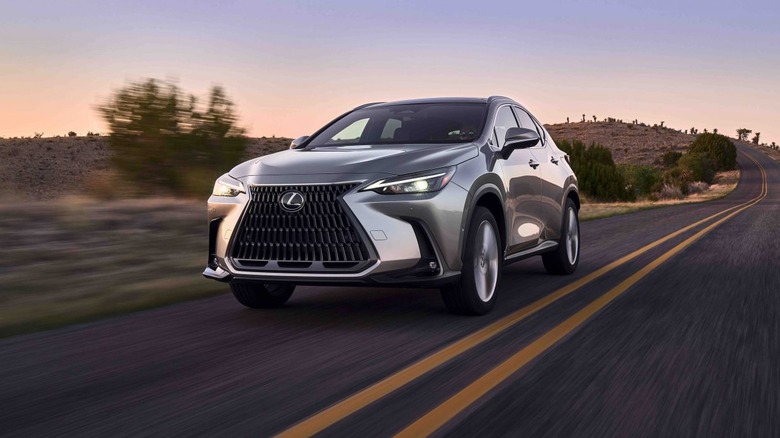 Lexus
You can grab the most basic version of the Lexus NX 350h AWD for $43,105, which puts it smack bang in the mid-range even though Lexus describes it as a "five-passenger luxury crossover." That said, Lexus does produce beautiful, high-quality, cars so you're likely to get a very nice vehicle for the money. If you really want to push the premium angle, a luxury package is available for $7,450. This package includes all of the extras you get in the cheaper premium package like heated seats, a moon roof, and a power rear door — along with some luxury extras. 
Those extras include a 14-inch multimedia touchscreen display, 20" alloy wheels, and a "perforated leather–trimmed interior with unique chevron seat quilting," according to the automaker. All of the useful stuff like parking assist comes with the $3,050 premium package though, so it may make sense to stick with that unless quilted seats are really your thing.
In terms of mileage, the model's 41 mpg in the city could potentially make the Lexus NX 350h AWD a better choice for urbanites — even though the 37 mpg rating on the highway is still incredibly economical (via EPA). Especially for a vehicle that has a 2.5 liter, four-cylinder engine capable of producing 240 horsepower (after the electric motor's contribution) and getting the vehicle from 0 to 60 in just over seven seconds.
12. 2023 Ford Escape FWD HEV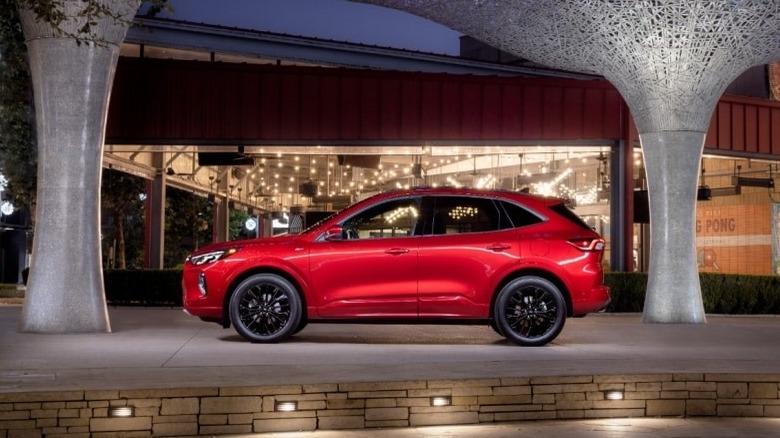 Ford
The Ford Escape featured on last year's list and crops up on this one in exactly the same position; the fuel economy may be slightly worse than last year's model, though. While Ford has yet to put fuel economy measurements on its website, the EPA claims that the 2023 Ford Escape FWD HEV will average 39 mpg. That's 42 mpg in the city and 36 mpg on the highway, according to the agency. Last year's model was capable of 27 mpg on a highway and an average of 44 mpg while driving through cities.
EPA estimates can occasionally change, but it does seem like the truly fuel-conscious amongst us may be better off with the 2022 edition — especially if you do a significant amount of your driving in metropolitan areas. If we were to dump the 2022 model in this list, it would be a clear 12th and not share the honors with the Lexus NX 350h and Toyota Venza. You could also argue that the other two in 12th place are better options, offering the same miles per gallon while also being AWD. 
AWD is available on the Ford Escape, but it's an optional extra. While there might be a slight difference in MPG, there is an opportunity to save thousands of dollars on the lot. The 2023 Ford Escape is significantly cheaper than its rivals, starting from $27,500. If your heart is set on a 2023 Escape but you really want to make your gas go further, a plug-in version is also available.
11. 2023 Toyota Rav4 Hybrid AWD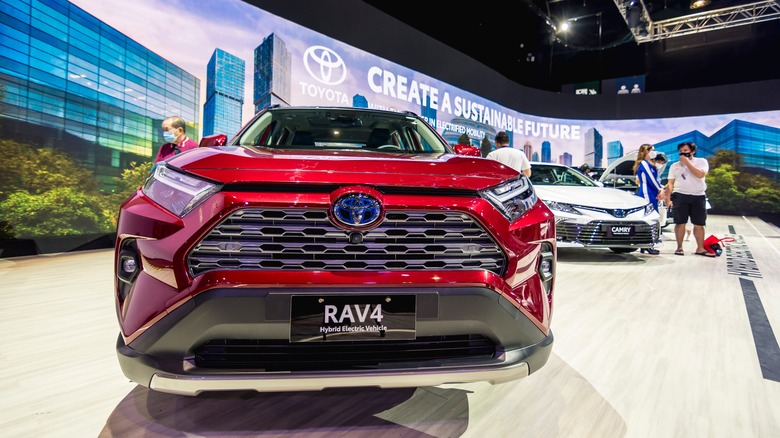 MDV Edwards/Shutterstock
Toyota's Rav4 Hybrid also makes the list for the second year running and has seen a significant improvement in terms of placement. The model placed 14th in last year's list and is now joint 11th. There is more to the Rav4's jump up the list than meets the eye though, and you could argue it's more to do with the current market than Toyota's engineering prowess. At an average of 40 mpg combined (via EPA), the 2023 edition of the Rav4 has the same fuel economy as its predecessor. While the other vehicles on the list got a bit less economical, the Rav4 didn't get better — well, not in that department, anyway.
The Rav4 starts at just $30,725, and that money will also land you all kinds of features — including an audio system from JBL, and access to Toyota's brilliant suite of driver assistance tools. SafetySense includes radar-guided cruise control, a pre-collision system capable of detecting pedestrians, and automatic high beams amongst other things. A regular, gas-powered version is on the market for around $3,000 less, but the fuel economy is nowhere near as good. The standard hybrid comes with a 2.5-liter, four-cylinder, engine. In terms of specs, not much has changed since 2022 on the standard version — including the 1,750-pound towing capacity.
10. 2023 Honda CRV Hybrid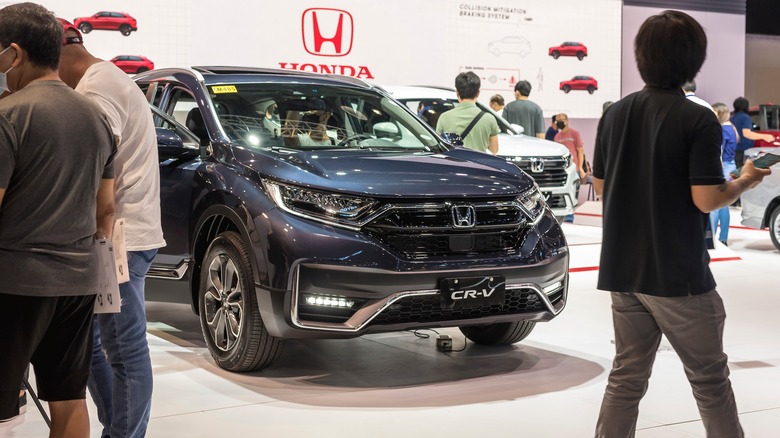 MDV Edwards/Shutterstock
In joint 10th place is another SUV, which demonstrates a few things: not only is there an impressive variety of hybrids these days, but there is also variety in that variety. If you want all the benefits of an SUV without worrying about bankrupting yourself every time you pull up to a gas station, there are a lot of options. One of those is the hybrid version of Honda's long-running CRV range. The 2023 version actually received some pretty big updates, alongside some useful throwbacks. 
The tech in the vehicle has been brought up to scratch, with things like Android Auto, Apple Car Play, and a nice touchscreen display to control it all making an appearance. There are also plenty of switches and knobs on offer if you prefer your controls to be a touch more old-school. Another old-school feature is the fact you can actually see out of the vehicle. Visibility wasn't great while driving CRVs for a while, but that's been fixed this year.
Under the hood, you have a 1.5-liter, four-cylinder engine that's been turbocharged. Between that and the motor, you get around 204 horsepower, which is distributed evenly between the front and rear axles. The CRV can also produce 247 pound-foot of torque, which means you can tow a reasonable amount of things with it. In terms of fuel economy, the EPA says the Honda CRV Hybrid will get 43 mpg in the city and 36 mpg on the highway for a combined average of 40 mpg.
9. 2023 Toyota Crown AWD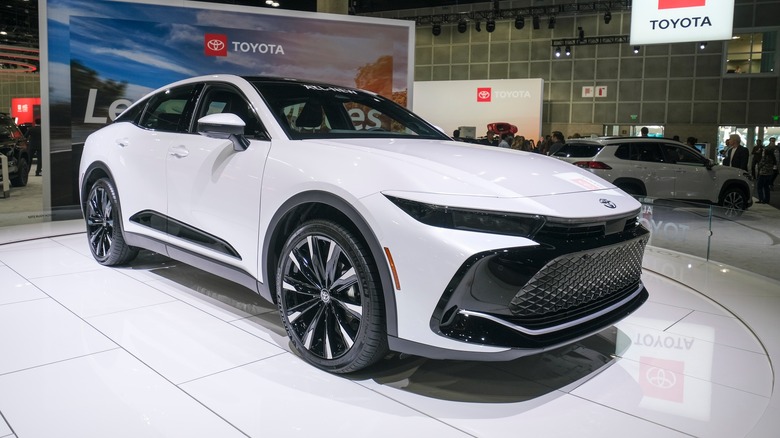 Ringo Chiu/Shutterstock
The Toyota Crown has returned to the U.S. market after a half-century-long absence. Ironically enough, the Crown disappeared from American soil in 1973, a time when a global oil crisis was causing fuel prices to skyrocket and manufacturers to rethink their engine design. Now, 50 years on, it's back and it's one of the most economical choices you can currently make without going fully electric. If you'd love to get a hybrid but the lack of power they tend to have is putting you off, the Toyota Crown may be the car for you.
The Platinum Edition of the vehicle is equipped with Toyota's Hybrid Max system, which is designed to get a bit more grunt out of the eco-friendly vehicles. You can get a hybrid Crown with a turbocharged 2.4-liter engine and the company's Hybrid Max system means you'll have an impressive 340 horsepower carting you around. So you can save money on gas and still avoid getting roasted at every stoplight by some gibbon in an Audi A6. 
The Toyota Crown also has all-wheel drive, which should pair nicely with the added torque the electric motors combine to give you a vehicle that is highly controllable in a variety of terrains and conditions. What about fuel economy? The 2023 Toyota Crown AWD will average around 41 mpg combined; that splits into 42 mpg in urban areas and 41 mpg on the highway. You get marginally better economy in the city, but it's pretty negligible — the 2023 Toyota Crown is a solid all-rounder.
8. 2023 Lexus UX 250h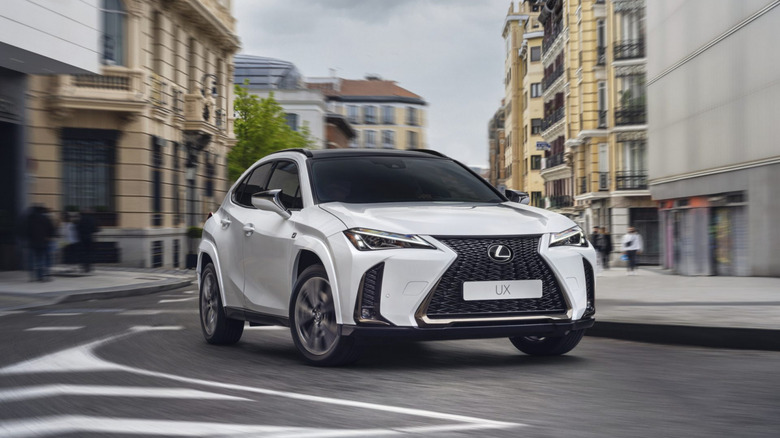 Lexus
The Lexus UX 250h is on the list again, but in a much-improved position after placing 13th last year. Lexus' hybrid SUV has broken into the top 10 after its fuel economy improved by an impressive 5%. As well as being more economical, it's also a fair bit cheaper than Lexus' other entry into this list. The front-wheel drive version of the UX 250h starts at $35,925, with an AWD version available for around $1,400 more. 
According to Lexus, the combined 42 mpg that the FWD version of the UX 250h is estimated at is the current "best in class." Of course, terms like best in class have to be taken with a pinch of salt — it's certainly not the last SUV on this list. The company's website claims that it is the best in class if you exclude plug-in hybrid SUVs, but we've done that too and the UX 250h is nowhere near. A bit of careful reading reveals that the class in question is "Luxury SUVs," which seems open to interpretation. The company also last checked the EPA's estimates last June.
Still, 42 mpg is nothing to be sniffed at, and that breaks down to 43 mpg in the city and 41 mpg on the highway. Another "class-leading" feature of the 2023 Lexus UX 250h is its turning circle. The car's turning radius is just 17.1 feet, which makes it an ideal choice for city driving when you consider the better mileage hybrids get in metropolitan environments.
7. 2023 Kia Sportage Hybrid FWD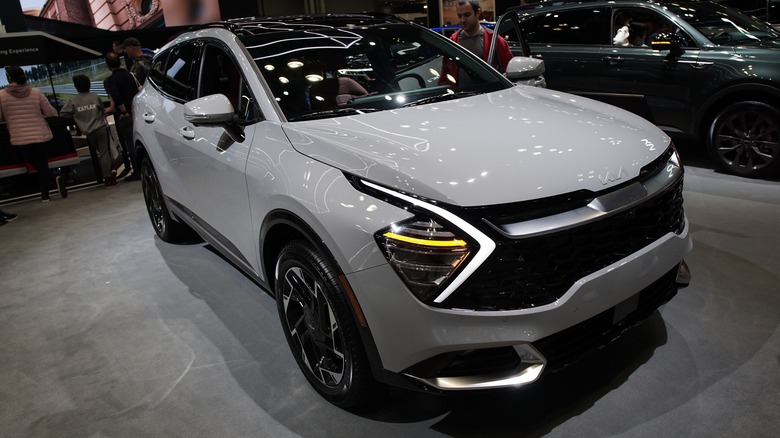 quiggyt4/Shutterstock
Next up we have a spacious Kia hybrid SUV that gets more than 42 mpg. The comfortable crossover has received praise for its fuel economy, which comes in at a combined 43 mpg for the front-wheel drive version. Choose a different setup and it could go either way. Adding all-wheel drive drops the fuel economy down to 39 mpg, which would drop it down into the large crowd sitting joint 11th on this list — some of which also have AWD. 
There's also a fairly decent plug-in version that can really stretch out the fuel economy but doesn't actually count. The Sportage is different from most other hybrids, too. It's more efficient on a highway, averaging 44 mpg there. Drive it around a city — an area hybrids are usually more efficient due to the energy regained from the constant braking — and the fuel economy drops to 42 mpg.
Beyond fuel efficiency, the 2023 Sportage Hybrid got a very solid review when SlashGear tested it last year. The interior was described as spacious and comfortable, boasting a likely class-leading 41.3 inches of rear legroom. If you get roped into helping friends move, the 39.5 cubic feet of space on offer should get the job done in fewer trips.
6. 2023 Lexus ES 300h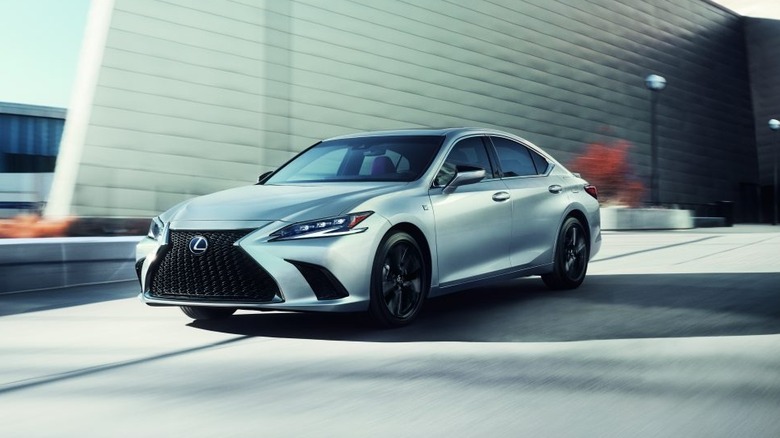 Lexus
Lexus' hybrid sedan grabs the number six spot on our list, with an average fuel economy of 44 mpg. That's broken down into 44 mpg on the highway, and 43 in the city. The ES 300h starts at $43,690, but opting for a few optional extras will quickly pump that up. The "Luxury," "Ultra Luxury," and Sport editions are also significantly more expensive. The Lexus ES boasts a new interface that is central to what the company describes as "the most advanced ES yet." 
Lexus says its new interface "provides seamless hands-free access to next-generation features like available Mark Levinson PurePlay Surround Sound with Clari-Fi." There are also features like a voice assistant, HUD, and wireless charging — along with things you'd expect like Apple Car Play and Android Auto. The Japanese company has dropped a fairly powerful 3.5-liter V6 into the F-Sport version of the vehicle, but if you're really concerned about fuel economy you should stick to the standard trim with its less demanding 2.5-liter inline-four.
5. 2023 Toyota Corolla Hybrid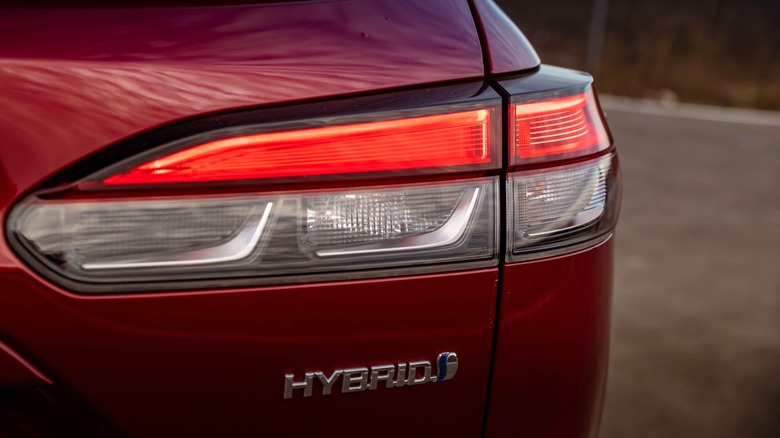 Gabriel Nica/Shutterstock
The Toyota Corolla is somewhat of a staple; it's got a reasonable cult following alongside its decades-long reputation for quality at a reasonable price. As of last year, over 50 million Corollas had been sold since the vehicle made its debut in the '60s. It may have dropped a spot in our fuel economy rankings since last year, but at a combined average of 50 miles per gallon, it is still one of the most mind-blowingly economical cars known to man.
The drop in the rankings comes alongside a dip in fuel economy when compared to the 2022 model. The 2023 Corolla will still do the same 53 mpg the 2022 version did when in the city, but on the highway, it has seen a significant drop-off. Where just last year the EPA was reporting it did 52 mpg on the open road, the 2023 Corolla only manages 46 mpg on the highway according to government estimates. Still very impressive, but only just enough to get the Corolla into our top 5. If the Corolla had the same highway fuel economy as last year, there's a chance it could have challenged for third place.
4. 2023 Toyota Camry Hybrid LE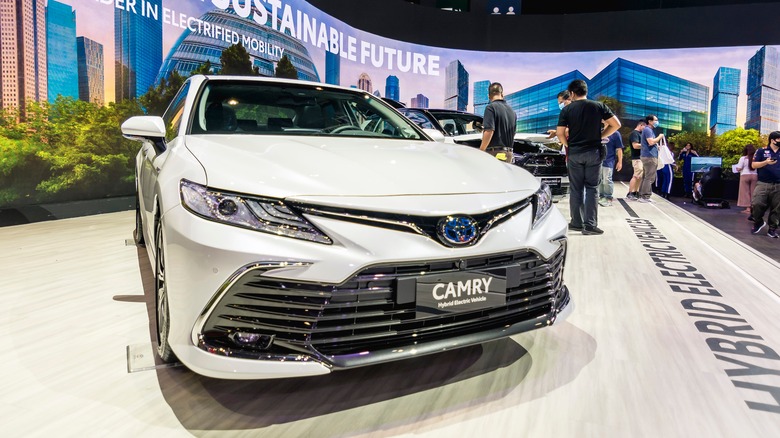 MDV Edwards/Shutterstock
Like its cousin the Corolla, the Camry is no stranger to our fuel economy top 15. Unlike the Corolla, the Camry has a much-improved showing this year, leaping three spots to take joint third spot from its more popular relative. Despite gaining a couple of places in the top 15, the Camry hasn't really shown any advancement in fuel economy terms. The 2023 Camry still offers the same combined 52 mpg the 2022 model offered. That number is again split between 51 mpg on the highway and a marginally more efficient 53 mpg in the city. 
As well as being one of the most economical options on this list, the Toyota Camry is also the cheapest. The hybrid version of the sedan, which is the economical one if you haven't guessed, starts at $28,355. Another thing the 2023 Camry has in common with its predecessor is the fact the cheapest trim also gets the best mileage; SE and Nightshade editions are also available, costing $29,890 and $38,890, respectively. An XLE edition is also on sale for $33,245, while the XSE starts at $33,795. Only the basic trim has the sort of economy needed to grab the fourth spot on this list, with all other versions averaging 44 mpg on the highway and 47 in the city.
3. 2023 Hyundai Sonata Hybrid Blue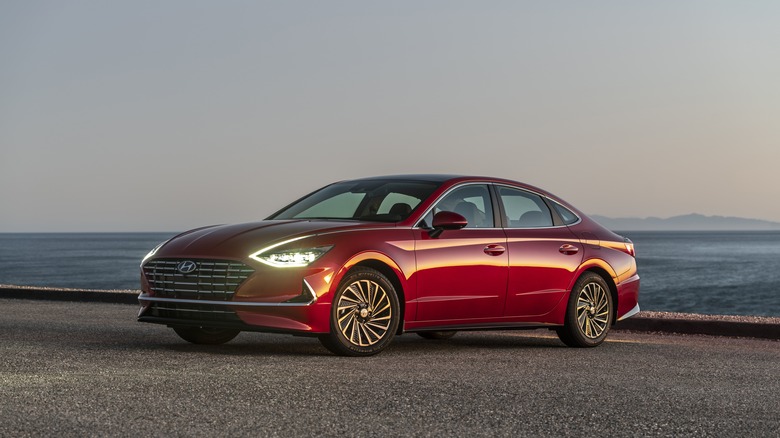 Hyundai
Sharing the bronze medal with the Toyota Camry is the 2023 Hyundai Sonata Hybrid Blue, which also has a combined average of 52 mpg. Unlike the Camry, the Sonata Hybrid Blue really shines on the highway offering 54 mpg of fuel economy. The South Korean sedan does lag behind its Japanese counterpart in the city though, offering a still impressive 50 mpg of fuel economy.
Despite its high level of fuel economy, the Sonata Blue is still fairly impressive in other departments. The gas engine and electric motor pair up to deliver a combined 192 horsepower. Okay, it's not a Bugatti Chiron, but that's still pretty impressive for a hybrid sedan. The power comes courtesy of a 2.0-liter, four-cylinder, engine. The pricing is also reasonable, with the 2023 Hyundai Sonata Hybrid Blue starting from $27,950. 
Beyond the raw mechanics, you'd get pretty much what you'd expect from a sub-$30,000 hybrid sedan made by a reasonable manufacturer. A good level of comfort, more room than a compact but not as much as an SUV, and a stack of in-house driver assistance tools.
2. 2023 Kia Niro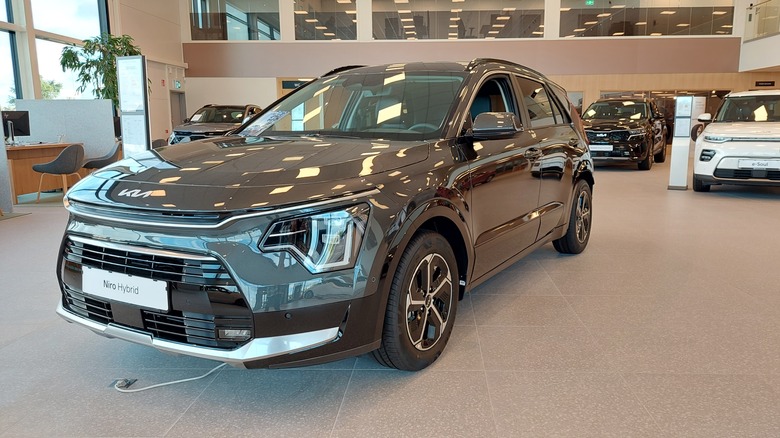 Basel Al seoufi/Shutterstock
It may have only just finished second, but the 2023 Kia Niro FE scoops the prize for the most surprising vehicle on the list. At an average of 53 mpg, the South Korean manufacturer has managed to create the most fuel-efficient EV on the market. You can get 53 mpg in the city, and 54 on the highway with several of the Niro's trims. Better still, the crossover starts from just $26,590, making it amazingly cheap for what it is. The base model also produces 139 horsepower, which isn't a lot. But looking at other hybrids in general, never mind SUVs, and the fact it only has a 1.6-liter, four-cylinder engine — it could be worse. There are also a lot of comfort features and driver aids, especially considering the price.
If you want something a bit flashier than the standard edition, it's worth pointing out that the touring version of the Niro would have placed sixth on this list had it been included. It was only emitted because, as with a few other vehicles, we didn't want to differentiate between trims. If you like the idea of a hybrid SUV, and you also want something cheaper than pretty much all other hybrid SUVs, you should really consider Kia's Niro range.
1. 2023 Hyundai Elantra Hybrid Blue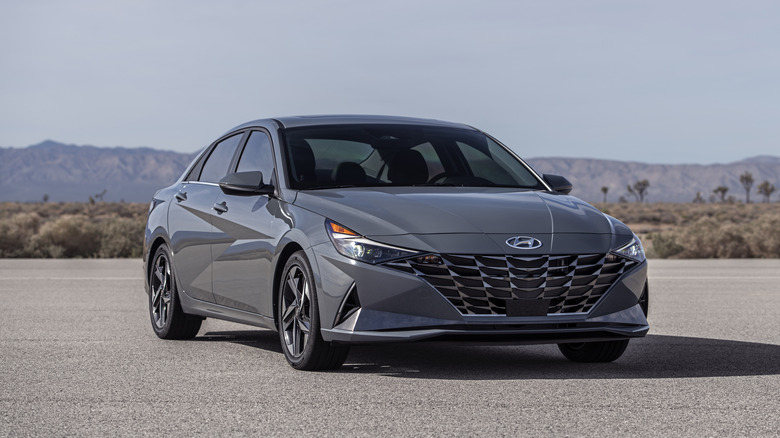 Hyundai
The 2023 Hyundai Elantra Hybrid Blue takes 2023's top spot with an outstanding combined average of 54 mpg. As with a few other vehicles on the list, the 2023 Hyundai Elantra Hybrid Blue's fuel economy hasn't really changed much since the 2022 edition. It still offers the same 53 mpg in the city and 56 on the highway. It even has the same 1.6-liter engine and 139 combined horsepower as last year. However, due to the changing vehicle market and the way EPA estimates work, it has moved from third up to the top spot this year. It's also one of the cheaper cars on the list, starting at just $24,400⁠. A "Limited" trim is available from $29,000 — but as with most trims, you will end up sacrificing some fuel economy if you opt for it.
While this and most other vehicles in the top 10 are impressive at the moment, things could be very different if you read this kind of article in a few years' time. From 2026 onwards, every new car and light truck sold in the U.S. will need to be able to travel 49 miles on a single gallon of fuel. This is almost double the current standard of 29 mpg. So will the top five push further ahead? Or will things just get very congested from number six onwards? Check back in 2026 to find out.