2023 Ford Escape Plug-In Hybrid Promises 37 Mile Electric Range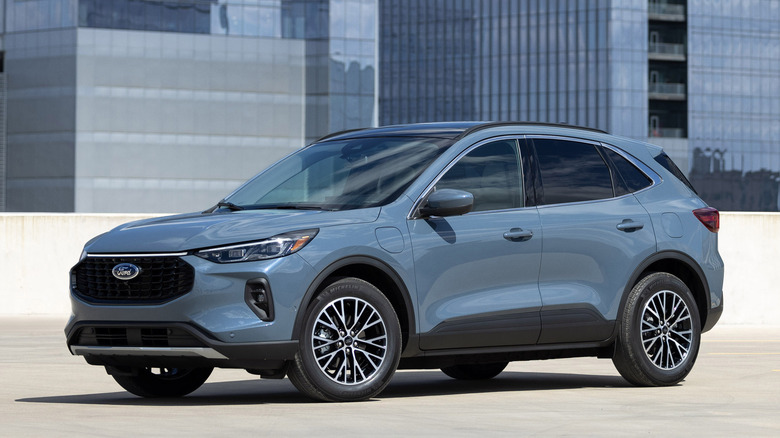 Ford
Ford has introduced the latest version of its Escape SUV, one that, the automaker promises, sports a "thorough makeover" with a variety of options to meet different needs. Among other things, consumers can get the 2023 Ford Escape in hybrid and plug-in hybrid (PHEV) varieties, though there's also an EcoBoost option for buyers who prefer it. Of particular note is the introduction of the Escape ST-Line series, which Ford describes as a sporty option with 1.5-liter and 2.0-liter EcoBoost engine options packing 180 horsepower and 250 horsepower, respectively.
The 2.0-liter EcoBoost is offered with the ST-Line Select and Elite options, both of which have all-wheel drive as a standard feature, plus a hybrid option. The non-Elite/Select ST-Line, meanwhile, is only offered with the 1.5-liter EcoBoost, though buyers have a choice between front-wheel and all-wheel drive. Ford says the ST-Line series is set apart with some unique aesthetics you won't find elsewhere, including a single-wing spoiler, a black mesh grille, and a "unique rear skid plate." The Elite comes with its own perks, namely the so-called coast-to-coast LED light bar, which Ford says is positioned between the headlights.
The ST-Line has some other bragging points, too, including 18-inch aluminum wheels painted Rock Metallic, a steering wheel distinguished with a flat bottom, and red interior stitching. As you may have expected, the Select and Elite take things up a notch — the Select comes optional with 19-inch Ebony-painted machine-faced wheels, while the Elite gets those latter wheels as its standard. Even if you're not interested in the ST-Line, however, Ford's latest Escape lineup may still pique your interest, particularly if you're looking for a PHEV that can take you to nearby destinations on battery power.
2023 Ford Escape targets buyers who aren't ready to make the EV leap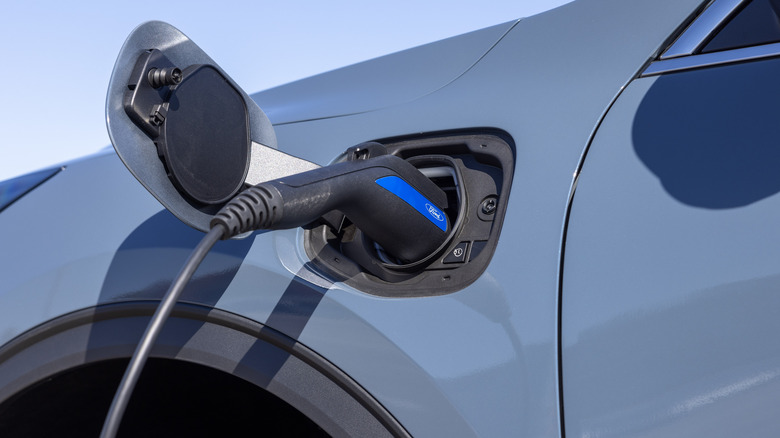 Ford
If you like the idea of EVs but not the limitations currently present — that is to say, the slim charging options in many places — then a hybrid or plug-in hybrid may be more your style. Ford is offering both with the new Escape, noting a "targeted" estimated range of 37 miles entirely on electric power, assuming you get the PHEV option. The plug-in hybrid packs support for both Level 1 and Level 2 charging, and while that may sound disappointing — it leaves DC fast charging out of the mix — that's not a big deal given that this is a PHEV and not a car solely dependent on its battery. Assuming you upgrade your garage to use 240-volt AC charging (Level 2), Ford says it'll take around 3.5 hours to charge the 2023 Escape. In comparison, the Level 1 charging — which is 110-volt AC — will take around 10 or 11 hours.
The 2023 Escape PHEV offers drivers access to four different EV modes, including "Auto," which lets the SUV decide when it will run on gas and when it'll run on electric. There's an EV Now mode, too, that lets drivers toggle over to fully electric driving, plus an EV Later mode for fully gas-powered driving. Rounding it out is the EV Charge mode, which charges the battery while the car is being driven on gas power. All else aside, Ford says that it aims to offer at least 400 miles per tank across the entire 2023 Escape lineup, though consumers may be able to push that figure to 550 miles or more if they go with the front-wheel-drive full hybrid variant.
Standard features and smart tech detailed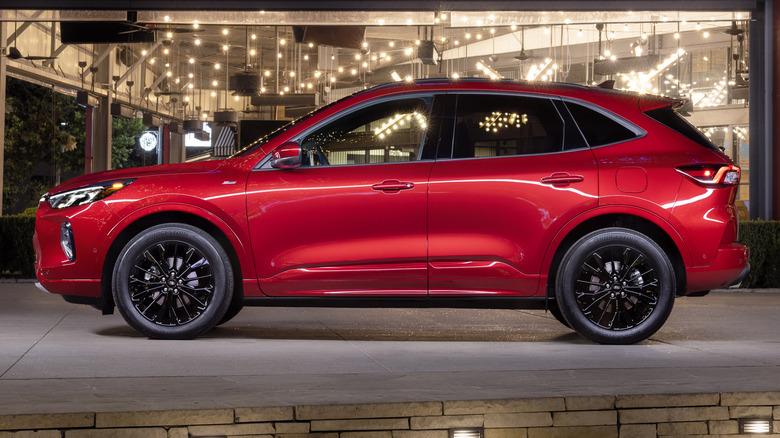 Ford
In addition to the aforementioned miles-per-tank ambition, Ford says the 2023 Escape sports a new variety of LED reflector headlights as a standard feature, plus there's a 13.2-inch center infotainment screen, a 12.3-inch digital instrument cluster, a 360-degree camera, and several smart assistance and safety features, including Rear Cross Traffic Braking, Predictive Speed Assist, Stop-and-Go, Evasive Steering Assist, and Reverse Brake Assist. Buyers can also expect a connected navigation feature built into the system.
Moving into the interior, Ford boasts a rear seat that can slide close to six inches to boost cargo space or leg room, depending on the occasion, with an overall seating arrangement for up to five people. The base 2023 Escape SUV sports the aforementioned Ebony interior color, while other variations of the SUV also get a Space Grey interior option. The model is rounded out with SYNC 4, support for wireless CarPlay and Android Auto as standard features, plus there's wireless charging and the SUVs get OTA software updates via the automaker's Power-Up. Finally, and perhaps as good news for consumers who have gone all-in on Amazon's smart home ecosystem, the 2023 Escape also packs Alexa built-in for using voice commands to, for example, get navigation instructions and to control music.
Ford says it will build the 2023 Escape SUVs at its plant in Louisville, Kentucky, and it aims to have them available in U.S. dealerships sometime early next year. Interested buyers can place their orders starting today, with the ST-Line Hybrid FWD starting at $33,835, the Platinum Hybrid FWD at $37,460, and the Plug-in Hybrid FWD at $39,995, all before destination.