Apple's Mixed-Reality Headset Might Be On Track For A Spring Debut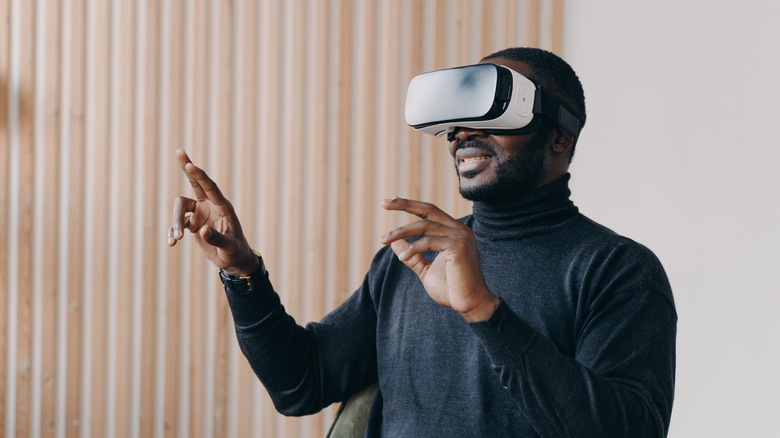 Viorel Kurnosov/Getty Images
Apple's highly anticipated mixed-reality headset is apparently on the horizon for an early 2023 debut. Bloomberg's Mark Gurman reports in the latest edition of his PowerOn newsletter that the headset will likely be announced in the spring season ahead of Apple's developer conference. Assuming it turns out to be true, the reveal would mark the culmination of a long saga of leaks and speculation that started years ago.
Citing unnamed sources, Gurman claims that the AR/VR headset is eyeing an official introduction in the March-to-May window. Apple's first metaverse-ready product runs its own operating system reportedly called xrOS, which is said to be in development under the codename Borealis. Previous rumors predicted that the operating system might go by the name realityOS, and the headset itself may be called Reality or Reality One.
The headset has seen multiple delays over the past few years, but Gurman predicts that 2023 will be the year when it finally hits shelves. It is rumored to feature a powerful M-series processor that also runs the show inside the Mac lineup, an advanced motion tracking system, a high-resolution screen, and over a dozen camera sensors. The design will reportedly follow Apple's own "industrial" aesthetics, with some clever tweaks, like audio hardware integrated into the head strap.
2023 is the year of Apple's Reality ambitions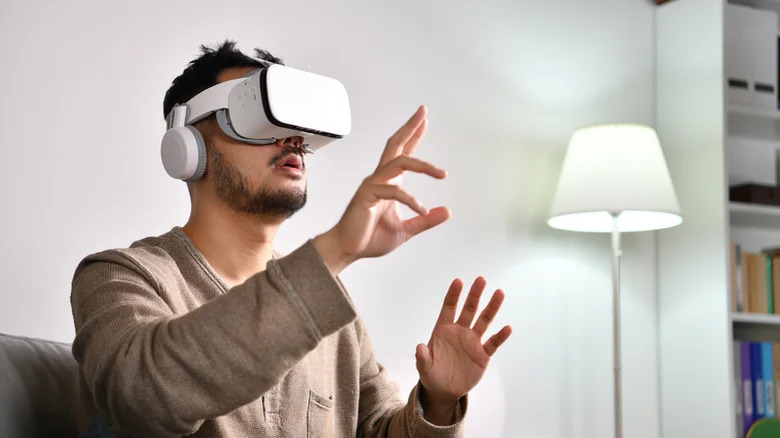 amenic181/Shutterstock
While Apple's AR/VR headset is on track for a flashy spring debut, the company has reportedly already seeded it to a few high-profile developers and content partners. The idea, of course, is to let them build and test experiences offered by their own apps. Notably, Apple won't be using the word metaverse to market its headset, though.
It's worth noting here that Apple's mixed-reality headset will reportedly be discussed widely with developers in June 2023. The xrOS reveal will likely happen at its annual Worldwide Developers Conference, which is where the company also announces the next-gen software innovation for iOS, macOS, and watchOS, among others. Interestingly, Gurman predicts that the next updates for iOS and iPadOS won't offer any major upgrades, as Apple allegedly diverted its energy and resources toward the headset's development.
Rumored to arrive carrying the name Reality Pro, the headset is claimed to go on sale widely in the fall season. Apple's upcoming fall event will be a packed affair headlined by the iPhone 15 series, next-gen Pro-grade Mac hardware, new smartwatches, and updated iPads. As for the pricing, rumors suggest that the headset might cost anywhere between $2,000 and $3,000. Notably, a more affordable mixed-reality headset by Apple might arrive in 2025.