Haylou PurFree BC01 Review: Bone Conduction Headphones Made For Casual Outings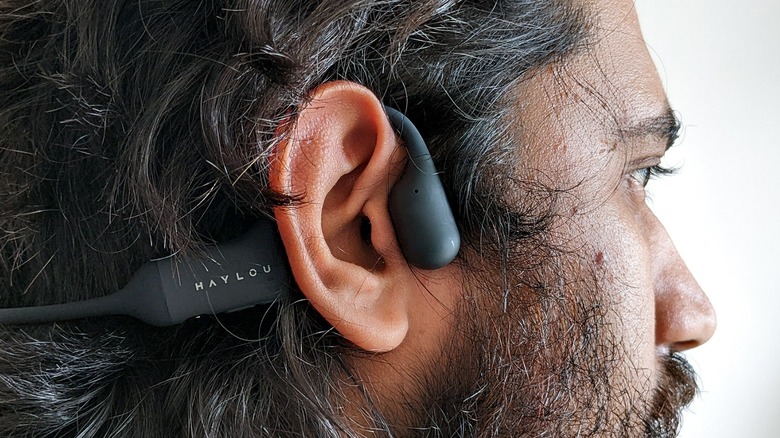 Tushar Mehta/SlashGear
We may receive a commission on purchases made from links.
Headphones alienate us from our surroundings. While that is often the intention, certain scenarios require us to stay attentive to the outside world. What are the options in that case? There's more than one actually — you may lower the volume on your headphones, place them outside your ear so they don't block the ear canal, or blast your audio loud enough to be heard from a distance. 
All of these options can deteriorate the listening experience. Today we're looking at an audio device that bypasses the issues inherent with traditional earbuds by using a different tech: bone conduction. In this review, we look at Haylou BC01 PurFree — a $100 pair of bone-conduction headphones with a water-resistant design and support for Bluetooth Low Energy Audio support.
All sound is fundamentally an array of vibrations that require a medium to transmit. For most audio systems, that medium is air — whether across a vast space between large speakers and our ears or a small earbud and our eardrum. In contrast, bone conduction headphones work by sitting outside the ear. Instead of traveling through the eardrum, the sound is transmitted directly from the skull to the cochlea in the inner ear, which sends the signals through the brain.
The eardrum remains open and receptive to ambient sounds, also transmitting them to the brain alongside whatever is playing on the headphones. And because of this design, bone conduction is also ideal for people with hearing disabilities owing to damaged eardrums apart from regular users.
Design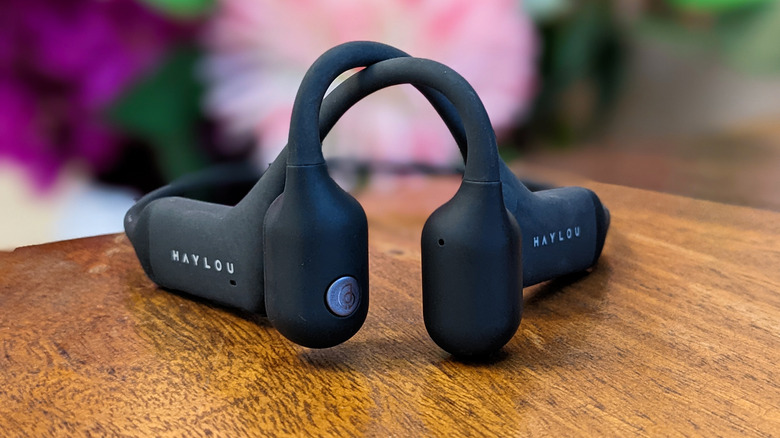 Tushar Mehta/SlashGear
Bone conduction is more often looked at from the angle of accessibility than convenience. The Haylou BC01 PurFree, however, offers a good deal of both. The headphones have a neckband design with loops that sit on the outside of the ear. The sound is conducted by an oval-shaped pad that sits close to the joint between the skull and the jaw.
The headphones are entirely wrapped in a soft silicone coating. Underneath this coating are parts seemingly made of plastic and metal. Haylou says the neckband and the loops around the ears are made of a titanium alloy, which gives it supreme strength.
Behind one of the conducting pads is a button with the company's logo on it. It serves as a button for playing, pausing, or skipping tracks while listening to media and for connecting and disconnecting calls during calls. At first, one would also suppose this to be the power button for the Haylou headphones, but it's not.
The right stock houses two more buttons — for volume up and down — alongside connectors for the magnetic charger. The volume up button doubles as a button for powering the headphones on or off or entering the pairing mode. Lastly, one microphone sits behind one of the pads and another sits on the right stock. One of these mics is supposedly used for canceling background noise during calls.
Fit and Comfort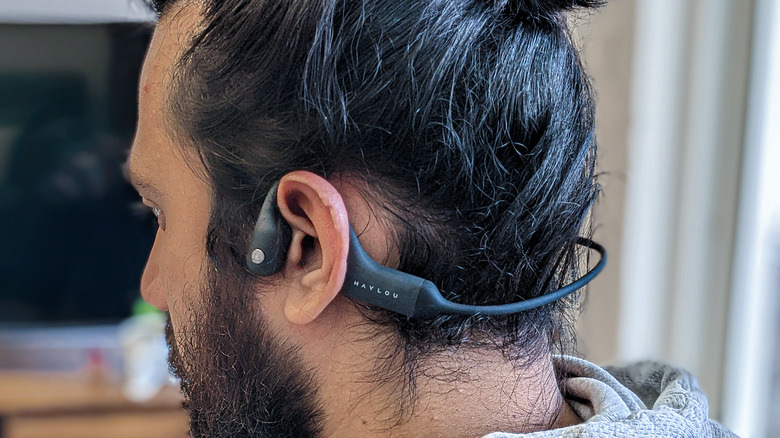 Tushar Mehta/SlashGear
To conduct audio successfully through the skull, Haylou PurFree headphones sit adjacent to the tragus of the ear. Each pad stays in position with the help of the ring that goes around the outer ear. Meanwhile, the torsion in the neckband leads to the earpads pushing inwards and sticking to the skull.
The neckband, however, only goes around the neck but does not touch it. This results in all of the headphone's weight resting on the ear cartilage while the pads dig into the skin. This can be uncomfortable initially and take some time to get used to. Because the neckband dangles in the air, the headphone can move up and down along the ear, causing skin irritation in the area, and can be quite peeving if you intend to use these headphones for working out. Haylou claims this is a skin-friendly material, but it tends to make my skin itchy when I'm using the headphones for an hour or so.
Slightly angled earpads or a longer neckband would have allowed for a better fit without much movement of the headphones. Because of this, you should take breaks in between continuous sessions of wearing the headphones.
The headphones come with an IP67 rating, which makes them resistant to water and sweat and, therefore, ideal for outdoor activities, fitness training, and sports. This addition is appreciable and a saving grace for otherwise uncomfortable design.
Audio Quality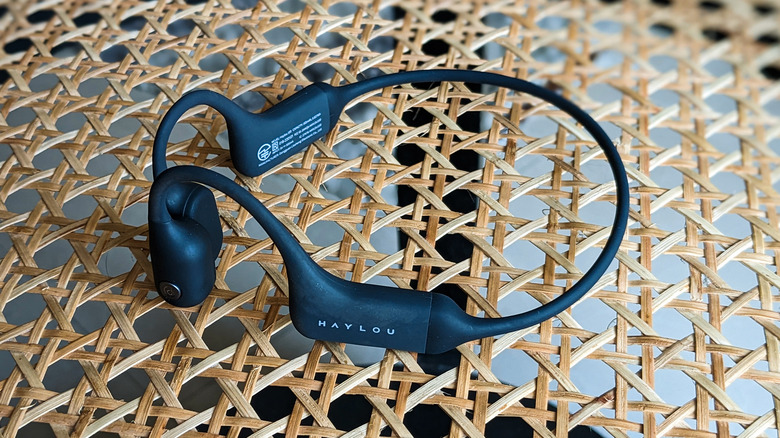 Tushar Mehta/SlashGear
Sound travels faster through solids than through air. This characteristic reduces latency in bone conduction headphones but is, however, countered by the solids' property to absorb sound — and the extent of absorption varies with the physical composition and structure of the material at the molecular level. Therefore, the audio from the Haylou PurFree bone conduction headphones tends to sound muffled and less clear than in-ear-type earphones.
This property compromises the clarity at lower volumes and can cut out certain frequencies at higher volumes. Further, since the sound is transmitted through a vibrating pad, the vibrations can be intense at high volumes, and this experience is far from pleasant.
These traits are not unique to the Haylou headset but will also be found on other bone-conduction headphones. Therefore, bone conduction headphones shouldn't be your default or only pair of headphones if you care about audio quality. Once you come to terms with these compromises, the Haylou bone conduction headphones start sounding better.
The Haylou PurFree bone conduction headphones support Bluetooth 5.2, which by default includes Bluetooth Low Energy (BLE) Audio transmission. Besides lower power consumption, BLE Audio allows users to tune into public signals or PA systems without taking the earphones off.
The Haylou headphones also support aptX HD codec when connected to smartphones with Qualcomm Snapdragon chipsets. Support for Qualcomm's aptX HD remedies the sound dampening to some extent by offering relatively more apparent output. However, it will never be as clear as in-ear audio equipment, even if that does not have aptX or any other codec for Hi-Fi (high fidelity) playback, and that's something always to remember when picking up a pair of bone-conduction headphones.
Utility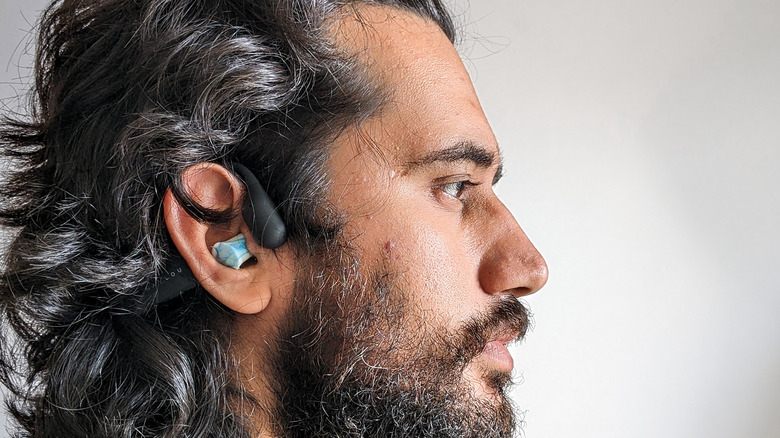 Tushar Mehta/SlashGear
Apart from serving as a hearing aid substitute for people with hearing disabilities, the most evident utility of the Haylou PurFree bone conduction headphones is for those who want to continue listening to a media playback without cutting out of the external world — whether that is while working and wanting to stay attentive to anyone who approaches you or while jogging or hiking outside and staying alert about the traffic or other people.
The open-ear design of the Haylou PurFree also makes them a great pair of headphones for athletes or marathon runners; they complement any form of physical activity away from being a recluse. Or conversely, the headphones can be used to distract yourself from activities at school or work that aren't very gratifying.
What the Haylou PurFree isn't great at is calling — especially when you are in a crowded spot. Because the external noise isn't restricted from entering your ears, the audio from calls can become difficult to interpret. Even when there is just a couple of talking over your shoulder, the sound from the headphones can seem very muffled and converted. This is despite Haylou's claims that the dual microphones on the headset can be used to pick up external noise and cancel them out for a clearer calling experience.
Earplugs and Bluetooth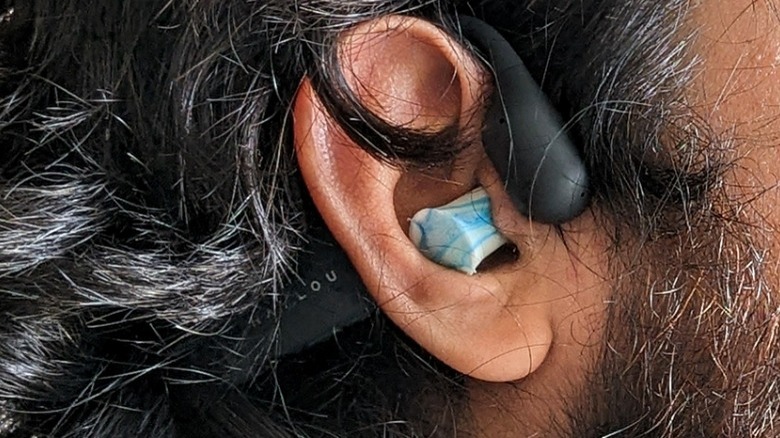 Tushar Mehta/SlashGear
To block out some of that noise, Haylou includes a pair of earplugs ...which essentially defeats the purpose of using open-ear headphones.
Meanwhile, Bluetooth 5.2 and the support for Bluetooth Low Energy Audio (LE Audio) also make the headphones ready for a more connected future. For important public announcements — ranging from alerts about the next subway station to emergencies or disasters, administrations can use BLE Audio to relay them directly into headphones that support the technology.
Bluetooth 5.2 also makes the connection more secure, thanks to the EATT (Enhanced Attribute Protocol), which also allows multiple active connections simultaneously. Dual-device connectivity is seamless, and the headset switches from one device to another automatically when you start playing something new. You are, however, required to manually activate the dual-device connectivity feature by pressing the Volume Up and the Play/Pause button together for about three seconds, which can be hit-or-miss, and, therefore, be irksome.
The most evident advantage of Bluetooth LE Audio and EATT for users without hearing difficulties is higher power efficiency, leading to longer battery life.
Battery and Charging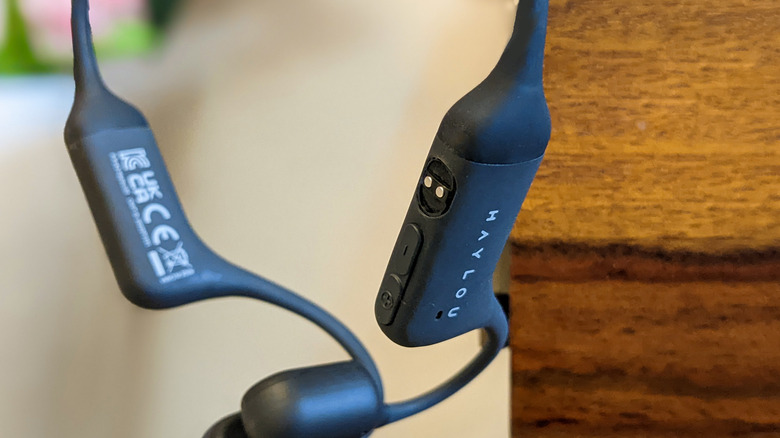 Tushar Mehta/SlashGear
The battery backup is something the Haylou PurFree aces at, not necessarily because of Bluetooth 5.2. Without specifying the size of the battery inside, the company claims the headset can output a backup of eight hours. But in my experience, the headset lasts longer, and that may be because I have listened to the headset at moderate volumes to avoid any vibrations rattling my jawbone.
When you power on the headset, the first thing you will hear after the welcome chime is the battery status and whether it is high, medium, or low. You can also check the power status from the Bluetooth settings on your device. I have gone on to use the headphones for several days of routine walks with my dog, time on the elliptical trainer, and sometimes watching TV, and I am confident my usage clocked over eight hours before I was required to charge the headset again.
For juicing up the battery, Haylou has added fast charging that offers a two-hour backup simply by charging for ten minutes. In total, the headphones take between 90 to 120 minutes to charge fully, which isn't exactly excellent or even fast but not bad either.
What is definitely disheartening, though, is that the headset uses a proprietary charger with a magnetic connector. This can be peeving because these headsets are centered around outdoor usage and will always require you to carry the charging cable with you. I strongly wish that the product's next iteration comes with a standard USB Type-C charger, even if it skips support for faster charging.
Conclusion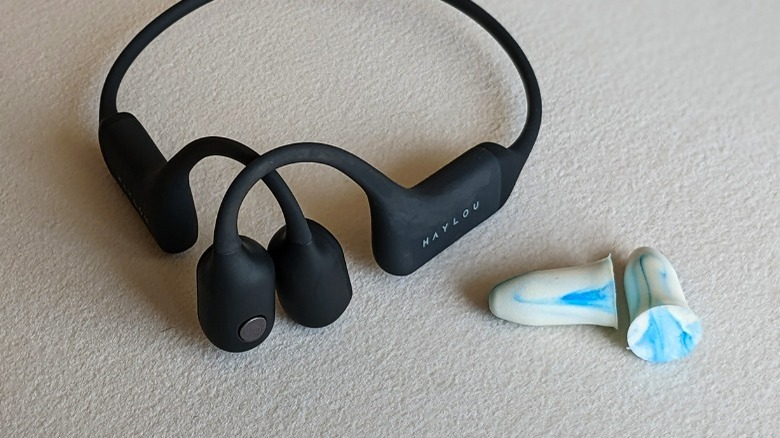 Tushar Mehta/SlashGear
The Haylou PurFree bone conduction headphones have some glaring advantages and disadvantages. While the sporty ope-ear design, water resistance, and support for HD audio make them great for outdoor usage or within a workspace that requires you to have a receptive ear constantly.
At the same time, these headphones are plagued by the standard issues that trouble every other pair of bone-conduction headphones. These include audio far from what audiophiles would cherish and a slightly uncomfortable design compared to in-ear truly wireless stereo (TWS) earphones that are now ubiquitous.
In addition, calling with these headphones can be a nightmare outside of quiet spaces, while the proprietary charging adds another cable to your bundle of electronic sundries to carry with you outside. However, Haylou makes up for these weaknesses with a strengthy battery backup, a sturdy design, and fast charging support.
Overall, these headsets are great for anyone who spends a lot of time outside (their comfort zone) — be it while working out, walking or running outside, at a workplace, or simply traveling. Of course, the advantage of these headphones is unforgettable for people with hearing disabilities but for anyone without such difficulties to brace against, these are not ideal or even worthy of being your only pair of headphones. They work great as a secondary pair of headphones and have limited utility as compared to something like the Apple AirPods.
At $99.99, Haylou PurFree earbuds aren't the cheapest bone-conduction headphones on the market. You can find plenty of generic bone-conduction headphones on Amazon for prices starting at $50. Those, however, have no guarantee or reliability.
If you want something reliable, the Shokz OpenMove would be a great bet at $79.95 but it will come with some compromises in form of a shorter battery backup, less-resilient IP rating, and no HD audio support. For $30 more than Haylou, you can also buy the Shokz OpenRun at $129.95, which will get you the same features as the PurFree headset along with the confidence of the leading brand in the category of bone-conduction headphones and a standard USB Type-C charging interface.
You should opt for the Haylou PurFree only if you are bound strictly by a budget, specifically want a bone conduction headset, but do not want to compromise on features. Otherwise, head to our listing of the Best Earbuds of 2022.