2024 Acura Integra Type S Quick Drive: A Taste Of Triumph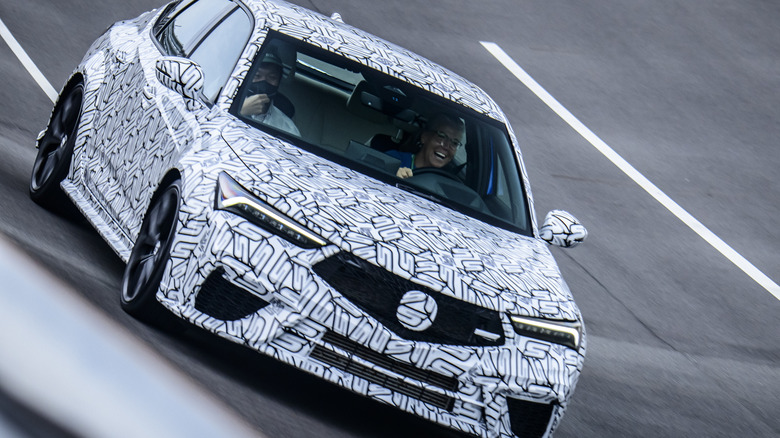 Acura
When Acura announced in 2020 that every car in its lineup would receive the high-performance Type S treatment, enthusiasts rejoiced. Finally, Acura has committed to bringing some fun back into the line up. It started with the mid-size sedan TLX and the mid-size crossover MDX. Then the gorgeous supercar NSX got Type S-ified. Next year Acura will include a Type S version in the launch of its first all-electric model in the form of the ZDX crossover.
For now, however, the holy grail for lovers of compact sport sedans is here. Well, it will be in 2024. Yep, the Acura Integra is getting the Type S treatment, and I'm getting a drive in one.
I can't emphasize enough how big a deal this Integra Type S is to those who love to drive. When Acura brought the Integra nameplate back earlier this year, its 1.5-liter turbocharged engine was a bit of a let down. With 200 horses on tap, many enthusiasts were disappointed, claiming that the Integra didn't go far enough to earn the name. Sure, the Integra of the late 1990s never offered massive power, but its lighter weight and excellent handling made it a coveted classic by racer bois and girls.
Currently, Acura only offers an A-Spec appearance package to gussy up the Integra. However, the Type S goes light on the cosmetic touches, heavy on performance modifications, and I am 100-percent here for it.
Sights and sounds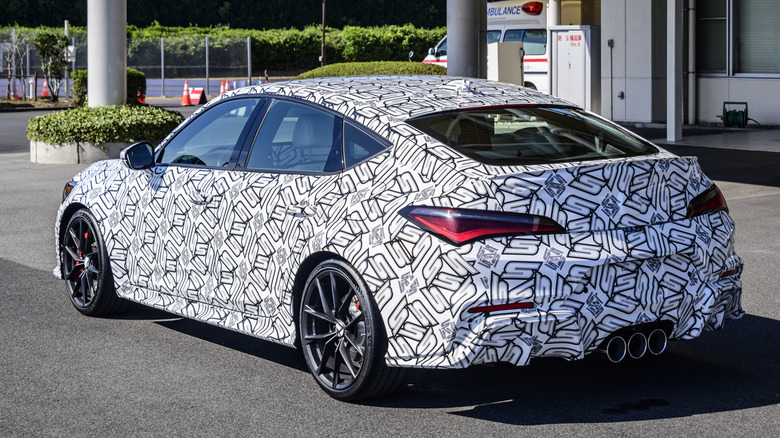 Acura
I'm at Honda's R&D center in Tochigi, 70 miles or so north of Tokyo. When an engineer brings a prototype of the car around the first thing I'm struck by is the exhaust note. Under the hood is a turbocharged four-cylinder engine but its deep resonance belies its small size. There are a few pops and crackles as well, much to my delight. I am, essentially, a 12-year old boy.
The car is camouflaged but the shape and front and rear lighting look the same as the current Integra. There may be a bit of a nip/tuck in the grille, but it's tough to tell for sure with the busy wrap the car is wearing. However, the triple exhaust in the rear stands out. Each port is the same size, unlike its brother the Civic Type R with its larger center outlet. So that's where that glorious noise was coming from. I can dig it.
Although I don't take too much stock of the car's interior — I'm too excited to get this thing out on the track — nothing in the cabin stands out as glaringly different from the current Integra. I don't turn it on but there is the same 9-inch color touchscreen parked on the dash. Under that are HVAC controls and a little storage bin. The hatchback should offer up the same cargo space as the regular Integra, too: just over 24 cubic feet.
Emotional overload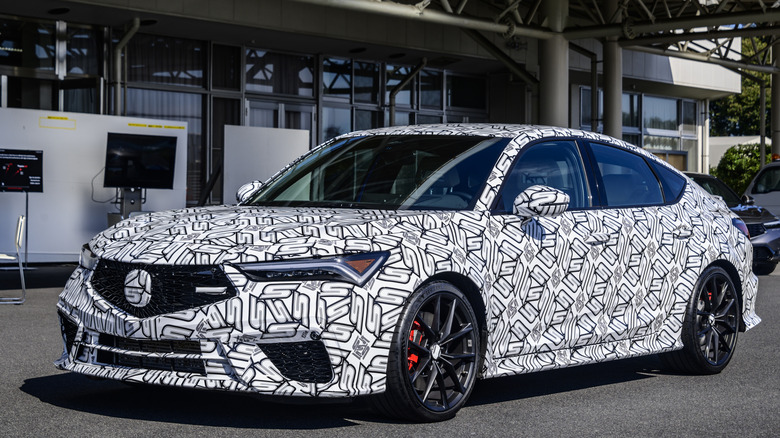 Acura
Acura says the Type S is meant to be, pardon the expression, a freak in the streets and to evoke a high emotional appeal. While I can't attest to the car's handling, an oval track is a far cry from a twisty back road, I can substantiate the emotional part.
As I pull onto the track I floor it, unleashing the 300-plus ponies that Acura says are under the hood. No torque specs are available as of yet and though the company hasn't confirmed it, this 2.0-liter turbocharged four-cylinder mill behaves quite a lot like the engine in Honda's Civic Type R. If that is indeed the case, torque should be sitting right around 310 pound-feet or so.
Regardless, the acceleration feels much quicker than I expected. I'm surprised and delighted. Acura's engineers have definitely understood the assignment here. My emotions have been appealed to and I start to giggle. A quick shift to third and I'm full-on screaming with joy. I haven't felt like this since I chirped the tires in a V8-powered Jeep Wrangler Rubicon 392. Completely different vehicle, same gleeful feeling.
The only right and true transmission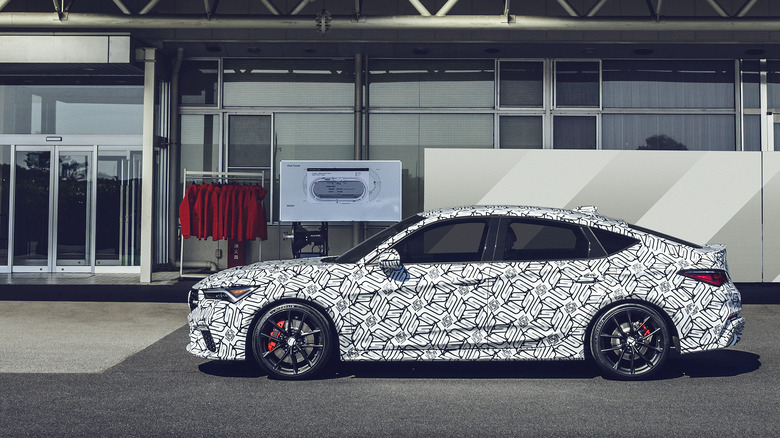 Acura
The Type S will only be available with a six-speed manual transmission, as God intended. I expect nothing but good things from this gearbox and Acura does not disappoint. The short gear ratios are pretty aggressive and I feel like I approach the redline lickity split. Throws are crisp and the clutch is easy to modulate. There isn't much call for heel-toe shifting on this quick drive, but the pedal set up is close enough that I could if I needed to, even with my dainty lady-feet.
I'm able to keep the car over 100 miles per hour on my short, two-lap stint behind the wheel. During that time I don't do any heavy breaking and the red brake calipers up front have their logo camouflaged. However, I'd bet it's a good set of Brembos up there. I don't weave through any slaloms to test out the front limited-slip differential, heck, I don't even need much steering input to get the car around these steeply banked turns.
The Integra never wavers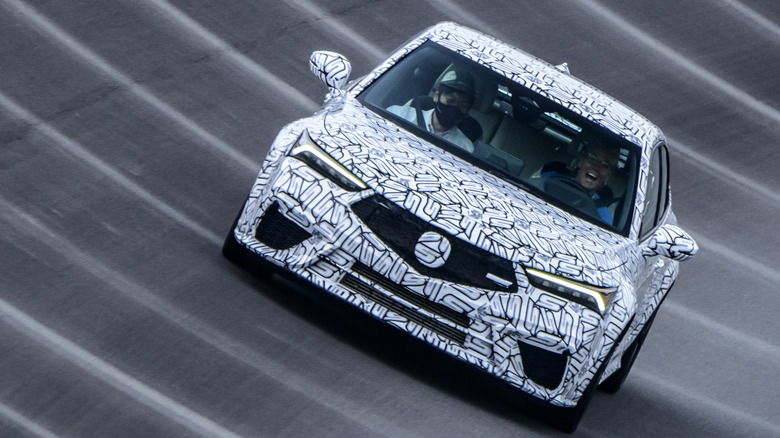 Acura
That doesn't mean I don't learn anything about the car. The acceleration has already impressed me but the stability is also on point. Traveling down the straightaway at full throttle, edging towards, but not having time to achieve, 128 miles per hour, the Integra never wavers. I've been this fast in other small cars and it was terrifying, all hood flutter and light-feeling rear end. There is none of that here– just a surefooted confidence that makes me want to keep pushing it.
I can also tell you I felt no torque steer when giving it the beans to get out on the track. If it shares any parts with the Civic Type R, which I think it does, the lack of torque steer is thanks to a dual-axis front suspension. We'll have to wait to get a full drive in the thing and see it without a front wheel to know for sure.
Finally, although there is no cause for whipping a steering wheel around this oval track, my first impressions of the steering are positive. It's nicely weighted and seems to have a quick ratio. However, a test on a twisty back road is in order before a full judgment can be made.
The one to wait for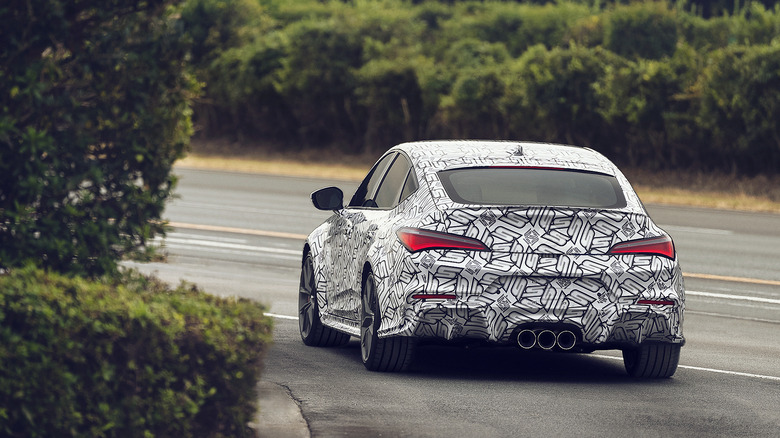 Acura
Alas, my time in the Type S is quickly over. I'm still grinning like a maniac as I bring it back to the pit lane. Folks who may have been underwhelmed by the 200 horsepower Integra currently on sale will surely flock to this Type S when it debuts in dealerships next summer. The extra power is intoxicating, and I can't wait to see how it does on a twisty back road.
You could, of course, purchase the TLX Type S right now with more power and all-wheel drive, but it's larger than the Integra. Sports cars should be compact, full stop. Plus, the TLX Type S starts in the low $50,000 region. Acura has been mum on pricing but expect the Integra Type S to cost somewhere in the mid-to-high $40,000 range.
If my money were on the line, I'd wait a few months and grab a test drive in the Integra Type S. Patience, my friends, is a virtue.