2023 BMW X1 xDrive28i Review: Showroom Shine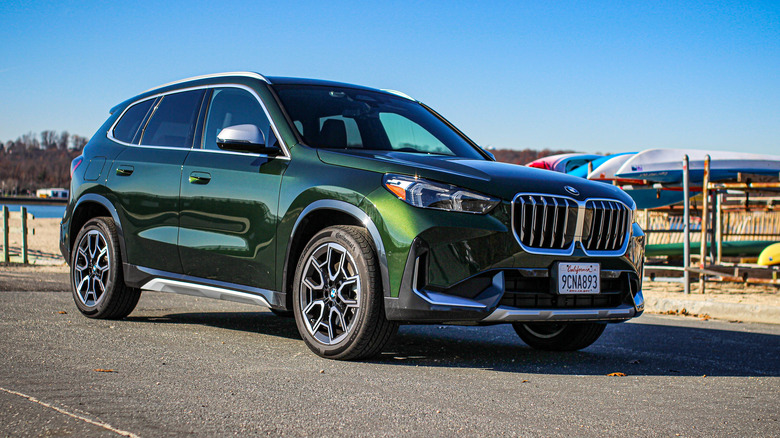 Alex Kalogiannis/SlashGear
Getting your foot into the automotive luxury door has been easier than ever these days, what with the average car price bloating steadily like a post-Thanksgiving waistline and the ubiquity of once-luxurious gadgets becoming the mainstream. This latter point seems to have become an intriguing monkey wrench in the works of premium automakers, at least from a consumer perspective.
Luxury used to mean top-notch leather and all the special toys that could be crammed into an automobile. However tech's democratization has removed that particular cheat code from their tool kit, and leather seats are slowly going the way of fur coats.
An automaker in the premium segment like BMW needs to get people into the door, but it still needs to uphold a certain standard, without sacrificing too much of what makes a Bimmer, well, a Bimmer. Its latest solution to this ever-evolving conundrum is the 2023 X1 xDrive28i, and all-new version of BMW's starter crossover. While it's very much Bimmer-lite, it remains a substantial, functional vehicle for daily utility and a competent showcase of what the current state of BMW has to offer.
Lil Nice X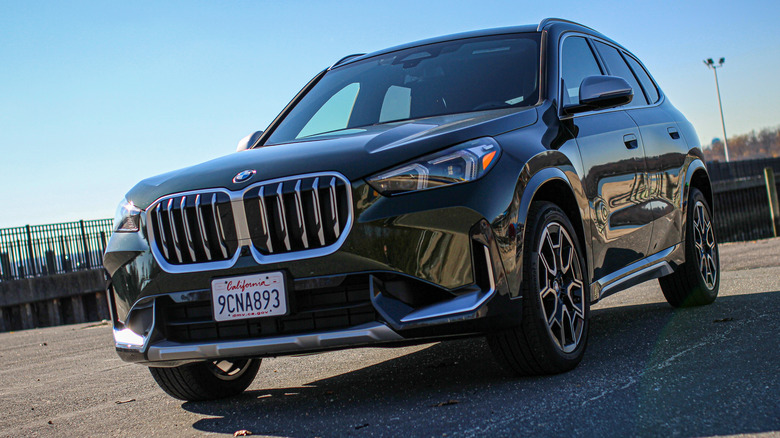 Alex Kalogiannis/SlashGear
The 2023 BMW X1 kicks off the crossover's third generation, after it made its debut way back in 2009. This all-new version updates the exterior with Bimmer's current design language — big kidney grilles, multifaceted surfaces, generally perplexing — but it more or less retains its overall silhouette and shape as a small, stout luxury crossover.
Under the hood is a 2.0 liter twin-scroll turbo 4-cylinder engine that manages to whip up 241 horsepower and 295 pound-feet of torque. It sends it to all four wheels through a 7-speed dual clutch automatic before it's distributed by BMW's xDrive all-wheel drive system.
Most of the meatier changes have taken place in the interior, as the cabin has been similarly updated to match the lineup. Much of what's seen here has clearly been influenced by the iX and subsequently what we've seen in the 7 Series. Apart from a uniform look, the updated interior is more efficient in its layout, trimming the fat and opening up the cabin to feel more airy and streamlined. It's something achieved with very intelligent simplicity, which is exemplified in the floating armrest and center console that removes what isn't required and making what remains useful or simple storage solutions.
Pulling it all together is a 10-square feet of panoramic glass roof that brings the outside world in during the day, segmented for sun/moon roof functions, and which has a cloth shade that extends to cool things off. At night, a standard package of ambient lighting sets the mood. Even the seats have been redeveloped for the X1, which is nice but the most notable thing about them is that they are only available with SensaTec 2.0, the latest iteration of BMW's animal-free leather substitute.
iX to X1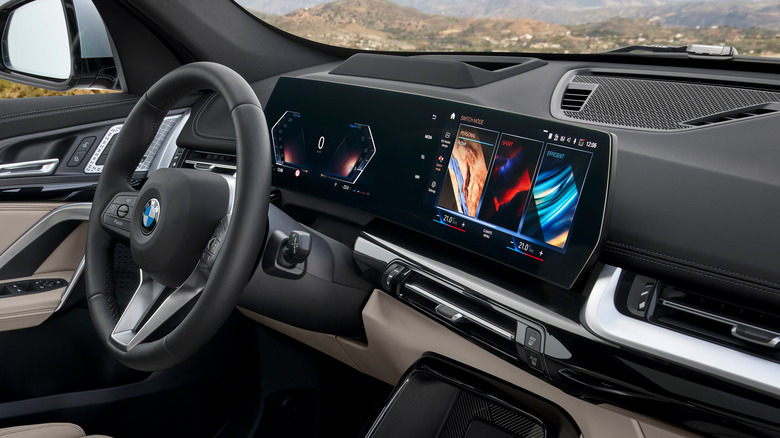 BMW
The X1's tech offerings start with the dashboard's curved display, another feature making its way across the Bimmer portfolio. On the touchy side is a 10.7-inch interface that runs iDrive 8, the latest iteration of BMW's operating system. It collects all the car functions including the HVAC controls and has an easy to use layout. In practice, it's quite responsive to taps and swiping though the menus is smooth, though it's still heavy with menus and apps, and it's easy to find yourself going through loops trying to find a particular function before giving up altogether.
Behind the wheel is a 10-25-inch digital gauge cluster that's included seamlessly within the same curved display. This is central command for the car's key data and has some customizability, though it mostly adapts to incorporate more information in its stylish yet busy display.
Fairly bereft of buttons, the X1 limits the tactile stuff to the drive select switch and the volume input that isn't a knob but is mercifully an easy-to-access rolling cylinder. Four USB-C inputs can be found in the cabin, a couple of which are integrated into the wireless charging bay, which has a stabilizing bar to cradle devices in place like the "safety" bar of a roller coaster, making it look a sort-of baby seat for your phone. If you've conveniently misplaced your USB-C adapters, Apple CarPlay and Android Auto can still be connected via Bluetooth.
X-tra tech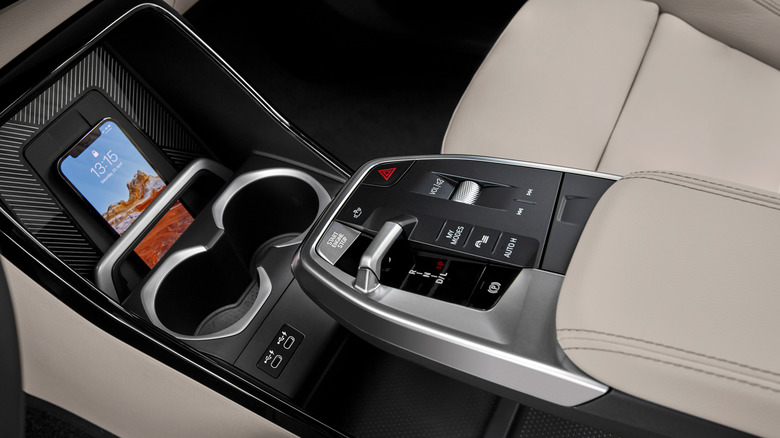 BMW
A solid collection of standard tech is built into the X1, including front collision warning with active braking, pedestrian warning, blind spot alerts, and lane departure warning. The premium package throws in things like driver assists that are new to the X1. Active cruise control with stop and go function, corrective steering inputs and traffic jam assist ease long journeys, even if they have a bit of gridlock. When it does, the X1 can handle some of the driving, hands-free, for up to 40 mph, though drivers will still need to keep their eyes on the road, naturally.
The native navigation benefits from the responsiveness of the touchscreen, making inputs like taps and pinches easy for zooming and finding points of interest. It uses the X1's multiple cameras to overlay augmented reality directions for intersections, which is a neat trick and helpful, but it remains relegated to the center console display, out of the driver's eye-line.
When not in the car, the BMW's connectivity features can keep drivers in touch with the car through a smartphone app, which does the usual status checks and location tracking, but in-car cameras provide the added benefit of a cabin view in case users want to check for a forgotten item or passenger, if that's how their particular day has gone. If it gets worse, the camera will also trigger during attempted thefts for face time with your Bimmer's assailant.
Inconveniences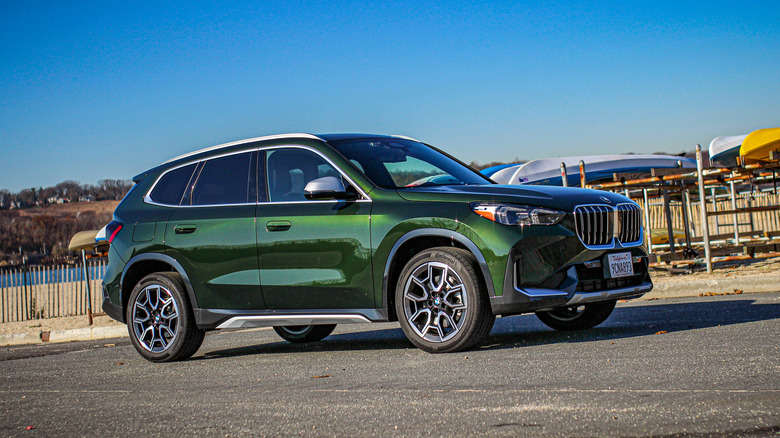 Alex Kalogiannis/SlashGear
Everything feels great when it's time to get the X1 up and running: it does its graphical song and dance when you slide in, it loads its personal profile, remembering all the settings from the previous drive and implementing them. It knows you like a hot seat and a warm wheel while your passenger is content with their lightly toasty backside. All of the space and touch points feel properly top-notch and the high resolution of the curved screen is dripping with bright, colorful UI elements. You stare into the swirling background as if observing a sliver of the universe's infinite majesty. In awe, you weep in the face of such beauty.
And then the driving starts. From the first moment, the X1 becomes a very overeager host to your driving activities, helping almost too much to convenience you that it does the opposite. Its auto-start/stop function is quick to engage its fuel-saving duty at the very moments the car comes to a halt, though its slow to kick back on when the light turns green. In these moments, the automatic hold engages to prevent the Bimmer from rolling even when there isn't a hill present. This, and the engine's lag, add up to a very substantial delay in inputs when driving around town, and while the auto-hold has a dedicated button the start/stop does not, though sport mode does mitigate this annoyance ever so slightly.
Mild-mannered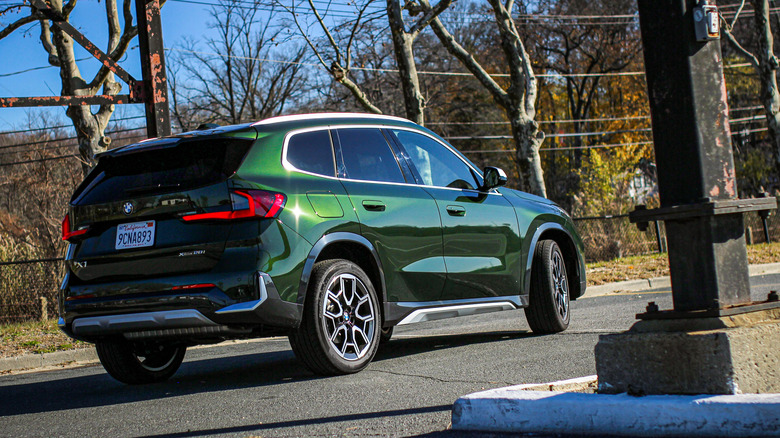 Alex Kalogiannis/SlashGear
It's important to share this part up front because it's a frustration that's cumulative, and mars an otherwise perfectly suitable driving experience. When on the move, the X1 feels quaint, and this isn't to minimize it, but it feels very confident and smooth, but not in a hurry for anyone. Sport alters some of the dynamics though it's hard to suss out what steering and suspension changes are made, though the engine punch does increase. Each driving mode is presented in slides within the display, with the personal one as default. This one is ostensibly the one that can be tweaked to the degrees BMWs have been notorious for, though much of these adjustments come with a substantial learning curve.
Sport is the less nebulous option while "engaging" presents itself as sport but with... more lights, I think. There are also "classic sounds" that can be toggled off, by which BMW presents how the X1 pipes in more substantial drivetrain noises through the sound system. So much of the functionality is dense and nebulous that it takes a particularly long time to sort things out even before the car leaves the driveway.
Overall, the X1 is fine to drive, but it's light on the performance hooks that BMWs tend to use to snag its audience. It performs satisfactorily enough to overshadow the hyper-helpful conveniences, but it's only just. Drivers will be eager for the next journey not because of the driving experience, but because it's a lovely place to sit.
Marking the spot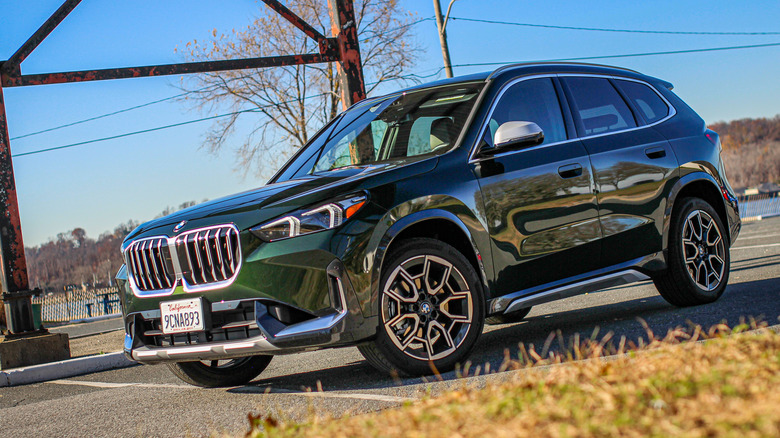 Alex Kalogiannis/SlashGear
Landing with an initial ask of $38,600 the BMW X1 xDrive28i is a very alluring vehicle to those longing for an in with the BMW family, though the brand's "ultimate driving machine" tagline might've slightly oversold this one. Apart from some overeager convenience functions that frustrate more than they assist, the X1 drives well and is comfortable, but the ride isn't it's strongest aspect.
If anything, the X1 is a very solid showcase of the things BMW does well beyond the "performance" aspect of their performance luxury dictum. For an entry-level vehicle, the X1 brings a sharp style and a bounty of technology that doesn't betray that it's somehow a "lesser" Bimmer.
Fully loaded, the X1's asking price predictably climbs, but doesn't get much higher than the $47K mark. This puts it in striking distance of rivals such as the Volvo XC40, Audi Q3 and Mercedes-Benz GLA. Very fierce opposition indeed, though the X1 feels up to the challenge.