Tesla's Latest Event Revealed Big News For The Cybertruck
With the Tesla Semi now out in the open for the world to see, the last big launch for Tesla is the fabled Cybertruck. For years, the Cybertruck was thought to be the first real EV truck from a major manufacturer. That was all the way back in 2019. Now, though, there are multiple EV trucks on the market like the Rivian R1T, the GMC Hummer EV, and the Ford F-150 Lightning. All of those trucks have the advantage of actually existing in person, unlike the yet-to-be-launched Cybertruck. 
Multiple features have been added to the truck since Elon Musk first showed off the truck three years ago, including the ability to serve as a seafaring vessel if the need arises (and the body of water is not too tumultuous). Recently, Tesla announced that the perpetually-delayed truck will reach production by the end of next year. Not missing the opportunity to drop news, Musk announced another feature that could potentially have huge ramifications for not only the brand, but also big EV trucks in the future.
Potentially a huge Cybertruck selling point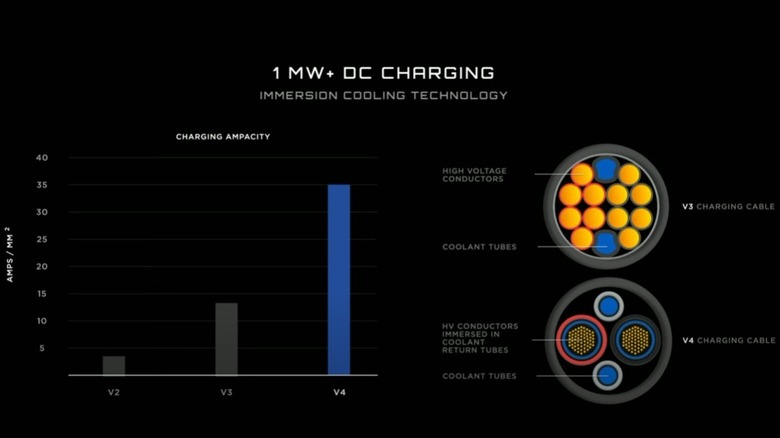 Tesla
During the launch event for the Tesla Semi this evening, Elon unveiled Tesla's new 1 MW DC charger for the Semi. The new liquid-cooled charger will allow drivers to charge the Semi significantly faster than current chargers. It's an understandable development: the Semi's battery is considerably larger than the battery in one of the automaker's consumer vehicles like a Model 3 or a Model S, and would take a long time to with a current Tesla Supercharger.
Right in the middle of the announcement, though, Elon Musk also revealed that the upcoming Cybertruck will utilize the new charging system alongside the Semi. That means the Cybertruck may be able to charge up in a much shorter time than competing trucks, if everything goes according to plan. 
As of now, there is no concrete data on just how fast the new 1 MW with charge either a Semi or a Cybertruck, as more granular information on the battery is not known. But, if — and that's a big "if" — the new charger comes to fruition on the Cybertruck, it could make the unusually-shaped electric truck a heavy hitter in EV pickups.