Three Years After The Tesla Cybertruck Reveal, Here's What's Changed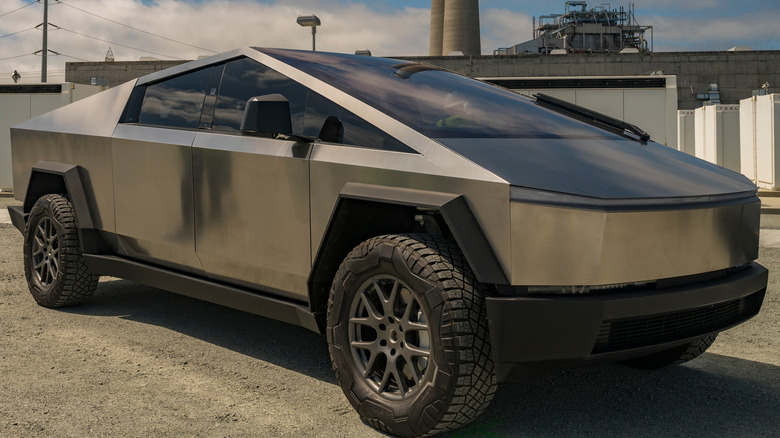 Bloomberg/Getty Images
Tesla's announcement of the Cybertruck in 2019 pitched the hyper-stylized pickup as a do-it-all vehicle with some pretty fantastic specs and features. While the presentation and armored glass demonstration didn't quite go as planned, Tesla still managed to rack up an estimated 1.2 million pre-orders, according to a crowd-sourced reservations tracker. Whether Tesla can ship so many units is another thing entirely, but the company has provided an updated timeline which puts the start of production of the futuristic Cybertruck in late 2023. Although Musk previously claimed it would start at $39,900 and run up to over $70,000, the $39,900 option seems to have been a pipe dream, according to ZDNet.
The Cybertruck was originally set to have a three-motor drivetrain, although Elon Musk has since announced that there will be a four-motor option available as well, and a claimed towing capacity of 7,500-14,000+ pounds. Clad in cold-rolled stainless steel bodywork, the Cybertruck is going to be a heavy vehicle, with a letter from Tesla to the California Air Resources Board stating that it would qualify as a Class 2b vehicle, meaning it will weigh in at 8,501-10,000 pounds. Tesla claims the Cybertruck will do up to 0-60 mph in 2.9 seconds, and be able to cover 500 miles on one charge — combining the straight-line performance of a sports car with the utility of a pickup truck. Four-wheel-drive is also set to feature on the Cybertruck, which should make for decent off-road performance when combined with the high ground clearance. 
Production delays mean the competition has a head-start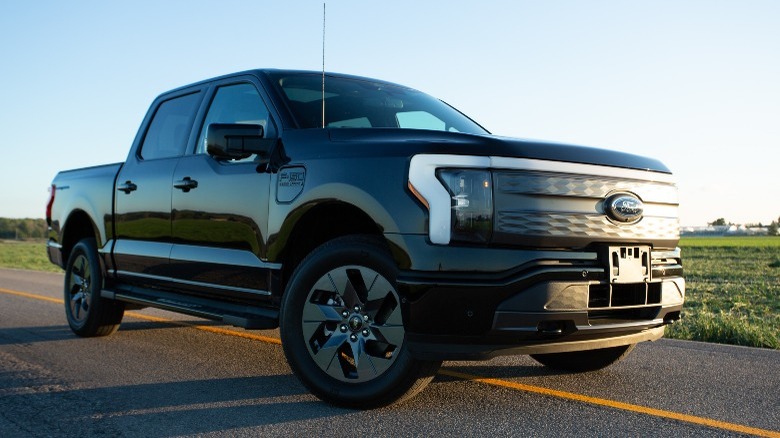 jluke/Shutterstock
The growth of the EV market means it's going to be tougher for the Cybertruck to compete. In 2019, Tesla had no real competition — although the Ford F-150 Lightning was on the horizon. But as time passed, more manufacturers have started introducing their own all-electric models, each with their own fancy features that are more valuable than the Cybertruck's air suspension and exotic materials. When the Cybertruck does finally arrive, it had better live up to the hype, because it has some steep competition to contend with. 
The Ford F-150 Lightning is already the best-selling electric pickup truck on the market, and the Rivian R1T is shaping up to be a resounding success as well. The Hummer EV is also available as both an SUV and pickup, which should show up the Cybertruck off-road while giving it a fair shout on-road. While Chevrolet's Silverado EV is not yet on the road, it is slated for a 2024 release and will feature a claimed 400 miles of range, which is dangerously close to the Cybertruck's 500-mile claim.
The electric truck pickup market has changed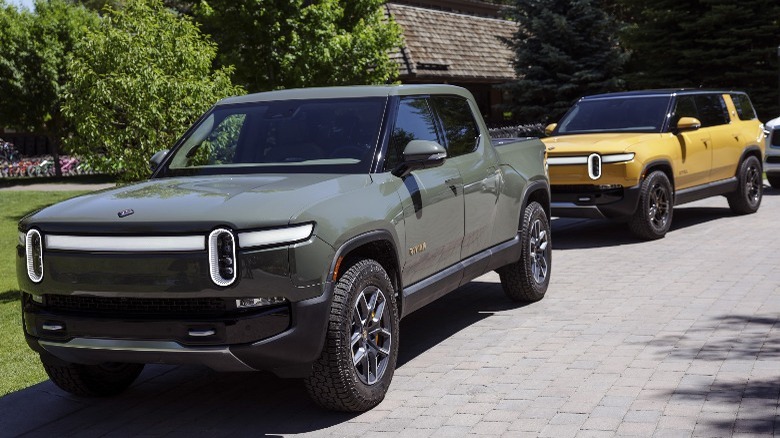 Kevin Dietsch/Getty
Aside from competition from other manufacturers, the Cybertruck has to contend with some changes that have happened in the general EV space in the last few years. For starters, Tesla has made its charging network open to the public, and other EV charger networks have grown significantly since 2019, according to IEA. The growing availability of public EV chargers means that Tesla is no longer the de facto choice for electric vehicles thanks to its ecosystem, especially since the performance and range of other EV manufacturers are rapidly catching up to Tesla's first-move advantage. Range is a bit of a hot topic as well, given that Tesla seems to overstate its range by around 12% on many of its vehicles, while other manufacturers generally have a lower margin for error, according to testing by InsideEVs.
Even more concerning for the Cybertruck is the topic of aesthetics. Part of the appeal of the Cybertruck is just how different it looks, and that's an advantage that is quickly fading as other manufacturers take more risks in the design department. Perhaps the Cybertruck served as something of a catalyst — and its own worst enemy — in this regard, with examples like the Hummer EV and Rivian R1T both being very distinctive from a visual standpoint. Tesla is Tesla, though, and it will always have supporters that will buy its products — although we'll have to wait and see how its experience designing all-electric powertrains translates to the Cybertruck.